Its that time of year when we start thinking about buying the perfect gift for that special person in our lives. We want a gift that's memorable, thoughtful and something that our recipient will totally appreciate.
This year I wanted to write a gift guide, filled with faith based ideas geared towards the young adult on a journey to get closer to God.
Before I get started and list some of my absolute favorite gift ideas for young adults, I just want to mention that this post contains affiliate links. In the event that you purchase an item through my links (no extra cost to you). I will receive a small commission that helps to pay for the expenses of this blog. Thanks in advance for supporting.
So, with that being said, let's dive right in. Here are 15+ faith based gifts every young adult Christian will love:

Disclosure: This post may contain affiliate links, which means we may receive a commission if you click a link and purchase something that we have recommended. While clicking these links won't cost you any extra money, they will help us keep this site up and running AND keep it ad free! Please check out our disclosure policy for more details. Thank you for your support!

Bible Journal
Remember the days when you would reach for a highlighter to emphasize a passage that you wanted to memorize or meditate further on? Well, we have taken it up a notch, I introduce to you a Bible Journal.
A Bible Journal allows you the opportunity to get creative as you reflect on Gods words. It allows you to document your walk of faith as you have those a ha moment with God. You can light a scented candle, grab your favorite beverage, play some uplifting music as you connect with God through art and scripture.
When it comes to bible journals, the ESV Single Column Bible, is the most popular is. You will also need to get Bible Journal supplies that wont bleed through the pages.
If you are like me and like personalized gifts, a Custom Hand Painted Bible is a must. There are a variety of themes to choose from for your Custom Hand Painted Bible and they are sure to make your loved one feel absolutely special.
Prayer Journal
Prayer is an essential part of a Christian's life. A prayer journal can be the perfect solution for someone that wants to get into a regular habit of praying as it acts as a visual reminder to pray. It also forces you to concentrate if you find that you just don't know what to say or your mind goes blank. A beautifully embellished prayer journal with inspirational quotes and scripture verses. Adequate space is provided to allow you to write your prayers as well as keep track of how God has worked in your life through answered prayers.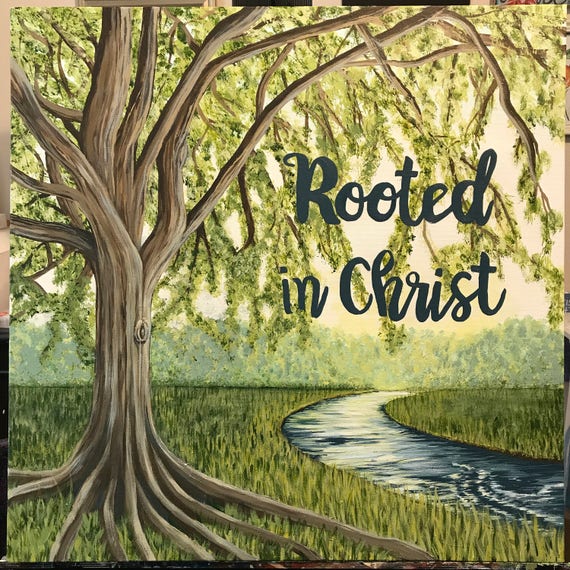 Wall Art
I am in love with this wall art. It's a constant reminder that we are rooted in Christ's love, a perfect addition to any home decor. A less expensive option to the wall art could be these printables. You could add a frame of your choosing to personalize them making them just right for your loved one.
 
Stocking Stuffers
If you are looking for cute faith based stocking stuffers, I would suggest t-shirts, mugs with inspirational quotes or even possibly a pendant. Click the photos above to check out some of my favorites. There are a variety of T-Shirt styles and wordings available for you to choose from. You could also choose to pair these items with a cologne gift set . Some of my favorites are Valentino and Calvin Klein Euphoria . Or you can choose to compliment it with a gift basket comprising of your loved ones favorite skin care products.
FaithBox
This one is for those who love to read and or read devotionals as part of their worship routine. FaithBox is a monthly Christian subscription box. There are usually different monthly themes. It includes a daily devotional, products and content surrounding a Christ centered theme. I love the idea of subscription boxes for the ease of convenience and this one is certainly on my list for the new year.
The Purpose Driven Life
This is a must read for every young adult. I read this book a few years ago and found  The Purpose Driven Life pretty enlightening in helping me to identify my true purpose, all from a christian perspective.
The 5 Love Languages
I am really excited about reading this book in the upcoming months. The 5 love languages is a book that has been recommended to me by friends in the past. My husband and I took their quiz online and realized how completely different our love languages are. I need constant words of affirmation while he needs quality time. The results have certainly gotten me to think differently about his needs. Be sure to grab a copy for your single or married friend.  You can take the quiz here and then grab a copy of the book to discover your love language to further dive into how different our languages differ and how knowing this can improve our relationships. Your loved one will certainly be thankful to you for picking them up a copy.
Christian Adult Coloring Book
Who ever said coloring was just for kids? Christian Adult Coloring Book is perfect for those looking to express their creativity. The Book of Psalms is featured in this beautifully crafted Christian Adult Coloring Book.
Gift Ideas for Christian Bloggers
Planners – For bloggers looking to organize and plan  their monthly content.
E-Courses – To help bloggers boost their traffic and grow their income.
Blog Audit –A personalized blog audit for bloggers struggling with achieving their blog goals.
Website Design – For bloggers looking for a stylish website design.
Strategy Spreadsheets – For bloggers looking to grow their blog into a business.
That concludes our faith-based gift guide for young adults.What do you think of these practical gift ideas?  If you are a young adult, and you are reading this, I challenge you to treat yourself to at least one of these awesome gifts. After all, you deserve it!