JOIN THE CHALLENGE AND FIND BOOKS EVERY CHRISTIAN WOMAN SHOULD READ. SUGGESTIONS INCLUDE ADULT CHRISTIAN LIVING BOOKS AS WELL AS CHRISTIAN LOVE BOOKS.
Imagine for a second you had the spiritual power to heal?
Your aunt struggling with cancer could finally be free from it all.
Perhaps even that young adult on the church choir, currently in the intensive care unit battling for life could actually survive it all.
All could be made whole again, because in the grasp of your hands with the utterance of a prayer God could potentially use you to heal them.
Through the lead characters journey in the book Healer by Susan Muira, I was able to embrace the possibilities, touch lives and contemplate how scary and life changing the power of healing could be.
Through books, you get to experience magical moments and travel to different places. You learn new things and embrace new cultures. For 2019, I want to share this adventure with you my readers, so I have created a christian women reading challenge for us girls. The suggested books for our reading challenge comes highly recommended from fellow christian women.
While the majority of these books are christian, there are a few that aren't. I believe that there are also other books on the market that help us as women that aren't necessarily christian but are still good reads.
Lets get this adventure started!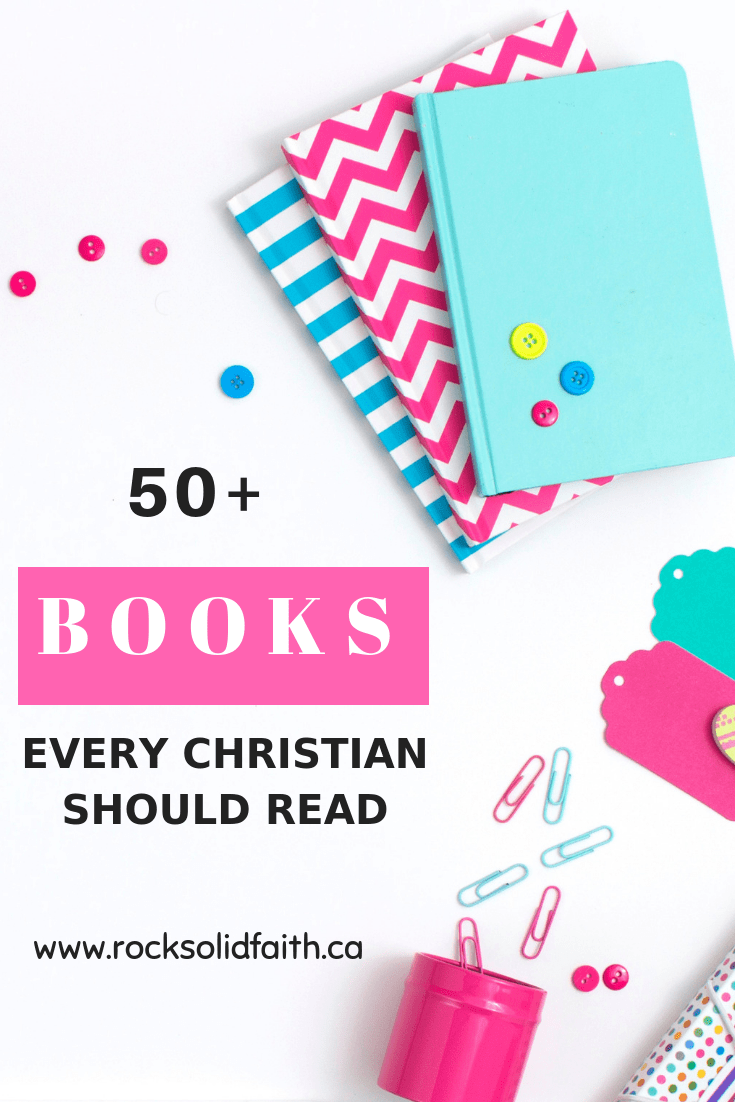 This post may contain affiliate links. You can read my full affiliate disclosure here.
How The Challenge Works:
The christian books below come highly recommended from fellow christian women, the majority of which I will be reading for the first time just like you. Choose your challenge level and then start making your selections from the following 50+books every christian should read.
Select Your Challenge Level
In picking your level of participation, determine how much time you will actually have to devote to reading.
I have opted to only include two reader levels for this challenge. I want you to really spend time delving into these fabulous reader suggestions. There are over 50 books suggested below so feel free to read a book a week if your schedule allows. Should you go this route, you could do themed months for a more systematic approach.
Casual Reader
Pick one book from the list of  christian books for 20 somethings to read every month. If you are not in the habit of reading, I would suggest starting out at this level. Due to my current schedule I only plan on reading 12 books this year unless my schedule changes.
Super Reader
Looking for a bigger challenge? Select the super reader challenge level. You will read 24 books for the year. This works out to two books a month. Totally doable but only commit to this level if your schedule allows.
Select Book Categories
I would suggest selecting books from each category. Should you come across categories not applicable to your current lifestyle or interest, choose additional books from another category. Once you have narrowed down your selections, use a notebook to make note of books you would like to read this year.
You will find book suggestions in the following categories:
Christian Books For Wives
Christian Books For Young Adults
Christian Fiction
Homemaking
Christian Parenting Books
Christian Living
Biographies
Personal Development
How To Find Time To Read When You Are Busy
You might be feeling overwhelmed at the thought of joining a reading challenge.
The demands of a day job, finding time for your family while finding time for your passion projects may have you pulling your hair out.
This busy mama has no time for such luxuries you may echo!
But, what if I told there was hope?  You can learn something new without trying to modify your schedule.
The secret to finding time to read while juggling a busy schedule are audio books.
With audio books, you can listen to your favorite books on the go.
Commuting to and from work, while you are doing the laundry , doing the dirty dishes or even cleaning the house are wonderful opportunities to listen to a good book.  Simply find gaps in your schedule or activities which you can combine with reading and you are good to go.
Not sure audio books are for you? Start a free 30 day trial of Amazon Audible and get two free audio books of your choice.
How to Save Money On Books
Book Swap – Get your girlfriends together and start a book swap. Think about it, if you have a group of 6 friends who are interested in similar books, you could each purchase 2 books and then swap between each other throughout the challenge. This saves you from purchasing all the books.
Your Local Library – Whenever I come across a book I want to read, the first place I head to is my local library. Most of the time my library will have the book available, saving me from purchasing a copy. The only disadvantage I have found thus far is that depending on the books popularity you may have a long wait time before you actually get to read the book. Regardless, I still consider it a win.
Watch For Deals – Throughout the course of the year, your favorite book stores or even Amazon have deals on books. Watch out for these and make your purchases during these sales.
Try Audible and Get Two Free Audiobooks
Books Every Christian Woman Should Read
There are hundreds of books on the market that christian women should read which are by no means limited to this list. My intent with this reading challenge is to provide a list of christian books for women to help strengthen our walk with God, find joy in our marriages and embrace our duties as homemakers and in raising Godly children. I hope that you will be blessed throughout the journey!
Christian Marriage Books

The Five Love Languages by Gary Chapman
The Power of a Praying Wife by Stormie Omartian
Love & Respect by Emerson Eggerichs
Fierce Marriage by Ryan and Selena Frederick
Sacred Marriage by Gary Thomas
Keep Your Love On by Danny Silk
Happy Wives Club by Fawn Weaver
Strangling Your Husband Is NOT an Option by Merrilee Boyack
For Women Only by Shaunti Feldhahn
Nine Thoughts That Can Change Your Marriage by Sheila Gregoire
31 Days To Great Sex by Sheila Gregoire
The Good Girl's Guide To Great Sex by Sheila Gregoire
The Seven Principles For Making Marriage Work by John Gottman and John Nelson
Christian Books For Young Adults

Captivating by John & Stasi Eldredge
Boundaries In Dating by Henry Cloud
The New Rules For Love, Sex and Dating by Andy Stanley
When God Writes Your Love Story by Eric and Leslie Ludy
Passion and Purity by Elisabeth Elliot
The Five Love Languages: Singles Edition  by Gary Chapman
Girl Defined by Kristen Clark and Bethany Baird
Can You Keep Your Faith in College by Abbie Smith
Swipe Right by Levi Lusko
Why I Hate Green Beans by Lincee Ree
Sex, Jesus and the Conversations The Church Forgot by Mo Isom
Welcome To Adulting by Jonathan Pokluda
Silencing Insecurity by Donna Gibbs
Christian Parenting Books

Parenting by Paul David Tripp
Boundaries With Kids by Henry Cloud
Adult Christian Living Books

Made Like Martha by Katie M. Reid
Compared to Who by Heather Creekmore
Uninvited by Lysa Terkeurst
Hello Mornings by Kat Lee
Restless by Jennie Allen
The Best Yes by Lysa Terkeurst
Love Does by Bob Goff
Calm My Anxious Heart by Linda Dillow
The Circle Maker by Mark Batterson
Fervent by Priscilla Shirer
Own Your Life by Sally Clarkson
The Purpose Driven Life by Rick Warren
Cultivate What Matters by Lara Casey
Fierce Faith by Alli Worthington
Its Okay Not to be Okay by Sheila Walsh
Lies Women Believe by Nancy Demoss Wolgemuth
Summer Reads – Christian Novels / Christian Love Books

Redeeming Love by Francine Rivers
Unmending the Veil by Lisa Heaton
The Atonement Child by Francine Rivers
The Shack by William P. Young
Quaker Summer by Lisa Sampson
A Voice in the Wind by Francine Rivers
Blessed Child by Ted Dekker
Healer by Susan Muira
Homemaking
To love, Honor, and Vacuum by Sheila Gregoire
A Woman After God's Own Heart by Elizabeth George
Living Virtuously- A Wife's Complete Guide to Keeping Her Heart and Home by Erin Harrison
Simple Clean by Becky RapinchukCozy
Minimalist Home by Myquillyn Smith
Biographies
I Dared to Call Him Father by Bilquis Sheikh
Rare Bird by Anna Whiston-Donaldson
Personal Development
The Total Money Makeover by Dave Ramsay
The One Hour Content Plan by Meera Kothand
Your First 100 by Meera Kothand
But I'm Not An Expert by Meera Kothand
Pro-Blogging Secrets by Bob Lotich
I would love to hear from you, which books do you plan on reading in 2019 and do you have a reading goal for the year?