Looking for Bible study methods for beginners?
The struggle is real!
Some may not understand it. But girl I get you. There is so much competing for our attention. Woman to woman, we know life can get busier and busier.
Whether it is nursing a sick child, recovering from a brief illness, busyness at work, or anxious about a new job, the list goes on and on.
Moms, Wives, Single sisters, Life is busy but God is more than enough.
Whatever your situation, there are other women battling with similar life struggles. You are not alone!
Amidst all these life pulls, it is still our responsibility to live out our faith.
WANT TO REMEMBER THIS? SAVE THIS SIMPLE BIBLE STUDY METHODS FOR BEGINNERS TO YOUR FAVORITE BIBLE STUDY BOARD!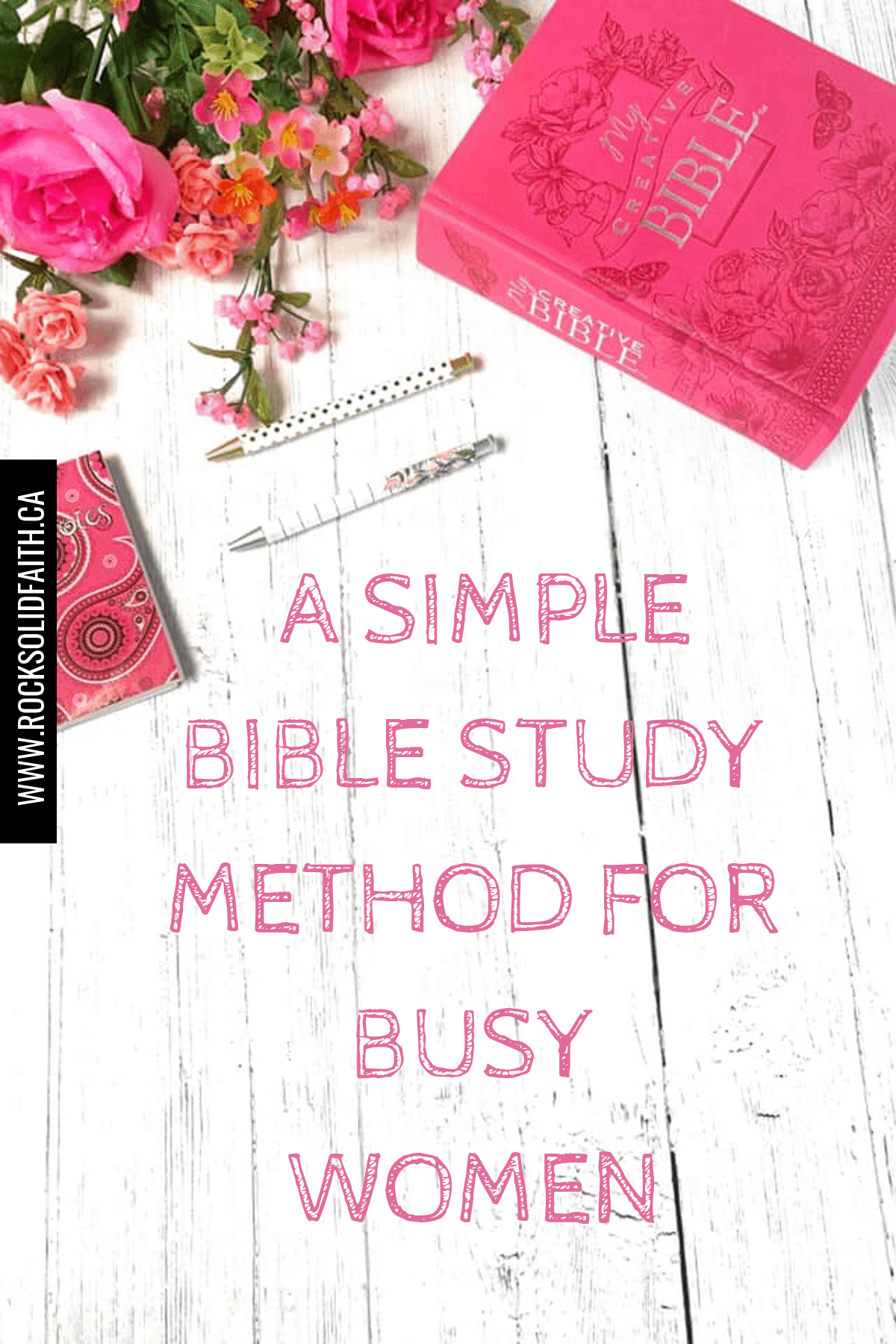 This post may contain affiliate links. You can read my full affiliate disclosure here.
Bible Study Methods For Beginners
If you feel inadequate studying the bible or think you are too busy to get into God's Word? I got just the resource for you.
What if you could get involved with Bible study despite juggling your long list of to do's?
What if I told you, placing God at the center of the mundane makes it so much easier to tackle your to do list?
What if you could find a Bible study technique that was just right for you?
At the end of the day, it is not about how long you study the Bible that counts. What matters is you letting God's Word transform your heart daily.
This can only happen when you intentionally apply the word of God to your everyday decisions.
Move from just reading, or hearing the God's promises to obedience.
Having said this, are you ready to get into God's Word in three simple steps? Let's get started!
How Do you Begin to Study The Bible?
Choose a Suitable Bible Study Method For Beginners. There are various Bible study methods such as the verse by verse Bible study method, the discover Bible study method or even the inductive Bible study method. There is no one size fits all approach or a perfect system of Bible study. Everyone is different and in different seasons of life. Depending on the season of life you are in, choose a simple Bible Study Method to help you study and get the most out of God's Word.
Question for you; Where are you lacking in Bible Study? Time, Approach, Study Method, Devotional, Topic, other personal struggles, are you busy?
If this is you, I created the RAP Bible study method, to address a specific need which is Bible Study for the woman who has a lot on her plate and is always on the go.
How To Use The RAP Bible Study Method For Beginners

R- Read
Begin your study by reading specific verses, then proceed with writing down the verses that you identify with. You could even Bible journal one of those verses that stand out to you.
A- Application
Think about how those verses apply to your everyday life. How does it apply to your faith? Then write down any promises or declarations that you want to recall.
P- Pray
Follow-up by praying about what you just read, making your request known to God. Ask him to fill your heart and help you to obey his word.
It's that simple, RAP!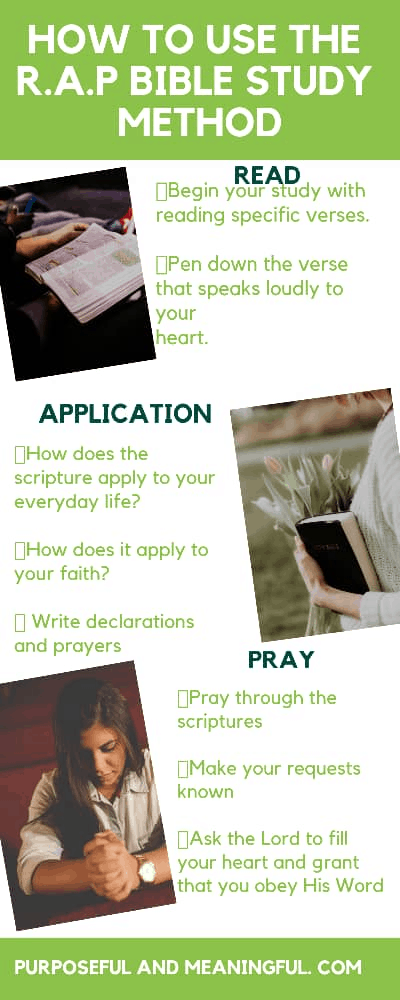 Are you in search of something in-depth? Check out my TEACH Bible Study Method.
Still don't know how to start? Download RAP Free Journal HERE.
*No sign ups required*
Which Book of The Bible Should I Study?
Choose a Simple Bible Study Plan. Allow yourself grace. You wont become a Pro at Bible Study in a Day. Grow and Keep growing. The key to ensure growth, is showing up consistently with a ready heart. Like I said, choose a simple plan.
There are many Bible Study communities that offer Monthly Topical Bible Study Plans some with accompanying devotionals. You may choose to study along with their community or do a personal study.
Questions for you; would I do better in a group study? If yes, find a thriving community and start off right away.
Do I need to search for some topical resources?
Will devotionals help me right now? If yes, what kind? Women Devotionals?
Bible Study Guide
Lastly, Bible Study is practical and relatable. To glean the most from your study time choose Study Plan or topics that resonates with specific struggles you are dealing with.
Questions for you; What am I mostly in need of?
How much time can you give daily? 10 to 15 minutes, 30 minutes?
What time of the day would work?
Bible Study Methods For Beginners: It's Not A One Size Fit All Approach
As I mentioned earlier, when it comes to Bible Study, what works for me may not work for you. Its not a one size fit all approach. Which is why I gravitated towards the 7 Day Bible Study Methods course by my fellow blogger Arabah Joy. She includes a variety of Bible Study Methods to help you find just the right method that works best for you. If you are struggling with Bible Study, using a Bible Study Method can help you focus and get so much more from your quiet time.
This 7-day Bible Study Methods For Beginners Course will:
teach you 7 different Bible study methods  

streamline the learning process so you don't spend weeks or months figuring it out

give you tools for going deep into God's word in as little as ten minutes a day (perfect for busy moms!)

provide ready made templates and printables you can choose from

show you exactly how to do each method with the daily videos 

revolutionize your time in God's word and discover fresh intimacy with God in the process.

equip you to nourish yourself with the Scriptures

teach you how to develop your spiritual senses

help you establish a Bible study habit!
Plus, you can start any time, go at your own pace and you'll have lifetime access to the course materials.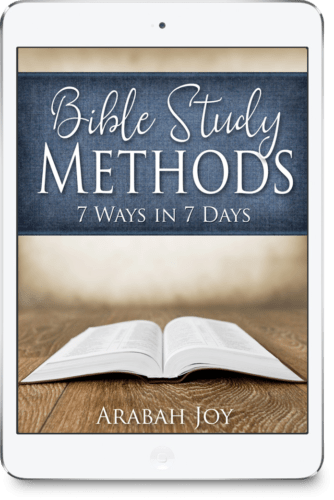 If you've ever wished you could learn how to study the Bible, or dig deep into the word of God and get more from your Bible reading, Bible Study Methods: 7 Ways in 7 Days is for you.
I would love to hear from you, what are some of your favorite Bible Study Methods for Beginners? Drop them in the comments below.
MORE ARTICLES LIKE THIS YOU MAY LIKE
How to Free Up Space On Your Spiritual Hard drive
The Ultimate Beginners Guide To Reading The Bible
How To Fall In Love With the Bible