15 Interesting Bible Verses About Heaven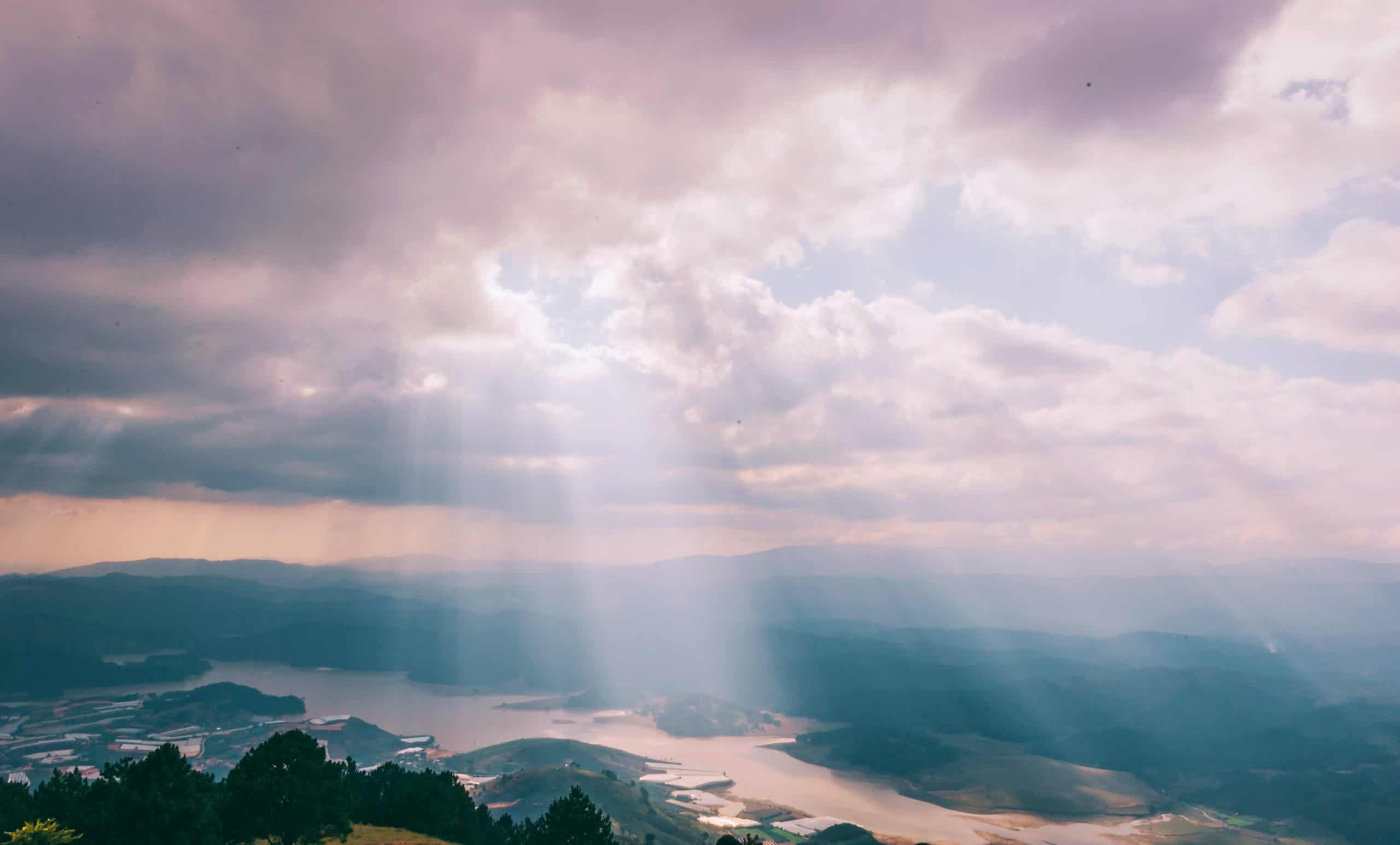 Looking for bible verses about heaven? When thinking about what heaven must be like, many heart-stirring images come to mind: Streets of gold, crystal-clear rivers and soaring psalms of angelic chorus.
Heaven is a prominent theme throughout the Bible, and is often referenced in both the Old and New Testaments. From Jesus' teachings on the Kingdom of Heaven to the book of Revelation's descriptions of the New Jerusalem, the Bible gives us a wealth of insight and knowledge about this mysterious and wonderful place.
Heaven is a beautiful and mysterious place, and the Bible has a lot to say about it. Through this article, we will explore some of the bible's most inspiring and enlightening verses about heaven. We hope that by reading these verses, you will gain a better understanding of this glorious place so that you can understand the incredible promise of eternal life in His presence.
This post may contain affiliate links. You can read my full affiliate disclosure here.
Bible Verses About Heaven
Bible verses about heaven are important because they provide us with a glimpse into what life after death might be like. They give us hope for an eternity of peace and joy, and remind us that death is not the end. They also help us to stay focused on the things that matter most in life, such as loving God and loving others. Bible verses about heaven can also help us to cope with suffering and loss in this life, by providing comfort and assurance that the pain is only temporary. Finally, Bible verses about heaven can encourage us to live lives that are pleasing to God and that will ultimately lead us to our heavenly home.
In the Bible, there are numerous verses that mention heaven. Here are just a few of those verses, along with a brief explanation of each one.
"For the Lord himself will come down from heaven, with a loud command, with the voice of the archangel and with the trumpet call of God, and the dead in Christ will rise first." – 1 Thessalonians 4:16
This verse speaks of the moment when Christ will return to earth. At that time, those who have died believing in Him will be raised from the dead and given new, glorified bodies. This passage also tells us that heaven is where God Himself resides.
"And if I go and prepare a place for you, I will come back and take you to be with me that you also may be where I am." – John 14:3
In this verse, Jesus is speaking to His disciples about His upcoming death and resurrection. He tells them that He is going to prepare a place for them in heaven, and then He will come back and take them there to be with Him. This passage assures us that heaven is a real place prepared by Jesus Himself, and it is a place where we will be able to be with Him forever.
"No eye has seen, no ear has heard, and no mind has imagined what God has prepared for those who love him." – 1 Corinthians 2:9
This verse tells us that heaven is far beyond anything we can imagine. It is a place so wonderful that our human minds cannot even begin to comprehend it. This should give us great hope, knowing that no matter how good things are here on earth, they are nothing compared to the glory and splendor of heaven.
Matthew 5:17-20
"17 Think not that I am come to destroy the law, or the prophets: I am not come to destroy, but to fulfil. 18 For verily I say unto you, Till heaven and earth pass, one jot or one tittle shall in no wise pass from the law, till all be fulfilled. 19 Whosoever therefore shall break one of these least commandments, and shall teach men so, he shall be called the least in the kingdom of heaven: but whosoever shall do and teach them, the same shall be called great in the kingdom of heaven. 20 For I say unto you, That except your righteousness shall exceed the righteousness of the scribes and Pharisees, ye shall in no case enter into the kingdom of heaven." Matthew 5:17-20 KJV
Matthew 7:13-15
"13 Enter ye in at the strait gate: for wide is the gate, and broad is the way, that leadeth to destruction, and many there be which go in thereat: 14 Because strait is the gate, and narrow is the way, which leadeth unto life, and few there be that find it. 15 Beware of false prophets, which come to you in sheep's clothing, but inwardly they are ravening wolves." Matthew 7:13-15 KJV
Revelation 21:4
"4 And God shall wipe away all tears from their eyes; and there shall be no more death, neither sorrow, nor crying, neither shall there be any more pain: for the former things are passed away." Revelation 21:4 KJV
John 14:2
"2 In my Father's house are many mansions: if it were not so, I would have told you. I go to prepare a place for you." John 14:2 KJV
1 Corinthians 2:9
"9 But as it is written, Eye hath not seen, nor ear heard, neither have entered into the heart of man, the things which God hath prepared for them that love him." 1 Corinthians 2:9 KJV
John 3:16
"16 For God so loved the world, that he gave his only begotten Son, that whosoever believeth in him should not perish, but have everlasting life." John 3:16 KJV
Revelation 22:1-5
" And he shewed me a pure river of water of life, clear as crystal, proceeding out of the throne of God and of the Lamb. 2 In the midst of the street of it, and on either side of the river, was there the tree of life, which bare twelve manner of fruits, and yielded her fruit every month: and the leaves of the tree were for the healing of the nations. 3 And there shall be no more curse: but the throne of God and of the Lamb shall be in it; and his servants shall serve him: 4 And they shall see his face; and his name shall be in their foreheads. 5 And there shall be no night there; and they need no candle, neither light of the sun; for the Lord God giveth them light: and they shall reign for ever and ever." Revelation 22:1-5 KJV
Luke 23:43
"43 And Jesus said unto him, Verily I say unto thee, Today shalt thou be with me in paradise." Luke 23:43 KJV
Romans 10:9-13
"9 That if thou shalt confess with thy mouth the Lord Jesus, and shalt believe in thine heart that God hath raised him from the dead, thou shalt be saved. 10 For with the heart man believeth unto righteousness; and with the mouth confession is made unto salvation. 11 For the scripture saith, Whosoever believeth on him shall not be ashamed. 12 For there is no difference between the Jew and the Greek: for the same Lord over all is rich unto all that call upon him. 13 For whosoever shall call upon the name of the Lord shall be saved. Romans 10:9-13 KJV
Hebrews 11:16
"16 But now they desire a better country, that is, an heavenly: wherefore God is not ashamed to be called their God: for he hath prepared for them a city." Hebrews 11:16 KJV
Matthew 6:19-21
"19 Lay not up for yourselves treasures upon earth, where moth and rust doth corrupt, and where thieves break through and steal:20 But lay up for yourselves treasures in heaven, where neither moth nor rust doth corrupt, and where thieves do not break through nor steal: 21 For where your treasure is, there will your heart be also." Matthew 6:19-21 KJV
2 Peter 3:13
"13 Nevertheless we, according to his promise, look for new heavens and a new earth, wherein dwelleth righteousness." 2 Peter 3:13 KJV
Revelation 21:21-25
"21 And the twelve gates were twelve pearls: every several gate was of one pearl: and the street of the city was pure gold, as it were transparent glass. 22 And I saw no temple therein: for the Lord God Almighty and the Lamb are the temple of it. 23 And the city had no need of the sun, neither of the moon, to shine in it: for the glory of God did lighten it, and the Lamb is the light thereof. 24 And the nations of them which are saved shall walk in the light of it: and the kings of the earth do bring their glory and honour into it. 25 And the gates of it shall not be shut at all by day: for there shall be no night there." Revelation 21:21-25 KJV
Luke 12:33-34
"33 Sell that ye have, and give alms; provide yourselves bags which wax not old, a treasure in the heavens that faileth not, where no thief approacheth, neither moth corrupteth. 34 For where your treasure is, there will your heart be also." Luke 12:33-34 KJV
Revelation 21:1
"And I saw a new heaven and a new earth: for the first heaven and the first earth were passed away; and there was no more sea." Revelation 21:1 KJV
Bible Verses About Heaven and Eternal Life
In conclusion, the Bible speaks of Heaven in a variety of ways, from a place of peace and joy to a place of eternal life and glory. Heaven is a place of perfect love and harmony, where we can find true rest and satisfaction. The Bible reminds us that Heaven is the ultimate destination for all who accept Jesus as their Savior and Lord. Therefore, as we strive to live a life of faith and obedience, let us remember that Heaven awaits us in the end.