12 Must Read Bible Verses About Judging Others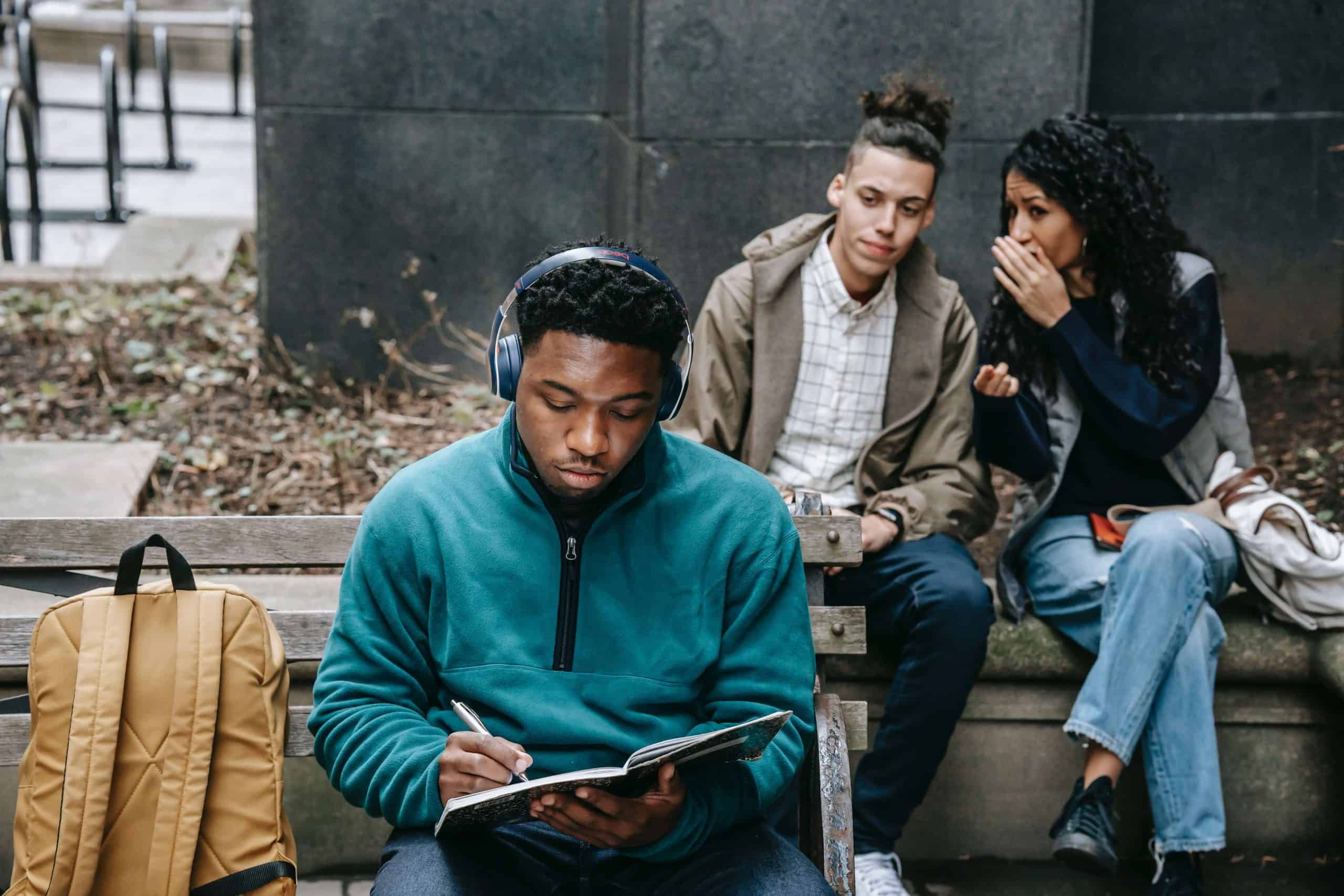 I spent my teenage years in an independent Baptist church. Everything I deemed "fun" was forbidden: movies, dancing, drinking, smoking. Not that I wanted to do all of those, of course. Women were also advised to not wear pants. These biblical standards I was taught gave everyone a measuring stick by which we could discern who the disobedient ones were. No doubt, back then I took my turn holding some poor teenage girl up to the measuring stick as well.
I am guilty of judging and you likely are too.  If you have ever wondered what does the Bible say about judging, you are in for a treat.  Continue reading as we deep dive into several Bible verses about Judging.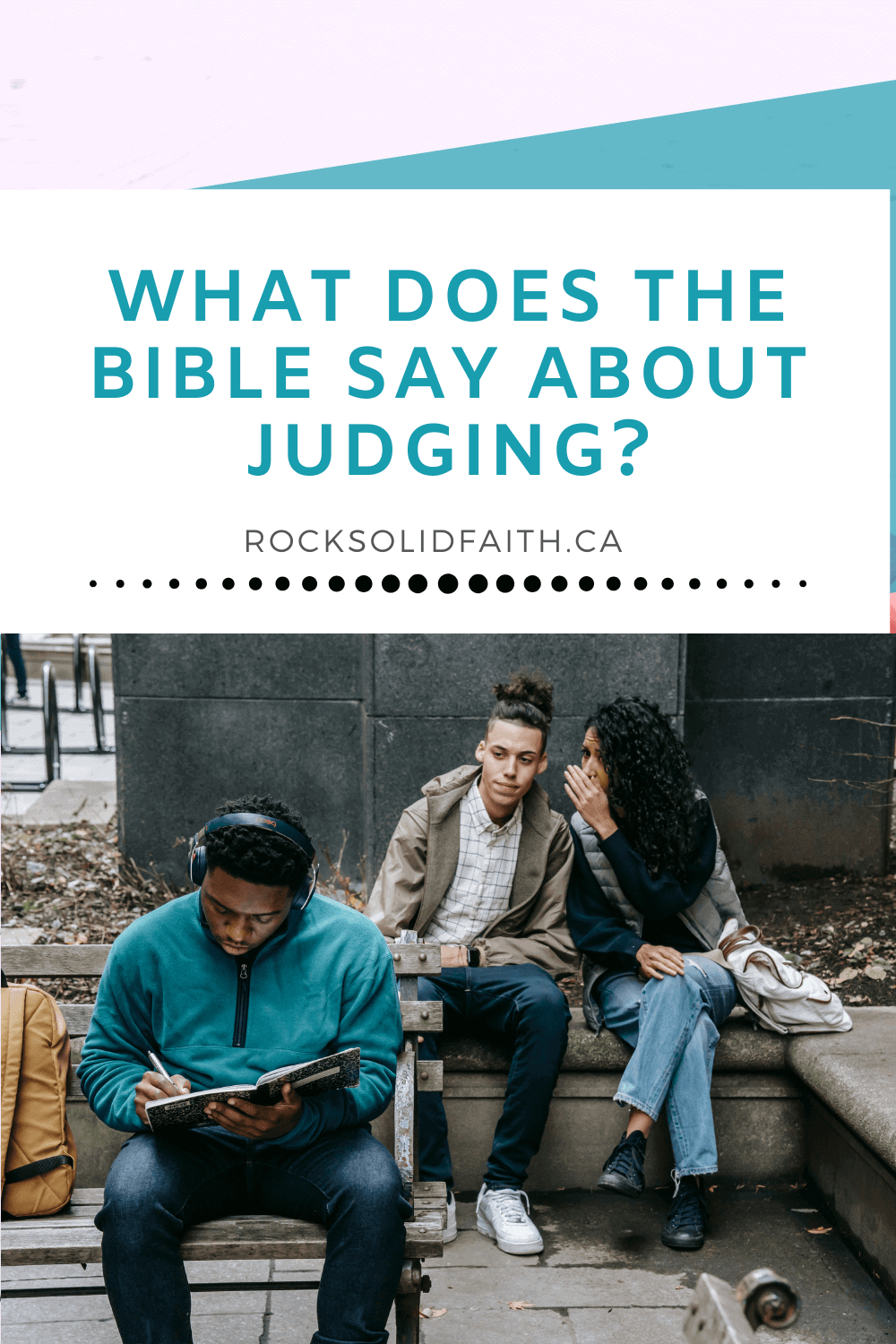 This post may contain affiliate links. You can read my full affiliate disclosure here.
What Does The Bible Say About Judging Others?
It's not hard to understand, especially today, why Christians are often saddled with the judgmental label. I've written before about unfortunate (and unsavory) clashes between believers vs. nonbelievers on Facebook. It's quite interesting how the unchurched feel free to point a finger at a Christian and say, "Ah-ha! I see what you did there. And you people are so judgmental but look at you. You're worse than me." The irony of their own judgmentalism is lost on them. Sadly, in these contentious times it has become very hard for Christians to catch a break. Then, there are people who call themselves Christians who don't comport themselves in Christ-like fashion and they hurt our cause too. 
As Shane Pruitt so eloquently states: "Christians with a past are not seen as forgiven but as hypocrites, constantly reminded of their shortcomings. These are all major judgments made about a people group that are constantly told they better not judge anyone themselves."
When I think of Judging in the Bible, the story of the woman caught in adultery comes to mind. The teachers of the law and Pharisees brought the woman caught in adultery to Jesus. The penalty for such an act back then was stoning. Instead of telling them to go ahead and stone the woman, Jesus instead said to them "Let any one of you who is without sin be the first to throw a stone at her (John 8:2-11)." That's deep, so often we are quick to point fingers and fail to realize we are guilty as well.  When it comes to Bible verses about Judging, I believe the following verse sums up the matter.
"Judge not, that ye be not judged." Matthew 7:1
Bible Verses About Judging Others
What's a Christian to do?  Is judging ever okay? Let's look at several verses in scriptures to see what God has to say about Judging Others. 
Don't look at outward appearances
Humans are visual creatures. We are taught from a very young age about stranger danger and being careful, in general. Such caution requires a discerning eye, even in a young child. As we approach our teens, the importance of first impressions is a common lesson. Naturally, we make snap judgments all the time. Sometimes, those quick assessments are accurate; other times, we get it all wrong.
When Jesus was asked to identify the greatest commandment, he essentially said, "Love God, Love People." (Matthew 22:36-40) . Time and again you have heard me mention on this blog that Jesus called us to be fishers of men not to scale, gut and prepare the fish. 
What we truly need from our church leaders are lessons on mercy, grace, and love. Satan can infiltrate our minds so quickly that we can have a negative thought about another person before we barely even get to know them. We can fight Satan, and we should, but it's a daily battle to turn off the evaluator in our brain. As I've written on my blog, we must show ourselves a little grace every now and then while we fight with the enemy. 
" But the Lord said unto Samuel, Look not on his countenance, or on the height of his stature; because I have refused him: for the Lord seeth not as man seeth; for man looketh on the outward appearance, but the Lord looketh on the heart." 1 Samuel 16:7
You too have unconfessed sin
There's an old truism that goes something like this: When you point a finger, you have three fingers pointing back at you. Why is it that we can so easily see the fault(s) in others but not in ourselves?  When we find another person lacking in our mind, we are applying some standard. That standard could be Biblical, cultural, or personal. 
If you pass judgment on someone's appearance or behavior, you may not have all relevant information. You would not want to be judged by someone who doesn't know enough about you, would you? 
Imagine you get reprimanded by your boss because he keeps seeing you on your personal cellphone. The real story is that you were using the map feature on your phone to assist a client with finding your office. It would be easy for you to get angry that he passed judgment so easily, perhaps not even giving you the benefit of the doubt as a strong employee.
While your boss has every right to question your behavior at work, you don't have the same right to have negative opinions about someone you do not know well. If you enjoy evaluating others in silence, you may be victim to the same kind of judgment. It could cost you one day, and you'll never know it.
"Judge not, that ye be not judged. For with what judgment ye judge, ye shall be judged: and with what measure ye mete, it shall be measured to you again. And why beholdest thou the mote that is in thy brother's eye, but considerest not the beam that is in thine own eye? " Matthew 7:1-3
We'll talk a bit more about this in the conclusion because these verses are really a lesson from Jesus on how to judge appropriately and Biblically.
The church cannot be defiled by immorality
The apostle Paul wrote to the church in Corinthians chastising them for failing to remove the members who were actively engaged in immorality. The church members failed to "pass judgment" that were appropriate and Biblical. Instead, their lack of good judgment, so to speak, hindered the ministry of the church. 
What nonbelievers don't understand is that the redeemed are not perfect. We're not meant to be. We are susceptible to the same temptations as the unchurched. The church body cannot tolerate overtly sinful behavior that the entire community has witnessed. And, we have Christ as the example of how to treat people who are tarnishing the church's reputation. He ran off the moneychangers saying they'd made His temple a den of thieves (Mark 11:15-19). 
"It is reported commonly that there is fornication among you, and such fornication as is not so much as named among the Gentiles, that one should have his father's wife. And ye are puffed up, and have not rather mourned, that he that hath done this deed might be taken away from among you." 1 Corinthians 5: 1-2
God is the ultimate judge
In situations between our Christian brothers and sisters, it is not our place to determine how a fellow believer should choose to serve Him. God has given each of us gifts, and as Second Timothy tells us, we will give an answer about how we served His Kingdom – following His commandments, imitating Christ, love our enemies and pray for them, practice and exhibit the gifts of the Spirit.
When we wish to share the Gospel with the unconverted, it is not part of the "go into all the world" job description to list the "Thou shalt's and Thou shalt nots."  This can be a terrible turnoff! The gospel of Jesus Christ is truly the healing balm for troubled souls (Mal. 4:2). Let the Gospel do its spiritual work. Telling someone that their life is messed up is not the way to start a conversation. God will take care of the rest in His time and through His servants who provide discipleship. A new convert must crawl before they walk, and that's best done with a mentor, time in the Bible, and fellowship with other believers.
"Henceforth there is laid up for me a crown of righteousness, which the Lord, the righteous judge, shall give me at that day: and not to me only, but unto all them also that love his appearing." 2 Timothy 4:8
"So that a man shall say, Verily there is a reward for the righteous: verily he is a God that judgeth in the earth." Psalm 58:11
Bible Verses On Judging Others
Is passing judgment ever acceptable?
The kinds of hurtful judgment you and I may have experienced in our lives may not have been acceptable. Every criticism or well-intended guidance has its own context. 
The worst kinds of judgment are hypocritical or offering condemnation (Matthew 7:1-6). Biased judgment that is not rooted in Scripture is also wrong. 
" Or how wilt thou say to thy brother, Let me pull out the mote out of thine eye; and, behold, a beam is in thine own eye? Thou hypocrite, first cast out the beam out of thine own eye; and then shalt thou see clearly to cast out the mote out of thy brother's eye." Matthew 7:4-5
So, the Biblical judging standard from Matthew 7:1-5 is this: 
a) expect to be judged in the same manner you offer judgment,
b) address your own sin before you call out the sin of another, i.e., don't be a hypocrite!
If you find yourself inspecting another person's appearance, actions, or motives, stop and ask yourself:  Is it true and is it kind? Think before you speak or act. Ask God for wisdom if you are concerned about a situation.  Examine yourself first—do you have a log in your own eye?
God's word provides so much help in this area and without even mentioning the word "judge." These two scriptures from Proverbs and Psalms offer guidance for every moment in our lives, whether conflict is circulating around us or if we're in a moment of perfect peace. 
"The heart of the righteous studieth to answer: but the mouth of the wicked poureth out evil things." Proverbs 15:28
"Let the words of my mouth, and the meditation of my heart, be acceptable in thy sight, O Lord, my strength, and my redeemer." Psalm 19:14
Scriptures on Judging Others
"Speak not evil one of another, brethren. He that speaketh evil of his brother, and judgeth his brother, speaketh evil of the law, and judgeth the law: but if thou judge the law, thou art not a doer of the law, but a judge. There is one lawgiver, who is able to save and to destroy: who art thou that judgest another?" James 4:11-12
"Judge not, and ye shall not be judged: condemn not, and ye shall not be condemned: forgive, and ye shall be forgiven:Give, and it shall be given unto you; good measure, pressed down, and shaken together, and running over, shall men give into your bosom. For with the same measure that ye mete withal it shall be measured to you again." Luke 6:37-38
"But why dost thou judge thy brother? or why dost thou set at nought thy brother? for we shall all stand before the judgment seat of Christ." Romans 14:10
Judging In the Bible
The Bible has a lot to say about judging. My prayer is that we will ask God to "Create in me a clean heart, O God; and renew a right spirit within me. Cast me not away from thy presence; and take not thy holy spirit from me. Restore unto me the joy of thy salvation; and uphold me with thy free spirit." Psalm 51:10-12
Similar Articles You May Like
Why Being Christian Is So Much More Than A Title
13 Profound Bible Verses For Spiritual Growth
7 Inspiring Bible Verses About Living For God