36 Bible Verses About Trusting God
It can be easy to tell a friend to trust God and watch him work when we are not the ones struggling. Am I right?
The Bible says faith can move mountains (Matthew 17:20), but in our struggles this can at times seem like the hardest thing to do.
It is certainly not as easy as reciting Bible verses about trusting God.
Last year, I had the opportunity to go to the West Edmonton Mall Indoor Water Park. I would never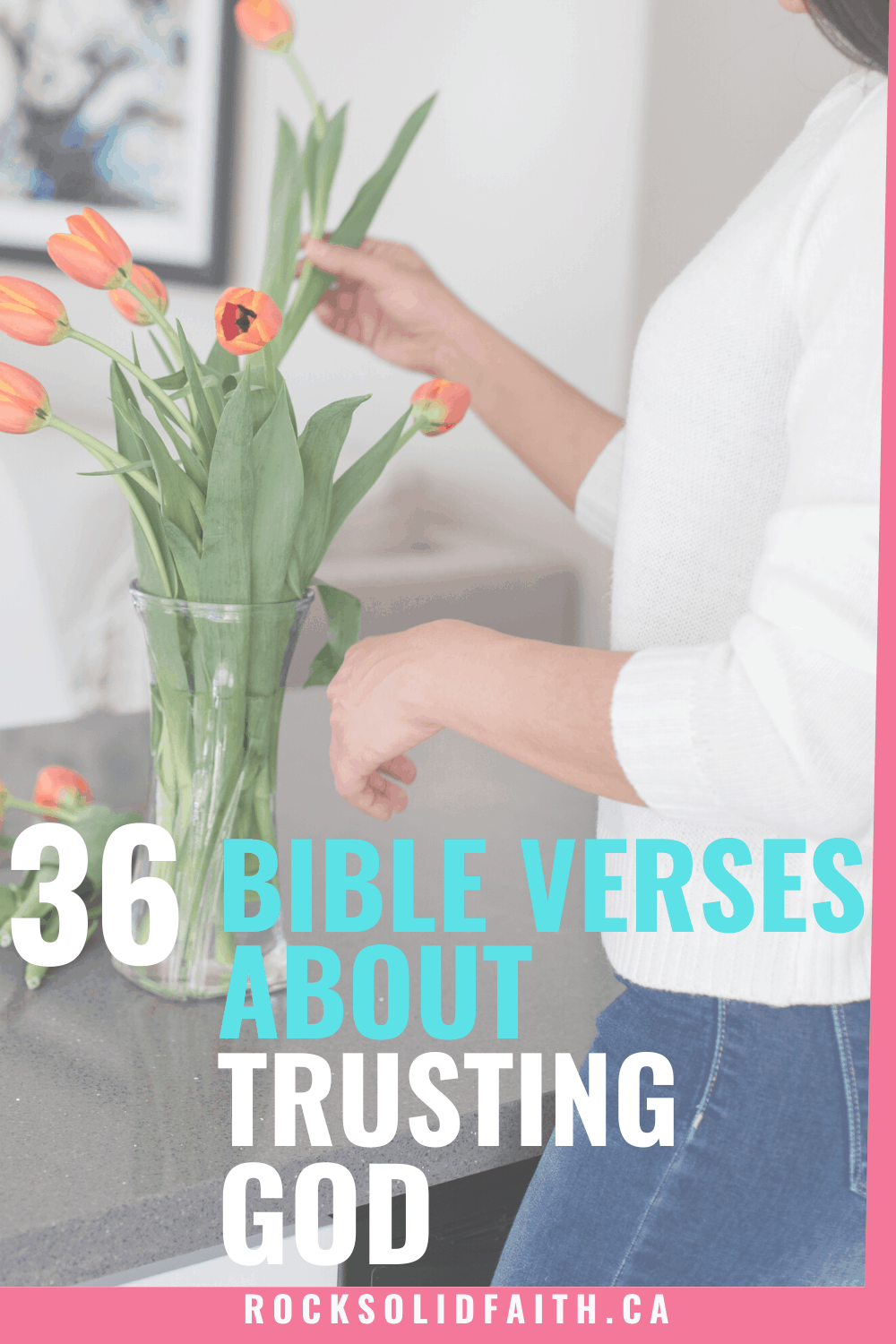 in a million years think that I would go on a slide 85 feet in the air and be willing to free fall when the count down ended and the trap door opened underneath me. Facing my fear of heights, I did it anyway.
On the other side of your fear is your testimony!
Why was I willing to risk my life?
I had faith that the operators knew what they were doing and I trusted that the venue properly serviced their equipment and placed safety measures in place to ensure the safety of their customers. Regardless, these measures could easily fail.
Wouldn't you rather trust in a God who only wants the best for you?
This post may contain affiliate links. You can read my full affiliate disclosure here.
36 Encouraging Bible Verses About Trusting God
Truly Trusting God is like the Hebrew boys (Shadrach Meshach and Abednego – Bible characters who trusted God), believing that whether or not he delivers you from the storm in your life you will still rely on him knowing that he knows best. You will serve him comes what may, that to me is having faith in the Lord.
I recently had the opportunity to participate in a team building activity. One partner was blindfolded and the other partner had to lead the blindfolded partner through an obstacle course. Although being lead by your partner, there was still the fear of bumping into objects and often times I would place my arm out bracing for what I thought would be a potential fall. Over time my trust in my partner grew and I started to trust him to lead.
The more time I spent time with my partner navigating different turns and bumps the more I grew to trust him. Its the same with God. The more you focus on developing an intimate relationship with God, the stronger your foundation for when life's " thriller roller coaster ride" comes your way. Instead of hands in the air screaming why me, our hands will be in the air boldly praying to God for strength to navigate this roller coaster ride while using our storm to strengthen us and also to bless others by your experience (our testimony).
As you try to navigate this period of your life, here are some trust in the Lord Bible verses to encourage you and boldly cling to God's promises.
My Favorite Verses On Trusting God



All the following trust in the Lord Bible verses are taken from the King James Version. My hope is that you will find comfort in these scriptures on trusting God.
Psalms 91:1-2

"He that dwelleth in the secret place of the most High shall abide under the shadow of the Almighty. I will say of the Lord, He is my refuge and my fortress: my God; in him will I trust."
This is my go to Psalm, when I am feeling fearful. In fact it helped me through my struggles with anxiety. While I have only listed the first two verses, I encourage you to give the entire Psalm a read. This scripture is a wonderful reminder that during difficult seasons we are never alone, God's protection and comfort is readily available to us.
Psalms 34: 4
"I sought the Lord, and he heard me, and delivered me from all my fears."
If you are struggling with trusting God in its entirety, I want to encourage you to read Psalms 34. Especially when I am feeling overwhelmed by all the cares of this world, I will reach for my phone and listen to Psalms 34 sung by the Brooklyn Tabernacle Choir. Check them out below and let me know what you think!
Matthew 6:33-34

"But seek ye first the kingdom of God, and his righteousness; and all these things shall be added unto you.  Take therefore no thought for the morrow: for the morrow shall take thought for the things of itself. Sufficient unto the day is the evil thereof."
Scriptures About Trusting God
Joshua 1:9

" Have not I commanded thee? Be strong and of a good courage; be not afraid, neither be thou dismayed: for the Lord thy God is with thee whithersoever thou goest."

1 John 5:14-15

" And this is the confidence that we have in him, that, if we ask any thing according to his will, he heareth us: And if we know that he hear us, whatsoever we ask, we know that we have the petitions that we desired of him."

Psalms 37:4-6

"Delight thyself also in the Lord: and he shall give thee the desires of thine heart. Commit thy way unto the Lord; trust also in him; and he shall bring it to pass.  And he shall bring forth thy righteousness as the light, and thy judgment as the noonday."

Matthew 11:28-30

" Come unto me, all ye that labour and are heavy laden, and I will give you rest. Take my yoke upon you, and learn of me; for I am meek and lowly in heart: and ye shall find rest unto your souls. For my yoke is easy, and my burden is light."
Proverbs 3:5-6

"Trust in the Lord with all thine heart; and lean not unto thine own understanding. In all thy ways acknowledge him, and he shall direct thy paths."
When making decisions, don't rely on your own judgment, because what seems right to a man its end is the way of death (Proverbs 14:12).  Ask God for guidance and he will show you the way to go.
Trust In The Lord Bible Verses
Psalms 121

"I will lift up mine eyes unto the hills, from whence cometh my help. My help cometh from the Lord, which made heaven and earth. He will not suffer thy foot to be moved: he that keepeth thee will not slumber. Behold, he that keepeth Israel shall neither slumber nor sleep. The Lord is thy keeper: the Lord is thy shade upon thy right hand. The sun shall not smite thee by day, nor the moon by night. The Lord shall preserve thee from all evil: he shall preserve thy soul. The Lord shall preserve thy going out and thy coming in from this time forth, and even for evermore."

1 John 4:18

"There is no fear in love; but perfect love casteth out fear: because fear hath torment. He that feareth is not made perfect in love."

Psalms 18:2

"The Lord is my rock, and my fortress, and my deliverer; my God, my strength, in whom I will trust; my buckler, and the horn of my salvation, and my high tower."

Psalms 23:4

"Yea, though I walk through the valley of the shadow of death, I will fear no evil: for thou art with me; thy rod and thy staff they comfort me."

John 16:33

"These things I have spoken unto you, that in me ye might have peace. In the world ye shall have tribulation: but be of good cheer; I have overcome the world."

James 1:12

"Blessed is the man that endureth temptation: for when he is tried, he shall receive the crown of life, which the Lord hath promised to them that love him."

Deuteronomy 31:8

"And the Lord, he it is that doth go before thee; he will be with thee, he will not fail thee, neither forsake thee: fear not, neither be dismayed."
Encouraging Bible Verses  On Trusting God
Psalms 56:3
" What time I am afraid, I will trust in thee."
When you put your trust in God, you have nothing to fear. He promised that he will never leave you nor abandon you.
Proverbs 16:3

"Commit thy works unto the Lord, and thy thoughts shall be established."
Put the desires of your heart to the Lord and if it is according to His will, he will grant your wishes.
Psalms 40:1-2

"I waited patiently for the Lord; and he inclined unto me, and heard my cry. He brought me up also out of an horrible pit, out of the miry clay, and set my feet upon a rock, and established my goings."
Patience isn't one of my best attributes, I don't like to wait. Often we may pray and wonder why it seems like God just isn't hearing our prayers. However we can trust he hears and will answer right on time when he deems it best.
Jeremiah 17:7-8

"Blessed is the man that trusteth in the Lord, and whose hope the Lord is. For he shall be as a tree planted by the waters, and that spreadeth out her roots by the river, and shall not see when heat cometh, but her leaf shall be green; and shall not be careful in the year of drought, neither shall cease from yielding fruit."
Just like the tree with its roots planted by the rivers, as long as you trust in God you have nothing to fear. Whatever challenges may come your way you need not worry or doubt. You are deep rooted in God knowing that your hope and confidence is in him.
Psalms 33:4

"For the word of the Lord is right; and all his works are done in truth."
God is always faithful to his word, we can trust with confidence that what he says will come through.
Trust Scriptures
Psalms 92:4

" For thou, Lord, hast made me glad through thy work: I will triumph in the works of thy hands."
God is our "way maker", he creates paths through ways that may seem impossible.
Isaiah 60:20-21

" Thy sun shall no more go down; neither shall thy moon withdraw itself: for the Lord shall be thine everlasting light, and the days of thy mourning shall be ended. Thy people also shall be all righteous: they shall inherit the land for ever, the branch of my planting, the work of my hands, that I may be glorified."
Regardless of what sorrows you may be going through, it won't last forever it too will cease. God will bring an end to it.
Isaiah 41:10-13

" Fear thou not; for I am with thee: be not dismayed; for I am thy God: I will strengthen thee; yea, I will help thee; yea, I will uphold thee with the right hand of my righteousness.Behold, all they that were incensed against thee shall be ashamed and confounded: they shall be as nothing; and they that strive with thee shall perish. Thou shalt seek them, and shalt not find them, even them that contended with thee: they that war against thee shall be as nothing, and as a thing of nought. For I the Lord thy God will hold thy right hand, saying unto thee, Fear not; I will help thee."
God will never leave you nor abandon you. You have the reassurance that you are never going through what you are going through alone.
Isaiah 40:29-31

" He giveth power to the faint; and to them that have no might he increaseth strength. Even the youths shall faint and be weary, and the young men shall utterly fall: But they that wait upon the Lord shall renew their strength; they shall mount up with wings as eagles; they shall run, and not be weary; and they shall walk, and not faint."
You going through trials and tribulations by yourself is burdensome. However relying on your hope in God makes that burden way easier to carry. That which seemed heavy now becomes light.

Trusting In God Verses
2 Corinthians 4:18

"While we look not at the things which are seen, but at the things which are not seen: for the things which are seen are temporal; but the things which are not seen are eternal."
We should fix our eyes on eternal glory rather than whatever trials and tribulations that we are going through right now knowing that it is preparing us for eternity.
Psalms 125:1

" They that trust in the Lord shall be as mount Zion, which cannot be removed, but abideth for ever."
Like a mountain that stands firm, we should have rock solid faith not wavering in what we believe.
1 John 5:14-15

"And this is the confidence that we have in him, that, if we ask any thing according to his will, he heareth us: And if we know that he hear us, whatsoever we ask, we know that we have the petitions that we desired of him."
We need to align our will with the Lords will then anything that we ask will be given unto us as our will is in line with his will. For example, you asking for wisdom is different than you praying and asking God to make you the next billionaire. Asking for wisdom is in line with God's will than our selfish desire of becoming a billionaire. God knows best and will grant the desires of our hearts as long as it is according to his will.
James 1:6

"But let him ask in faith, nothing wavering. For he that wavereth is like a wave of the sea driven with the wind and tossed."
Be resolute in your mind of what you stand for and believe. When you ask God for something don't doubt but stand firm believing that he can grant you the wishes of you heart. Have full confidence that God hears your prayer and will answer. Faith can move mountains (Matthew 17:20).
Mark 11:24

"Therefore I say unto you, What things soever ye desire, when ye pray, believe that ye receive them, and ye shall have them."

Hebrews 11:1,6

"Now faith is the substance of things hoped for, the evidence of things not seen. But without faith it is impossible to please him: for he that cometh to God must believe that he is, and that he is a rewarder of them that diligently seek him."
Matthew 21:22

"And all things, whatsoever ye shall ask in prayer, believing, ye shall receive."
Psalms 46:10

"Be still, and know that I am God: I will be exalted among the heathen, I will be exalted in the earth."
Psalms 28:7

"The Lord is my strength and my shield; my heart trusted in him, and I am helped: therefore my heart greatly rejoiceth; and with my song will I praise him."
Romans 8:28

"And we know that all things work together for good to them that love God, to them who are the called according to his purpose."
Philippians 4:6-7

 "Be careful for nothing; but in every thing by prayer and supplication with thanksgiving let your requests be made known unto God.

And the peace of God, which passeth all understanding, shall keep your hearts and minds through Christ Jesus."
John 14:1-3

"Let not your heart be troubled: ye believe in God, believe also in me.  In my Father's house are many mansions: if it were not so, I would have told you. I go to prepare a place for you.  And if I go and prepare a place for you, I will come again, and receive you unto myself; that where I am, there ye may be also."

How to Trust in God

Spend time getting to know God by reading the Bible.
Put God to the test, your experiences will help you to learn that you can indeed trust that he has your best interest at heart.
These cute faith stickers are awesome to remind you of God's promises throughout the day.
For additional resources on trusting God, I will encourage you to check out the following resources:
A 40-day devotional to deepen and strengthen your faith and walk with God.
Walking confidently with God through life's tough seasons
Trust In the Lord Bible Journaling Kit
It is a printable trust in God Bible Study Journaling Kit with the theme of trusting God. It includes a reading plan filled with Bible verses on trust.
Bible Verses About Trusting God
What are some of your favorite Bible verses about trusting God that you turn to when life seems like a roller coaster ride? Share them in the comments below.