30 Encouraging Bible Verses For When You Feel Alone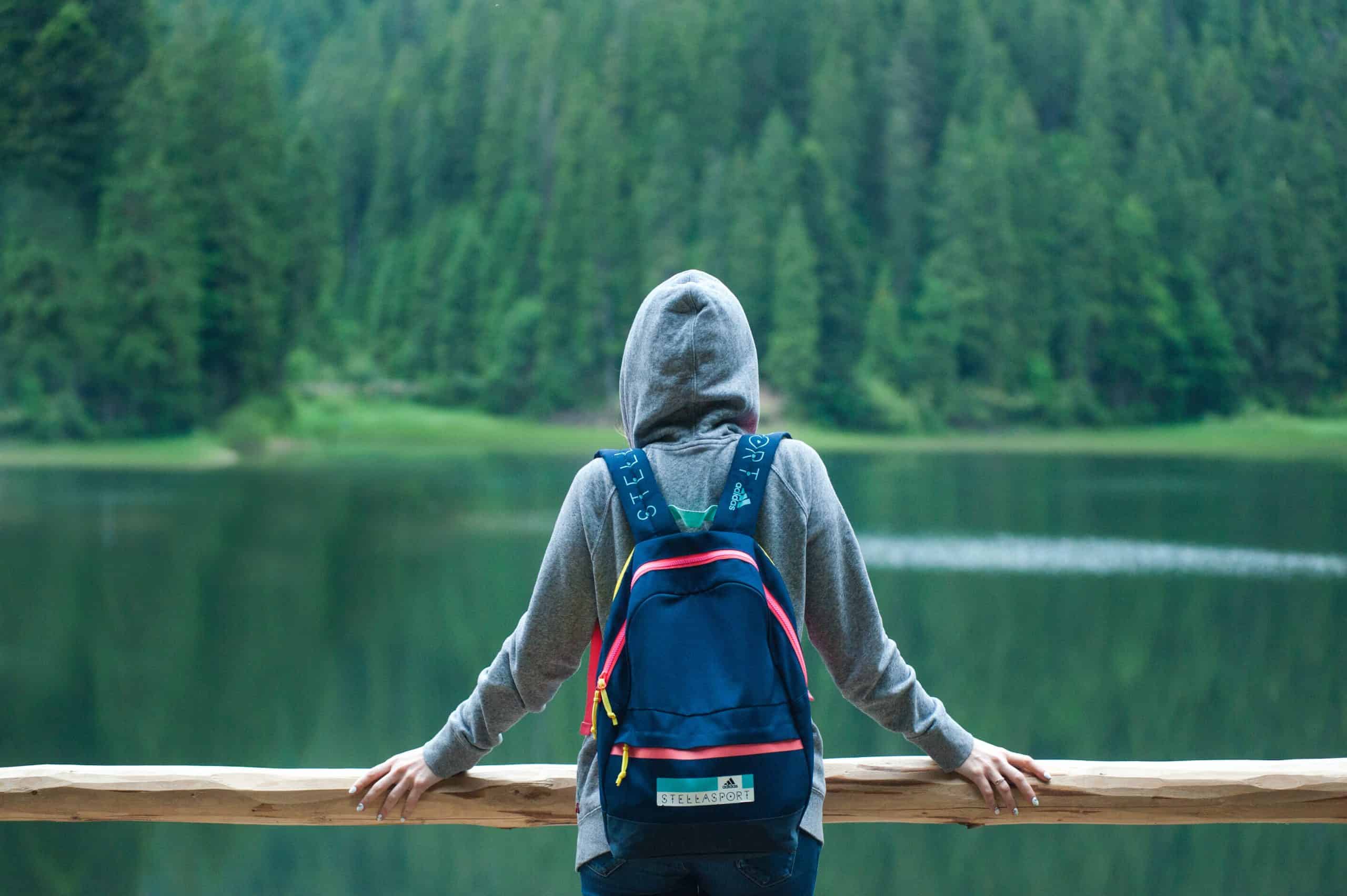 Looking for Bible verses for when you feel alone? There have been several times in my life when I felt alone. There could be friends and family members around, but still, I felt like none of them understood what I was going through in that moment and I felt like it was just so difficult to connect with them.
During those times, I have learned to look to the scripture for encouragement and comfort. God's word is filled with promises of him never leaving us and we can hold on to these promises whenever we feel like nobody cares about us. In this post, I will be sharing with you 30 bible verses for when you feel alone.
This post may contain affiliate links. You can read my full affiliate disclosure here.
What Does the Bible Say About Feeling Alone

?
Genesis 2:18 says
Then the Lord God said, "It is not good that the man should be alone; I will make him a helper fit for him.
From this scripture, we see that being alone is not God's plan. He said it is not good for a man to be alone. This applies to the context of marriage but I believe that God does not want us to be alone in life generally. God is very big on relationships.
He is very big on our relationship with him, he enjoys us fellowshipping with him. God is also very interested in our relationships with other people. When he made us, he put that desire for intimacy and fellowship with other people within us. He created us in such a way that we cannot be self-sufficient. There always will be that yearning for a relationship.
We see several promises in the scriptures where God affirms to us that he will never leave us nor forsake us. God does not want us to be alone at all. Even in those hard times, when we feel alone or when we are alone (because those times are bound to come, there will be such seasons of being alone for sure), he still wants us to know that we have his reassuring presence every time and every moment. He never wants us to be alone.
We see this also play out when Jesus was about to leave the earth and was giving his disciples his final words, He said
John 14:16 And I will ask the Father, and he will give you another Helper, to be with you forever,
God made a forever plan for us, he never wants us to be alone. It is not his will that we are alone. So anytime we feel alone, we need to know that we are not alone, but God is with us.
30 Bible Verses for When you Feel Alone
Isaiah 49:15-16 Can a woman forget her nursing child, that she should have no compassion on the son of her womb? Even these may forget, yet I will not forget you. Behold, I have engraved you on the palms of my hands; your walls are continually before me.
God has engraved you in the palm of his hands, meaning that you are so close to him. Imagine being in the palm of someone's hands! It means that you are not alone, you are always with God, so close to him.
Do you know how many times you look at the palm of your hands each day, consciously or unconsciously? That is exactly how God looks at you each moment. He is continually looking at you. You are engraved, not just casually placed there, so, you can't fall off. You are permanently there in his palms.
Psalm 34:17-18 When the righteous cry for help, the Lord hears and delivers them out of all their troubles. The Lord is near to the brokenhearted and saves the crushed in spirit.
This is a powerful Psalm. The Lord is near those whose hearts are broken. Whatever you might be going through that has caused your heart to be broken, the Lord is near you. He is very close to you, providing comfort and encouragement to your heart. You are not alone.
Exodus 33:14 And he said, "My presence will go with you, and I will give you rest.
This is a verse to hold on to whenever you want to embark on a journey of faith and it feels like nobody is with you on that journey. God is saying that his presence will go with you and he will give you rest.
I remember years ago when I needed a lot of money to pay my school fees for my master's program. This was the exact scripture that God laid in my heart when I wanted to start the program and indeed, I enjoyed the rest. God miraculously provided me with a scholarship. God's word is very true. God's presence always comes with an assurance of rest.
Isaiah 41:10 fear not, for I am with you; be not dismayed, for I am your God; I will strengthen you, I will help you, I will uphold you with my righteous right hand.
This is another encouraging scripture. This is God himself speaking. I love those verses where God himself is speaking and assuring me of his presence and this is one of those. You don't have to be afraid because God is with you.
Deuteronomy 31:6

Be strong and courageous. Do not fear or be in dread of them, for it is the

Lord

your God who goes with you. He will not leave you or forsake you.
Deuteronomy 31:8

It is the

Lord

who goes before you. He will be with you; he will not leave you or forsake you. Do not fear or be dismayed."
Hebrews 13:5

Keep your life free from love of money, and be content with what you have, for he has said, "I will never leave you nor forsake you."
God has said that he will 'never' leave you nor forsake you. 'Never' means not in any situation or circumstance, regardless of what you do or what you don't do. He said he will never leave you nor forsake you. Beloved, for no reason whatsoever, will God ever leave you. God is always with you. He will never give up on you. He will never abandon you. Even in moments where he seems to be silent, he is there with you.
Psalm 91:15

When he calls to me, I will answer him; I will be with him in trouble; I will rescue him and honor him.
God promises to always answer us whenever we call him. He also said he will be with us in trouble. He will rescue and honor us.
Matthew 11:28-30

Come to me, all who labor and are heavy laden, and I will give you rest. Take my yoke upon you, and learn from me, for I am gentle and lowly in heart, and you will find rest for your souls. For my yoke is easy, and my burden is light."
This is a call to everyone who feels alone or who feels burdened. God is saying that you should come to him. He wants you to come to him because he is very near, he is close.
Luke 5:16 But he would withdraw to desolate places and pray.

Luke 6:12 In these days he went out to the mountain to pray, and all night he continued in prayer to God.
Jesus sought opportunities to be alone so he could pray. This is also a lesson for us that anytime we are alone, we can use those moments as opportunities to pray to God, knowing full well that God is with us.
Psalm 68:6

God settles the solitary in a home; he leads out the prisoners to prosperity, but the rebellious dwell in a parched land.
God places anyone who is solitary in families. Just the same way, he created Eve for Adam, he is still in the business of settling people into families of their own, both spiritual and biological families. You can hold on to God for settlement into a family of your own.
Joshua 1:5

No man shall be able to stand before you all the days of your life. Just as I was with Moses, so I will be with you. I will not leave you or forsake you.
Joshua 1:9

Have I not commanded you? Be strong and courageous. Do not be frightened, and do not be dismayed, for the

Lord

your God is with you wherever you go."
God is with me wherever I go. This was the very first bible lesson I taught my kids as toddlers. I wanted them to know that God is always with them, wherever they may go, and this is an important lesson for us to learn as well, even as adults. The Lord is always with you, wherever you go.
Psalm 27:10 For my father and my mother have forsaken me, but the Lord will take me in.
This scripture tells us that even when those that are meant to support and be there for us leave us, God will never leave us. His presence is not because of our parents, his presence is because he loves us endlessly.
It is easy to give up on someone when other people have given up on that person. You don't want to be seen as the only one supporting someone whom everyone has left to his fate. But God is saying even when everyone gives up on you, he will never give up on you. He will always be there.
Psalm 147:3 He heals the brokenhearted and binds up their wounds.
God heals the heart that is broken. Anything can lead to a broken heart, but the amazing thing to know is that no matter how broken a heart is, God can heal it and binds up every wound. It takes such closeness to bind up a wound.
Psalm 9:9 The Lord is a stronghold for the oppressed, a stronghold in times of trouble.
Psalm 46:1 God is our refuge and strength, a very present help in trouble.
Have you ever been in trouble and everyone that knows you deny ever meeting you? Similar to what happened to Jesus. He was in trouble and his disciples were nowhere to be found. Peter who was meant to be one of those closest to him also denied him, not once, not twice, but three times.
Friends and Family can desert you when in trouble when God is an always present help in trouble. Not only will God be there to witness the trouble, but he will be there to help you out of it.
Matthew 28:20 teaching them to observe all that I have commanded you. And behold, I am with you always, to the end of the age."
Sometimes when God gives you an assignment, it can be tough on you. It can mean coming out of your comfort zone and you could feel alone. At these times, God is saying that He is with you always, and every time. He is with you strengthening you to carry out his work and encouraging your heart all the way.
Isaiah 54:10 Though the mountains be shaken and the hills be removed, yet my unfailing love for you will not be shaken nor my covenant of peace be removed," says the Lord, who has compassion on you.
I love this scripture a lot. God is saying that no matter what happens. Even when unexpected things or the things that seem so impossible happen, like the mountains being shaken and the hills being removed, his love for you will never be shaken. He will always be there for you.
Nothing can catch God unawares. He loves you now, He will love you forever more. His love for you is constant and unending. There is nothing that you do or don't do that can change God's mind about you. His mind is made up. His thoughts towards you are those of good, and not of evil.
Psalm 32:7 You are a hiding place for me, you preserve me from trouble, you surround me with shouts of deliverance.
God is your hiding place. Whenever you feel alone, remember that God is that place where you can hide and feel safe and secure.
John 16:32-33 Behold, the hour is coming, indeed it has come, when you will be scattered, each to his own home, and will leave me alone. Yet I am not alone, for the Father is with me.
Jesus affirmed that God is with him. Let this also be your confession at every alone moment, that you are not alone, for God is with you.
Psalm 23:4 Even though I walk through the valley of the shadow of death, I will fear no evil, for you are with me; your rod and your staff, they comfort me.
This is a very reassuring Psalm that even when we walk through the valley of the shadow of faith, we should not be afraid because God is with us.
Romans 8:37-39 No, in all these things we are more than conquerors through him who loved us. For I am sure that neither death nor life, nor angels nor rulers, nor things present nor things to come, nor powers, nor height nor depth, nor anything else in all creation, will be able to separate us from the love of God in Christ Jesus our Lord.
Nothing can ever separate us from the love of God. God loves us every day and every night.
1 Peter 5:7 casting all your anxieties on him, because he cares for you
In moments when you feel alone, you can cast all your cares upon the Lord, because he cares for you. You can tell him about how you feel.
Proverbs 18:24 A man of many companions may come to ruin, but there is a friend who sticks closer than a brother
There is a friend who sticks closer than a brother and that friend is God
Psalm 94:14 For the Lord will not forsake his people, he will not abandon his heritage.
The Lord will never abandon his heritage. You are the heritage of the Lord. He will never leave you or abandon you.
Psalm 23:1 The Lord is my shepherd; I shall not want.
The shepherd is so close to the sheep. The shepherd never leaves the sheep, He is always guiding the sheep. Even when a sheep goes astray, the Shepherd goes all out for that sheep. God is saying that he is our shepherd. He will always lead us and guide us in the way that we should go.
John 14:18 I will not leave you as orphans; I will come to you.
This was the promise of Jesus to his disciples and it's also his promise to us today. He will never leave us as orphans. He will come to us.
1 Corinthians 1:3-4 Blessed be the God and Father of our Lord Jesus Christ, the Father of mercies and God of all comfort, who comforts us in all our affliction, so that we may be able to comfort those who are in any affliction, with the comfort with which we ourselves are comforted by God.
One of the emotions that one feels during seasons of grief is being alone because nobody understands how you feel. However, in such moments, God is a God of comfort, He understands and he is always there, providing comfort to your heart.
Bible Verses For When You Feel Alone
Whenever you feel alone, take at least one of these scriptures and begin to say it to yourself until it becomes your sleeping and your waking thought. Don't forget, you are never alone, God is with you.