Why Choosing A Guiding Word Could Totally Change Your Year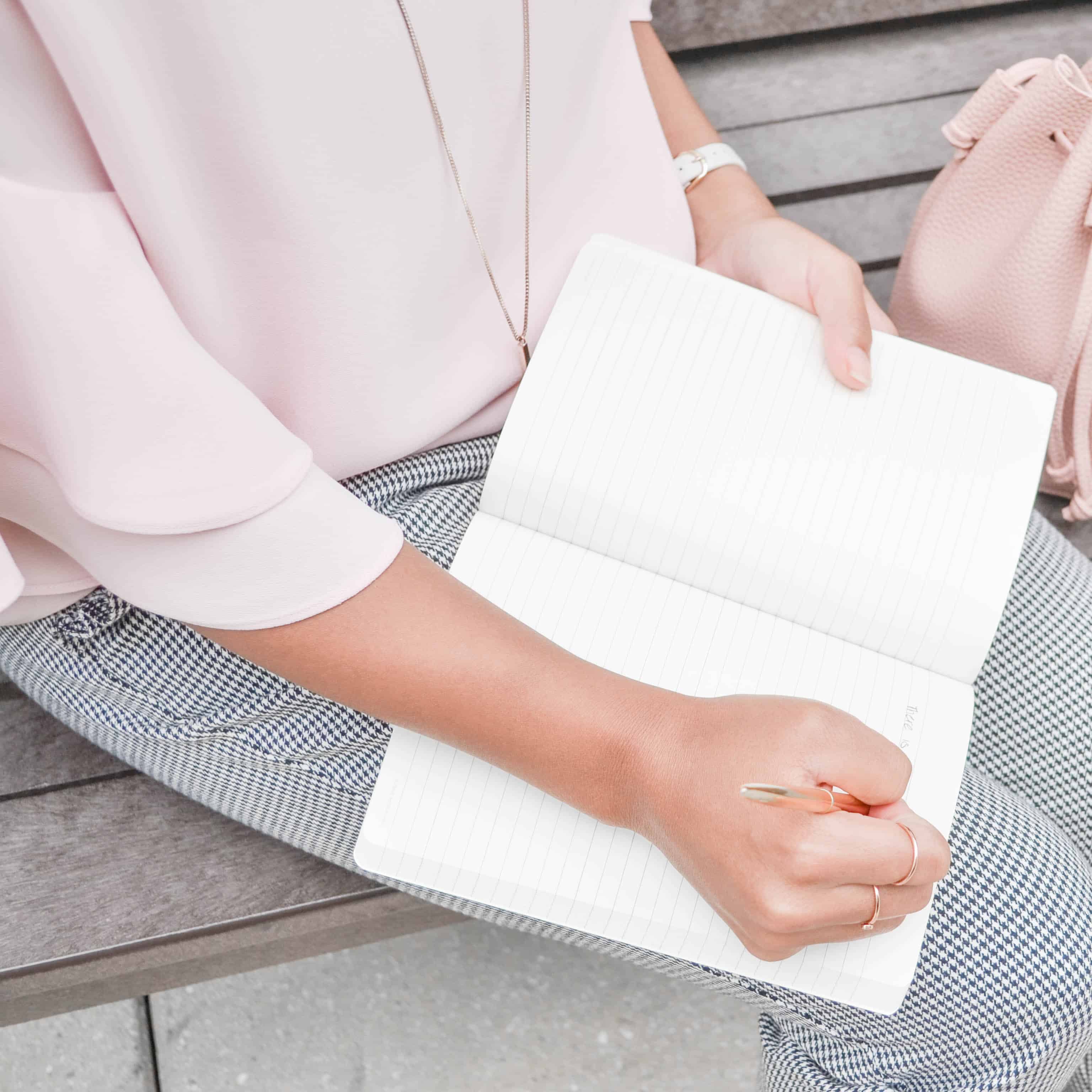 As the clock strikes 12, and the champagne pops on New Years Eve, many will go on a journey to create a better version of themselves.
Is it just me, or am I the only one that failed at their New Years resolution by day 2? Statistics support the fact that by the time February rolls around 80% of us will fail at keeping our resolutions. No shocker there!
Despite the low success rate, we still make resolutions year achfter year. There is a popular quote that says "doing the same thing over and over again and expecting different results is just pure insanity."
What if instead of making resolutions, you start the year by choosing a guiding word? Choosing a guiding word that will lead your personal development plans for the new year. You might ask, a word of the year how can that change things? I encourage you to continue reading, you will walk away from this article with your word of the year for a more intentional year, and a coupon code to save some dollars on a beautiful planner to track your daily activities.
WANT TO REMEMBER THIS? SAVE THIS TO YOUR FAVORITE CHRISTIAN LIVING BOARD!
This post may contain affiliate links. You can read my full affiliate disclosure here.
What is Choosing a Guiding Word All About?
Why Have A Word Of  The Year? This concept was developed by Dan Britton, Jimmy Page and Jon Gordon the authors of the book, "One Word That Will Change Your Life."
When I first heard the concept, I was a bit skeptical. You see a guiding word, seemed pretty much similar to a list of goals in my book. Both terms are somewhat different however.
Our goals, usually reflect the form of a long to do list. As life happens, those exact goals that you made at the beginning of the year may not be as feasible as when you started the year. We go through different seasons in life and quite frankly the unexpected just always seem to happen.
In choosing a guiding word, you are essentially choosing a theme for your year. As you go throughout the year, that word is top of mind. If my goal is "Boldness", whenever situations like for example networking, or doing a presentation comes up, I am reminded of my intentions for the year and I will likely accept those challenges. Helping me to make this a year of "Boldness".
At the end of the year, I can always reflect and look back and ask myself, did my year depict Boldness? This may be a quick way to assess how successful I was at achieving my goals.
How to Begin Choosing A Guiding Word For The Year
How is the word of the year chosen? Here are 3 actionable steps to guide you.
1.Choosing A Guiding Word Quiz
If you are looking for a quick and easy solution, you can simply take a Choosing a Guiding Word Quiz. In less than 5 minutes you would have walked a way with a word to theme your year. This is a fun quiz to do and I would encourage you to at least give it a try. They even hook you up with a cute printable at the end to remind you of your goals. Doing a year in review will however put you in a better position to see where your priorities need to be for the ensuing year than what you would get through a quiz.
2.Choosing A Guiding Word – Plan Your Year
Start by doing an inventory of the past year. Think about what went well, what didn't go so well and areas where you could improve. Download the following spiritual assessment worksheet to help you with your spiritual health-check.
Next you will want to think about your plans for the upcoming year. I find using my Commandment Co. planner for this next step to be super beneficial. The format of their planner allow me to easily write and track my goals, create a bucket list and even display a vision board as a constant reminder of my vision for the year. Once I have this in place, at a glance I can see what the overarching themes are and select this as my guiding word for the year.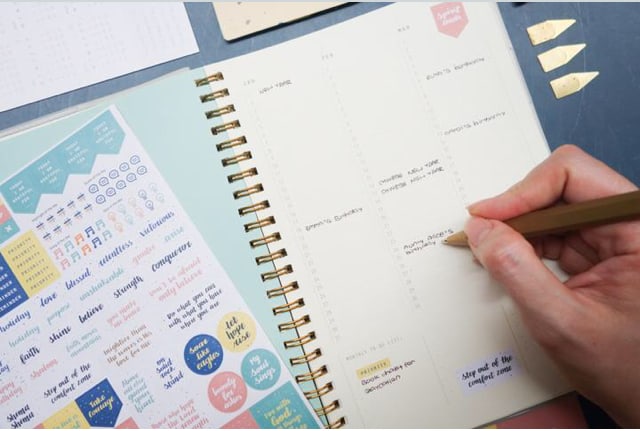 Source: Commandment Co.
The Commandment Co.
There are a variety of planners on the market, from the Erin Condren Life Planner to the Dayspring Devotional Planner. Compared to other faith planners on the market however, I find The Commandment Co. planner to be  reasonably priced for what you get.
For those not familiar with The Commandment Co. let me introduce you to them. They are based in sunny Singapore. A contemporary christian gift shop that sells cute christian gifts such as: bags and pouches, stationary as well as home decor items.
At a glance you will notice that its not the typical hardcover bound planner. Although it comes in a gold ring binder, its encapsulated in a laminate cover. This might not be everyone's cup of tea but it adds to the planner's durability, making for easy cleanup of spills that could soil the aesthetics of your planner.
This is a beautiful sturdy A5 12 month undated planner that is ideal for carrying around in your purse daily. It comes with a front cover pocket providing easy access to stickers that you may wish to store. There are credit card slots for your credit card as well as a pen holder. Talk about handy features!
The planner comes with a 3 piece sticker pack filled with inspirational quotes and verses. I get bored easily so I like the idea that it comes with 4 terrazzo color cards which I can use to change the cover. The planner is available in Black, Grey, Beige and Blue.
One other cool feature of this planner is that it comes with a section filled with lined, graph and dotted lines. The lined sheets are ideal for taking notes and if you are into bullet journaling you can create additional personalized layouts to further make the best of your planner.
If you are looking for a stylish top of the line Erin Condren style planner, this isn't it.  However, if you are looking for a planner that offers functionality, durability, goals focused and also affordable, I would encourage you to check out The Commandment Co Planner.
3.Choosing a Guiding Word – Choose A Verse
Once you have decided on your word of the year, choose an inspirational verse to meditate upon. Start by identifying synonyms for your guided word. Example, if my word is boldness, I could consider: courage, bravery, fearless.
Then head to a website like Bible Gateway, plug in your keywords and scroll through the verses that come up until you find one that resonates with you.
My verse for the year is from Joshua 1:9, it reads:
"Have not I commanded thee? Be strong and of a good courage; be not afraid, neither be thou dismayed: for the Lord thy God is with thee whithersoever thou goest." KJV
Once you have selected your word and verse for the year, I would encourage you to create a visual reminder. This could be as simple as creating a phone wallpaper to remind you of your word for the year.
Alternatively you could use products to remind and inspire you. Let's look at two examples:
The Commandment Co Pouches
The Commandment Co. sells a variety of  cute christian products such as:bags and pouches, stationary as well as home decor items.
For the Christmas season they are also giving away a mobile phone wallpaper pack. Click the graphic below to download.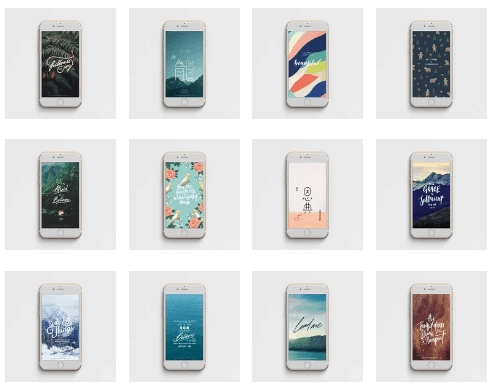 Featured below is a selection of their pouches. They are handy pouch to carry Bible marking pens or even kids craft pens and pencils. The pouch is digitally printed on PU Leather with a black leather lining. I like that each pouch comes with an inspirational verses, reminding you of Bible promises. They have a variety of styles and verse options on their website so you will most likely be able to find one with either your favorite Bible verse or one that inspires you.
One thing I didn't quite like though was the material the pouch was made of, but this was more of a personal preference. For those not familiar with PU leather, I would encourage you to look into this prior to purchasing so you know what to expect.

The Commandment Co. Brass Pens
Pens are a commonly used item. A Brass engraved pen is a simple option to remind yourself of promises from the Bible.
If you are looking for a personalized christian gift to add to your collection this season, this is it. This is a well made, heavyweight sturdy brass pen. Easy to write with and comes with a lovely silver metal case to store your pen when not in use. Once again customization is possible and you can choose from a variety of verses on their website.  Whether you are writing in your prayer journal or doing scripture writing, this is a beautiful pen to use during your daily quiet time with God. I am totally in love with this pen and look forward to the love letters to God it will help me draft as I focus more on scripture writing and prayer journaling this upcoming year.
Choosing A Guiding Word Summary
Whether you do a quiz or use a planner to write down your goals and then narrow down your word choice, I would encourage you give choosing a guiding word a try for the upcoming year.
Be sure to visit The Commandment Co. website and check out all their beautifully designed faith products.
MORE ARTICLES YOU MAY LIKE
10 Relatable Devotionals For College Students
Cute Modest Swimsuits To Add To Your Closet
Christian Coloring Books For Adults