How To Make (and keep) Your Spiritual New Year Resolutions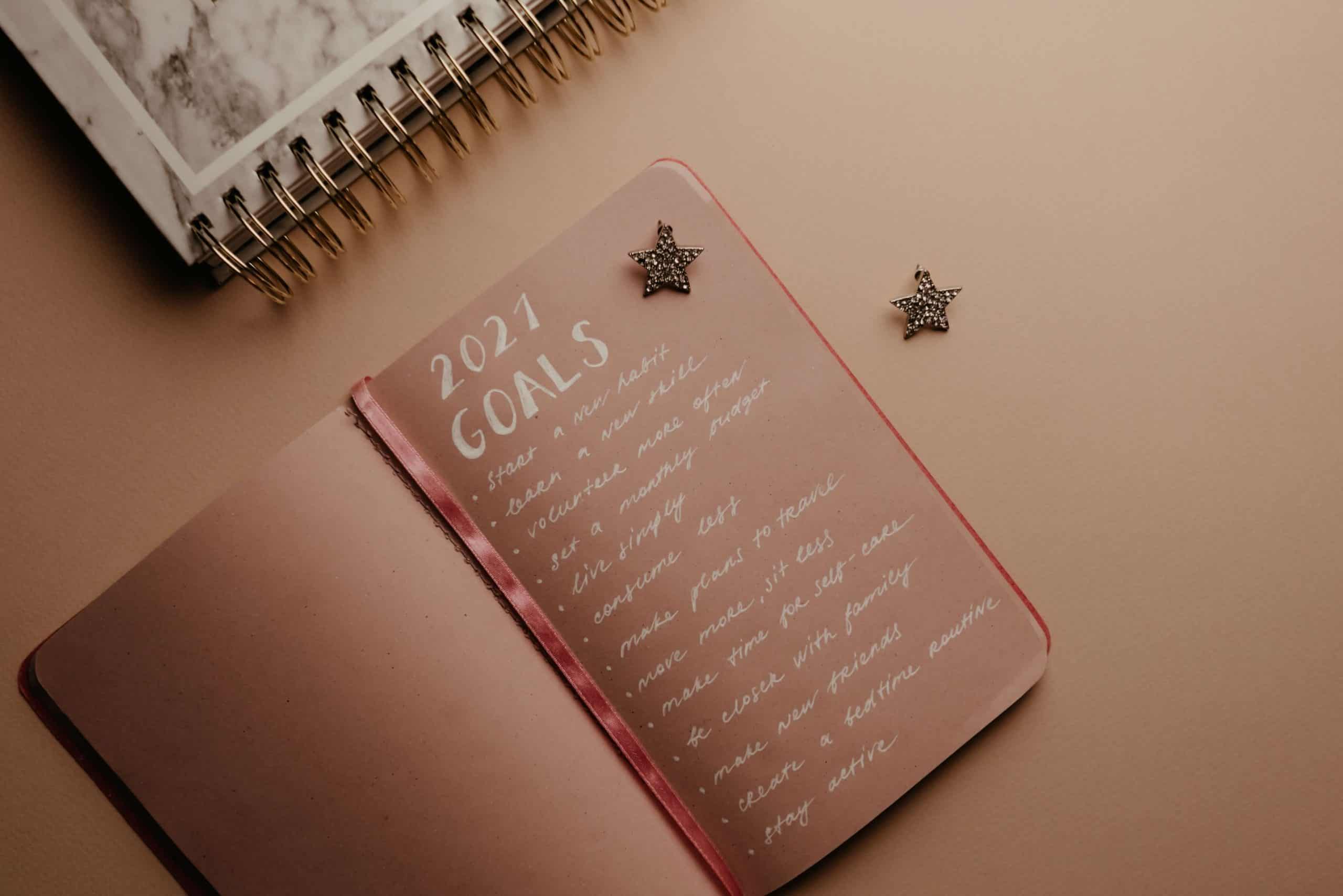 So you want 2021 to be the year where you grow intimately in your relationship with Christ?
But how do you achieve your spiritual new year resolutions and not fall into the 80% of resolutions that fail by February?
We don't suddenly go to sleep on December 31 and wake up on January 1 to find that we are now a better version of ourselves.
If only it were that easy, am I right?
The new year brings with it the feeling of a fresh start, but so can a new quarter, a new month or even a new week.
How do you capitalize on that fresh start feeling and keep it going all year long?
If you are ready to start setting spiritual goals and rock your Christian New year resolution, continue reading.
I will show you step by step how to set achievable goals and provide you with some Christian new year resolution ideas along the way.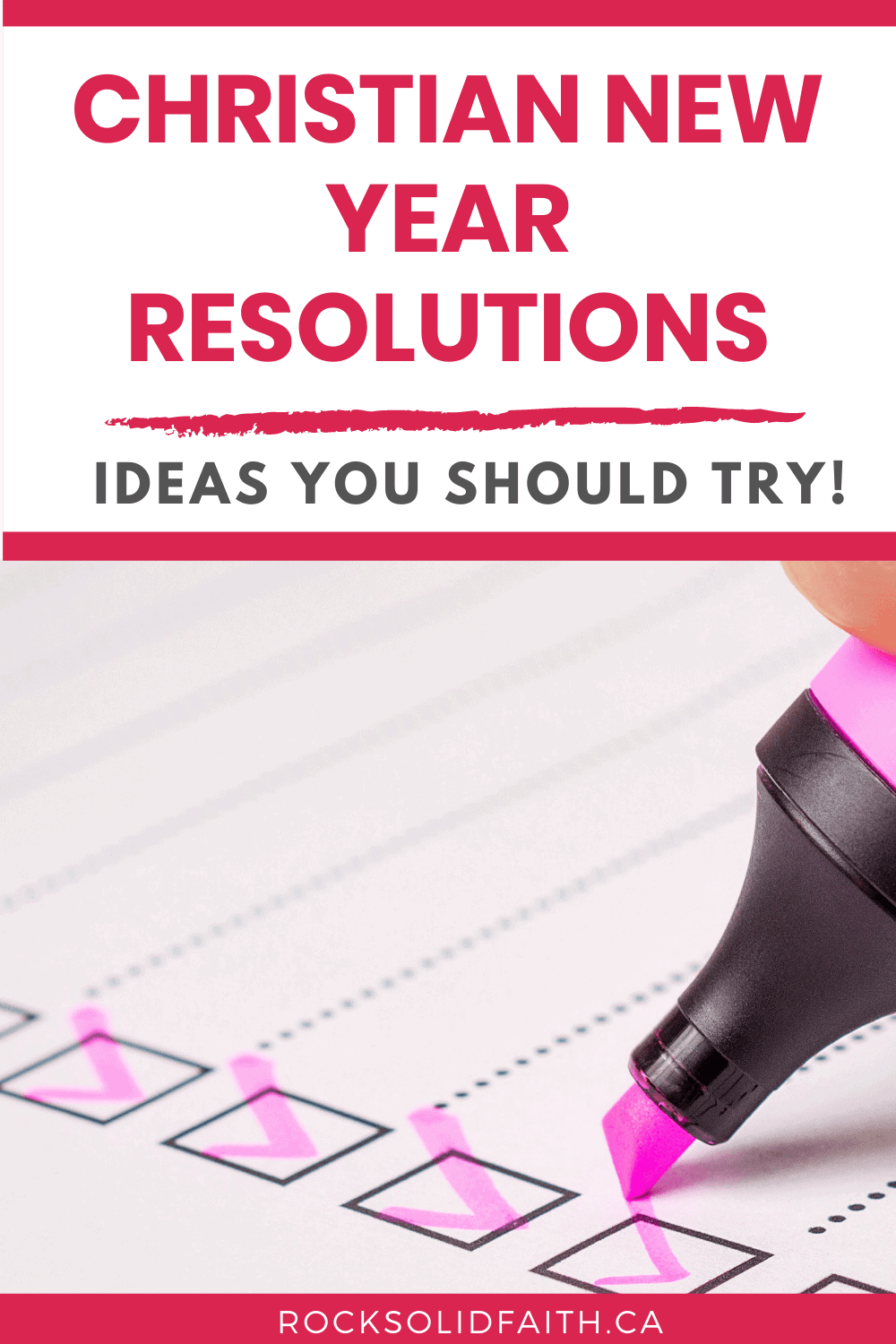 This post may contain affiliate links. You can read my full affiliate disclosure here.
What Does The Bible Say About New Years Resolutions?
The Bible does offer some perspective when it comes to setting christian goals for the new year. The verses mentioned below have all been taken from the King James Version.
"I can do all things through Christ which strengtheneth me." Phillipians 4:13

" But seek ye first the kingdom of God, and his righteousness; and all these things shall be added unto you." Matthew 6:33

"Commit thy way unto the Lord; trust also in him; and he shall bring it to pass. Psalms 37:5

" For I know the thoughts that I think toward you, saith the Lord, thoughts of peace, and not of evil, to give you an expected end." Jeremiah 29:11

"A man's heart deviseth his way: but the Lord directeth his steps." Proverbs 16:9

"Go to now, ye that say, To day or to morrow we will go into such a city, and continue there a year, and buy and sell, and get gain: Whereas ye know not what shall be on the morrow. For what is your life? It is even a vapour, that appeareth for a little time, and then vanisheth away. For that ye ought to say, If the Lord will, we shall live, and do this, or that." James 4:13-15


"The thoughts of the diligent tend only to plenteousness; but of every one that is hasty only to want." Proverbs 21:5

"For which of you, intending to build a tower, sitteth not down first, and counteth the cost, whether he have sufficient to finish it?" Luke 14:28
How To Set And Stay Focused On Your Spiritual New Year Resolutions?
Reflect On The Past Year
Before you deep dive into your  plans for the new year try conducting an end of year inventory. Reach for your planner and review month by month some of the accomplishments you had over the past year. Make note of your top accomplishments, were there challenges or disappointments? What lessons did you learn? What distractions or time sucks became a recurring theme preventing you from accomplishing your goals?
Personally, I stepped into the new year with lots of lofty goals, but then the world went into a pandemic and shortly after I found out I was expecting. Being pregnant suddenly presented itself with new challenges. Despite, here are some of the highlights from my year to hopefully get you started thinking.
Completed reading the Bible in a year and started a new plan, this time with my Bible Study group.
My christian ministry blog has reached thousands across the world, vastly more than I imagined when I just started blogging. I am grateful for the opportunity to introduce Christ to people worldwide and look forward to providing Bible study tips to many more this year!
Reflecting on the past year helps you to pin point what worked and what didn't to help you adjust the goals that you make for the upcoming year.
"For though the righteous fall seven times, they rise again." Proverbs 24:16 NIV
Make Your Goals Specific With An Action Plan
For many, their goal for the new year is to grow spiritually. While I love the idea behind the goal, this is somewhat of a vague goal that needs to be more specific.  Try breaking down this big overarching goal into smaller goals. Here is what this might look like:
If my idea of growing spiritually is to spend more time in the word, I could consider reading the Bible in a year by following a one year chronological plan. Alternatively, if am a new mom with not much time, I could consider doing a monthly scripture writing plan.
Making your goals specific with an action plan (tools you plan on using to accomplish your goals) can help you stay focused on achieving your goal and keep you on track throughout the year.
As you ponder on what your goals are for the new year, I want you to keep this thought in mind. While at the end of the year you may accomplish your goals, is it really worth it if your relationship with God suffers or your number one ministry your family?
My prayer for us all is that as we navigate throughout the year, we will stay focused on what's truly priority.
"What good is it for someone to gain the whole world, yet forfeit their soul?" Mark 8:36 NIV
Get Excited About Your Why
Don't pursue a Godly goal just because its the christian thing to do.  Try setting goals that get you excited and not just because everyone else is doing it. Think about the Why behind your goal. Pick goals that get you excited about the results you hope to attain.
Celebrate Small Wins
Celebrating small wins can help motivate you as you progress towards accomplishing your goal. Your reward could be as simple as purchasing that new devotional or Bible that you have been eyeing for a while. The reward and interval is totally up to you, but can help you stay motivated throughout the year!
Track Your Progress Regularly
You will want to do regular interval reviews. Ask yourself questions such as:
What worked well this month?
What isn't working?
What changes do I need to make in order to see progress?
By incorporating regular check-ins not only are you keeping your goal top of mind but also ensuring that you are taking steps to modify your goal as needed to ensure a greater chance of success.
Give Yourself Grace
Life happens and that's totally OK.
That goal that you made at the beginning of the year may no longer be relevant or just need a little tweaking. If you are no longer on track, don't beat yourself up. Reflect on what needs to change to help you stay focused on your goals and get you motivated to try again.
Treat every month like its January 1st. Truth be told every week or even every morning is an opportunity for a clean slate. Every morning is a new opportunity to reconnect with Jesus.
"Satisfy us in the morning with your unfailing love, that we may sing for joy and be glad all our days." Psalms 90:14 NIV
Bonus Christian New Year Resolutions Tips
I am a big fan of vision boards. Its a creative way to end your goal setting session. Plus, it inspires you and can serve as a motivator throughout the year. Using a tool like Canva, create a vision board with your goals for the year along with christian thoughts for the new year, then print, frame and hang it in a location that's visible throughout the year.
Your goals will definitely stay top of mind!
Christian Goals For The New Year
Read The Bible in a year
Devote each month to doing a topical Bible Study
Read the New Testament in its entirety
Read the Old Testament in its entirety
Read a certain number of christian books for the year
Use a gratitude journal to practice daily gratitude
Memorize scripture (choose a number or time-frame e.g. a new verse every month – that works for you)
Find a local community initiative that appeals to your interest and schedule time to volunteer regularly.
Become a digital evangelist
Revitalize your prayer life by starting a war binder and carving out time to pray regularly
Go on a mission trip
Collaborate with a charity organization and brainstorm ways you can help support their mission
Lose weight by combining your healthy fitness goals with your faith
Join a Bible Study group for accountability
Practice biblical hospitality
New Years Resolution Devotional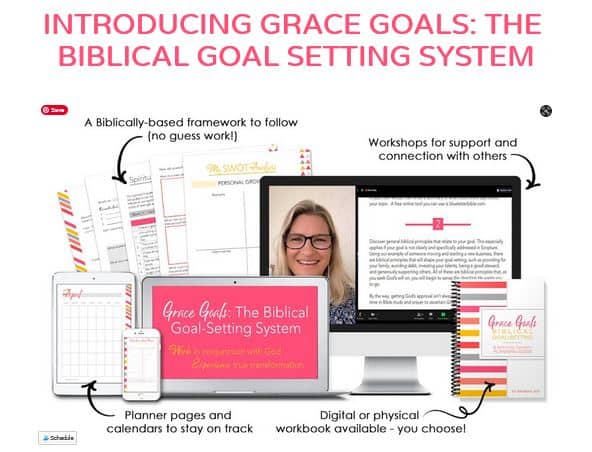 God has given us so many precious promises! Through a series of step-by-step workshops and exercises, Grace Goals will show you how to work in conjunction with the Spirit of God to take spiritual ground in your life. It's a biblical process for total life transformation.
Grace Goals is for you if you need a fresh start and you desire to involve God in your planning.
Not only is it a mini-biblical study but it includes all of the components above to help you set spiritual goals and stay focused on your christian new years resolutions.
Peter couldn't walk on water until he got out of the boat. And neither can you.
Over the years, Grace Goals has helped thousands of men and women do ALL kinds of things.
Things like control their temper, write a book, launch a new ministry, and establish a daily exercise habit.
Working through Grace Goals is SUCH a small step to take for such big possibilities.
Grace Goals will give you clarity, BIBLICAL direction, and a Spirit-empowered plan. But mostly, it will help you connect with God in fresh ways.
You have nothing to lose. And so much to gain!
Have you made a christian new years resolution? Let me know what one of your major goals for the new year is, in the comments below.
MORE RESOURCES ON SETTING SPIRITUAL GOALS YOU MAY LIKE:
New Morning Mercies: A Daily Gospel Devotional