12 Cute Modest Swimsuits to Add To Your Vacation Closet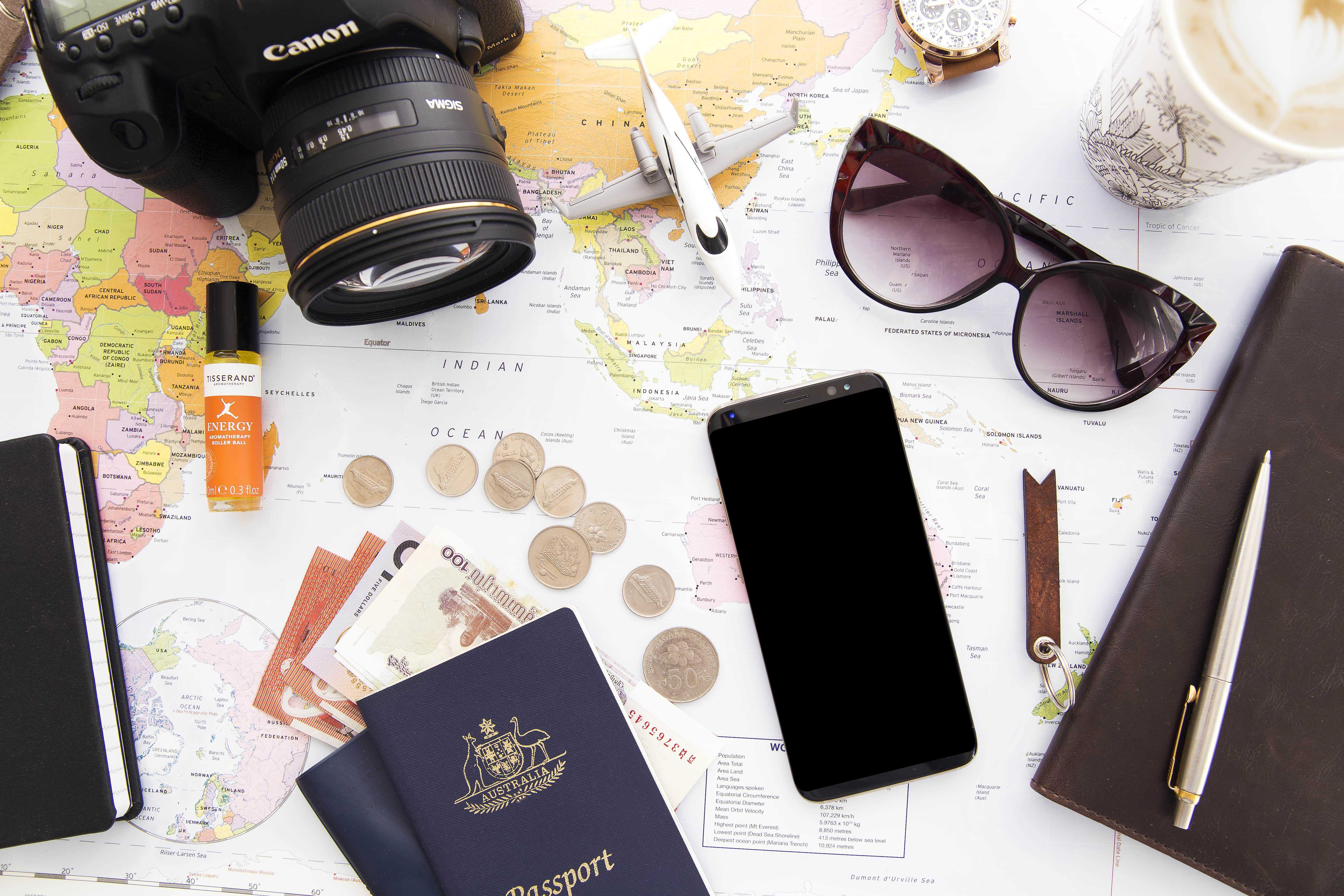 Summer is in full swing!
This spells swimsuits for many as we head to the pool or beach to stay cool during the summer months.
Personally, I prefer to wear Tankinis to the pool. I find them cute without showing too much skin. Modesty is a very subjective topic, what I view as modest may be totally different from what you view as being modest. If you are struggling with what the Bible says about modesty, I would encourage you to read,"Dressing Modestly: What Does The Bible Say About Modesty." or 5 Tips on How To dress Modest While Still Looking Cute if you are in the camp where you think modest dressing totally looks frumpy.
As Christians, we are called to be a peculiar people ( 1 Peter 2:9). We shouldn't be doing what the world does just because its popular.
If you are on the hunt for modest swimsuits to wear this summer, here are some of my favorite cute modest swimsuit picks from Amazon.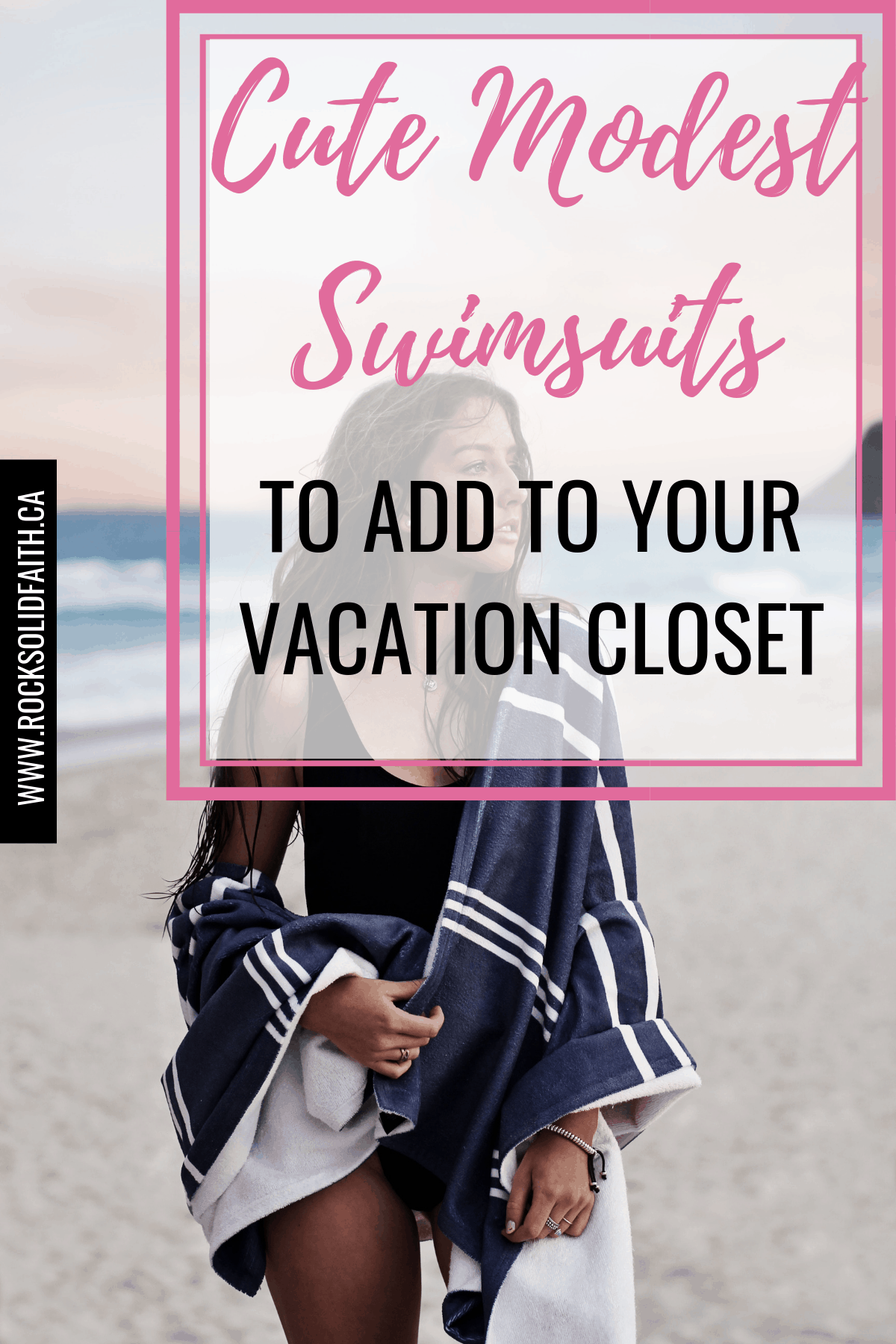 This post may contain affiliate links. You can read my full affiliate disclosure here.
Cute Modest Swimsuits to Rock This Season
For today's post, we are going to look at a few cute modest swimsuits from Amazon that you can consider adding to your collection. These are just some ideas to get you started if you are looking for coverage and want to show less skin.
Modest One Piece Swimsuits
Modest one piece swimsuits are a great cover up alternative to a bikini. The designs have gotten way better over the years with options that allow you to still look fashionable but still offer coverage. Here are a few options for modest one piece swimsuits that you can consider:
This is a beautiful Boyleg one piece sports swimsuit for women. It comes with a Racerback or U back design that you can select based on your preference. Accentuated by beautiful pops of color. This boyleg one piece swimsuit comes double lined and has a built-in bra. It offers tummy control and is chlorine resistant. See the different Boyleg one piece sports swimsuit available in this style from Amazon.

For women that are looking for a longer sleeve coverage and a boyleg design that's close to knee length, you will want to try the Belloo modest one piece swimsuit. It comes with a built in removable bra padding and a front zipper that starts from the collar down to the tummy. This modest one piece swimsuit is UPF 50+ to protect you from sun burn. See the colors available in this style from Amazon. 
If you are looking for a fashionable but moderate coverage, a Monokini could be the option for you. This monokini is an off the shoulder one piece swimsuit that features a ruffle trim with asymmetric one shoulder neckline. It also has a front ruched details and has a slimming silhouette. See the colors available in this style from Amazon.
Two-Piece Tankini Swimsuit
Tankinis are my personal favorites. I like the idea of being able to mix and match to be able to create different looks. There are a variety of options when it comes to two piece tankini swimsuits from a swim skirt design or boy shorts to a high waisted swimsuit that resembles a bikini but provides more coverage. The following are some two-piece tankini swimsuits to consider:
This two-piece tankini swimsuit has a vibrant printed tank top and boy shorts bottom. Removable padded soft bra for extra support and shape. The tankini top has adjustable shoulder straps design which is super cute, attractive and stylish, making this bathing suit very chic.
The smooth material makes it comfortable to wear. The sporty style is suitable for volleyball sport, camping, the beach, swimming, running, at a family pool party, tropical vacation and other occasions.See the colors available in this style from Amazon.

Instead of a shorts bottom, you could always opt for a swim skirt, which still has your typical bikini bottom underneath. This striped Tankini striped swim dress comes with wide shoulder straps, a racerback design,no underwires and the soft cups are removeable. Elastic material tummy control and ruched gathering in front. See available colors on Amazon.
If bikinis are more your style but you are looking for a bit more coverage than the average bikini, consider a high waisted swimsuit. This two piece Tankini swimsuit comes with a high waist bottom and crop ruffle top to help you hide your belly. This style is slimming and also flattering. It comes with wide straps at front and 2 adjustable straps at the back that gives a pretty secure and comfortable fit. There are 2 styles for the bottom available, a high waist and cut out, or a modest bottom that gives you a full coverage.See available colors in this design from Amazon.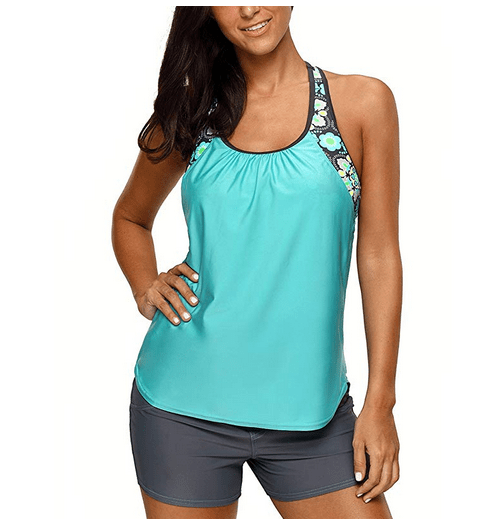 Update your vacation closet with this adorable bathing suit for instant chic. Made with stretchy,breathable,soft smooth fabric. It comes with a sporty blouse design that creates a slimming silhouette and soft bra paddings and thick straps for modest support. This essential swim top is easy to pair with any swim bottom as items are sold as separates. See available colors that are available on Amazon.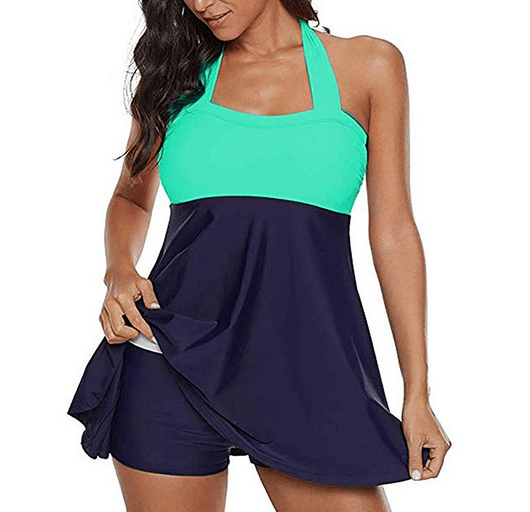 This is one of my favorites from the list. This Tankini design, is a one piece tummy control swimdress, with unadjustable straps. It is a long torso skirt swimdress that is modest while stylish at the same time.Perfect for moms who are also looking for tummy control. See available colors and patterns available for this design on Amazon.
Cute Modest Two-Piece Swimsuit -Plus Size
It can be hard to find flattering one piece plus size swimsuits. A good go to option are Tankinis for plus size individuals. Here is an example of a cute modest two piece swimsuit that would be ideal for a plus size lady.
This is a cute two-piece swimsuit for my plus size ladies. It has a beautiful color matching bottom that looks unique and fashionable. There are a variety of different color selections available for this Women's Sleeveless Top and Cropped Pants Two Piece Unitard Tankini Swimsuit. See color selection on Amazon.
Modest Swimsuits For Moms
Tankinis, swim dresses or one piece swimsuits with ruffled material are good modest swimsuit options for moms looking for tummy control and more coverage than you would get with a bikini. Here are some modest swimsuit options for moms to consider.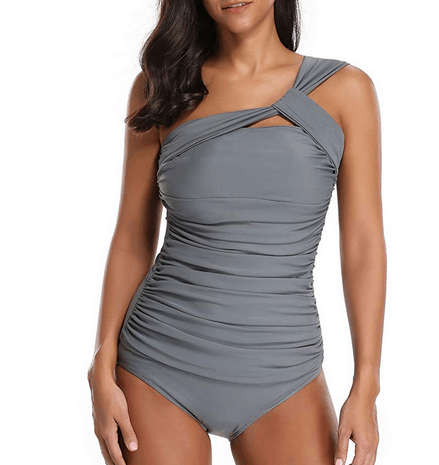 This Tankini comes with a padded push-up bra and adjustable shoulder straps that are perfect for moms or conservative young ladies. The strap goes across the breasts and the cut of the top is asymmetrical, adding attractive elements to the swimsuit, which also fits perfectly.

The swimwear is very different from the normal tankini, whereby the straps are easy to take down when sunbathing, making the swimwear really flattering and it is super easy to put on and to take off, even when it's wet. The high-quality material is both comfortable and stylish. It's very stretchy, comfortable, and durable. See the available colors available in this design from Amazon.See the available colors available in this design from Amazon.

This vintage Sailor pin up one Piece skirtini cover up Swimdress comes with adjustable halter neck;halter straps. It has soft removable cups and a flattering fit. It also comes with a shorts underneath the dress for added coverage. See available colors for this design on Amazon.

Very Modest Swimsuits
If you are looking very modest swimsuit options, consider getting a swim pants.Paired with a nice Tankini top of your choice and you are good to go. This modest swim pants comes with a pocket hidden inside for key or spare change. It has excellent stretch and perfect shape recovery and provides UV5Os protection. Do check out a few of reviews before purchasing as a few customers have indicated that this particular style is better suited for petite frames. Checkout this swim pants on Amazon.

Where To Find Modest Christian Swimsuits
While shopping on Etsy or Amazon are good places to go searching for cute modest swimsuits due to the variety. The following are some other boutique stores you can turn to in your search for modest swimsuits that suits your preferences.
JANELA BAY CUTE MODEST SWIMSUITS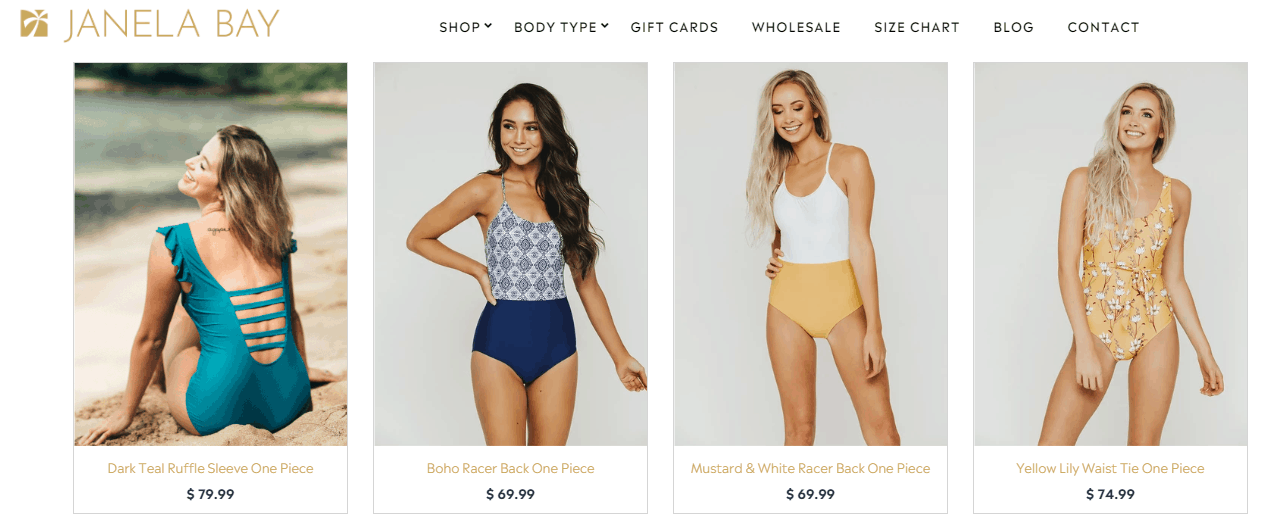 PINK DESERT CUTE MODEST SWIMSUITS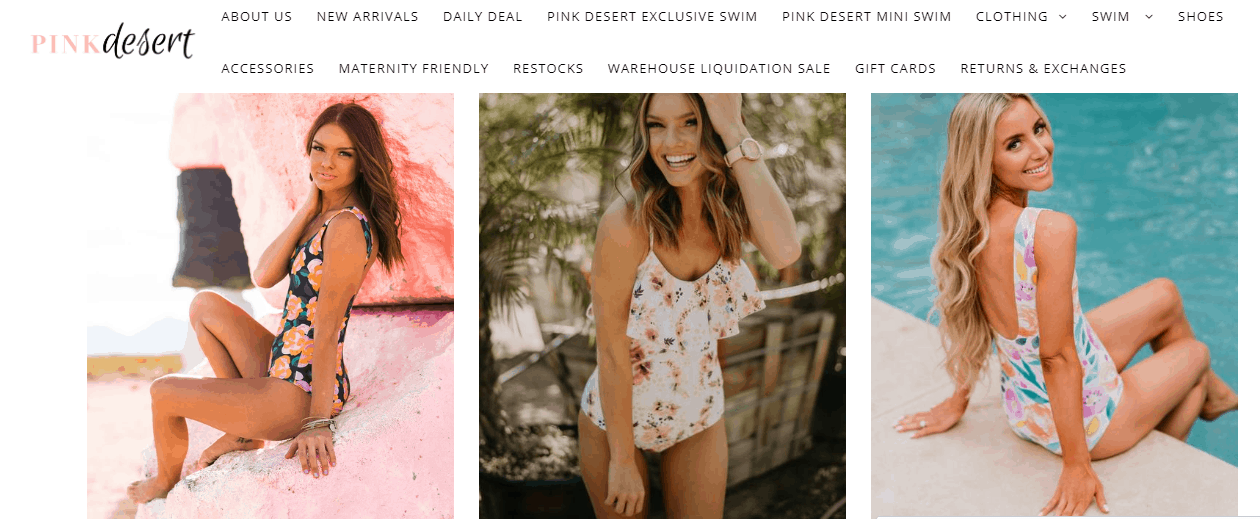 MODLI CUTE MODEST SWIMSUITS

JESSICA REY CUTE MODEST SWIMSUITS

There you have it, some cute modest swimsuits from Amazon to add to your collection. I would love to hear from you, what are some of your go to places to buy modest swimsuits online?
More Articles You May Like:
5 Tips on How to Dress Modest But Still Look Cute
10 Christian Coloring Books For Adults