10 Calming Bible Verses For Depression And Anxiety To Help You Find Peace And Joy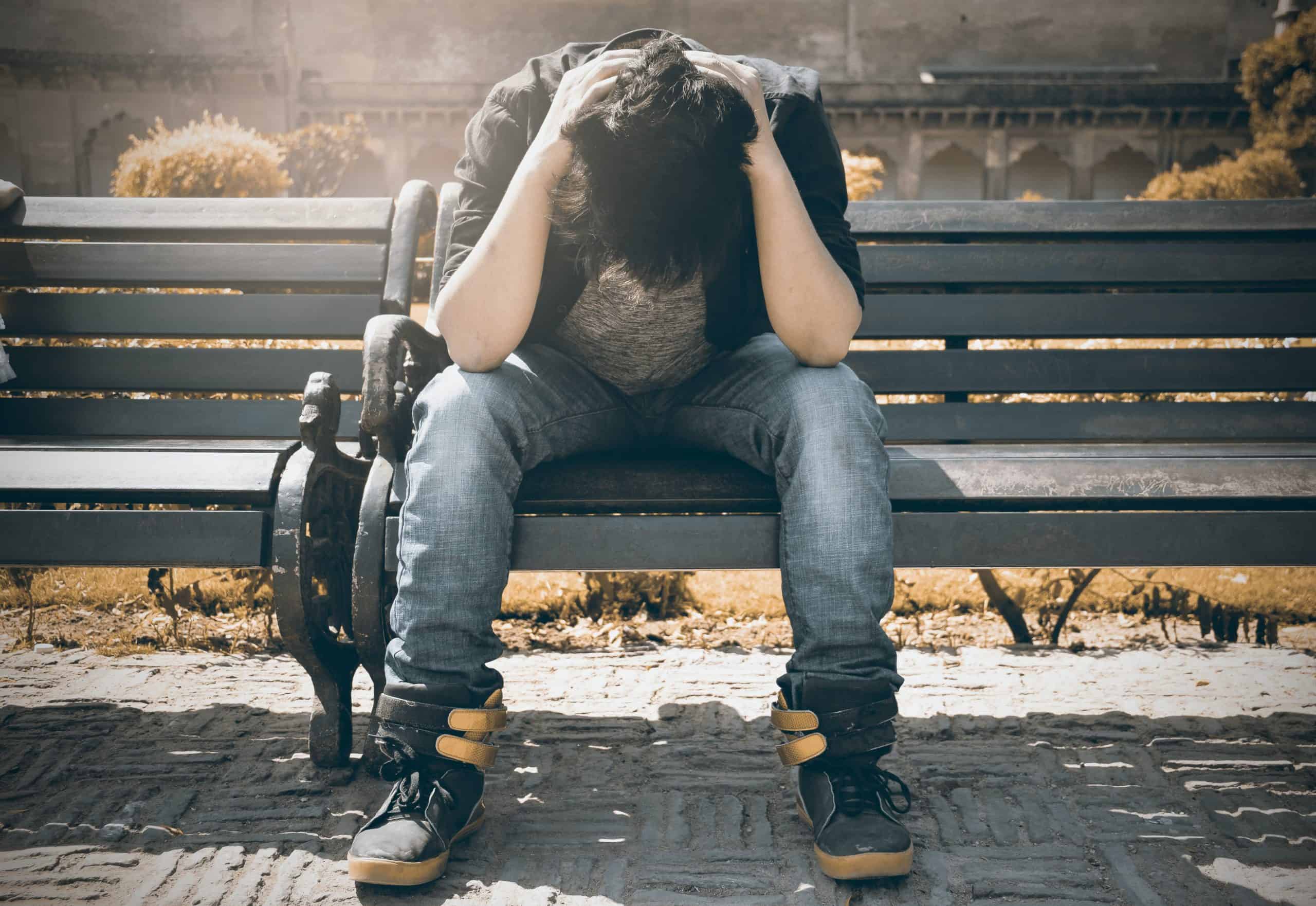 FIND BIBLE VERSES ABOUT DEPRESSION AND ANXIETY TO HELP YOU WITH DEALING WITH DEPRESSION AS A CHRISTIAN
It was this time about five years ago that I sat in my room and contemplated suicide. I was desperate to take my own life and end it all that afternoon. I had read somewhere previously that overdose of drugs could kill you.
Since that was my only available option, I decided to give it a chance. I had just gotten out of secondary school and was having a nervous breakdown and anxiety issues. This was caused by my failure in math and no university admission that year. I was intelligent and the best in art subjects in school so I could not understand why I failed math and was unable to gain admission to a university.
I felt like a disappointment and an embarrassment to my parents. All I ever wanted was to set a good track record for my siblings to follow, but I failed.
It was during this same period that my parents had serious marital issues and were about to get divorced. I could hear voices in my head telling me to take my life and end it all. The voices were with me morning, afternoon and night and kept urging me to just kill myself and settle this age long feud. I felt like my death would actually settle the dispute and make everyone happy.
I was young and stupid. I was wrong.
If you are searching for some encouragement, here are some bible verses about depression and anxiety to reflect on.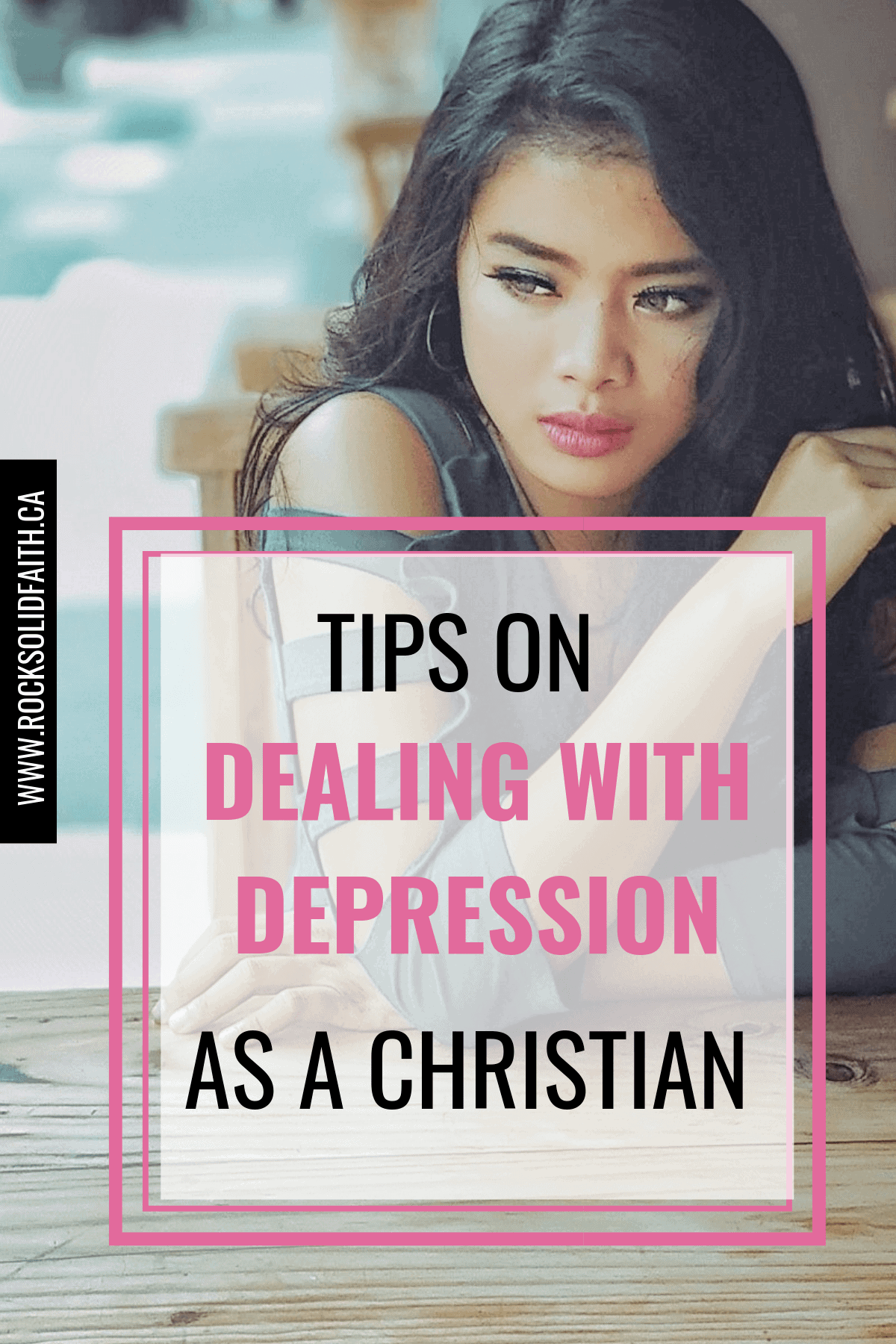 This post may contain affiliate links. You can read my full affiliate disclosure here.
Dealing With Depression And Anxiety As A Christian

Most persons have the impression that being a Christian means that you instantly learn to trust God and then anxiety and worries for the future automatically goes away. It can be difficult living your everyday life with so much weight on your shoulder and expectations you are not sure how to measure up to.
Perhaps you are that shoulder that other family members are relying on. Maybe you just saw your exam results and it is so embarrassing or perhaps your parents have issues in marriage or you got issues with your spouse.
I need you to understand that you are not the only one passing through hard times
There is a lot of misunderstanding surrounding depression. It has taken our culture a long time to understand mental health, and there is still a long way to go. I think it's a hard thing to understand even from the inside.
Here in Nigeria, mental health is not even talked about much. When you do, you would likely be rushed to a psychiatrist. So, people basically live with the pain and the hole in their heart hoping to take their life someday or probably get better.
Dealing With Depression And Anxiety From A Christian Perspective
Depression really affects all aspects of our being. It affects us physically, mentally, emotionally, and spiritually. When it begins to affect our spiritual life, it can feel like we start to lose who we are as God's children.
Maybe it seems like God has left us, or maybe we start to think there is something wrong with our faith.
It has been a hard journey learning to reconcile my depression with my belief in God, but I have learned some important things along the way.
Dealing With Depression And Anxiety As A Christian
I need you to understand some facts:
Depression is not faithlessness
Depression is not as a result of your faithlessness in God. Some folks just come around the corner when you are having a hard time and hit you hard with the faith sermon that you are not trusting God enough and that is why you are stuck in a state of depression.
Being depressed does not come as a result of your lack of faith in God's word. It is a sickness, a disease that needs to be consciously treated. Committing bible verses or prayers to memory may not save you from the clutches of depression.
Having faith in God will help us through depression.
" Therefore I say unto you, Take no thought for your life, what ye shall eat, or what ye shall drink; nor yet for your body, what ye shall put on. Is not the life more than meat, and the body than raiment? Behold the fowls of the air: for they sow not, neither do they reap, nor gather into barns; yet your heavenly Father feedeth them. Are ye not much better than they? Which of you by taking thought can add one cubit unto his stature? And why take ye thought for raiment? Consider the lilies of the field, how they grow; they toil not, neither do they spin: And yet I say unto you, That even Solomon in all his glory was not arrayed like one of these. Wherefore, if God so clothe the grass of the field, which to day is, and to morrow is cast into the oven, shall he not much more clothe you, O ye of little faith? Therefore take no thought, saying, What shall we eat? or, What shall we drink? or, Wherewithal shall we be clothed? (For after all these things do the Gentiles seek:) for your heavenly Father knoweth that ye have need of all these things. But seek ye first the kingdom of God, and his righteousness; and all these things shall be added unto you. Take therefore no thought for the morrow: for the morrow shall take thought for the things of itself. Sufficient unto the day is the evil thereof."  Matthew 6:25-34

Depression is not punishment for lack of faith
It can often feel like God is punishing you for not trusting him enough and then your heart begins to hurt from the whole analysis.
You are his child no matter what as well as a student in the school of faith.
To someone who has never felt depressed, it may look like we are making the choice to be sad or to not do the things we should be doing. But we know that is not the case. We don't choose to feel the way we do. And even if other people cannot understand, God does. Sometimes the "other people" are just the voices in our head, making us feel guilty.
I remember nasty comments on the page of a certain young man who took his life, some persons kept hauling abuses at him and saying nasty things about him.
Depression is something we need healing for and deliverance from- not something we have done wrong.

God does not hate you
I emphasized earlier; God does not hate you neither have you fallen out of favor in his eyes if you happen to fall into depression. We are all students in the school of God.
For we do not have a high priest who is unable to empathize with our weaknesses, but we have one who has been tempted in every way, just as we are yet he did not sin.
Even if you do not feel his presence, just remember that he is with you and lives in you. Satan always wants us to feel like we don't deserve God and that he has forsaken us in our time of troubles.
He did the same to Job through his wife who told him to curse God and die. I can just  imagine the height of depression that young man was immersed in but he trusted God.
We just need to come to the point of admitting our helplessness and weakness before God. Only then can he come to your rescue. You can pretend to be strong before others but not before God, he knows your thoughts.

Run to people for help
Being a macho or strong headed person does not work at all in the face of depression. Seek help if you must and you should actually.
In my case, I never had anyone to talk to. Eventually, God provided an opportunity for me to pour out my heart to a friend after I got admission to university and she really helped out. She narrated her own ordeal to me, about the voices in her head and how she had been affected.
I learnt faith even in the face of anxiety through this friend and regained my spiritual life and relationship with God. One of the lines she told me was: it is not your fault that things are going badly with your parents. Those words really sunk in.
It is not your fault that you never got the job even with your excellent degrees, it is not your fault that your relationships are not working out despite your genuine efforts.
Dear friend, depression has every power to affect your relationship with God and ruin your spiritual life, before long you start to lose faith in God entirely and start to feel like he does not exist because of the lies the devil plants in your heart everyday. The enemy loves to see us doubt God. Don't give him that chance.
Bible Verses For Depression And Anxiety
Below I have included some encouraging verses about depression and anxiety to help you find peace and joy.The following bible verses for depression and anxiety have all been taken from the King James Version.
 The righteous cry, and the Lord heareth, and delivereth them out of all their troubles. The Lord is nigh unto them that are of a broken heart; and saveth such as be of a contrite spirit. Psalms 34:17-18


Fear thou not; for I am with thee: be not dismayed; for I am thy God: I will strengthen thee; yea, I will help thee; yea, I will uphold thee with the right hand of my righteousness. Isaiah 41:10

Casting all your care upon him; for he careth for you. 1 Peter 5:7
Scriptures For Depression And Anxiety
Come unto me, all ye that labour and are heavy laden, and I will give you rest. Matthew 11:28

 Be careful for nothing; but in every thing by prayer and supplication with thanksgiving let your requests be made known unto God. And the peace of God, which passeth all understanding, shall keep your hearts and minds through Christ Jesus. Philippians 4:6-7


Yea, though I walk through the valley of the shadow of death, I will fear no evil: for thou art with me; thy rod and thy staff they comfort me. Psalm 23:4
Verses For Anxiety And Depression
 For God hath not given us the spirit of fear; but of power, and of love, and of a sound mind. 2 Timothy 1:7

Take therefore no thought for the morrow: for the morrow shall take thought for the things of itself. Sufficient unto the day is the evil thereof. Matthew 6:34

Cast thy burden upon the Lord, and he shall sustain thee: he shall never suffer the righteous to be moved. Psalms 55:22
How to Deal With Depression As A Christian
1) Pray about everything
I understand that in the face of uncertainty most times prayer is tiresome to employ and believe me that is one of the activities of the accuser. To make you weak in the knees and focus more on your problems rather than the creator who knows the end from the beginning. Here are 5 Tips to help you pray with confidence.
2) Talk to someone about it
Find a Christian counselor or a friend who will listen to you. Not a friend who just wants to hear your problem and gossip about it.Be genuinely accountable to someone that can help you pray and check up on you.
Also, if you need to see a doctor or therapist, by all means please do.
3) Desist from staying alone at all times
When depressed, we often find solace in isolation. That should not be your resort. Go out and visit friends. Do some work, exercise, take classes and meet new friends. Keep yourself as busy as possible reducing the opportunities for negative thoughts to surface.
4)Trust God
Lastly, though it may sound simple is to trust God. Speak his words to your heart. Always remember that he sees you and knows you have needs. The word of God has a way of reviving our dead faith.
"But if the Spirit of him that raised up Jesus from the dead dwell in you, he that raised up Christ from the dead shall also quicken your mortal bodies by his Spirit that dwelleth in you." Romans 8:11

Trust God through this phase. Be reminded that God loves you and can help you with your battle with depression.
My Hope Toolbox: A Printable Kit for Depression & Sadness
Do you struggle with depression, sadness, or anxiety? Refresh your spirit and find encouragement with this beautifully designed printable kit to help you find peace and joy amid your depression and anxiety.  SEE WHAT'S INCLUDED IN THE HOPE TOOLKIT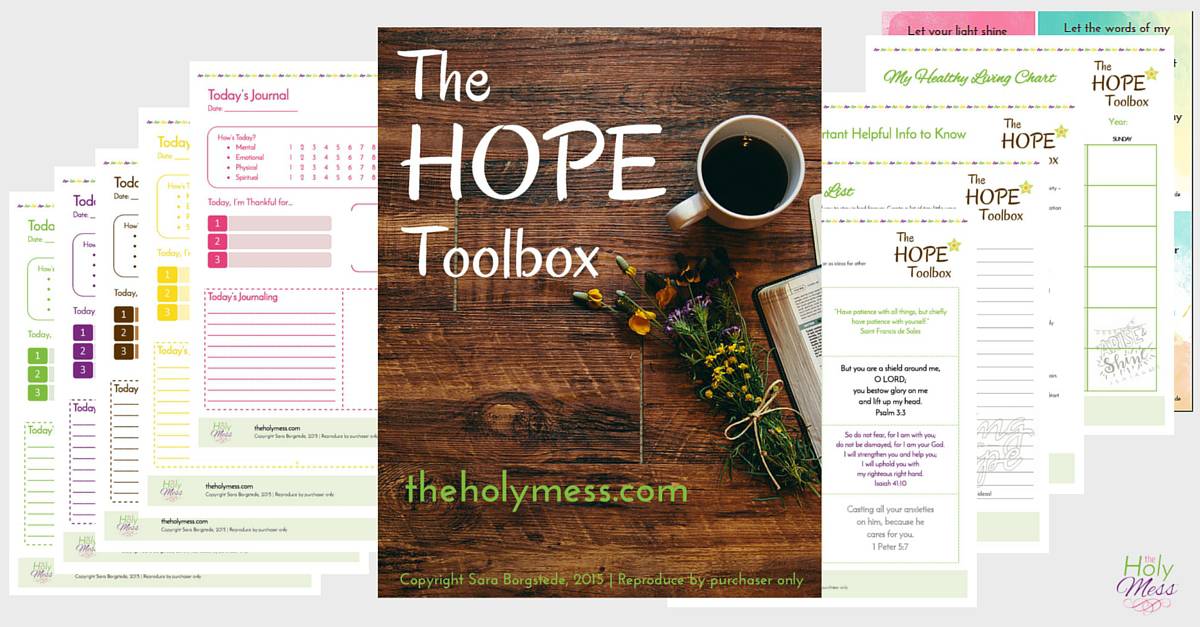 What has helped you in dealing with depression as a christian? Drop your favorite bible verses about depression and anxiety in the comments below.
MORE BIBLE VERSES TO ENCOURAGE YOU
11 Comforting Bible Verses About Anxiety and Fear
10 Assuring Bible Verses About Negative Thoughts
36 Bible Verses About Trusting God Completely
10 Encouraging Self-Esteem Bible Verses to Boost Your Confidence
8 Powerful Good Morning Bible Verses to Start Your Day
16 Encouraging Bible Verses About Gods Unconditional Love