16 Encouraging Bible Verses About God's Unconditional Love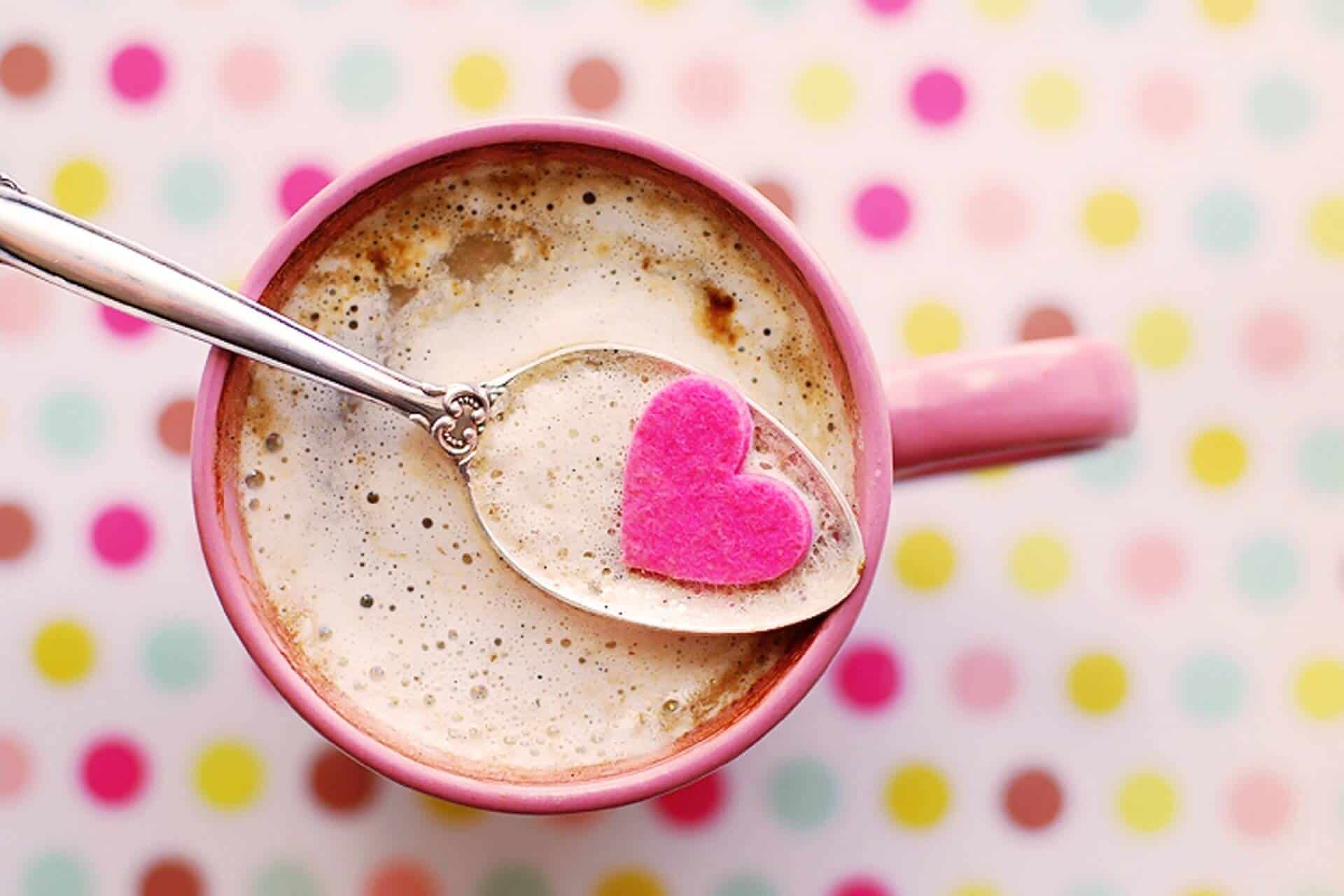 Do you struggle to feel loved or lovable?
If only I could find my true love then I will be finally happy and content. Is that your goal?
Thanks to Hollywood's portrayal of what real love is all about, this perception has guided many on a crazy roller coaster ride often leading to hurt, bitterness and resentment. The Bible teaches us in 1 Corinthians 13:4-8 that:
"Love suffers long and is kind; love does not envy; love does not parade itself, is not puffed up; does not behave rudely, does not seek its own, is not provoked, thinks no evil; does not rejoice in iniquity, but rejoices in the truth; bears all things, believes all things, hopes all things, endures all things. Love never fails. But whether there are prophecies, they will fail; whether there are tongues, they will cease; whether there is knowledge, it will vanish away"
From an entertainment standpoint, I do love Hallmark movies.
Usually am the vocal cheerleader on the sidelines cheering on the dude who has been in love with his best friend for years.
You know the one, the guy who lives next door, knows her inside out yet is too geeky to be boyfriend material? And of course his friend is oblivious to the fact that true love is staring her right in the face. Side note: Candace Cameron is my girl!  If you are a fan, you can consider her collection of bible study resources below:
Do you find yourself doubting gods love for you? Here are 16 bible verses about God's unconditional love.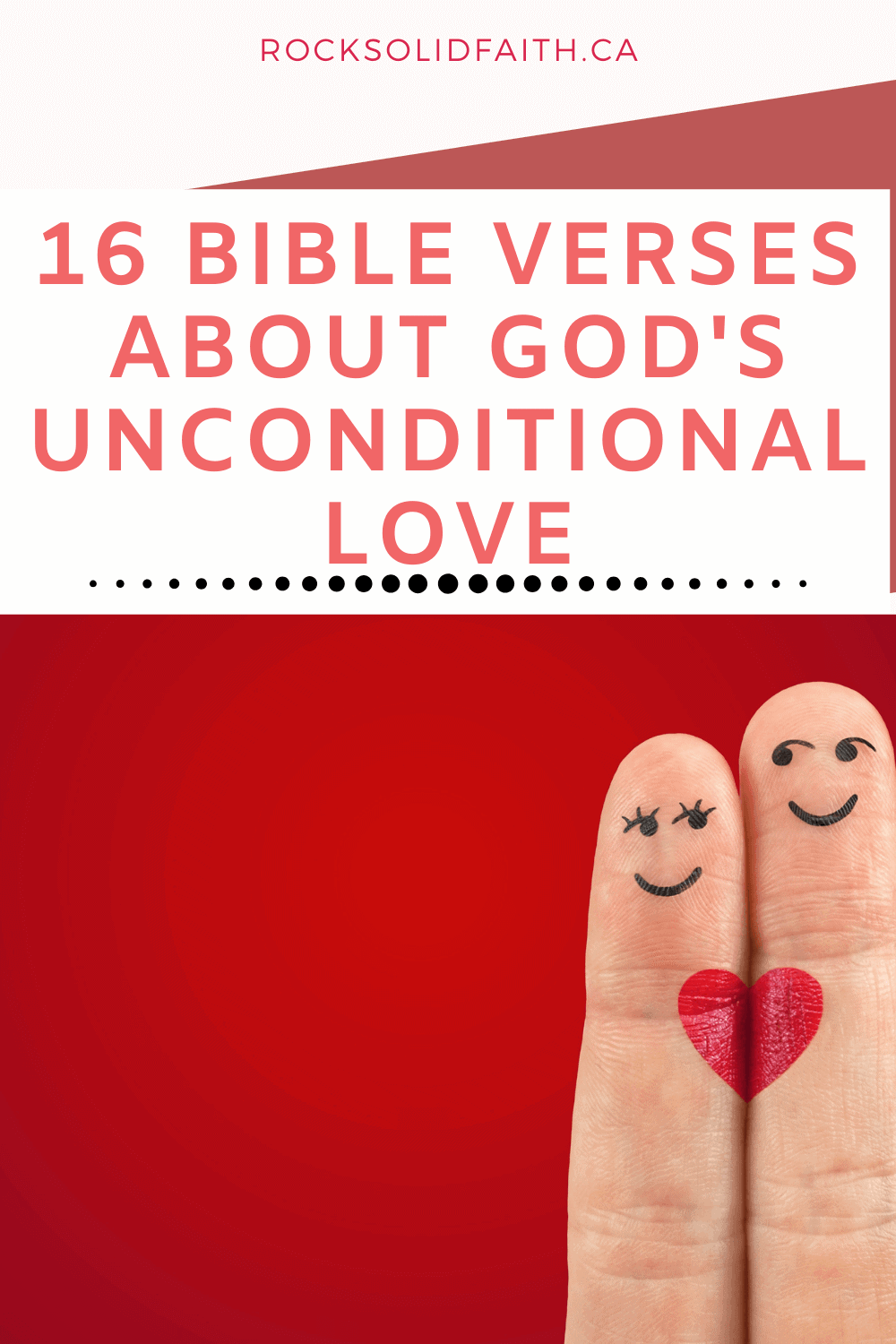 What Does the Bible Say The Unconditional Love of God?
Before we can first begin to understand God's unconditional love, we first need to head back to creation week. God created man in his own image. He was pretty content with his creation, man was special after all, he deemed the creation of man to be very good.
He later created a female companion for man and issued the command that they could eat from any of the trees in the garden except the tree of knowledge of good and evil. Sure enough temptation came their way and man yielded to temptation. How that must have hurt God to see his creation fall?
Thankfully we serve a loving God, instead of leaving us to face the penalty of sin, he gave his only son Jesus as a sacrificial lamb for us. Jesus lived a sinless life to die for the love of his life, you and me. Aren't you glad he did?

Jesus Christ came to earth to die for our sins so that we might have eternal life. He wasn't just some random dude, he was Gods only son, an eligible bachelor with royal blood running through his veins.  Without thinking twice he sacrificed himself, endured a life of poverty, suffering and shame, all with the hope of rescuing even just one lost sheep. Knowing the fact that once he took on human form he would lose the ability to be omnipresent ever again.
God's Unconditional Love
The beauty about Gods unconditional love is that he pursues us even if no one else does. He loves us with no strings attached! When I think of this, the story of Rachel, Leah and Jacob in Genesis chapter 29 comes to mind.
Jacob had a connection with Rachel pretty much from the instant they met. In fact, he willingly worked 14 years to secure Rachel as his bride. A last minute switch saw him marrying Leah ( Rachel's sister) instead of Rachel initially, unbeknown to him until it was too late.
Throughout their marriage it was evident who Jacob loved. As a result, God opened Leah's womb and she had many children for Jacob. With her first son Reuben she proclaimed: "Surely the Lord hath looked upon my affliction; now therefore my husband will love me."
She conceived again and proclaimed,  "Because the Lord hath heard I was hated, he hath therefore given me this son also: and she called his name Simeon."
Leah conceived a third time and this time she proclaimed, "Now this time will my husband be joined unto me, because I have born him three sons: therefore was his name called Levi."
I am sure Leah probably felt overlooked and not good enough in comparison to her sister Rachel. Despite the many children she had for Jacob, his affection towards Leah didn't change.
Are you guilty of doing the same as Leah? Dressing a certain way or even doing certain favors all in an attempt to feel loved only to be disappointed when it's not reciprocated?
With the birth of Judah, we see a change in Leah. It was evident that Leah had a refocused heart as instead of seeking out emotional love from her husband, she instead proclaimed now I will praise the Lord.
Leah moved from depending on Jacob for love and instead found comfort in God's unconditional love.
Our lives may not look like a romantic comedy but like Leah we should seek to place our security in the Lord.  No matter your past or how unlovable you may feel God pursues us and loves us unconditionally even if no one else does.
Despite how rebellious or sinful your past, God still thought you were worth sending his only son to die for you.
Bible Verses About God's Unconditional Love
Let's dive into some verses from the bible about love. These bible verses on love relay the classical love story of Jesus dying on the cross for our sins. Not that we loved God but that he first loved us. The following Bible verses about God's unconditional love have all been taken from the King James Version.
"Herein is love, not that we loved God, but that he loved us, and sent his Son to be the propitiation for our sins." 1 John 4:10

"But God commendeth his love toward us, in that, while we were yet sinners, Christ died for us." Romans 5:8

"For God so loved the world, that he gave his only begotten Son, that whosoever believeth in him should not perish, but have everlasting life." John 3:16

"Behold, what manner of love the Father hath bestowed upon us, that we should be called the sons of God: therefore the world knoweth us not, because it knew him not." 1 John 3:1

"For all have sinned, and come short of the glory of God;" Romans 3:23
God Loves You Verses
"Beloved, let us love one another: for love is of God; and every one that loveth is born of God, and knoweth God. He that loveth not knoweth not God; for God is love. In this was manifested the love of God toward us, because that God sent his only begotten Son into the world, that we might live through him. Herein is love, not that we loved God, but that he loved us, and sent his Son to be the propitiation for our sins. Beloved, if God so loved us, we ought also to love one another." 1 John 4:7-11


"Nay, in all these things we are more than conquerors through him that loved us. For I am persuaded, that neither death, nor life, nor angels, nor principalities, nor powers, nor things present, nor things to come, Nor height, nor depth, nor any other creature, shall be able to separate us from the love of God, which is in Christ Jesus our Lord." Romans 8:37-39


"We love him, because he first loved us." 1 John 4:19

" But God, who is rich in mercy, for his great love wherewith he loved us,  Even when we were dead in sins, hath quickened us together with Christ, (by grace ye are saved;)" Ephesians 2:4-5


"For the mountains shall depart, and the hills be removed; but my kindness shall not depart from thee, neither shall the covenant of my peace be removed, saith the Lord that hath mercy on thee." Isaiah 54:10
Bible Verses About God's Love
Out of love, a father chastises his children. We see the same with God, he is willing to forgive our shortcomings and gives us new mercies every morning. Here are some additional bible verses about Gods love.
"As the Father hath loved me, so have I loved you: continue ye in my love." John 15:9
"Behold, what manner of love the Father hath bestowed upon us, that we should be called the sons of God: therefore the world knoweth us not, because it knew him not." 1 John 3:1
"The Lord thy God in the midst of thee is mighty; he will save, he will rejoice over thee with joy; he will rest in his love, he will joy over thee with singing." Zephaniah 3:17
"For whom the Lord loveth he chasteneth, and scourgeth every son whom he receiveth."Hebrews 12:6
" The Lord hath appeared of old unto me, saying, Yea, I have loved thee with an everlasting love: therefore with lovingkindness have I drawn thee." Jeremiah 31:3
" It is of the Lord's mercies that we are not consumed, because his compassions fail not. They are new every morning: great is thy faithfulness." Lamentations 3:22-23

Verses About God Loving Us
If you are struggling with believing that you are indeed loved by God,  I encourage you to spend a month studying and reflecting on these Bible verses about God's Love as well as doing a topical bible study on love. At the end, you will have a renewed perspective on how much you are indeed loved by God.
Additionally here are some book resources on unconditional love that you can consider:
Based on the Grammy nominated single RECKLESS LOVE,  Cory walks readers through a 40 day Journey to deepen their understanding of God's love for them. Each entry will contain a Scripture verse, a highlighted "point to ponder," and lines for journaling.
God deeply loves you—He loves you with an everlasting love. In 66 Ways God Loves You, Jennifer Rothschild walks you through each of the sixty-six books of the Bible and shows, in concise and thoughtful ways, how every book reflects God's love for you, such as:
In Genesis God fashions you with His hands.
In Esther He Makes you royalty.
In Acts God's Spirit comes to live in you.
In I Peter God gives you victory over suffering.
With over 9000 reviews on Amazon, Redeeming Love by Francine Rivers is loved by many.  It is a powerful retelling of the story of Gomer and Hosea, Redeeming Love is a life-changing story of God's unconditional, redemptive, all-consuming love.
What are some of your favorite scripture about the love of God?
MORE BIBLE VERSES TO ENCOURAGE YOU
Putting God First Bible Verses
13 Encouraging Bible Verses About Singleness
14 Encouraging Bible Verses For Troubled Marriage
13 Inspirational Bible Verses About Grace
Hi there! I'm Shanique, the founder of Rock Solid Faith. I am a multi-passionate millennial and Women's Ministry leader who loves helping others learn to study the Bible. On the blog, you'll find helpful Bible study tips to help you develop a deeper intimacy with God, and fall in love with God's Words.