7 Effective Bible Study Methods For Beginners
Have you been trying to get started with bible study but don't know where to start? It's ok. I'm here to help!
Bible study can be a daunting task for beginners. Whether you are just getting started in the Christian faith or have been reading your Bible for years, there is always more to learn. In this post we will cover 7 effective bible study methods for beginners and provide you with some helpful tips on each one! Whether you wish to dig deeper into theological issues like the Trinity or focus on practical applications like prayer, we'll help to get you going with these great bible study methods for studying God's Word.
In this article, we'll look at different bible study methods beginners can use to help them fall in love with God's words. Some people like to read their bible through straight from Genesis through Revelation; others find it easier to start in the New Testament; others might read chronologically so they can see how events unfolded over time. The best way to find a bible study method that works for you is to experiment with different methods so you can get an idea of which one suits your needs best.
This post may contain affiliate links. You can read my full affiliate disclosure here.
Effective Bible Study Methods FAQ's
There are many different ways of studying the Bible and sometimes it can be hard figuring out where to start or what is best for you. There are many different ways to approach the Bible and there is no single way that works for everyone. That's why I've compiled this list of bible study methods for beginners that will get you started on your journey to growing in Christ.
What is the SOAP Method of Bible Study?
The SOAP method of Bible study is a popular studying technique among Christians. The SOAP method is a biblical hermeneutical approach that can be used with any passage of scripture. This method breaks down the text into 4 parts, scripture, observation, application and prayer. The SOAP method is an acronym that stands for: S-Scripture O-Observation A-Application P-Prayer.
What are the Methods of Studying the Bible?
There are many different ways of studying the Bible, and it is good to try out a few different methods to see what works best for you and your life. Here are some popular bible study methods: Scripture Writing, Bible Journaling, devotional method of bible study, chapter summary method, character quality method, thematic method, biographical method, topical method, word study method, book background method, book survey method, chapter analysis method, book synthesis method and verse by verse analysis.
What is The Sword Method of Bible Study?
The Sword method of bible study is a simple and effective way to read the Bible.  You simply read a passage of scripture then ask yourself three basis questions. The three questions are: What do I learn from this passage about God? What do I learn about people? What does God want me to do?
How do Beginners Study the Bible?
Studying the Bible as a beginner can seem overwhelming, but the key is just to start somewhere. Looking up the best bible study methods for beginners won't help if you don't take action. Choose one of the bible study methods below and just start there alongside these fabulous bible study tips.
What is a Good Bible to Read and Understand?
The best bible to read is one which you enjoy reading and can understand. The key is choosing a bible translation, they are not all created equally. You can learn more about bible translations in this post on bible translations made simple as well as learn about my favorite study bibles.
What is the Best Bible Study App?
Installed on over 490 unique devices, the YouVersion bible app is the best Bible study app. Its available in more than 60 languages, it not only allows you to read the Bible in a translation of your choice but you can also participate in various devotional style bible reading plans.  Here are some more of my favorite bible study apps to get you started.
Bible study is a great way to learn more about God and grow as a Christian. Do you feel like you're not getting the most out of your bible study time? Maybe it's because you are using ineffective methods. This post will teach you some new ways to study scripture so that you can get more out of your studies!
Effective Bible Study Methods For Beginners
If you feel inadequate studying the bible or think you are too busy to get into God's Word? I got just the bible study methods for you.
What if you could get involved with Bible study despite juggling your long list of to do's?
What if I told you, placing God at the center of the mundane makes it so much easier to tackle your to do list?
What if you could find a Bible study technique that was just right for you?
At the end of the day, it is not about how long you study the Bible that counts. What matters is you letting God's Word transform your heart daily.
This can only happen when you intentionally apply the word of God to your everyday decisions.
Move from just reading, or hearing the God's promises to obedience.
Having said this, are you ready to get into God's Word? Let's get started!
Effective Bible Study Methods
There are various Bible study methods such as the verse by verse Bible study method, the discover Bible study method or even the inductive Bible study method. There is no one size fits all approach or a perfect system of Bible study. Everyone is different and in different seasons of life. Depending on the season of life you are in, choose a simple Bible Study Method to help you study and get the most out of God's Word.
Bible Method #1 – Rap Bible Study Method
Question for you; Where are you lacking in Bible Study? Time, Approach, Study Method, Devotional, Topic, other personal struggles, are you busy?
If this is you, I created the RAP Bible study method, to address a specific need which is Bible Study for the woman who has a lot on her plate and is always on the go.
How To Use The RAP Bible Study Method For Beginners

R- Read
Begin your study by reading specific verses, then proceed with writing down the verses that you identify with. You could even Bible journal one of those verses that stand out to you.
A- Application
Think about how those verses apply to your everyday life. How does it apply to your faith? Then write down any promises or declarations that you want to recall.
P- Pray
Follow-up by praying about what you just read, making your request known to God. Ask him to fill your heart and help you to obey his word.
It's that simple, RAP!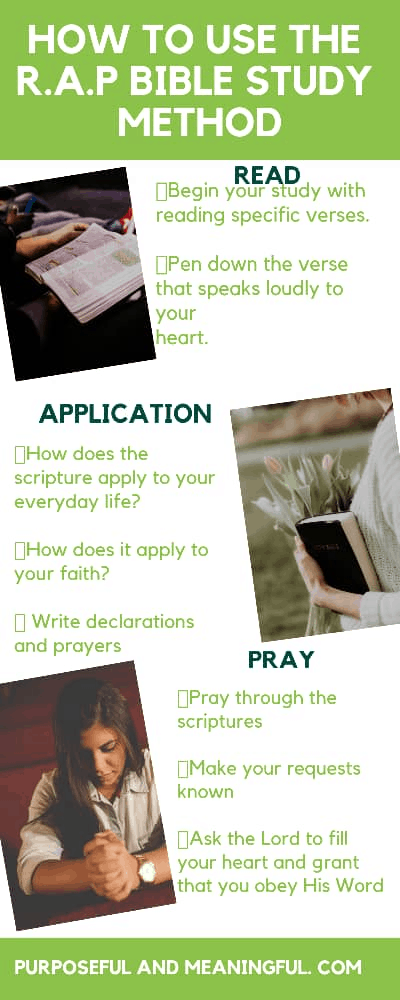 Still don't know how to start? Download RAP Free Journal HERE.
Bible Method #2 – Soap Bible Study Method
It can be difficult to understand the Bible on your own, but it doesn't have to be that way. There are several tools and techniques available for understanding the Bible in depth. One such technique is called SOAP. This method takes you through four steps to help you better understand what's happening in any passage of scripture and how it applies to your life today.
These four steps are as follows: 1) S- Scripture reading; 2) O- Observation; 3) A- Application; 4) P- Prayerful reflection. This bible study method can be completed in as little as 15 minutes, a great option if you are pressed for time.
Read more about the SOAP bible study method to learn more.
Bible Method #3 – Bible Journaling
Bible Journaling isn't a new bible study method, but it has really taken off in recent years. If you are a beginner to Bible Journaling you simply reflect on a passage or verse through creative outlets such as painting, drawing or coloring. There are special bibles with wider margins designed specifically for bible journaling however you can also bible journal in a notebook.  Don't worry if you feel artistically challenged, there are bible journaling bibles designed with you in mind as well.
Be sure to check out Joditt Designs for tutorials and resources to help you get started with Bible Journaling.
Read more about the Bible Journaling bible study method to learn more.
Bible Journaling StudiesTo Try:
Lamb of God Bible Journaling Kit
Trusting God Bible Journaling Kit
Choosing Joy Bible Journaling Kit
Bible Method #4 – Scripture Writing
Scripture writing is a creative way to study scripture. Using a topical bible reading plan, you simply write out the verses. Writing scripture is great for helping you with scripture memorization. While this bible study method might seem simplistic, you can gain more depth by looking up the definitions for words that stand out to you, looking up cross- references or even reading the verse in several different translations for clarity.
Read more about the Scripture writing bible study method to learn more.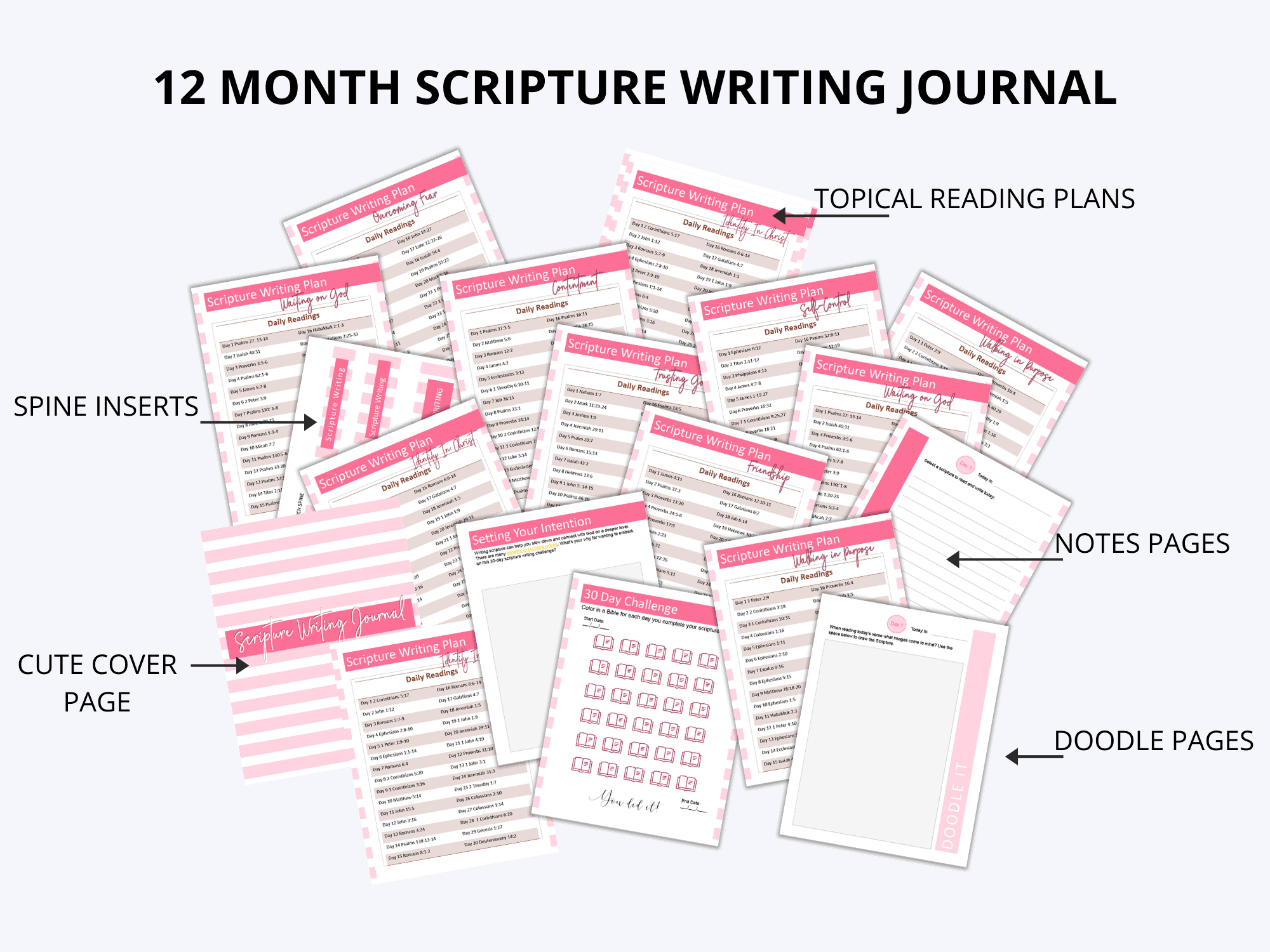 Bible Method #5 – Inductive Bible Study Method
The inductive bible study method is the process of studying scripture by looking for patterns and themes, rather than just reading it word for word. This means that you are not only looking at the words but also the context in which they were said or written. Their are three steps involved in inductive Bible Study, these include:
Observation – What does the text say?
Interpretation – What does the text mean?
Application -What does the text mean to me?
Read more about the Inductive bible study method to learn more.
Inductive Bible Studies You May Like:
Rejoice Always Bible Study Journal of Phillipians
Faith Approved Bible Study Journal of Hebrews 11
The Word Became Flesh Bible Study Journal of John 1
Bible Method #7 – Verse by Verse Bible Study Method
With verse mapping, you will study the historical context, theological framework , review different translations and connotation to better understand your chosen verse. Once completed you should have a diagram that resembles mind mapping . Read more about the Verse by Verse bible study method to learn more.
Verse Mapping Study to Try: Kneel Before The Throne: Exploring Ephesians with Verse Mapping & Bible Study
Bible Method #8 – Topical Bible Study Method
I love the topical bible study method, its a great method to go deeper on a particular topic of interest. A topical Bible study is a great way to gain deeper understanding on a particular topic, as you come to a conclusion after an in depth study rather than basing your beliefs on a couple verses. Read more about the topical bible study method to learn more.
Topical Studies You May Like:
Choosing Confidence Intensive Bible Study
Undoubted Grace Topical Bible Study Journals
Additional Effective Bible Study Methods
By no means is this an exhaustive list, there are tons of bible study methods that you may want to try out. Here are some additional places to find even more bible study methods for your quiet time.
For more bible study resources for beginners, be sure to check out our bible study basics archives.
Be sure to check out Arabah Joy's 7 Ways in 7 Days for even more ways you can have more fruitful bible studies. She also has tutorials on:
Have you tried any of these Bible study methods? Do you have a favorite bible study method that's' not listed above? We would love to hear about it in the comments below!