We are told in the Bible that man does not live by bread alone, but by every word that proceeds out of the mouth of God.
Take a moment to consider this truth. How would it affect the way you see the Word of God and view the importance of Bible Study?
For me, it helped me realize that I need God's Word more than I need food. It helped me to realize the importance of studying the Bible.

God's Word can sustain us throughout our life's journey, but if we don't take the time to seek it, and feed on it, how can we expect to grow spiritually?
If  we don't hide God's Word in our hearts, how do we expect the Holy Spirit to bring back scripture to our remembrance at times when its needed?
Why is it important to study the Bible?
Is Studying important? In this article we we dive into the importance of the Bible in our lives.
WANT TO REMEMBER THIS? SAVE THIS TO YOUR FAVORITE BIBLE STUDY BOARD!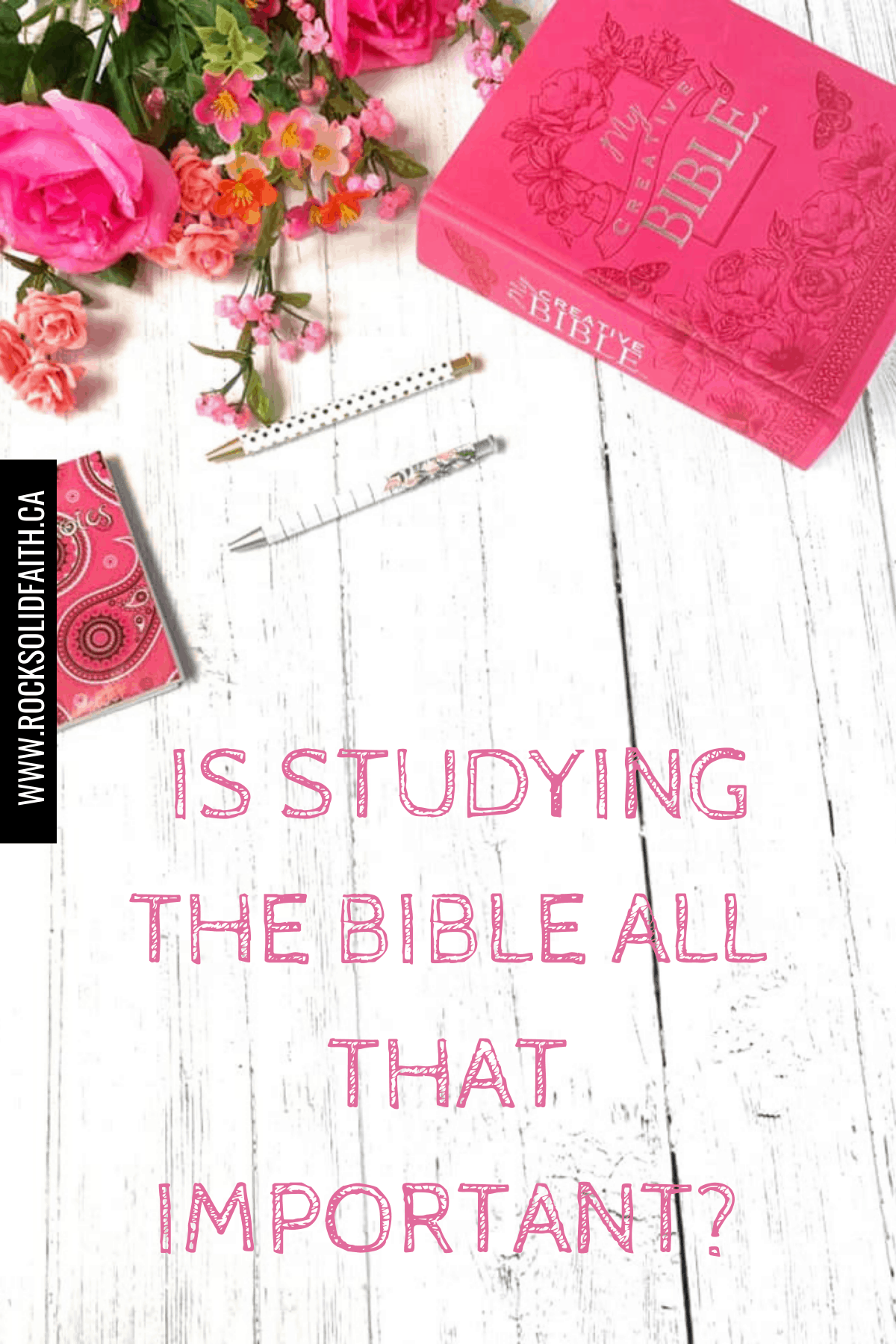 This post may contain affiliate links. You can read my full affiliate disclosure here.
Reasons Why We Study The Bible
Here are three reasons on why Bible Study is important for your christian walk:
#1 Importance of Studying the Bible: When we study God's Word, we give Him something to work with
Therefore whosoever heareth these sayings of Mine, and doeth them, I will liken him unto a wise man, which built his house upon a rock: And the rain descended, and the floods came, and the winds blew, and beat upon that house; and it fell not; for it was founded upon a rock. Matthew 7:24–25 KJV.
We have been told that the surest way to hold God is by His Word, which brings us to the first importance of studying the word of God.
We read in Psalm 138, verse 2, that God has magnified His Word above all His name. What does this mean? It means you can put your life on every word God has spoken.
If He says you're healed, that is what you are.
If He says He would supply all your need, that is what He would do.
If He calls you blessed, saved, and favored, that is what you are.
If He says He is with you always, you would never have to face life alone.
But we must seek His Word, and believe what He has said. Only when we believe can we begin to see the manifestation of God's Word in our lives.
The rain would come, and floods, and winds, but if you know God's Word, believe it, and take His Word back to Him in prayer, you would be giving Him something to work with—because only faith based on God's Word can yield the promises we glean from the Bible.
#2 The Importance of Bible Study: When we study God's Word, we strengthen our inner man
So then faith cometh by hearing, and hearing by the word of God. Romans 10:17 KJV.
The Bible is full of stories of people who believed God, acted on their faith, and received supernatural help from God in times of dire need. Doubtless, these miracles strengthened them, grew their faith in God, and helped them face life's challenges with more courage—because they saw God intervene for them, they knew from experience that it was something He was able, and willing to do.
When you receive divine interventions, it strengthens your inner man, but if you do not know what God can do, how can you believe that He would do it for you? And how can you know if you don't study what's already written?
Remember, the just shall live by his faith, and, God would only do for you what you believe He can do for you.
The question is not if Jesus can do anything, but rather, if you can believe (See Mark 9:14–21).
But how can you believe, if you don't study what's already written?
#3 Importance of Studying the Bible: When we study God's Word, we gain understanding that is helpful to even those around us
Study to show thyself approved unto God, a workman that needeth not to be ashamed, rightly dividing the word of truth. 2 Timothy 2:15 KJV.
We have an enemy that would not just stand aside, and watch us come into the fullness of God's purposes for us. One way he tries to hinder our progress, and cause us to stumble is with the proliferation of false doctrine.
Remember that the only faith that works is faith that is based on what God has said. This means that faith based on anything else (including a wrong perception of God's Word) cannot yield the results we are believing God for.
So we must study to know what God has said in order to rightly discern the truth from the lies of the enemy.
When we know the truth, we are able to point out the errors of those who are mistaken, or have been deceived by false doctrines peddled by false teachers.
But if we do not study, how can we rightly divide the word of truth? How can we tell what's fake if we've never seen the original?
Where to Start Studying The Bible
 As newborn babes, desire the sincere milk of the word, that ye may grow thereby. 1 Peter 2:2 KJV.
Sometimes, it's not because we do not want to study that we do not make the effort. There's the challenge of where do I begin? And how do I do it right?
I believe what's important is our desire, and determination to feed on God's Word. God would bless our effort with His help, and feed us with what we need to grow, thrive, and flourish in His purposes for us.
IMPORTANCE OF STUDYING THE BIBLE: AN EXAMPLE FROM THE BIBLE
The book of Nehemiah tells the story of the leadership Nehemiah provided after he heard of the sorry state Jerusalem was in.
Because of their disobedience, God had allowed the land to be plundered by foreigners. The Israelites were taken as captives.
Time had passed, and some of them had returned to their land. But Jerusalem was not in a good state. The walls needed to be rebuilt.
God gave Nehemiah favour, and he received the help he requested from King Artaxerxes.
Soon, with Nehemiah's leadership, the walls of Jerusalem were rebuilt.
The people did a review of their ways, and saw the need to return to God with all their hearts.
In chapter 8, we read that they gathered themselves together to hear God's Word.
We can learn from how the Israelites did it on that day.
Verse 3. They were not in a hurry. The scribe, Ezra, read from the morning until midday, still, they were attentive to God's Word.
Verse 8. God's Word was read distinctly.
Verse 9. They were open to God's Word. They wept when they heard the words of the law.
Verse 10. They rejoiced because they had received and understood God's Word.
Verses 13– They obeyed God's Word, and did what they had been commanded to do.
It might not always seem like the effort we make to study God's Word is fruitful, but we must press on, and not relent.
Do not be discouraged. God is with you, teaching you, feeding you, and supplying you with all you need to prosper in His purpose for you.
Your honest effort is not wasted. When the day of adversity comes, your strength would not be found to be small because of the Word of God dwelling richly in you.
Bible Study Methods For Beginners: It's Not A One Size Fit All Approach
Studying the Bible is very important for spiritual growth. Its not a one size fit all approach. Which is why I gravitated towards the 7 Day Bible Study Methods course by my fellow blogger Arabah Joy. She includes a variety of Bible Study Methods to help you find just the right method that works best for you. If you are struggling with Bible Study, using a Bible Study Method can help you focus and get so much more from your quiet time.
This 7-day Bible Study Methods For Beginners Course will:
teach you 7 different Bible study methods

streamline the learning process so you don't spend weeks or months figuring it out

give you tools for going deep into God's word in as little as ten minutes a day (perfect for busy moms!)

provide ready made templates and printables you can choose from

show you exactly how to do each method with the daily videos

revolutionize your time in God's word and discover fresh intimacy with God in the process.

equip you to nourish yourself with the Scriptures

teach you how to develop your spiritual senses

help you establish a Bible study habit!
Plus, you can start any time, go at your own pace and you'll have lifetime access to the course materials.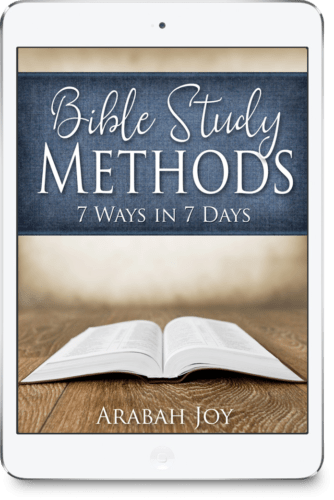 If you've ever wished you could learn how to study the Bible, or dig deep into the word of God and get more from your Bible reading, Bible Study Methods: 7 Ways in 7 Days is for you.
Importance of Studying The Bible
The Bible is God's love letter to us. By spending time in the word, we grow to know about God. In this article we have looked at three reasons why Bible study is important for the christian. I would love to hear from you in the comments, Why do you study the Bible and whats your favorite Bible Study Method?
MORE ARTICLES LIKE THIS YOU MAY LIKE
How to Free Up Space On Your Spiritual Hard drive
The Ultimate Beginners Guide To Reading The Bible
How To Fall In Love With the Bible