This upcoming weekend marks the unofficial start to summer. For me, warmer weather spells lots of adventures and of course road trips. Can't you just feel that cool breeze blowing though your hair and the summer heat pelting? I am totally feeling the song "Life is a Highway" by Rascal Flats right now.
With all the work I have been putting into my blog lately, I have sadly being putting my relationships to the side. With that being said, I plan to make full use of the summer months. Perhaps learn a thing or two with an online cooking class or baking class and of course putting the rubber to the road with my family.
For those that may want to go on road trips but are just not too sure what to do, you could consider: discovering a new town, go hiking, visiting amusement parks, go berry picking, visit national parks as well as just checking out the website of your local tourism bureau for ideas.  Tourism bureaus will usually give you a list of popular attractions for a particular city or region.
Whether you opt to stay local or hit the road, here are some awesome faith based activities to add to your travel plans as well as a few travel essentials to make your road trips a bit more hassle free this season.
Disclosure: This post may contain affiliate links, which means we may receive a commission if you click a link and purchase something that we have recommended. While clicking these links won't cost you any extra money, they will help us keep this site up and running AND keep it ad free! Please check out our disclosure policy for more details. Thank you for your support!
Faith Based Activities
Nature Scripture Scavenger Hunt
Nature offers so many lessons that point us back to God. You can explore both nature and scripture together with this free nature scripture scavenger hunt. Perfect for a family afternoon activity combined with a walk in a park. Allowing you to connect with God and your family in a meaningful way.
Bible Hopscotch
Who doesn't love hopscotch? I use to love playing this game when I was younger. You can teach your kids the books of the bible with this fun game.The Bible Hopscotch is easy to make and can certainly be taken on your road trip to be used once you have arrived at your destination.
Experience God Through Creation
While outdoor exploring nature, it is the perfect time to teach kids concepts about what it means to be made in God's image and how to be stewards of God's creation. Here are 10 summer friendly ways to experience God through nature.
Bible Minute To Win It Games
Based on the popular game, minute to win it. Participants will have 60 seconds to complete a challenge. The activities are taken from key elements from stories in the old testament such as the tower of babel. Perfect for an afternoon out camping. You could commence with the Bible minute to win it games and then close off the evenings activities around a camp fire where you recount one or two of the stories and the lessons we can learn from them.
How to Create a Road Trip Survival Kit Click To Tweet
Summer Travel Essentials
Road Trip In A Box
Road trips can be so long and everybody always winds up zoning out on their various devices. Why not take back road trips this year and make them fun and memorable with the road trip in a box kit? With trivia questions, bingo games, truth or dare, and good behavior reward for the kids, the fun is guaranteed to last for hours.
Conversation Starters
I have been there, long road trips where I suddenly ran out of things to talk about. A conversation starter would have been oh so helpful at the time. Communication is the key to any relationship why not use your windshield time to discuss and tackle some of those tough relationship topics that you have been putting off for months such as: Intimacy, finances , romance, family and quality time. With 250 questions in the content bank, you will walk away with the groundwork to strengthen the communication in your marriage and lots to talk about on your road trip.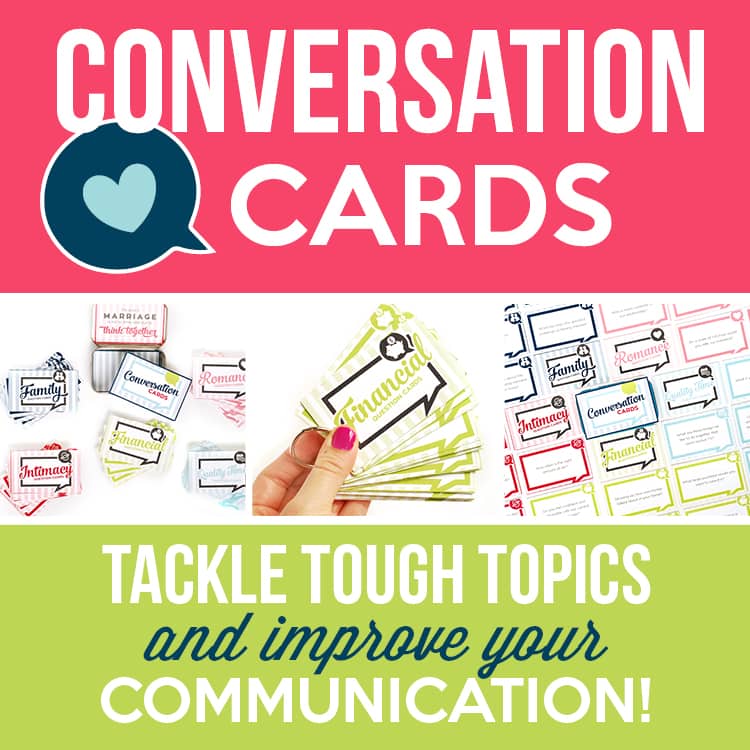 Family Camping Kit
When I was younger, I went camping once or twice, but totally hated the experience. I just couldn't get pass the unglamorous sides of camping and dealing with all the bugs and insects. A bit older, I want to give it another try and can see how this Camping Kit from the Divas could come in handy in taking the stress away from planning a camping trip for my family.The kit includes a packing checklist, camping games, a camp menu, scavenger hunt and a S'mores kit.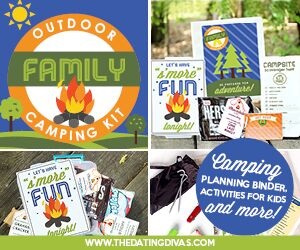 DIY Memory Travel Map
As you travel this summer, why not document your travels with a DIY Memory Travel Map? It is the most adorable home decoration, bucket list, and memory keepsake – all in one! Whether you have visited lots of U.S. states or have a long bucket list of travel plans, this is the perfect way to document travel adventures!
The map includes templates for all of the States (including Alaska and Hawaii). Just pick your favorite photos from each state you've visited, use the template to cut it out, stick it on…and you're done! How fun!
They even have these great little flags that you can stick onto the map to mark your favorite places, honeymoon spot, and more! Thinking this would look so great on my wall at home, if only they had a Canadian version. (It fits a 24×36 frame perfectly, just FYI)
Summer Boredom Busters Packs
While not a road trip essential, it can be hard to come up with ideas to keep kids occupied over the long summer break. With that being said, why not consider creating a summer boredom box filled with ideas to keep them entertained. Include summer fun ideas, printable to help them make their own lemonade stand, and even suggest ways they can participate in random acts of kindness.You can make something from scratch or download these boredom busters printable to help you craft the ultimate summer boredom box.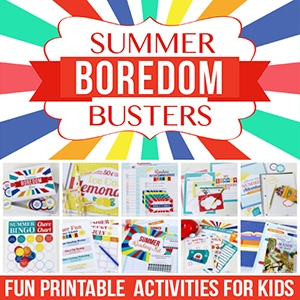 Staycation Kit
As much as I love traveling, it is not always possible to getaway for a lavish vacation and it can be rather expensive. I remember one year, I took a vacation day, but had nothing planned. Impromptu I went to a local tea tasting event at a company I passed every day to work but never stepped foot in. I then participated in some self-care activities right after.While it wasn't a lavish vacation, what started as a likely boring vacation day actually turned into a fun staycation that I actually enjoyed. Download your staycation pack to help you create the perfect staycation right at home.

I challenge you to put down the screens this summer. Choose and download one of the activity printable above and spend time with your kids or spouse exploring nature and the word.