If you decided to click on this post to learn more about Affiliate Marketing, know that you are not alone. Along with numerous other bloggers; I also find myself researching about affiliate marketing quite often.
Why?
Because Affiliate Marketing is one of the top sources to earn your way through blogging.
Affiliate Marketing, if done correctly (meaning: time investment) you can eventually earn a pretty chunk of change.
Have you ever heard of Michelle from Making Sense of Cents?  Michelle is a financial guru and blogger that is well known for her Affiliating Marketing strategies.
She is one of the most popular bloggers out there that's not just earning more than $50k+ a month in affiliate marketing through her blog, but is also creating courses about how to make a full time income through affiliate marketing.
I have not taken her course nor have any affiliation with the course, but as a reader of hers, it is quite inspiring. Her income reports of affiliate marketing can be very enticing and motivating to begin affiliating as a blogger.
I once read 11% of bloggers make more than $30k per month through their blogs. About 8% of them make this through affiliate marketing.
Now if those numbers doesn't make you want to know more about Affiliate Marketing then I don't know what would.
HOW TO MONETIZE A CHRISTIAN BLOG PIN FOR LATER

This post may contain affiliate links. You can read my full affiliate disclosure here.
How to Monetize A Christian Blog
For Bloggers the 3 most common ways to earn an income are:
Advertisement – Google, Mediavine, Medianet, Adthrive
Creating and Selling Products
Affiliate Marketing
Each of these all have their perks and each of them can be successful by what you put into them.
No matter which choice you make, the most effective way to succeed at making income is to invest the time to promote the product.
Invest quality time!
Advertisement revenue will depend on your page views. The more page views you have, the higher revenue rate you will earn. Carly from Mommy on Purpose is a great example of earning a full-time income based off of pageviews alone. Her income reports show that because she invests a lot of time into increasing her pageviews, her Advertisement income goes up consistently. In case you are new to Advertisement, Google Adsense has no page requirements vs. Mediavine and Adthrive that does (minimum 30k+ sessions per month).
Creating a product is something I personally fell in love with and hope to create more very soon. When creating products you should always keep your audience in mind in all aspects. Your readers are who you will sell to because that is who will trust you as a creator.
Related: What Most How to Guides Don't Tell You About Christian Blogging
Anything you sell or offer always comes down to trust. This is why it is vital to only promote what you have first tested yourself and can share a honest review on.
Especially as Christian Bloggers this is something we should stand on. What we offer represents who we are. It does not come down to the money we can make through the product. It comes down to being who or what we represent through our words.
There has been many times I have declined an offer of promoting a product. Although I may have liked the product, it may have not been in the best interest for my readers or what I believe in. No amount of money can replace the integrity of the blog. I always take myself back to; "God led me to start this blog so I must keep it a God thing."
I have found that one of the most common concerns Christian Bloggers have about incorporating passive income is "How can we represent building a ministry and make money from it without feeling unethical to our written words and vision to the blog?"
In my book, "By His Grace We Blog", I bring up this very topic before adding chapters about affiliate marketing and creating products.
"If you are struggling with the thoughts about making money from your blog, it could be a good thing. That is a good struggle to have. This means you are being cautious and desire to take heed to God's leading instead of where monetizing can lead."

-Monetizing from a Christian Blog
Struggling about monetizing is a good struggle to have. It means you are looking to do God's will with what He started. Doing this means you will provide what is right for your readers.
Creating products and becoming an Affiliate to offer products should be in alignment with your vision of your blog, which is ideally in alignment with God's plan for your blog.
This doesn't mean it should only be Christian based products, it just means that following God's leading of what to offer to your audience is something I recommend to adhere to. It will give you great insight to the plans of your blog which is far more worth it than a passive income.
This collectively takes you into the greater plan and blessing of your blog.
Affiliate Marketing is known as one the most popular ways to earn an income because it is a simple process. It does not require you to create your own products or to work vigorously at growing your page views more and more every month.
But it does require time.
To pursue affiliate marketing successfully, it is best to invest time to knowing the product well.
Once you have done this, promoting the product with your own affiliate link will be the best way of getting the product in front of your audience.
Related Posts: Affiliate Programs For Christian Bloggers
Here are 5 ways you can promote with your affiliate link to a product:
Offer the product to your email subscribers – Asking the creator for a discount code that you can give exclusively for your subscribers helps for better results.
Promoting on all your social media platforms – Eye catching graphics has higher results when promoting on social media. Be sure to tag the creator and to add your affiliate link on your social media profiles so it is easy for your follower to get to the link.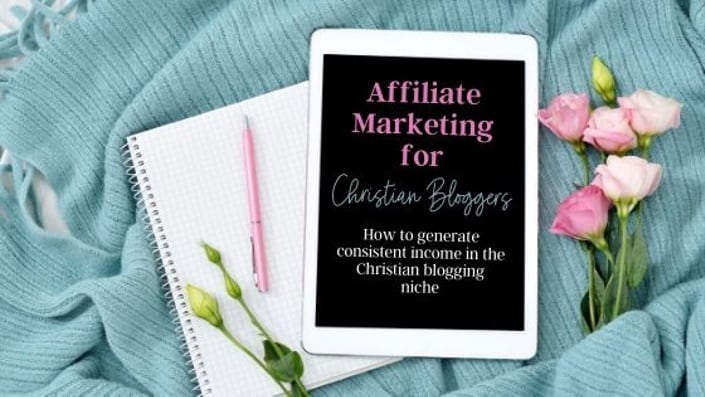 Create a tutorial or write a review about the product – Add your affiliate link in several areas of the post. It is highly recommend to add your link in at least 3 different areas. Beginning, middle, and ending of the post.
Mention within your existing blog posts in areas that are fitting for the product – I recommend to go back to all your blog posts that may have some sort of reference to your affiliate products. Enter link where you may find fit. Another idea is adding "related post" links in middle and end of your blog post which will then lead the reader to the new blog post and/or tutorial you created for your product.
Create a clickable graphic with your affiliate link on your sidebar – This is where I see most results for my affiliates to By His Grace We Blog eBook. It makes it easy for the potential buyer to click on to find the description of the product.
Besides investing quality time into affiliate marketing another important tip to having success is having multiple affiliates to work with. The more affiliate products you are selling the more chances you will have to sell.
To not become overwhelmed, it is best to create an Affiliate Marketing journal and schedule of when and how to promote the products whether on social media, through blog posts, or adding new graphics to your site. This will also help you keep focused on the goal you have for promoting and earning an income.
As a reader of Rock Solid Faith I (Carmen) am offering a 25% discount code for the By His Grace We Blog eBook; which is a book I created for Christian Bloggers. Just enter: rocksolidfaith at checkout.
My goal with this book was to answer questions we may have as new bloggers in a Christian perspective.
Topics such as Define your Goals, Cultivating our Blog into a Ministry, Creating a Brand, Building Pinterest, Affiliate Marketing, Creating Products, Networking, and so much more is offered within the book.
How are you monetizing your christian Blog?