Christian Affiliate Programs For Christian Bloggers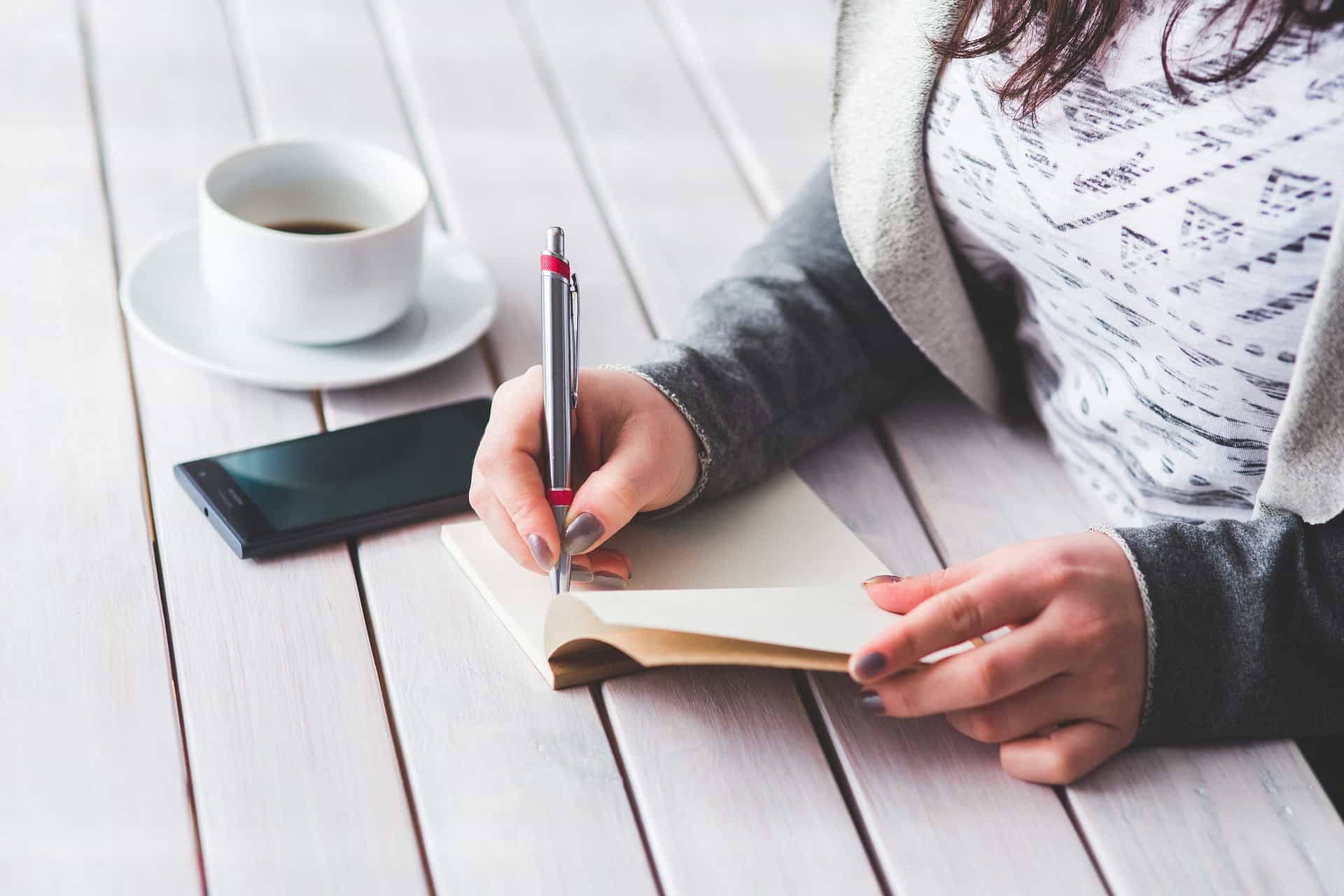 When I told my husband that I wanted to monetize my christian blog and get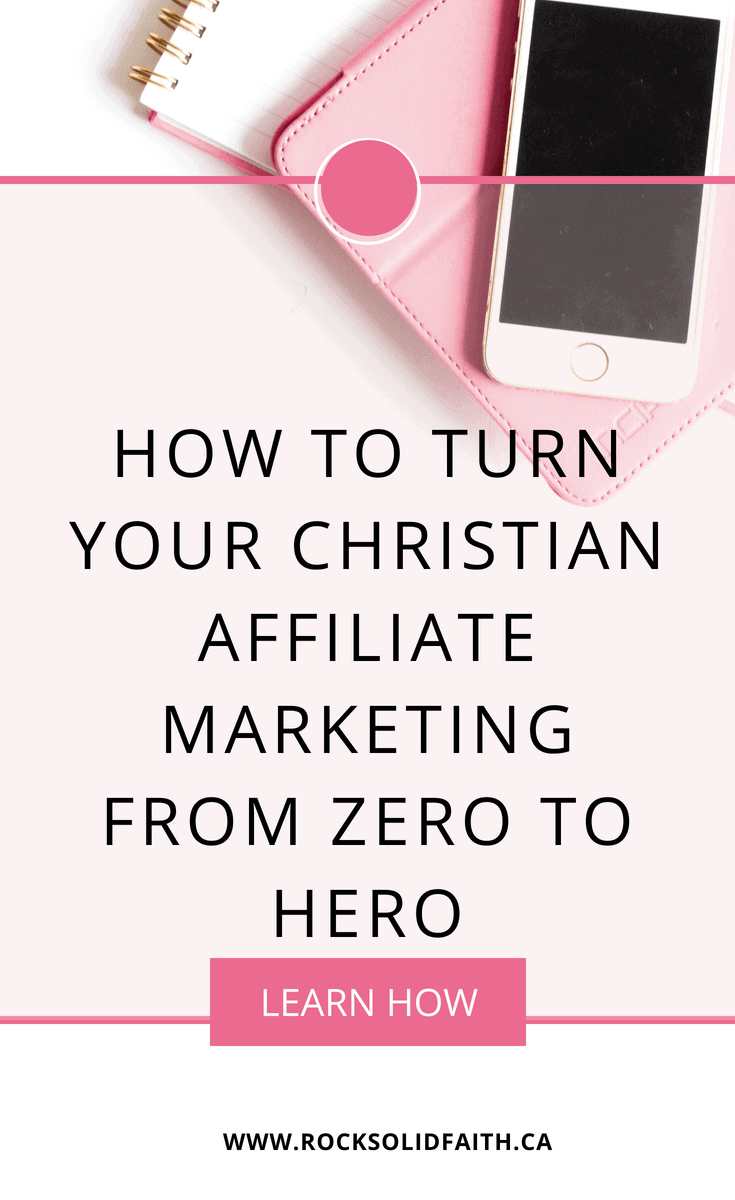 started with christian affiliate marketing, he freaked!
Monetizing a christian blog is somewhat of a taboo topic within the christian community after all.
It is seldom talked about in depth and while most look at their blogs as a ministry from which they do not wish to monetize, there are others who hope to monetize to help cover the cost of running a blog. For others it is a way to help provide additional income for their families. This week on the blog we will be talking about christian affiliate programs and how you can monetize your christian blog.
This post may contain affiliate links. You can read my full affiliate disclosure here.
To Monetize Or Not To Monetize
A decision to monetize your blog is a choice that should not be taken lightly. It is a decision that you should pray and consult God about.
1 Timothy 6:10, N.I.V says, "For the love of money is a root of all kinds of evil. Some people, eager for money, have wandered from the faith and pierced themselves with many griefs."
You see, monetizing your christian blog can result in blurred lines. We can start off with good intentions but in desiring to monetize we unintentionally make money our God and lose sight of our mission.
If you visit a doctor or a lawyer, they are compensated for their services. Why should ministers or those in ministry be any different?
1 Timothy 5:17-18 N.I.V says, " The elders who direct the affairs of the church well are worthy of double honor, especially those whose work is preaching and teaching. For Scripture says, "Do not muzzle an ox while it is treading out the grain,"and "The worker deserves his wages"."
Personally, I don't believe there is anything wrong with monetizing a christian blog, we just need to tread with caution and do it honestly and not compromise our values. Most importantly don't lose sight of why we started our ministry. But hey, that's my personal opinion, doesn't necessarily mean it is right for you.
An affiliate program does not have to be faith based for you to promote it, but it should however line up with what your audience wants. Take the time to review the products you affiliate yourself with to ensure that it lines up with what you believe. If after prayerfully considering monetizing you have decided to take the plunge, the following beginners guide on how you can get started with affiliate marketing can help.
Related Post: How to Monetize A Christian Blog
What Is Affiliate Marketing?
Affiliate marketing is simply advertising another persons products or services and earning a commission every time some one makes a purchase through your unique affiliate link to the product.
There is little to no investment required to get started and you don't have to think about stocking a physical product. This makes it an awesome way to monetize your blog. Before we dive much further into monetizing, let us explore some terms you will likely come across when it comes to affiliate marketing.
Affiliate Terms
Affiliates
Content Creators who are using their influence to encourage their community to make a purchase through their direct affiliate links.
Affiliate Link
This is a unique tracking link that is provided by your affiliate program. This link keeps track of your promotional efforts and identifies your sales so they can compensate you for sales made through your link.
Affiliate Program
A commission program set up by a merchant or company within an affiliate network. Example, Ultimate Bundles Affiliate Program.
Affiliate Dashboard
A reporting portal that allows you to review your affiliate statistics such as clicks and commissions earned. You can also find your affiliate links in your affiliate dashboard.
Affiliate Manager
Manages the affiliate program for a merchant.
Commission
A predetermined percentage or amount that is paid to the affiliate once terms outlined by the merchant are met. Commissions usually start at around 5% to around 50%. it varies by affiliate programs and is determined by the merchant.
Affiliate Disclosure
A disclaimer that brings to your readers attention that you are using affiliate links. You are legally responsible to disclose, so don't forget to include disclosures, when using affiliate links. It is an ethical way of letting your readers know that you are either being compensated in someway for recommending a product or brand. Or that you stand to be compensated should they make a purchase through your link. I would highly recommend reading the Federal Trade Commissions FAQ Guide which outlines answers to some commonly asked questions when it comes to endorsements. Also ensure that you read the affiliate program requirements for affiliate programs that you join. Some programs like Amazon require you to use exact wording as part of your disclosure. While some programs restrict the platforms on which you can market their product
These are just a few of the terms you will come across once you get started with affiliate marketing. Click here for a more comprehensive glossary of terms.
Getting Started With Christian Affiliate Marketing
Becoming a christian affiliate is super easy. You can apply to individual programs through affiliate networks such as Shareasale. Once registered, you can apply for affiliate programs from merchants such as: FaithBox and Dayspring.
Alternatively, simply go to Google and type in the name of the company followed by affiliate program, that usually does the trick. Once you apply, they will review your application and tell you whether or not you have been approved.
Don't be disheartened if you are not approved, you can always try again at a later date. When applying, I would suggest adding a note for the reviewer letting them know why your site may be a good fit for the program.
When I just started christian affiliate marketing, I wasted a lot of time applying to way too many programs. Take it from me, start with 1 or two programs that you really love and give it your all. In the process, you will find out what works and what doesn't. This prevents you from getting overwhelmed and allows you to focus and track the methods that give you results. Once you have found your groove and process you can always add other programs and replicate your process.
The products that you promote on your blog don't necessarily have to be faith based but should tie into what your audience actually wants. You could also promote other merchants that you love such as your web host or other tools that you use to operate your blog.
How to Earn Money With Christian Affiliate Marketing
Know this, christian affiliate marketing isn't a get rich scheme, but it is possible to generate income from your blog from affiliate marketing. LeeAnn over at Kingdom Bloggers consistently generates an average of $200 monthly from Amazon and $300 a month through Shareasale. She even shares her strategies on how she manages to generate consistent income in the christian blogging niche.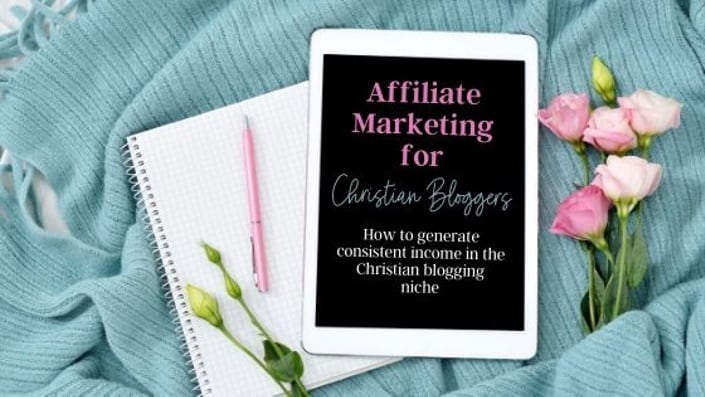 The following are some suggestions on how you can get started with promoting affiliate products:
Write a blog post that speaks to what you like or don't like about a product. Include results and screenshots if possible. They say a picture is worth a thousand words after all. You can add your link to related articles, include it in your resource library. Promote it to your list, add it to your sidebar, Share it on Pinterest and your social media channels. You could even do a video review. The options are endless, put your self out there and get creative.
I think the number one key to having huge success with monetizing your blog, is traffic and authority.You gain authority by becoming a trusted resource for your audience whether that is through creating tutorials and guides or just simply answering questions in your niche. With time and consistency, you will start to develop your own loyal blog tribe and know what products and programs are a good fit. Spending time to learn SEO is the best decision I made to generate traffic to my blog.
Affiliate marketing isn't simply just inserting a few affiliate links on a blog post and then money will just start flowing. Check your analytics and send out surveys to learn more about your readers.You need to ensure that your affiliate programs line up with what your audience actually wants. Here is a free course that dives into helping you to Craft Your Ministry Avatar.
Best Affiliate Programs For Christian Bloggers

Listed below are my favorite affiliate programs. In this roundup, you will find some of the best christian affiliate programs, such as book affiliate programs, e-book affiliate programs,christian living affiliate programs and even subscription boxes such as the Faithbox affiliate program.
My Favorites
Ultimate Bundles – This is one of my favorites! Ultimate Bundles releases various bundles throughout the year that range from homemaking, homeschooling, organization,meal planning, essential oils to blogging. I generally look forward to their blogging bundles as well as their ultimate homemaking bundles. The bundles normally include e-books and courses at a special bundle rate.
Quite the opportunity to get various courses to propel your blog at an affordable rate instead of paying full-price individually. The Ultimate Homemaking Bundle generally includes faith based courses and e-books perfect for the homemaker. Let me let you in on a little insider secret, even if you don't plan on promoting the bundles, still join the affiliate program, you will be able to grab the bundle at an extra discounted rate. As an affiliate you can earn up to 7o% in commission if your product is included in the bundle. Sign up for Ultimate Bundles.
Kingdom Bloggers Academy – I attribute the majority of the progress I have made in blogging to what I have learned from Kingdom Bloggers on boosting blog traffic. Developed by Leanne at Kingdom Bloggers. Her courses are tailored to christian bloggers and helping you to get your content found on page 1 of Google. To join the Kingdom Bloggers Affiliate program however you will need to go through her Christian Bloggers Bootcamp after which you will be able to sign up for her affiliate program. Even if you don't end up enrolling in the bootcamp, I would encourage you to enroll in her free course "Defining Your Ministry Avatar" to help you define your target audience and create content that converts.
The Commandment Co. – Faith themed products such as planners, home decor, jewelry etc. that offer encouragement and inspiration. Join the affiliate program
HopeFuel– Hopefuel creates Christian day planners and prayer journals – specifically the Hope Planner. Their products at aimed at helping individuals to make Bible study a habit. Affiliates can earn a 15% commission on sales and you don't have to wait a month for payouts. Join the HopeFuel affiliate program.
Affiliate Network

If you are looking to get started with affiliate marketing, I would suggest joining an affiliate network. There are a number of different platforms that you can join, but the one I use is Sharesale. By joining Shareasale, you will be able to search for and easily apply to a variety of different affiliate programs all from one hub.I would suggest starting with one network first and get join others as you get better at affiliate marketing. Find a sponsor for your web site. Get paid for your great content. shareasale.com.

Book Affiliate Programs

Want to review books on your blog, but not quite sure where to start. Here are the two book publishers I use to get free books in exchange for a review on my blog as well as a retailer website.
Influencer Marketing
If you are looking to get paid for sponsored content or for products to review on your blog or social media channels, here are a few influencer networks to start with. Front Gate Media and Fly By promotions are christian influencer networks while the others may take a bit of creativity to tailor it to your blogs target audience.
General Faith

If you are a Bible Study blogger or have faith content on your site, the following general faith affiliate programs are worth exploring.
CrossFlix available through Shareasale
Answers In Genesis available through Shareasale
Faith Box affiliate program available through Shareasale
Day Spring available through Shareasale
Weight Loss & Health & Wellness
If you have weight loss or health and wellness content on your site, the following health and wellness affiliate programs are worth exploring.
Mindfulness In Faith & Freezer Meals
Christian Blogger Resources
If you are a christian bloggers who creates content on blogging, you could consider promoting Carmen Brown's By His Grace Christian Blogging e-book or Sara's from the Holy Mess e-book on How to Earn Income as a Christian Blogger on Black Friday & Cyber Monday.
Dating & Marriage Christian Affiliate Programs
If you blog about dating or marriage, the following dating and marriage affiliate programs are worth exploring.
Christian Cafe available through Shareasale
Finding Hope & Joy In Your Marriage
Homeschooling / Homemaking

If you blog about homemaking or homeschooling, the following affiliate programs are worth exploring.
Cricut available through Shareasale
Erin Condren available through Sharesale
Sell Your Own Products & Start An Affiliate Program
Ways To Make Money With Your Christian Blog
Launch Your Own Product / Service
Do you see a need in the online community that you can fill? Why not launch your own product. You use a platform like SendOwl to sell your product as well as to setup an affiliate program. You can also consider offerings service such as blog audits, coaching or even web design. An alternative could be branching out and getting involved in freelancing, becoming a social media manager or Virtual Assistant. If you are interested in freelancing you can try websites like Fiverr and Upwork for opportunities.
Related Posts : What Most How To Guides Don't Tell You About Starting A Christian Blog
Monthly Memberships
Memberships are a great way to set up a more constant stream of revenue. If you are good with design, you could launch a monthly printable membership,or even bible journalling devotionals, photography bundles, accountability sessions. The sky is the limit, tap into your expertise and what your audience looks to you for.
Speaker Events
Is speaking more your speed, perhaps you could launch a speaking ministry. If you are a prospective speaker, why not learn from someone who has been right where you were a few years ago? Sheila Wray Gregoire has been speaking at conferences and women's events all over North America for over a decade, and she's even created her own event for churches that's so successful that she spends a lot of her year in her RV delivering it across the United States.She is a blogger, speaker an award winning author. You can check out her blog at To Love Honor & Vacuum.
She wants to teach other people what she's learned about how to craft a talk that changes lives, how to get those first speaking engagements, and how to set yourself up to generate word of mouth. She has launched a course called Launch Your Speaking Ministry to help prospective speakers start their ministry, including writing their first talk, finding their first engagements, and generating more speaking leads.
Workshops
Workshops can help to boost your credibility and also a way in which you can earn income with your blog. For example, if you are into Bible Journalling, you could teach persons the ins and outs of Bible Journalling, show them the supplies they need, as well as include a devotional series then charge them a fee for the workshop.
Sponsorship
You can search for and join influencer networks such as Activate by Bloglovin. While their website isn't faith based, they do have offers that can be tailored for a family lifestyle blog. Alternatively, you can pitch to brands that you love and see whether they would be interested in collaborating. Before pitching, you may want to consider creating a media kit for your blog.
So, here is what I want you to takeaway, affiliate marketing is not a get rich scheme, however, it is possible to make money with your blog and blog about your passions at the same time. I would love to hear from you. What are some ways that you have incorporated affiliate marketing? What are some christian affiliate programs for christian bloggers that you are apart of?
What are your favorite affiliate programs for christian bloggers.