The Best Printable Chronological Bible Reading Plan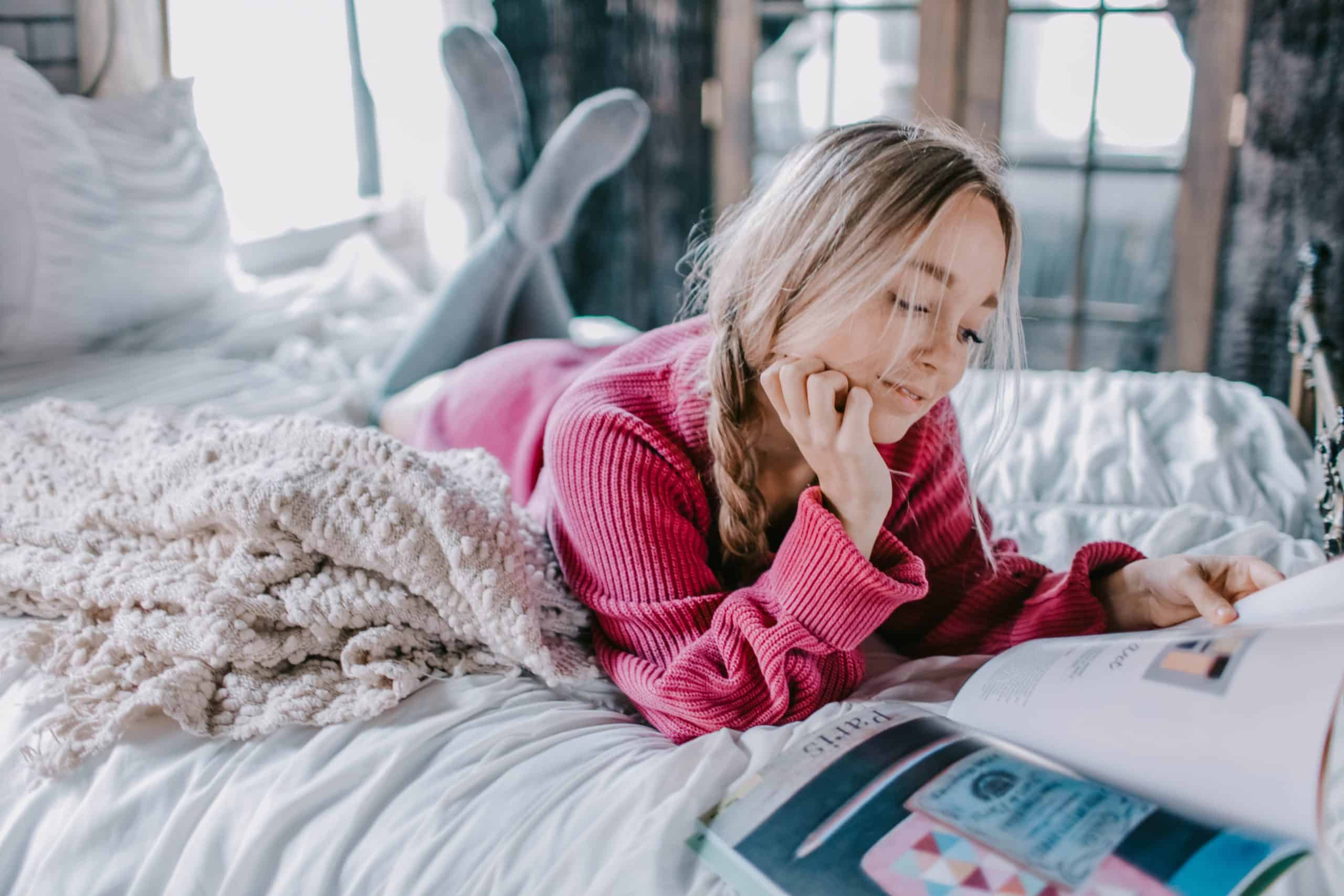 The Bible is one of the most important pieces of literature in the history of man. It is a book that has shaped our world and continues to impact lives today. The Bible may be the most widely read book in history, but it can also feel like one of the most daunting to start reading.
There are so many translations to choose from, and which one should you start with? What about all those footnotes and commentary notes that come along for the ride? But don't worry- there are plenty of ways to make this process less intimidating! In this post, we're going to give you some pointers on how to read through the Bible in a single year using a one year printable chronological Bible reading plan.
This post may contain affiliate links. You can read my full affiliate disclosure here.
How Do I Read The Bible In One Year
Reading the Bible in one year can be daunting, but it's definitely doable! Here are some tips on how to read through the Bible in a year.
1. Settle on a Bible translation that you deem easy to read and understand. Personally when reading the Bible, I often opt for the Christian Standard version, the English Standard version or the New King James Version.
Using the YouVersion Bible app, test drive reading different Bible translations until you find one that you enjoy. Be mindful though that while some Bible translations make it easier to understand the Bible by using modern languages, the original authors intended meaning of the passage may get lost in the process. You can learn more about Bible translations in this post on Bible translations made simple.
2. Use a Bible reading plan. This is the secret sauce to consistent time in the word. When I have a plan for Bible study, I find that my time with God is more fruitful as I know exactly what to read each day.
Reading the Bible is a great way to grow in faith and understanding. Chronological one year Bible reading plans are a great way to experience the whole breadth of the Bible in bite-sized pieces over a period of time.
A chronological order bible reading plan is popular because it helps readers get a better understanding of the big picture and context of the Bible and see how the different parts are all connected.
If you don't own a Chronological Bible, you may find it helpful to download a printable Chronological Bible Reading Plan to help you keep track of your daily readings.
3. Start each new book of the Bible off by reading the overview which can be found in your study Bible or online through a website such as Blue Letter Bible. This provides you with background information on who wrote the book, genre and what you can expect.
4. Take notes during your reading sessions to help you remember what you've read. I find this handy in helping me to make connections between different passages as well as use as a reference for future studies such as topics or characters I would like to study in-depth in the future.
5. Pray before each reading session asking God for wisdom in understanding his word and guidance as you read through the Bible together with him!
For even more tips, consider this post on How to read the Bible in a year.
What is the correct order to read the Bible?
There isn't a correct order that you must read the Bible, the method you use is totally up to you. If you are a a beginner you may opt to start with the gospels or even read from Genesis to Revelation. Ultimately, whether you choose to read chronologically in the order events are viewed to have likely happened or from Genesis to Revelation, its totally up to you.
I would encourage you to read the Bible in its entirety at least once for a big picture overview however, there are many Bible reading plans online that you can use to help direct your Bible study time to help you get the most out of your daily Bible reading.
What is the Chronological order of reading the Bible?
In its current state, the Bible as we know it is was compiled by the type or genre of book. For example in the old testament, the first five books grouped together are known as the laws. When you read the Bible in chronological order however , you are reading the Bible in the order events are viewed to have likely happened.
Lets explore this! When reading Genesis for example, only a few chapters in you will likely move over to read Job or you might be reading the story of David and Bathsheba then find yourself reading Psalms 51 " Create in me a clean heart" to read the Psalms which its believed David penned during such a time.
Reading the Bible in chronological order you can easily start to feel overwhelmed, so to keep you on track a chronological bible reading plan printable would be helpful or a chronological Bible.
Is there a chronological Bible?
There most certainly is! The One Year Chronological Bible NLT is one of the more popular options. It has 365 daily readings to help you read the entire Bible chronologically in one year. It has transition statements to help you understand why some Scripture portions appear where they do and historical dates indicating when the events actually occurred. A general timeline of major events to give you a clear overview of Israel's history. A Scripture index in canonical order to help you find your favorite passages quickly and easily. You can read the entire Bible in as little as 15 minutes a day with this One Year Bible!
Printable Chronological Bible Reading Plan
Do you want to follow the Bible verse by verse in chronological order? This is a great way to really get an understanding of how the Bible connects and it's easier than ever with this one year chronological Bible reading plan pdf! All you need is paper, a pen or pencil, and your favorite Bible translation.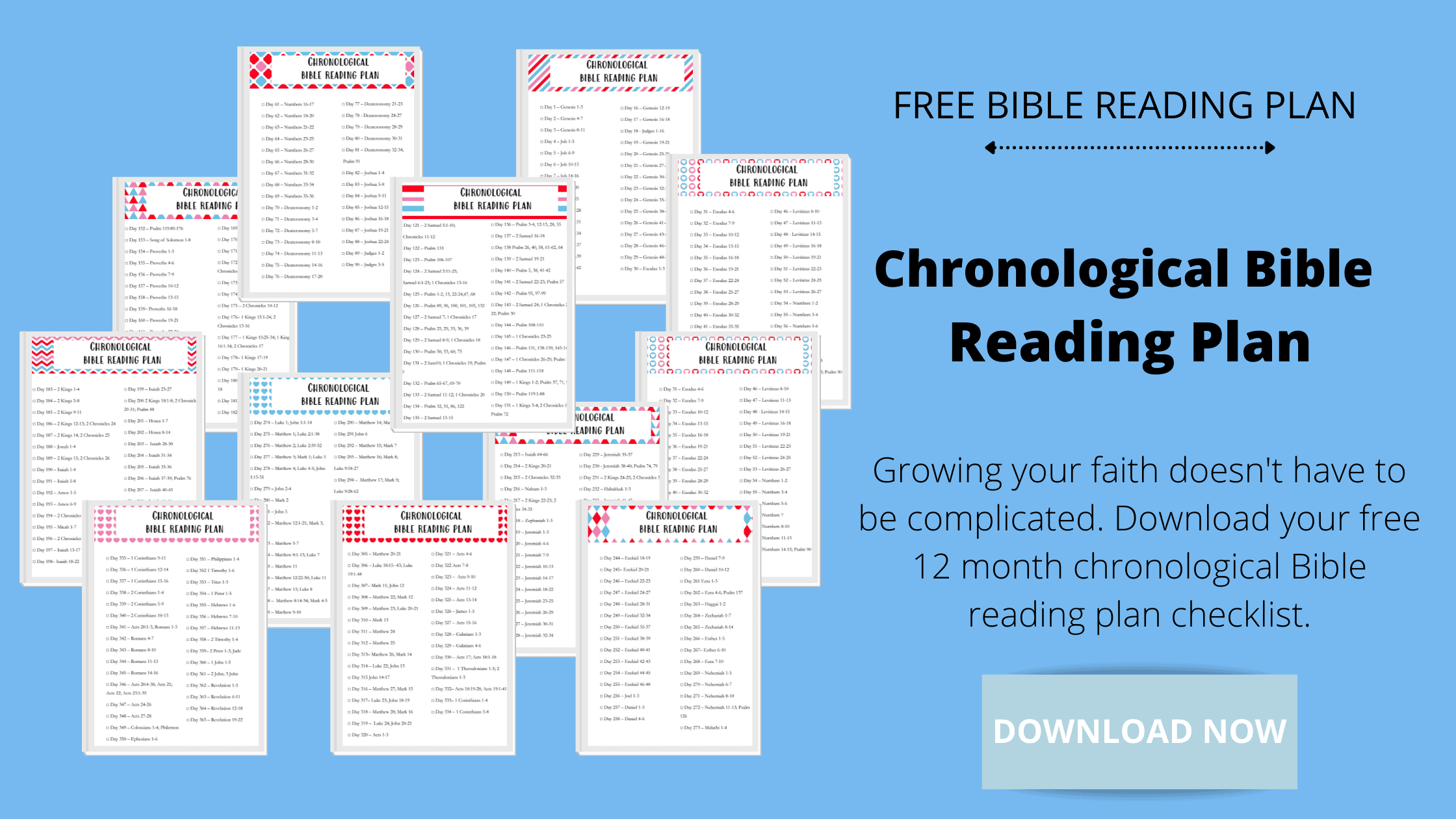 Best Chronological Bible Reading Plan Printable
Ultimately, the order you read the Bible in is up to you. There are many different methods and plans online that can help guide your study time each day for a deeper understanding of God's message to us through His word.
However, I would encourage you to read the Bible in its entirety at least once for a big picture overview of what the Bible says about Jesus Christ. There is no one right way to read the Bible however if you do choose to read the Bible chronologically, be sure to download this chronological bible reading checklist to keep track of your daily readings.