Looking for free printable bible verse coloring pages? Well, you have come to the right place.
Coloring is not just for Kids!
In recent years coloring have grown in popularity and are actually encouraged as a way to reduce stress and anxiety. I talk a lot about the benefits of coloring pages in my blog post where I share the 10 Best Christian Coloring Books For Adults.
All you need are some crayons or colored pencils, no artistic skills required. "O taste and see that the Lord is good: blessed is the man that trusteth in him." Psalms 34:8 KJV
So, cut yourself some slack, and grab some printable bible verse coloring pages as a way to decompress and reflect on truths from the Bible in a fun and creative way.
Printable Bible Verse Coloring Pages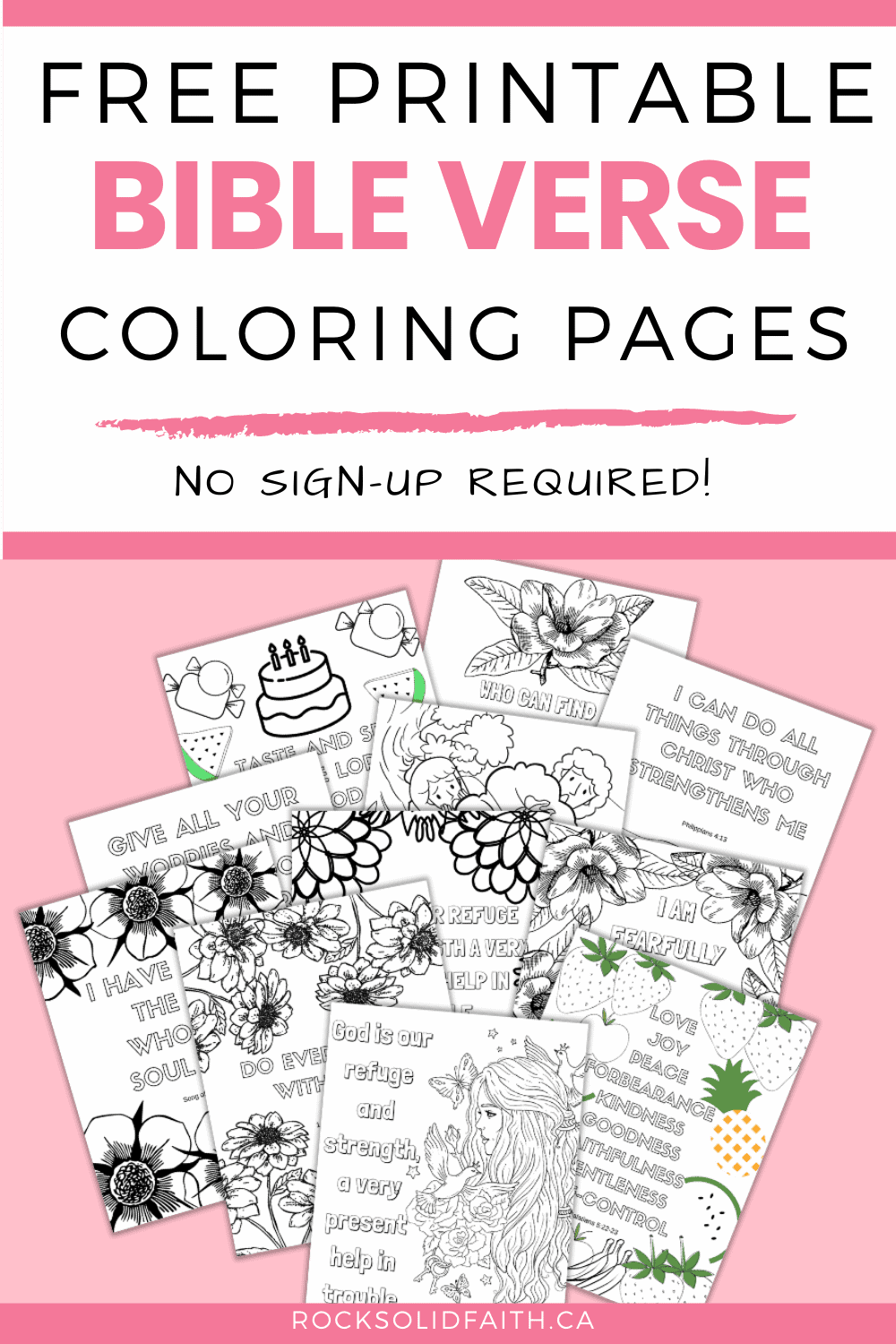 This post may contain affiliate links. You can read my full affiliate disclosure here.
Why Printable Bible Verse Coloring Pages?
If you are looking for coloring pages with Bible verses, you have come to the right place. I have been feeling pretty drained lately, so I have been creating these printable Bible verse coloring pages as a way to still be creative without having to think about writing new content. All I need are some TomBow pens, a coloring sheet and I am good to go after a hard day at work.
Scripture coloring pages can be a great add-on to your devotional time, use coloring pages as a way to further reflect on scripture as you hide God's word in your heart.
You can even use coloring pages in Bible Journaling, especially if you can't draw, here is how:
#1 Download and print one of the many coloring pages below.
#2Then place the printable coloring page behind the Bible page, carefully positioning it where you would like the image to display.
#3 Use a pencil to trace the image onto your Bible page.
#4 Add some color using colored pencils, watercolors or other medium of choice.
#5 Finish off by using a stencil to add some text or incorporate hand lettering.
Voila! that's it, once completed you would have had a beautiful Bible Journaling entry, no artistic skills required.
How to Use These Printable Bible Verse Coloring Pages
To download these bible coloring pages with verses, all you need to do is just navigate to the PDF printable section at the bottom of the post to download the pdf files, no sign-up required. While you can simply just download the Bible verse coloring pages, to further enrich the experience, you can pair these with a devotional or Bible reading plan for each coloring page. Feel free to share this resource on social media and with your friends.
These coloring sheets are for personal use only and should not be altered or redistributed for monetary gain without written consent from Rock Solid Faith.
Inspirational Printable Bible Verse Coloring Pages For Adults
Here you will find some of my favorite verses set to various backdrops. My hope is that these scripture coloring pages will inspire you to find creative ways to interact with the word of God.
Assorted Printable Bible Verse Coloring Pages For Adults
While recently attending a virtual conference, I was reminded of how relaxing coloring pages can be. They are perfect for relaxing after a hard day at work. You can turn on some music and get lost in coloring and meditating on scripture. It is also an activity you can do with kids or when seeking something for them to do.
Alternative Scripture Coloring Books
While not free, when it comes to coloring pages, you could also consider a coloring Bible or even a scripture coloring book. Here are some best seller options to consider.
The Beautiful Word Coloring Bible comes with hundreds of illustrated verses you can color. It offers the opportunity to meditate on Gods words as you color scripture. Perfect for all ages, it comes with extra wide margins giving you the opportunity to create your very own artistic designs should you choose. Check current price
Beauty in the Bible Adult Coloring Book is a best seller on Amazon, it includes simple to complex scripture quotes. Perfect for a beginner or expert. This coloring book allows you to focus on the beauty of scripture found in the Bible while coloring at the same time. Check current pricing
This coloring book is perfect for grown-ups and another best seller on Amazon! The scripture verse includes beautiful calligraphy & lettering for meditation and inspiring designs for coloring. Check current pricing
PDF Printable Bible Verse Coloring Pages
Click on the links below to download the pdf Bible Verse coloring pages.
Inspirational Bible Verse Coloring Pages
Assorted Bible Verse Coloring Pages
OTHER ARTICLES YOU MAY LIKE
The Best Christian Coloring Books For Adults
Bible Journaling For Beginners