15 Easy Bible Journaling Ideas For Beginners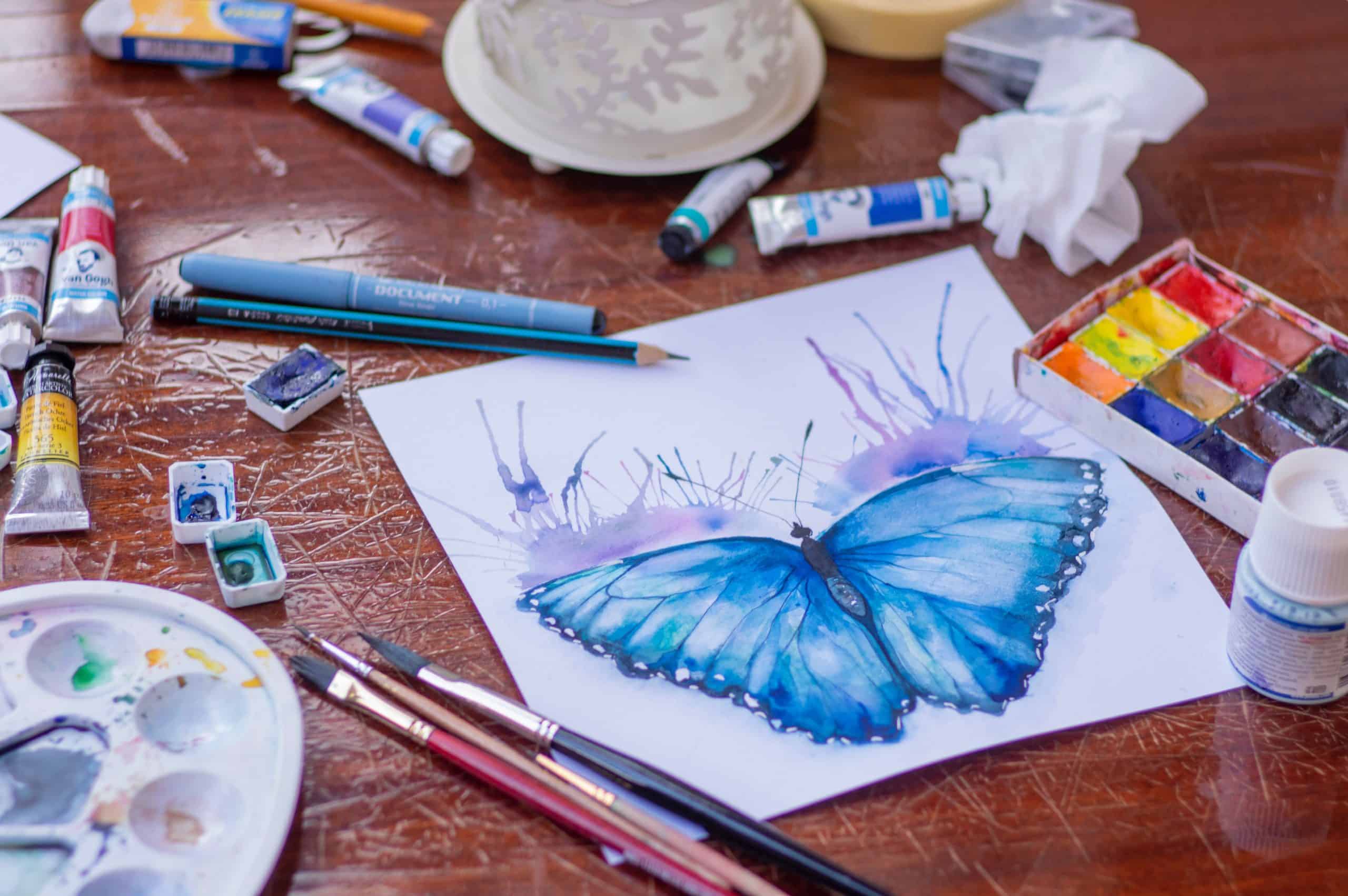 SIMPLE BIBLE JOURNALING IDEAS FOR THE TOTAL NEWBIE
Every night I snuggle up in my covers with a cup of oolong tea and warm milk. Grab my colored pencils and do some bible journaling. Recently, I've begun to draw maps and reflect on my readings. It's these precious moments with God that I hold dear to my heart.
Bible journaling is one of the most effective ways to retain the information you learn in the Bible. The information is presented in an organized and crafty way. So if you are looking for bible journaling ideas for beginners, these tips are right up your alley.
This post may contain affiliate links. You can read my full affiliate disclosure here.
What is Bible Journaling
Bible Journaling is a method to study the Bible which includes various arts and crafts to engage with scripture and reflect on God's word. Using creativity as a means of devotion to God inspires a whole new way of having a personable quiet time that encourages connection to God and focus.
Bible journaling uses different art and mediums to illustrate the Bible. It can even be as simple as adding a touch of color to a passage, a verse or even borders around your notes to keep them more organized.
There are many benefits to Bible journaling, It allows you to connect with God through creativity and devotion. Just like any other art, bible journaling can be used as a way of worship. Adding it to your quiet time routine makes for a more intimate time with Jesus.
Bible journaling helps us retain the information we learn by turning our lessons into gorgeous projects. It includes various art forms to express a key takeaway or illustrate the Bible.
It gives time to reflect on the Bible passage you are studying through peaceful meditation. Having a visual in your Bible may increase engagement.
Some activities commonly included in Bible journaling ideas are:
Painting

Drawing

Cookie costing

Calligraphy
Bible journaling is complementary to a Bible Study.
To get started with Bible journaling, you will need the proper resources. Investing in quality art supplies will give you the best results. Find quality pens that work with your Bible, as every Bible has a different page thickness to prevent bleeding.
You may consider skipping the markers and opting for colored pencils. No matter the medium you choose to paint with, using mod podge before and after will seal in the coat of paint and prevent chipping. Sticky notes are another viable option because they can add color and organization without risking bleed.
Supplies to consider:
Pens

Colored Pencils

Stickers, sticky notes

Medium

Mod Podge

Sticky notes
Bible Journaling Ideas
To ensure your quiet time is most effective, consider adding these bible journaling ideas to your routine!
Paint a scene
Painting scenes is one of the most popular bible journaling ideas. Adding imagery to your Bible can help you remember what you read and connect with Jesus and the people in the Bible.
Materials:
To begin: Find a passage in the Bible that can easily be turned into a scene. E.g. The burning bush or Jesus in a manger.
Cover the page with mod podge and let dry

Paint your scene and let dry

Cover the page in mod podge again and let dry
Painting a scene can be a long process, however, it is totally worth the wait. Be sure to keep your Bible open at all times until the process is complete and let your art fully dry. Otherwise, the pages will stick to one another.
Again, it is critically important that you use the mod podge before and after painting the page to avoid bleeding and paint chipping.
Create a verse map
Verse maps can be a visual yet organized way of doing Bible journaling. A verse map is used to dig deeper into one verse in the Bible.
To start, use a verse of your choice that you would like to uncover.
Write the verse in two other translations

Circle differences in comparison to each translation

Use a Hebrew or Greek lexicon to find synonyms for the words that are different in each translation

Rewrite the verses in your own words
Using a template will make this look the best and add some creative interest to your Bible yet still in an informative way.
Insert a page for art – Printable Bible Journaling Ideas!
No room? No problem! Inserting a page to your Bible will give you the space you need to let your creativity roam free!
To insert
First, cut a loose leaf sheet or later the size of your bible pages.

Next, fold a small sliver on the side

Now, add glue to the fold

Finally, stick it on the inside margin of the page!
Calligraphy a Verse
Calligraphy is a style of writing that uses brush or ink pens to showcase the pressure and tension in the hand when writing.
You can find a variety of calligraphy pens at craft stores like Michael's.
Draw or print maps
If you are looking for something a bit more useful to your Bible lessons, consider highlighting the region you are studying.
Simply print out a map online or draw your own in the margins! Be sure to add a key referencing the time periods and reign of kings, as well as, dotted lines to feature the journey those in the bible took!
Color Code your notes
Another tip for those who want a little color without drawing, it's to simply color code your notes. Not only is it beautiful, but it makes studying the Bible much easier.
Color coding the Bible lets us know where different topics are located and it gives an overview of how people interact with each other.
E.g.
Purple- Atonement/ Foreshadows of Jesus

Pink- Principal

Light Green- Favored People (e.g. Noah)

Peach- Prayer/ Praise

Yellow- God's Attributes

Dark Green- Jewish Customs

Burgundy- Relationships

Orange- Positive Affirmations
Color Code your sticky notes
Colored sticky notes are also a great way to organize your bible without the hassle!
Yellow- Prayers

Blue- Questions

Pink- Comments
Using sticky notes will give you more space to write notes in an organized way.
Use Bible stickers
Stickers are a decorative and easy way to personalize your Bible and organize your notes.
Not only can stickers be used to highlight a verse, but they can also be used to add personality and spice to your Bible. Stickers can be totally random, like an adorable panda bear or they can be relatable like a bible sticker or a cross.
Another cool thing about stickers is that some help us stay organized. These stickers contain a place to write lists or banners. You can also use checks and x marks to determine what you have and haven't read.
Stickers are so much fun to use and they require no art experience!
Create a poster
Posters can highlight information and key verses in an artsy way.
To make one, you will need:
Poster

Markers

Creativity
A poster is a great complimentary project to demonstrate your bible reading in a big way.
You can turn this into a full on protect with timeliness and collages and maps or simply use it to display a calligraphy verse on your wall.
Make a collage
Write several verses on a sheet of paper, cut them into shapes, add stickers and organize it into your Bible! Super cute!
To make a collage you need:
scissors

images

paper to stick it on

glue
Personalize your book cover
Book cover personalization is likely the most popular way of personalizing your Bible because it states who you are and what you like.
Covers can be purchased from the store but how much more fun is it to create one! Be creative with this one! Include stickers, fabrics, and photographs!
Some bibles however, already come with special cover designs.
Use timelines
Timeliness can present information visually without taking up a lot of space. They provide useful information in a sequence of events.
Next, consider using a timeline as an overview page to demonstrate each empire from Ancient Israel when King Solomon reigned up to the Roman empire of Jesus!
Include scrapbooking
Scrapbooking your experiences from your journey as a Christian makes precious memories.
Scrapbooks consist of using photographs and art to tell a story. You can create what's called a 'scrapbook bible' and include images from church, collages, and paintings.
Another idea is to make a vision board.
Draw or print temples and buildings
Printing out visuals of what the temples would have looked like will help you visualize what life back then might have been.
Instead of purchasing a Bible Atlas, why not make the Atlas a part of your Bible? So that, as you read you can also have an illustration.
Create a cover page
Cover pages are a quick and easy way to add art to your bible without distracting from the passages you read. They can be done in calligraphy for example, to add some extra zest to your bible.
Also, add additional information onto a cover page that may be useful to the book you are studying. This can include the time period of the book, whether it is pre exile, exile, or post-exile period, the author, the audience (e.g. the churches in Corinth) or anything else you find useful for an overview.
All in all, there are many simple bible journaling ideas out there. Being creative is most important and will enable you to create beautiful art that honors God and enriches your bible study!
More Bible Journaling Articles You Might Like:
The Best Journaling Bibles – Which One Is Right For You?
The Best Bibles With Notes Space
How to Create Your Own Bible Highlighting System
10 Christian Coloring Books For Adults