BIBLE JOURNALING FOR BEGINNERS THE ULTIMATE GUIDE. ALSO DISCOVER ADDITIONAL WAYS TO JOURNAL WITHOUT DRAWING IN YOUR BIBLE.

Drawing isn't a strong skill set of mine. So when I discovered Creative Bible Journaling, about a year ago, I instantly wrote it off as a Bible study tip that was just not for me. The picture-perfect Instagram and Pinterest images didn't help much either!
I have since come to realize that while it helps to be artistic, having artistic skills is certainly not a requirement for Bible Journaling. If you have been aching to try Bible Art Journaling but have been put off by the fact that you are not artistic, I have some hacks just for you.
In this article we will discuss how to get started with Bible Journaling along with ways to journal without a Journaling Bible. This is the Ultimate Beginners Guide to Bible Journaling.
What Is Bible Journaling?

Until I started sharing Bible study tips for young adults, I had no idea there was such a thing as Bible Journaling. I have come to realize that while the name may sound fancy, it isn't a new concept. Back in the day when you used a highlighter to emphasize your favorite verses in the Bible, without knowing it then, you were actually doing Bible Journaling.
Bible journaling is not about creating the most beautiful art possible. Rather, it is as a Bible study method that allows you to engage with scripture and create a visual imagery that aids in not only memorizing but reflecting on God's words.
This post may contain affiliate links. You can read my full affiliate disclosure here.
Is Bible Journaling Disrespectful?
Bible Journaling has been growing in popularity, but just because everybody is doing it doesn't mean you should. Some persons may have concerns about defacing God's words or drawing in what's considered a sacred book. If you struggle with whether or not you should journal in your Bible, the most important thing you could do is to pray about it and let God lead you. If you feel its disrespectful try some of my alternative Bible Journaling methods outlined below.
Next Steps If You Find Bible Journaling Disrespectful
Just because you have concerns about Bible Journaling doesn't mean you can't use this Bible study method to engage with scripture. You still can! Try one of the following Bible Journaling methods during your next Bible study time.
Bible Journaling Methods
 Bible Journaling Method: Use watercolor paper to create a booklet in which you can art journal
Use watercolor paper to create a booklet in which you can Bible journal. If creating a booklet is too much work, consider purchasing a sketchpad which you can use to store your artwork. This is advantageous as should you choose, you can read a Bible verse on different occasions and still be able to illustrate what you read. With a Journaling Bible, once you have created artwork for a page, that's it. With a sketchpad, you can journal that same verse over and over again as many times as you like.
Bible Journaling Method:Record verses that resonate with you in your Bible Study Notebook
Using your Bible Study Notebook, graphical record verses that resonate with you. You can then refer back to these pages when you are looking for scripture verses to memorize. If you are not artistic, consider using coloring pages to trace what you are trying to convey. Just place them under the sheet and trace the drawing then use water color paint, colored pens , stickers or even washi tape to beautify your artwork.
Bible Journaling Method:Use a Prayer Journal
If you are into prayer journaling, after you have written out your prayers, you can accentuate your prayers by adding artistic elements that compliment your earlier scripture reading. A prayer journal can also help you keep track of how God is working in your life.
Bible Journaling Method:Journal In Your Planner
Depending on how you use your planner or bullet journal, this may or may not work for you. Choose verses that resonate with you and use them as either encouragement on your monthly pages or daily pages. Here is a quick video on how to Bible journal in your planner. You can then use faith stickers for journals  to beautify your pages.
Bible Journaling Supplies For Beginners

When it comes to Bible Journaling there are a number of Bible journaling supplies you will need.
If you are new to Bible Journaling, you may wish to consider, A Workbook Guide to Bible Journaling. It is filled with fun techniques for painting, hand lettering, stickering and stamping. There's also space to get messy with watercolors, stencils, washi tape and more. Bible Journaling is an exciting new way to engage with God's Word by connecting your faith with your creativity. Another helpful book on Bible Journaling for Beginners is the book Complete Guide to Bible Journaling.
Journaling For Beginners: Bible Journaling Bible
When it comes to Creative Bible Journaling, the first thing you will need is a Journaling Bible or one of the above suggested methods. In choosing the Best Bible Journaling Bible that's right for you, first narrow down the choices by determining whether you want to be able to create your own art or want Bible Journaling Bibles where the graphics are already created.
You will then want to consider options like translations, and whether you want entire blank pages or just the option to journal in the margins.
Here are some options to consider. Click on each to get an idea of the various layouts available.
Bible Journaling Bible For the Non Artistic
If you are non artistic, you may wish to consider a Bible Journaling Bible where the illustrations are already created. You won't have to think about creating graphics but can simply get right into coloring or painting. The following are some options to consider:
NIV Beautiful Word Coloring Bible
Crafted on high-quality paper with a balance of inspiring full-color art and blank space, the NIV Beautiful Word Bible will encourage a deeper and more authentic quiet time. With 500 verses illustrated to help you see the rich diversity of stories, characters, prophecies, rewards, and hope contained within Scripture, you will discover wisdom to sustain you in every season, drawing you deeper into God's life-changing and inspired Word. The following additional translations are also available: KJV Beautiful Word Bible NKJV Beautiful Word Bible
This King James Journaling Bible is single-column printed, with two-inch-wide ruled margins for note-taking, scribing your reflections or creative expression. Nearly 400 hand-drawn, scripture accompanying line-art illustrations are placed throughout the Bible to enhance embracement of The Word. There is an index of the Scripture artwork – line-art suitable for filling. Users will find this an invaluable visual tool for immersion and Bible study.
HCSB Illustrators Notetaking Bible
The HCSB Illustrator's Notetaking Bible combines two hot trends: Bible journaling and adult coloring. Each two-page Bible spread features wide margins with line-drawn illustrations ready to be filled in and adorned with color.
Inspire is a single-column, wide-margin New Living Translation Bible that will be a cherished resource for coloring and creative art journaling. It is the first Bible of its kind―with over 400 beautiful line-art illustrations spread throughout the Bible.
Bible Journaling Bible For the Creatives
If you are artistic the following Bibles' may be a good fit to create your own artwork.
NLT Reflections is a single-column, wide-margin New Living Translation Bible. Extra-wide 2.25″ lightly ruled margins make this Bible great for note-taking, journaling, recording prayers, doodling, drawing, and other creative expression in response to God's Word.
ESV Single Column Journaling Bible
This journaling Bible comes with a 2″ ruled margins allowing you to capture notes, prayers, and thoughts right inside your Bible.
Bible Journaling Bible For the Ultra Creatives
ESV Journaling Bible Interleaved Edition
An art journaling Bible with a blank sheet on every other page. You have a full page to design to your hearts content without covering the words.
Journaling For Beginners: Journaling Pens/ Pencils
Pens, pencils and crayons will come in handy as you experiment with hand lettering and various other Bible Journaling  techniques. Adding watercolor can also further add color and beautify your art journaling projects.
Illustrated Faith – Precision Pen Set, 2 Sizes
Crayola – Metallic Color Pencils, 8 Count
Crayola – Watercolor Pencils, 24 Count
God's Words – Inspirational Pencils, Set of 8
Faber Castell Gelatos Colors Set

Journaling For Beginners: Stencils, Stickers, Washi Tape and Stamps
Stencils come in handy in helping you to beautifully craft words, while the stamps and stickers can be used to accessorize your graphic or even cover up mistakes that you may have made.
Illustrated Faith – Whispers – Washi Tape
Illustrated Faith – Names of God – Clear Stamps, Set of 16
Bible Journaling Kit
If you don't wish to purchase these Bible Journaling supplies separately, you can consider purchasing The Illustrated Faith Bible Journaling Kit. Their monthly Bible Journaling Kit usually includes: devotionals and accessories such as washi tape, stickers, stamps etc.
Journaling For Beginners: Additional Tools To Consider:
Here are some additional tools you may wish to consider as you get deeper into Bible Journaling.
Bible Journaling Ideas
Bible Journaling Ideas anyone? Despite all the fancy photos you see on Pinterest or Instagram, you don't need to be artistic to do Bible Journaling. There are tons of classes online that you can use to hone your Bible Journaling skills.
Bluprint is by far my favorite crafting resource for this! They have tons of articles, tutorials and even classes to use for inspiration or just simply to learn a new skill. The best part, you don't have to spend hours searching the internet, its a one stop resource.  Here are some ways you can use Bluprint to improve your skills and learn new techniques which you can incorporate into Bible Journaling.Get Started With Bluprint and gather inspiration from these Bible Journaling Ideas!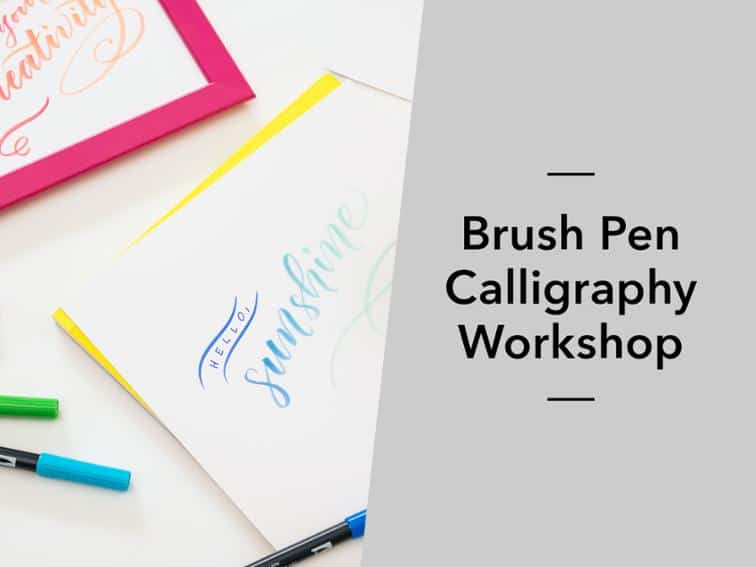 #1 Brush Pen Calligraphy Workshop
Hand lettering is a popular trend in the world of Bible Journaling. Learn fun hand lettering techniques to create your own artistic creations. Learn brush pen basics and strokes as well as how to mix and blend colors using a color palette. In this one hour workshop, you will walk away with basic techniques you can incorporate into your Bible journaling routine.
#2 Art Journaling With Watercolor, Ink & More
Want to take your artistic creations from mundane to marvelous? If so, this is the class for you.You will learn how to use water based materials such as spray dye, watercolors, ink and more to bring your creations to life. This class is more geared towards the intermediate level, however you can explore more beginner friendly watercolor classes on Bluprint if you are just getting started with using watercolors.
You don't have to use a jorunaling Bible for Bible Journaling. If you are using a notebook for Bible Journaling, you could could consider using mixed media as an art journaling technique. I really like this technique as you can use common objects around the house without spending additional resources. This course is jam-packed with lots of Bible journaling ideas you can try like: simple techniques using watercolors, using acrylic color and texture and bold brush lettering. In this 2 hour class, the instructor will walk you through how to move from a blank page to a vibrant cohesive project that you are proud of.
#5 Radiant Stamping Techniques
Washi tape is often the medium of choice to add decorative elements to your Bible Journaling creation. Have you thought about incorporating stamping? In this class, learn creative ways to use stamps to create dynamic designs using supplies you likely already have at home.
Creative Bible Journaling is so much more fun with friends. Consider forming a Bible Journaling group at your local  church or even getting a group of close friends together. Here are several YouTube Bible Journaling Channels to learn both beginner and advanced techniques together with your group.
Bible Journaling For Beginners Resources
Looking for Bible journaling printables or Bible journaling techniques? Checkout some of the following free resources:
Bible Art Journaling Printables
Bible Journaling For Beginners
As we conclude this Bible journaling for beginners guide, try not to fall into Bible journaling dangers. We have all been there where we compared our work to others, focused too much on the art and not on the word. Let us use Bible Journaling as a medium to connect deeper with scripture and not just showcase our artistic skills or follow a new fad.
I hope you enjoyed these Bible Journaling Tips. Have you tried Creative Bible Journaling? Why or why not?
More Articles You Might Like:
Should you read the Bible in 90 Days? What you should know!
Struggling to read the Bible? Here is what you should know
How to create an awesome Bible Reading plan in 3 easy steps
10 Christian Coloring Books For Adults