The 14 Best Bible Study Apps You Should Download Now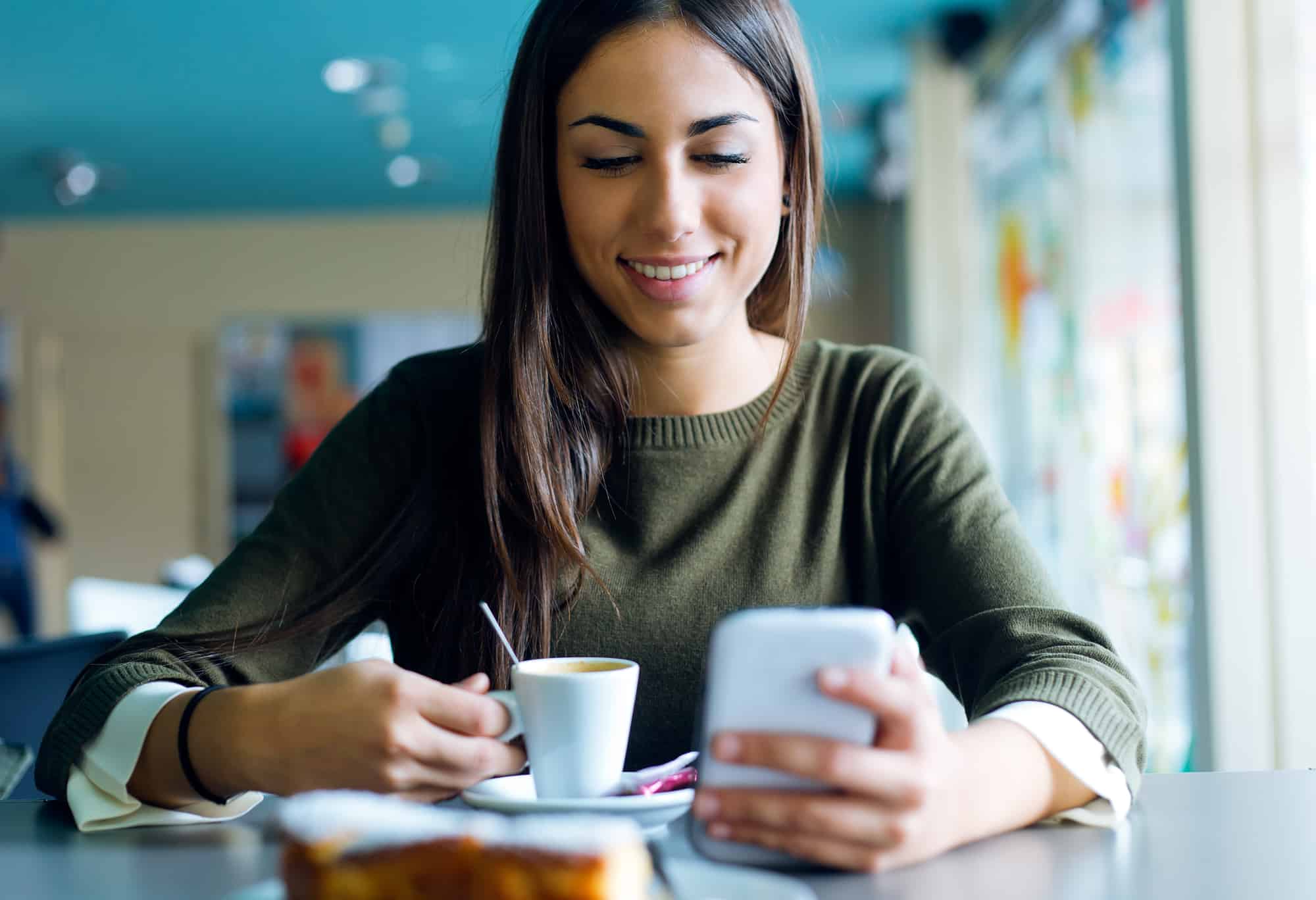 Looking for the best Bible study apps? I am glued to my phone, sad but so true. Often times instead of focusing on edifying content, I aimlessly scroll through social media. Can you identify?
With the Bible literally available at our finger tips, there really shouldn't be any excuse as to why we are not spending time in the word more. If we find time for Instagram and Facebook, we most certainly can find even 15 minutes to spend with God daily.
Your quiet time doesn't need to be in the mornings and it doesn't have to be perfect, what matters is that you are seeking God daily. Christian apps offer the convenience of allowing you to do just that to help you grow spiritually.
If you are looking for some apps for Bible reading that aren't just time -suckers but can help you build your relationship with God, check out these 14 Best Bible Study Apps. Did I mention that they are free apps for studying the Bible?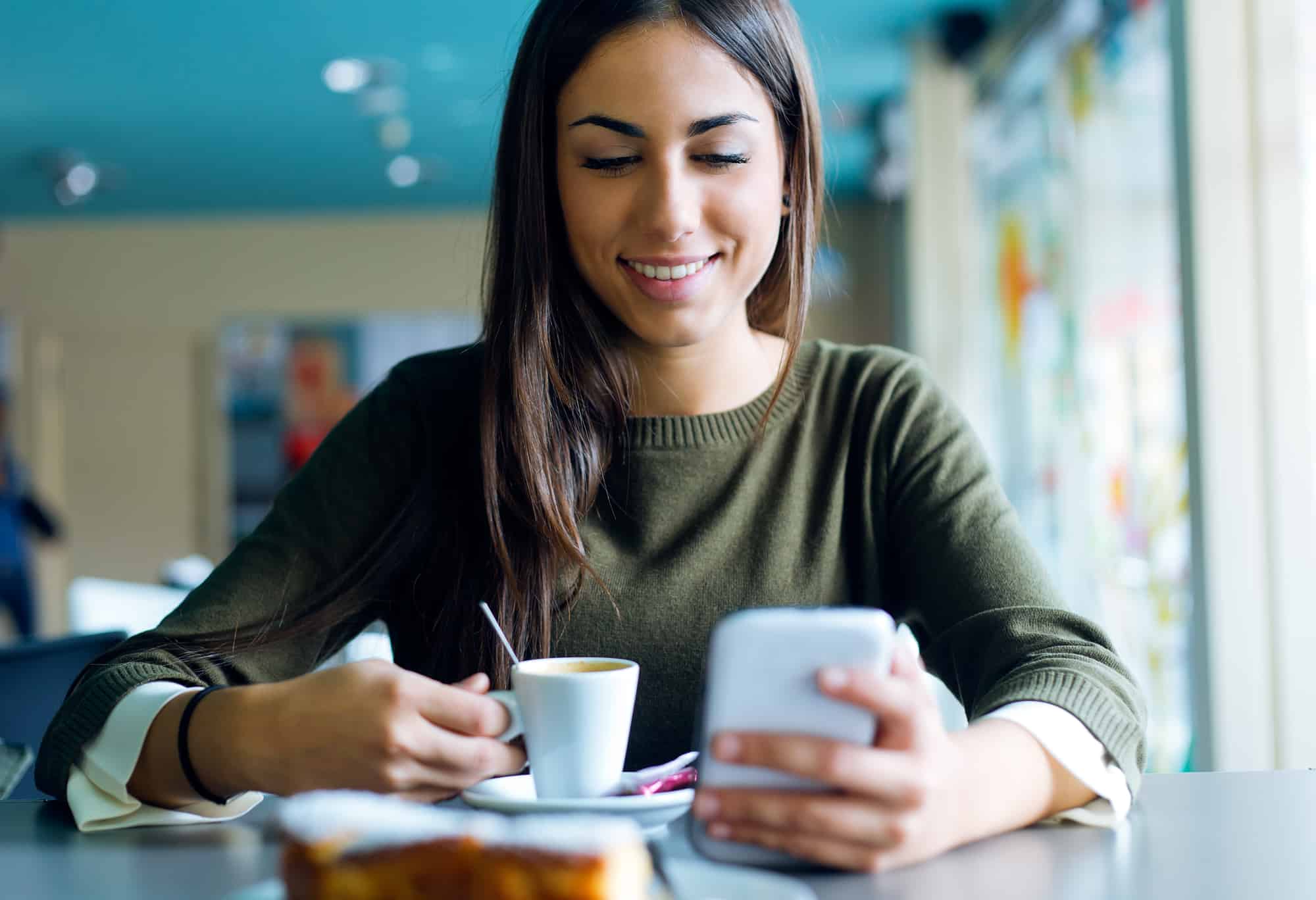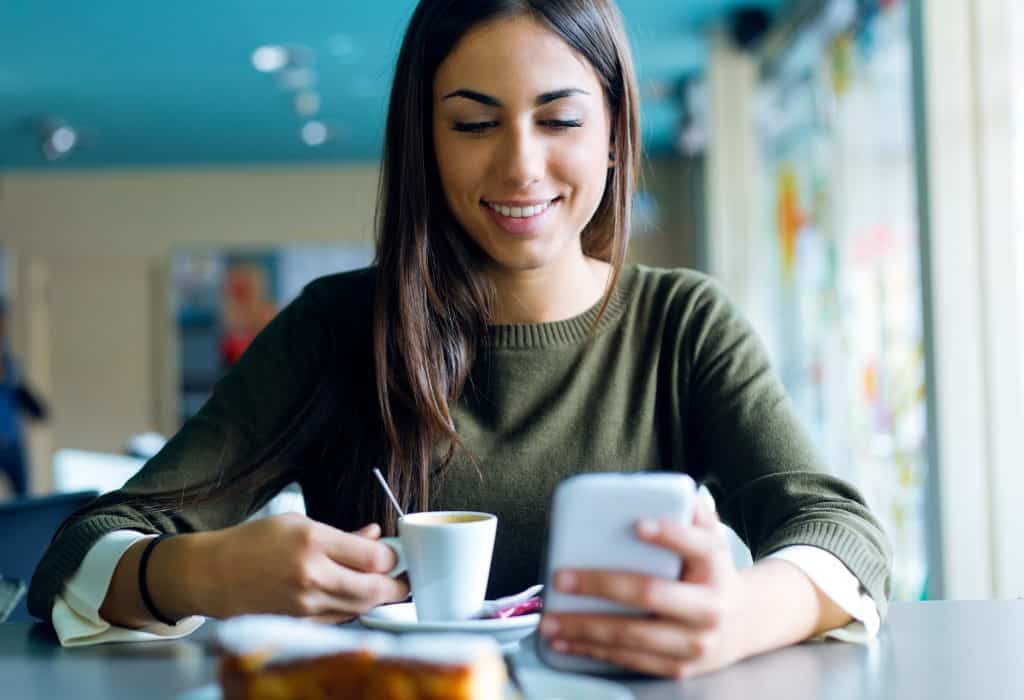 This post may contain affiliate links. You can read my full affiliate disclosure here.
14 Best Bible Study Apps For iPhone
Here are some resourceful Bible apps for iPhone that you can consider downloading to your smartphone to dig deeper into God's words this year!
To download visit your Apple app store or the Google play store for Android users to see if they are available. Included below also are some daily devotional apps for women.
1. YouVersion Bible App
This is by far my favorite Bible study app. Fun fact, I have it downloaded on all my devices. The YouVersion Bible app has hundreds of topical Bible reading plans to help you apply biblical principles to everyday life. With over 40 million downloads to date, there is a reason why this app is so popular. It also has audio versions of the Bible available.
If you are not too sure where to start, try this post on Popular YouVersion Bible Reading Plans for Busy Mornings. Users are able to easily share inspirational Bible verses with their network or keep friends accountable by tracking their daily readings.
Equipped with a search functionality you are able to easily locate Bible verses by doing a search. Additional features include a video library as well as a highlighting and bookmarking functionality. A must have Bible studies app!
2. Bible.Is
When I wanted to read the entire Bible in a year, Bible.Is was my solution. Bible.Is makes it easy to read, study and share God's words on the go. They bring the Bible to life with high quality dramatized Bible audio in hundreds of languages.
What I particularly like about this app is that I can download books of the Bible that I would like to read or listen to in advance and be able to read or listen to them without the need for internet connection. Similar to the YouVersion Bible App, you can also watch various videos in the Bible app produced by the Jesus Film Project.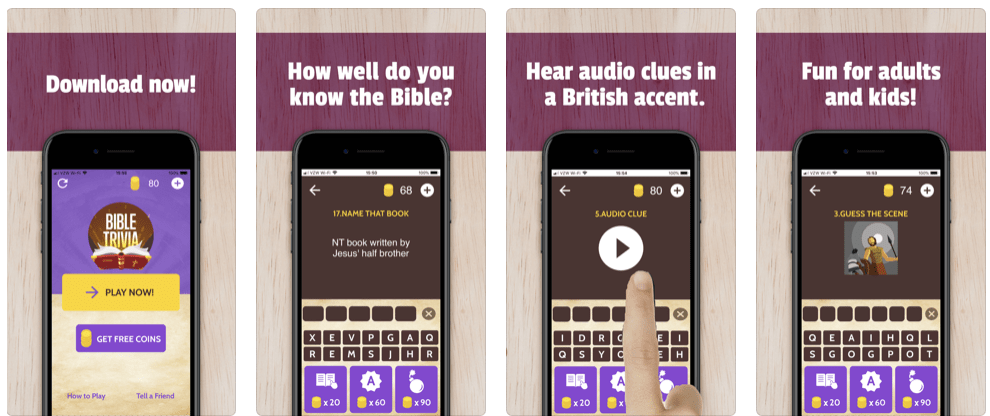 3. Bible Trivia App Game
Want to reinforce biblical principles or test your knowledge of the Bible? Consider the Bible Trivia App Game. Earn points for correct answers and use special bonus items to help you advance in the game. Test and challenge yourself to memorize stories and verses from the Bible. All questions are free.
4. Bible Gateway
Bible Gateway allows you to take the Bible with you pretty much wherever you go. Some of the features of the Bible Gateway app includes the ability to:
• Listen to over 20 audio Bibles, with access to more than 90 different Bible translations
• Quickly and easily search for any verse, passage, or keyword.
• Access Bible commentaries and other references.
• Take personal notes, highlight Bible text, and star your favorite verses.
• Night mode toggle, allowing you to comfortably study the scriptures at night..
• Enjoy a daily Verse of the Day in the translation of your choice.
• Have access to many different Bible reading plans, including the Bible in 90 Days reading challenge and the Bible in Chronological or Historical order.
5. Blue Letter Bible App
Join over 7.5 million website users in digging deeper into God's words with the Blue Letter Bible. With the Blue Letter Bible, you can listen to the Bible and audio commentaries.
There are several conservative commentaries available. You can study the Hebrew & Greek with their original language lexicon, perform advanced word study searches using the many available dictionaries and encyclopedias as well as choose from options available to personalize your study.
Best Bible Studies Apps For iPhone
6. Olive Tree
Studying the Bible shouldn't be hard. Bible by Olive Tree equips you with easy-to-use Bible study tools and resources so you can stop skimming Scripture and get answers—for free.
Here are some ways you'll be set-up for studying God's Word:
1) NO WIFI
That's right, you don't need a WiFi connection to access your Bible, audio Bible, or any other Bible study tools. You could be in the middle of the Amazon or on top of Mt. Everest. If your phone is working, so is your offline Bible app.
2) MORE THAN JUST A BIBLE
God has been speaking to His people, through His people, for thousands of years… and that takes some research to understand! This is why they provide 1000s of resources to help you go deeper into God's Word—because studying the Holy Bible shouldn't be hard.
And when we say "resources," we mean:
-AUDIO BIBLES
-DAILY READING PLANS
-DEVOTIONALS
-BIBLE MAPS
-STUDY BIBLES
-COMMENTARIES
-EBOOKS
-CHRISTIAN AUDIO BOOKS
-GREEK & HEBREW TOOLS
-AND SO MUCH MORE
With a variety of Bible translations available and the ability to customize it to suit your preferences, Olive Tree is a Bible App favorite for many.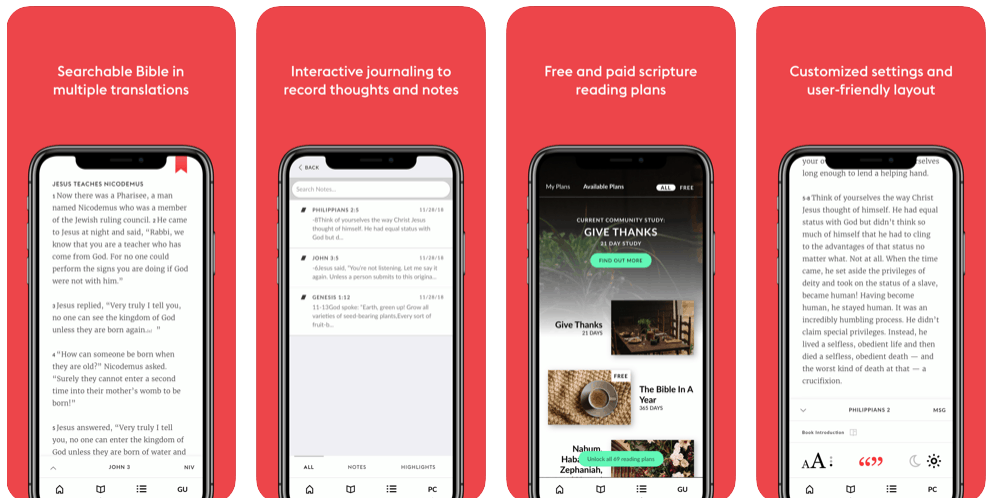 7. She Reads Truth
She Reads Truth is an online community of women in the Word of God every day. She Reads Truth is a lovely daily devotional app for women. Their is also the She Reads Truth Bible, which is the one I own if you are on the hunt for a new Bible. Just a side note: for men, there is also the He Reads Truth community.
Designed with this community in mind, the She Reads Truth Bible + Devotional app is a beautiful, functional, and accessible Bible-reading tool created to help women from around the world to connect with God's Word and each other, anytime and anywhere.
Whether your Truth time comes in the early morning before the world wakes, during a lunch break at your desk, or in the middle of the night with a baby in your arms—the She Reads Truth app brings your quiet (or not so quiet) time to you, right where you are.
App Features:
– Gorgeous, user-friendly layout and design
– Full-text Bible in multiple translations
– Free and paid Bible-reading plans, with new content added daily & full-access, monthly auto-renewable subscription available
– Ability to highlight, bookmark, share, and take notes as you read
– User accounts allow you to customize your experience and keep your notes and highlights safe
– Real-time commenting that syncs with the She Reads Truth web site
– Beautiful, shareable images featuring content from the daily readings
– Free, downloadable lock screens for your phone (an excellent tool for Scripture memorization!)
– Customizable notifications to remind you to read Truth at your ideal time of day
– Free "Bible In A Year" reading plan that tracks your progress as you go
– Bible search function
– Settings for font size, preferred Bible translation, red letter function, and nighttime display
8. First 5 App
Transform your time with God using the First 5 app, developed by Proverbs 31 Ministries. We believe in giving the Lord our firsts! So it only makes sense for us to give Him our first thoughts of each day.
First 5 was specifically designed to greet you with a short teaching in God's Word first, before you get distracted by social media and everything else screaming for your attention. It will equip you to better study and know the Word of God.
Features
• One Chapter a Day: We unpack books of the bible, focusing on one passage of scripture per day. So, instead of your daily scripture being random, First 5 will help you start to sense real progress in your understanding of the Bible.
• Highlight, Save and Share: You can now highlight any portion of our daily teachings to bookmark, share or add a personal note. Review your notes and activity through your Profile and use the new export feature to save them to your device.
• Reminder Functionality: Set up a reminder in the app and choose a custom message to bring you into the Word.
• Daily Scriptural Teaching: When you turn off your First 5 reminder, you'll go straight to a daily Teaching.
GoTandem App
Paralel Plus Bible App
9. The Bible Memory App (formerly Scripture Typer)
The Bible Memory App is an all-inclusive Bible memory system that equips you to easily MEMORIZE, ORGANIZE, & REVIEW verses on your own, customizable review schedule. You can even memorize & review verses while READING your Bible, all in one app! The Best Bible memory app in my opinion.
MEMORIZE Bible verses fast by actively engaging 3 separate cognitive areas: kinesthetic (touch), visual, and auditory memory.
• Kinesthetic: Type the first letter of each word in a verse to quickly memorize it in a proven, 3-step memorization process, Type It—Memorize It—Master It
• Visual: Draw Pictures & use Flash Cards (*PRO features). Animated Word Emphasis feature accentuates each word to ingrain it into your memory.
• Auditory: Record verse audio & playback for hands-free review (*PRO feature)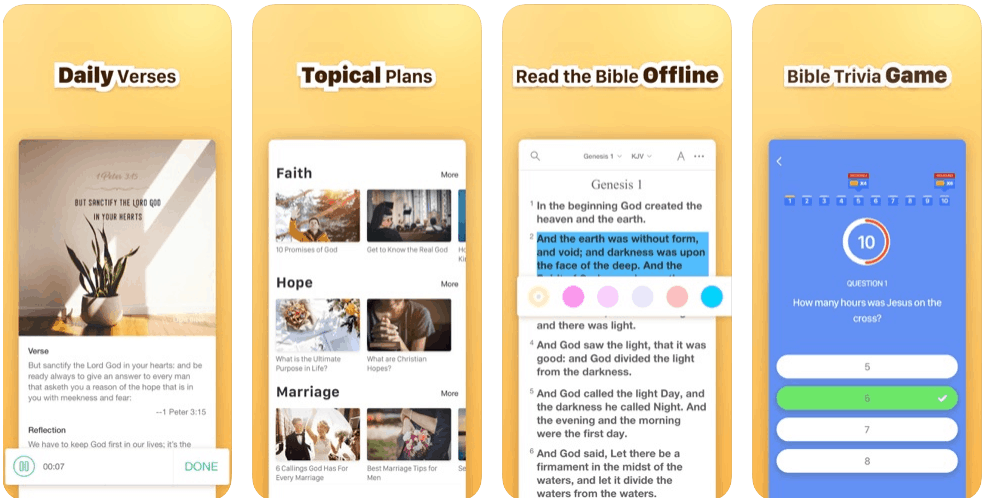 10. 30 Day Bible Study
30 Day Bible Study Challenge is designed to help you make progress in bible study by using bible study plans. By fully following the bible study instructions on the scale of 30 days, 30 Day Bible Study Challenges increase bible study efficiency step by step, so you can easily stick to daily bible study.
Key Features:
– Offline bible study: Everyday up to 30 days, you are able to access bible study and have full functionality when you are offline.
– Powerful bible study guide: 30 Day Bible Study Challenge provides the guide that allows you to perform powerful searches through your entire Library of Bibles, commentaries, dictionaries, and more.
– Bible verse navigation: With 30 Day Bible Study Challenge, you can navigate quickly and easily to the exact Bible verse you want.
– Personal bible study experience: you can highlight bible verses, take notes on bible verses, as well as bookmark bible verses.
– Daily bible study plan: Plans to 30 days help you grow your faith meanwhile, free downloadable reading plans on various topics, books of the Bible, or specific biblical characters.
– King James bible included (more available in-app)
– Share to social media: You are able to share you bible study accomplishment to your friends from inside the app to Facebook.
11. Pray
Listen to stories from the Bible. Create healthy habits with our Daily Prayers, Bible Bible Stories, and other spirit-filled content. Go to bed to the word of Lord with our Biblical Bedtime Stories. Pray with your church, friends, and family.
For Everyone
* Get amazing Daily Devotionals
* Grow your faith with our Bible Audio Series
* Find peace morning to night with our Bible Meditations
* Develop a habit of prayer
* Learn to Pray with our Pray Plans
* Sleep peacefully to our calming Biblical Bedtime Stories
* Pray with your church, friends, and family
12. Echo Prayer App
The Echo Prayer App lets you keep a list of every single one of your prayers. You can add as many prayers as you want, categorize them, delete old prayers, and even mark prayers as answered so you can see how God is working (and remember to thank Him!). Great for prayer requests!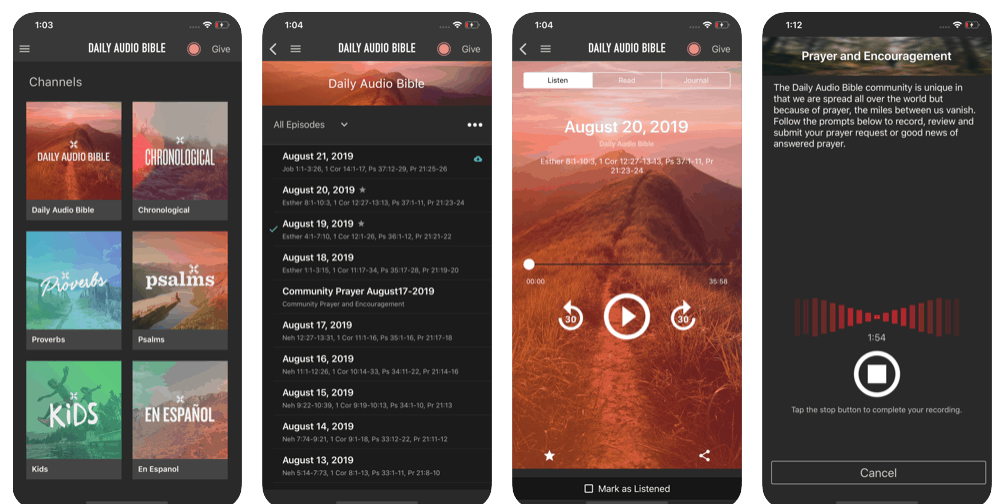 13. Daily Audio Bible
The Daily Audio Bible takes you through the whole Bible in a year one day at a time but it's a lot more than that. This isn't just your basic listen along. The Daily Audio Bible is read fresh every day and you will discover a vibrant and global community of friends following the same quest. You have to experience it to believe it.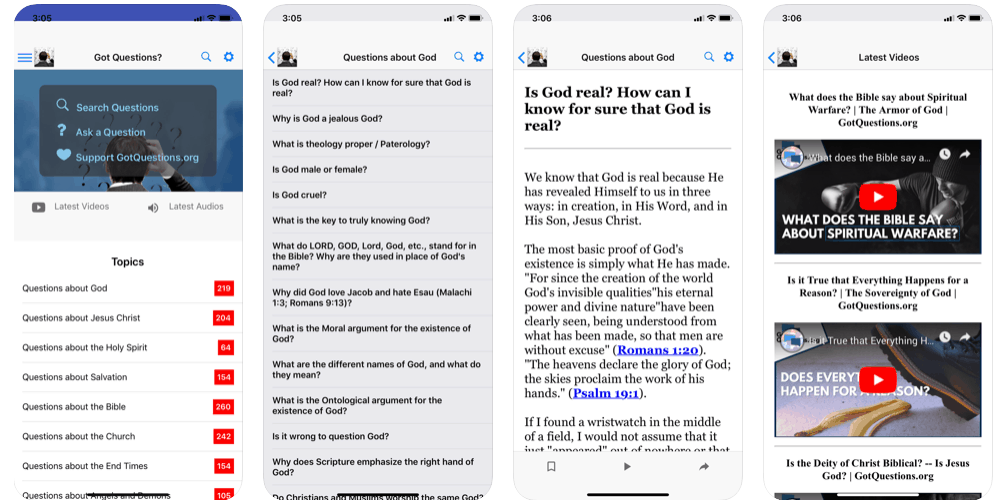 14. Got Questions
Got Questions? The Bible has answers. This application has over 5,600 of the most frequently asked questions about the Bible organized by topic, with a built-in search function, the ability to bookmark articles for easier future access, automatic downloading of new/updated articles, and the option to ask us a question if the answer to your question is not already available in the app.
Now its your turn, What are some of your favorite Bible Study Apps?