Printable Bible Escape Room Games You'll Love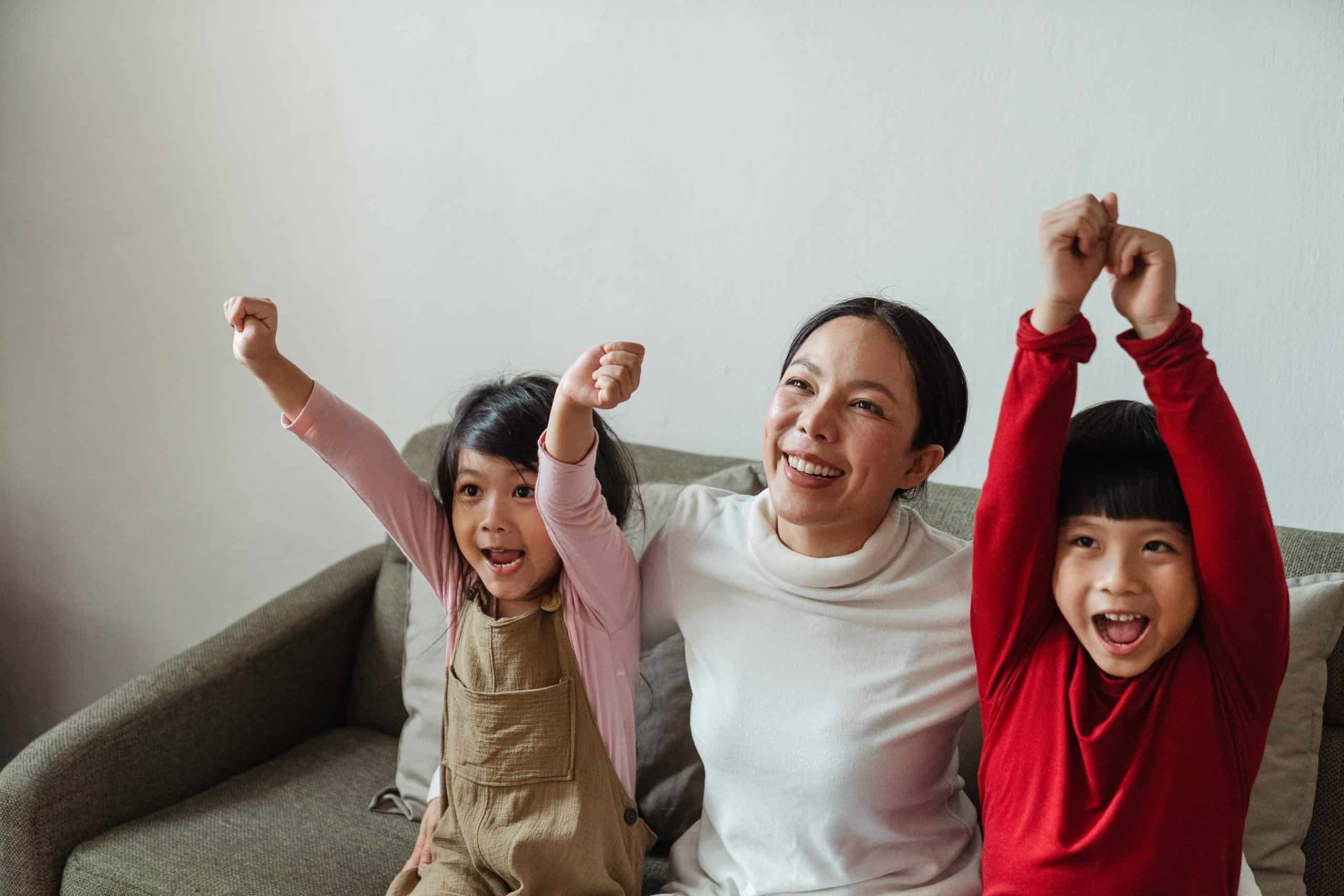 I love escape room games and I recently discovered that Printable Bible Escape room games are just as fun! This new trend in entertainment has become popular among churches and youth groups. What makes it so appealing for these groups is not just the thrill of solving puzzles, but also the opportunity to explore bible verses, Christian themes and topics while doing so.
The idea of escaping from a room can seem scary at first, but this experience is designed to be an enjoyable activity that brings people closer together while they work together on some fun challenges! This makes for a fun family game night!
You will be solving puzzles, cracking codes, and figuring out clues as a team before time runs out. Your goal is to escape from the room by finding hidden objects that will help you find the way out or simply to solve various puzzles.
This post may contain affiliate links. You can read my full affiliate disclosure here.
What is a Bible Escape Room Game?
A Bible escape room game is similar to the original escape room games concept except that you are having fun learning about Bible characters and biblical stories as you solve clues and puzzles. Not only is this a game that can be played by adults but there are Bible Escape room games with lower difficulty as well.
Typically printable Bible Escape Room games run between 60-90 minutes. They can be played by individuals or small teams. On average you will have around 5-7 mysteries to solve. Hints and answers are also included should you get stuck.
Bible Escape Room FAQ
When it comes to Bible escape rooms, here are some questions that I get asked frequently.
How do you Play Bible Escape Room Games?
Whether you play in person or purchase a Bible Escape room pdf, you don't need to worry about how to play. Each game comes with a plot and instructions on how to play the game along with hints should you get stuck on a puzzle. If you are new to this concept, I would encourage you to purchase a printable Bible Escape Room Game to test out the waters. I love these Bible Escape Room Games from Savoring Each Moment, not only are they fun but affordable as well.
How to Make Your Own Bible Escape Room Game
When it comes to Bible Escape Room Ideas, the sky is the limit. You could develop a theme that would be ideal for a Virtual Bible Escape Room or even one that ties into your faith such as a Catholic Bible Escape Room. All you need is a little creativity, time and this handy DIY Escape Room Guide to help you design the puzzles.
Bible Escape Room Ideas
A few weeks ago, I decided to host my very own Bible Escape Room Game for my husband's birthday. Originally I had planned on making my own using this DIY Escape Room Guide but short on time I decided to purchase a printable Bible escape room pdf instead. To keep things simple we had lunch together and then proceeded to play the game.
If you really wanted to kick things up a notch you could decorate the space to match the theme of the escape room. On the invite you send out, also encourage participants to come dressed as their favorite Bible character.
During the event, as an ice breaker, have participants briefly share their character choice and what they love most about the Bible character.
If you are using the Bible escape room games as part of a worship event, you can use it as a springboard to discuss the biblical story and lessons we can learn that are applicable to our lives today. Here are a few Bible character studies that we have done on the blog that you can use to help you develop your talking points to lead the event.
Other Bible Escape Room Ideas
These gospel escape rooms would be perfect for Sunday School!
Lent Bible Escape Room
The Gospels Bible Escape Room focused on the life of Jesus
Books of the Bible Escape Room
Printable Bible Escape Room
Now back to my event. I couldn't decide between The Adventures of Joseph Bible Escape Room and Daniel printable Bible Escape room, however I finally settled on doing Daniel.
What's great about these escape room games is that they can be played by persons ages 8 upwards. It also comes with three difficulty levels: easy, moderate and difficult and is a simple digital download. 
Since only adults were playing, I printed out only the difficulty level. The one challenge we all faced however was figuring out how exactly to go about solving each puzzle. The hints were helpful for this, once we read them things got easier.
The one negative for me was that I wished that the hints and answers were on separate pages. Totally personal preference! I was playing the game along with my group and as I read the clues I often saw the answers in the process even though I tried to cover them up.
Of all the puzzles, puzzle three was the most difficult. Puzzle three had us all stumped and at one point we thought about giving up until one person cracked the code. I still can't tell you how to go about cracking that one but it was an exciting and fun experience.
Would totally play again! This was a challenging and entertaining bible game, perfect for the whole family. Plus you are learning and or reinforcing biblical concepts throughout the process!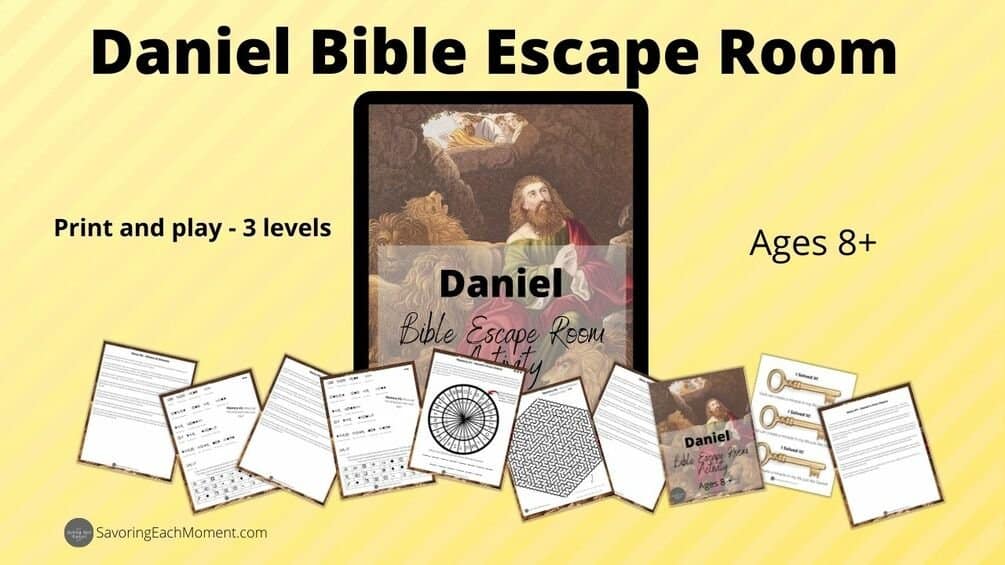 This fun Daniel printable Bible escape room game will provide a fun and engaging way to explore more about the life of Daniel and how he was used by God. This escape room game is designed to work best in groups of two or three or individually. There are three levels of difficulty for each of the 5 puzzles to engage all of your players in this fun Daniel Bible escape room game.
This Daniel printable Bible escape room game is perfect for your next youth group activity, Bible class, classroom, or family get-together. Not much teacher prep required.
Included in this Daniel Bible Escape Room Game:
5 fun puzzles to solve in 3 levels
5 story snippets to read
1 opportunity to commit to following God
Leaders guide to using this Daniel Bible Escape Room Game
Helpful hints and answer key
Virtual Bible Escape Room Online
The above printable party game would also work great over Zoom or using any other conferencing software. Its not even a must that you email them the puzzles ahead of time as they are simply print and play. As the organizer, devote a few minutes prior to the start of the game to give participants the opportunity to print the puzzles alongside giving them clear instructions on how to play.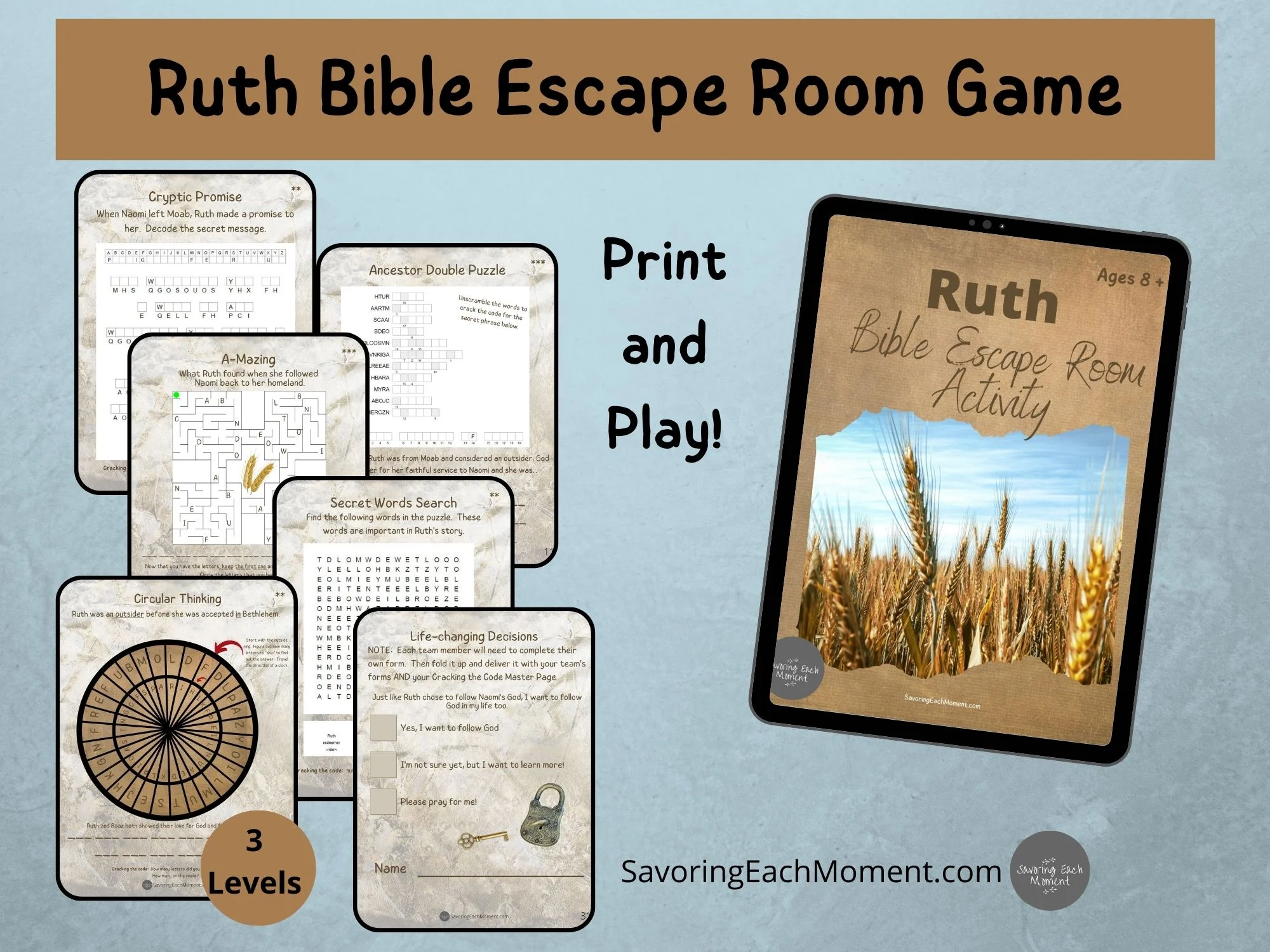 My husband recently came down with the bug which shall not be named providing us the perfect opportunity to do a Zoom Bible Escape game since he had to quarantine. Plus! I have been itching to try the newly released Ruth Bible Escape Room game from Savoring Each Moment. So, a Virtual Bible Escape Room Game was scheduled!
While these aren't free Bible Escape Room games, they are really economically priced. Plus, being a busy mom, I like that I can just simply print and execute. A huge time saver!
If you have purchased any of their Bible Escape Room games in the past, the layout is pretty similar. The Bible Escape Room pdf comes with 3 difficulty levels making it easy to tailor to kids or an adult audience. Helpful hints and answers and instructions for the leader in setting up and leading the game are also included.
Like most escape room games, you struggle with where to begin but once you figure it out, its really engaging racing against the clock. I really liked the variety of  puzzles that were included for this escape room game especially the secret letter strips as this one was a bit more hands on. I love that these Bible Escape Room puzzles gets you engaged with scripture. Overall, a great activity to accompany a study on the story of Ruth in the Bible or use for a family gathering. 
Bible Treks 
They offer a variety of Bible based escape room games that includes articles of faith and look like a lot of fun! If you are able. I would encourage you to give an in person bible escape room such as Bible Treks a try.
Additional Escape Room Games 
While not Bible based, here are some additional escape room game subscription boxes, perfect for game night!
Escape The Crate is a bi-monthly "Escape Room" subscription box full of puzzles and mysteries to solve! An hour long game, perfect for family date nights. Items include: ciphers, letters, sleuthing tools, puzzles, and more! Perfect for small groups and a large group alike!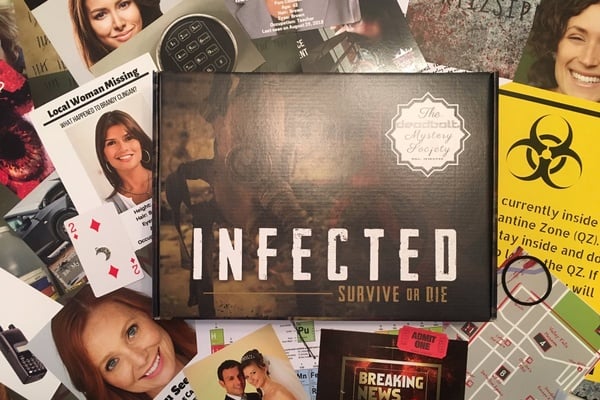 The Deadbolt Mystery Society – Unbox a mystery! Solve a crime! Close the case! Enjoy immersive scenarios, intriguing characters, and original compelling stories with your friends and family! Every month subscribers receive a new stand-alone case file with everything needed to close the case & SOLVE THE MYSTERY!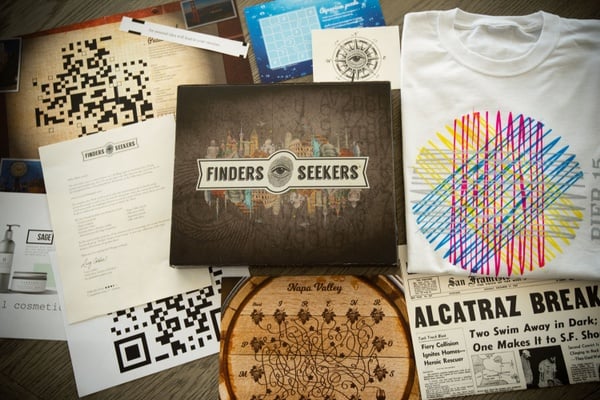 Finders seekers escape room – Explore a new city and culture every month while solving puzzles and deciphering codes with a fun escape room challenge every month! Great for game and mystery fans, puzzle solvers, and travel enthusiasts!
Bible Escape Room
If you're looking for new ways to grow your faith or you are just in need of an activity that will keep everyone entertained on a rainy day, I encourage you to check out the Bible Escape Room adventure games mentioned above.
Additional Printable Bible Games
Printable Bible Scavenger Hunt Games
Printable Bible Crossword Puzzles