The Best Bible Reading Plan For Beginners – Skip The Overwhelm!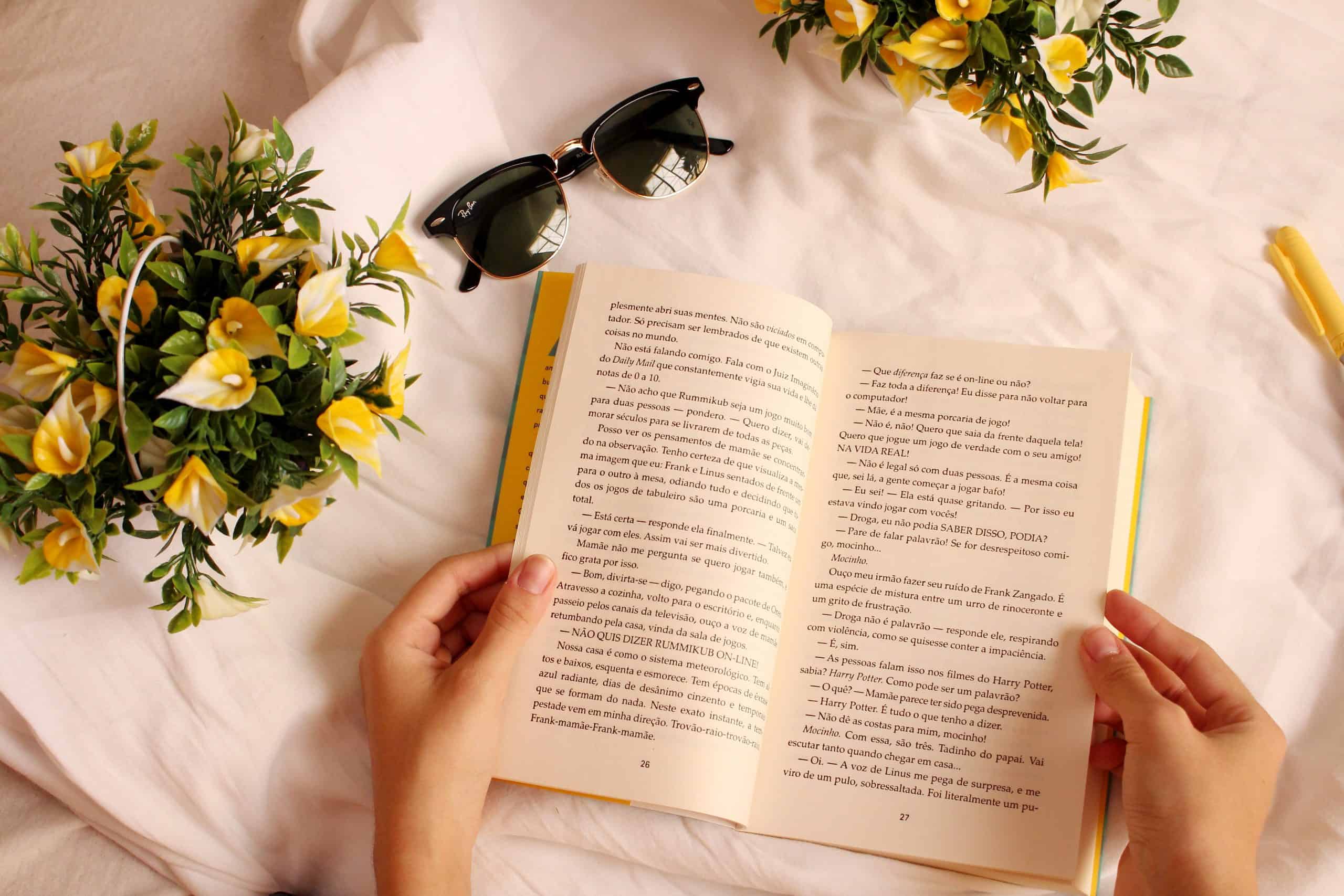 The Bible is boring!
That's how I felt for years, as I cherry picked portions of scripture in an attempt to make it more palatable.
The Bible is my favorite book to read, I would hear friends echo, say what? Are we talking about the same book here? I just couldn't understand how the Bible could compare to a Nancy Drew or a Sweet Valley High, my favorite books at the time.
As a new believer, you might be feeling just as I did or feeling overwhelmed with reading the bible.
Don't worry, your struggles don't make you any less of a christian.
You may find yourself asking questions like: "Where should I start reading the bible for beginners", "What is a good bible for beginner?" "When is the best time to read the bible?", " How to study the Bible daily?".
A few tips and resources will help to make Bible reading so much more easier. That's why today am sharing with you the Best Bible Reading Plan for Beginners and tips to help you feel less intimidated by the Bible.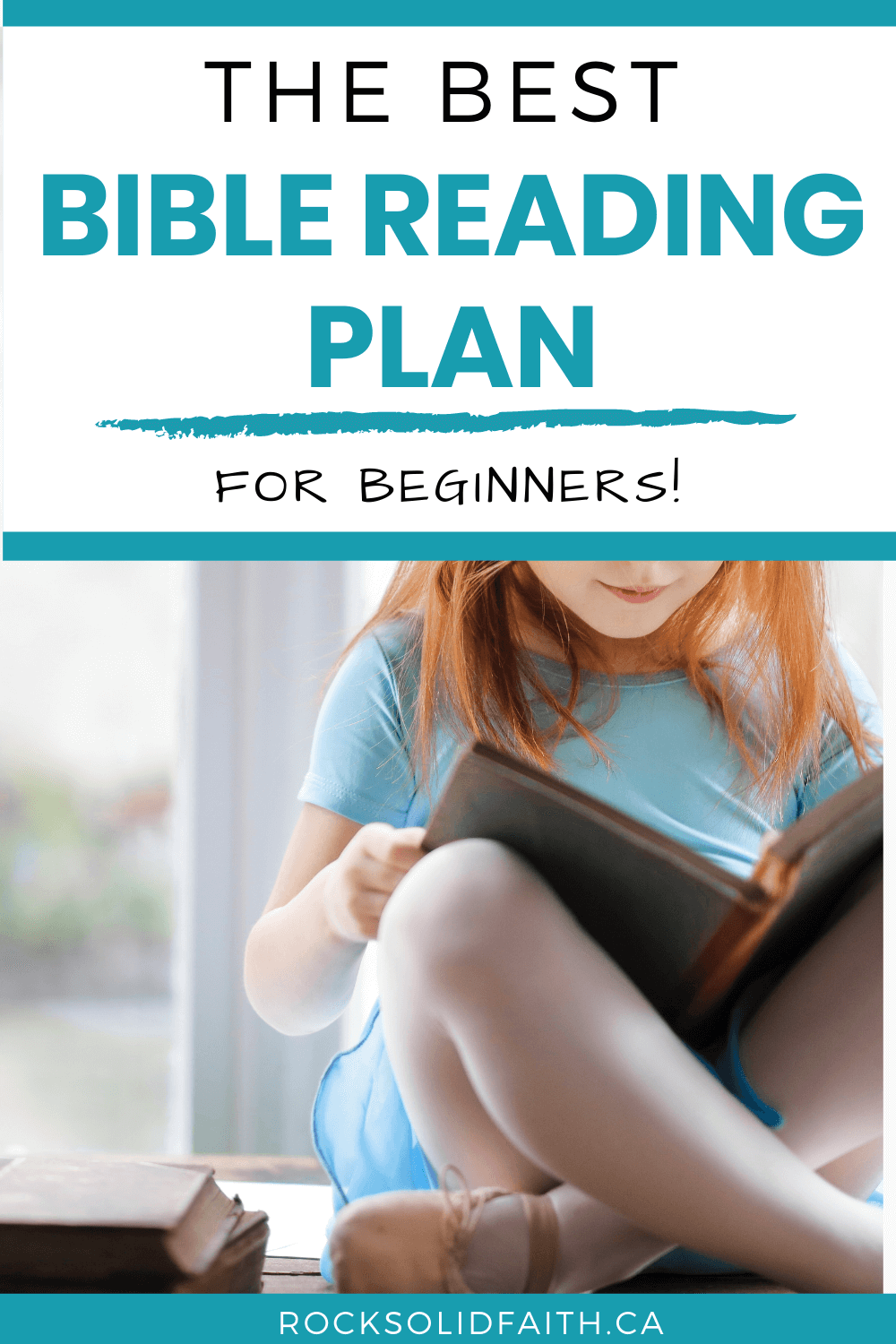 This post may contain affiliate links. You can read my full affiliate disclosure here.
Reading Your Bible Everyday
Whether you have been a christian all your life or a new believer, the followings tips will help you feel less intimidated when it comes to studying the Bible for yourself.
Choose An Easy To Understand Bible Translation
Reading "Thou's" can certainly be a turn-off am I right?
The day I discovered modern Bible translations, is the day my study time took a turn for the better. I could finally relate to what was being conveyed.
You see, the Bible was originally written in Hebrew, Greek and Aramaic – not English, which you likely already know. What we have now as English Bibles are simply translations from the original language with some Bible translations easier to understand than others. In this post, I deep dive into Choosing the Best Bible Translation.
Personally I use the Christian Standard Bible Translation or English Stand Version for casual reading. For in-depth study, I use the New King James Version.
Using the YouVersion Bible App, I encourage you to try out different Bible Translations until you settle on one that you are comfortable reading and understand.
Select A Study Bible
Study Bibles are great and a resource I would encourage you to purchase. Study Bible's provide additional contextual information to help paint a clearer picture of the Bible. They usually contain notes on biblical interpretation. While study Bible's differ by publisher, you will often find the following features included:
Overviews of each book of the Bible
Maps, charts, timelines
Topical Index
Concordance
Study Notes
The Best Seller NIV The Woman's Study Bible is a popular option you may wish to consider. Alternatively, you could consider this handy booklet that provides a memorable overview of all 66 books of the Bible. It has thousands of positive reviews on Amazon and is also very reasonably priced. An easy to understand, concise guide that provides context to the books of the Bible.
Find A Good Bible Study
While I wouldn't suggest solely using Bible Studies as your way to dig into scripture, they can certainly help. With Bible Study books available on various topical issues, you will surely find one of interest.
The Armor of God, a best selling Bible Study book by Priscilla Shirer with tons of positive ratings is one such book you could consider. Bible Studies published by Beth Moore or even Lysa Terkeurst are also great places to start! You can also try some of these free online bible studies for women.
Online Bible Study Tools
Online Bible study tools make great supplements to your study time.
No need to invest in expensive Bible study resources initially, you can find tools online that can aid you in memorizing scripture or even providing clarity to Bible verses that you don't quite understand.
There are dozens of Bible study resources online, you can start with the following list where I share some of my favorite Online Bible Study Tools.
Bible Study Methods
There is a difference between reading the Bible and studying the Bible. Reading the Bible is doing simply that, reading. By incorporating different Bible Study Methods, you can dig so much more from scripture.
Simple questions you can ask during your study includes:
What does the passage teach me about who God is?
What does this passage teach me about how I should live?
There are tons of Bible Study methods available to aid in deeper study. Find one that resonates with you and incorporate it into your study time for greater insights, here are 7 Bible Study Methods to consider.
What Is A Good Bible For Beginner?
A good Bible for a beginner is simply one you will read and in a version that you can understand. The best selling Life Application Study Bible is a great option and has tons of positive reviews. It is also available in a variety of different translations, provides background context and includes notes that explain difficult passages.
Personally, I use the CSB She Reads Truth Bible, they also have the CSB He Reads Truth Bible available for men!
Where Should I Start Reading The Bible For Beginners
So your plan as a new believer is to read the gospels – Matthew, Mark , Luke John?
Read a chapter a day, think about what you read and how it applies to your life , write down your reflections, pray about it and then repeat the process the following day.
Its after all the approach that's suggested by many pastors or reading the Bible from Genesis to Revelation.
Personally, however, while this may work for some people, I want to suggest an alternative. In lieu of the gospels I would suggest doing topical bible studies – more specifically The Love The Word Bible Study and here is why.
Best Bible Reading Plan For Beginners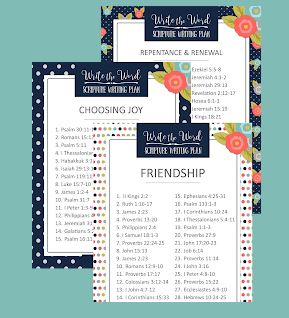 Topical Bible Studies
As a new believer, we can quickly get lost in the mundane. Topical Studies allows you to digest smaller chunks of scripture daily while learning about a topic of interest while at the same time gradually start forming a habit.
With kids, work and cooking meals, finding the time to devote to scripture can sometimes pose a challenge. Or maybe you get easily distracted with what to read and how to read it.
Topical Bible Studies are short to incorporate into any schedule. They can help you in developing a daily Bible Study habit and process which you can then apply to studying the Bible as you wish – reading the gospels, reading the bible in a year etc. Here is how to get started with topical Bible Studies or you can consider The Love The Word Bible Study.
The Love The Word Bible Study helps you do just that, fall in love with the Bible with a 12 month Bible Reading Plan that will help you to explore various topics all year long with topical studies on: friendship, money, joy, work, prayer, and more.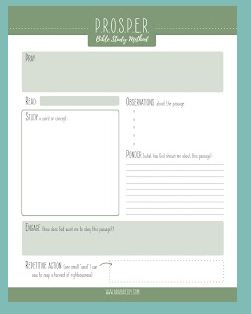 A Simple Plan
As you read and write each passage daily, incorporating a Bible Study Method can help you extract more from the word of God. You don't need to depend on devotionals books, you can totally gleam nuggets from the Bible during self-study.
In The Love The Word Bible Study, you will learn about the PROSPER Bible Study Method. It is a simple framework that allows you to engage with scripture in a meaningful and fun way while walking away with truths you have gleamed.
You will learn a simple step by step method to help you study any passage of scripture in the Bible all on your own.
The PROSPER Bible Study Acronym stands for:

P- Pray

R- Read

O- Observe

S- Study

P- Ponder

E- Engage

R- Repetitive Action
Included is also this Quiet Time Journal blueprint for revitalizing your bible study routine and providing structure to your quiet time.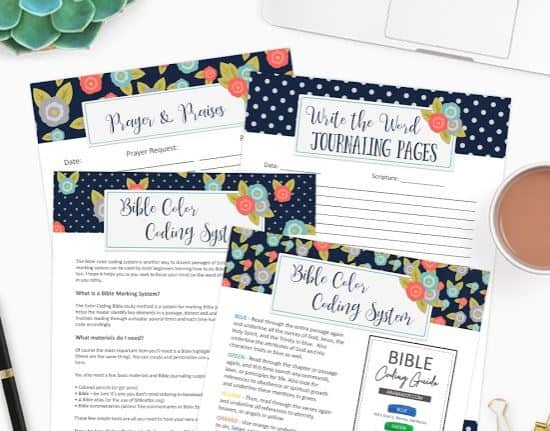 Bible Color Coding System
Color Coding your Bible is a way to engage with scripture and ensure that you don't walk away empty handed. Especially for creatives, color coding can bring your Bible experience to life as you highlight passages of interest that is applicable to your life.
The neat thing about color coding your Bible is that you can customize it to your own liking by choosing categories that interest you and assigning them to your own colors. Developing a Bible marking system is easy and an awesome way to bring the scriptures to life! You will find a Bible Color Coding System with instructions and Bookmarks included in your Love The Word Bible Study.
The Love The Word Bible Study provides new believers with a foundational framework – a bible study method and ways to engage with scripture which they can later apply to studying any book of the Bible. Which is why I recommend Love The Word Bible Study For new believers!
Best Bible For Beginners
Sometimes the hardest part of beginning is knowing where to start!
An introductory exploration into studying God's word, the NIV Starting Place Study Bible includes approachable, easy to use features that will guide readers through Scripture while building their confidence and knowledge in the Scriptures. Featuring book introductions, context notes and character profiles, this is the perfect NIV study Bible for those beginning their Bible journey, and a great gift for new believers
The New Believer's Bible is designed to help new Christians grow in their faith through reading, studying, and understanding God's Word. Four study tracks (Cornerstones, First Steps, Off and Running, and Big Questions) present the essentials of the Christian faith in a way that is easy to follow and understand. As you progress through the four tracks, you will gain a clearer understanding of who God is and how he wants you to live.
Bible Reading Plan For Beginners
Looking for even more beginners bible reading plans? Consider the following resources from fellow Christian bloggers:
Printable Bible Reading Plan for Beginners – Developed by Kingdom Bloggers, this 12 month Bible Reading plan bundle allows you to plan out your Bible Study time for an entire year. It includes study and reflection worksheets, coloring pages alongside social media graphics and phone screensavers.

One-Year Bible Reading Plan for Beginners – This 390 page Bible Reading Plan & Journal is designed to give you an easy way to read the Bible in a year and keep track of the chapters you have read as you go. Read the Bible as things happened in chronological order.
Topical Bible Reading Plans – Developed by Undoubted Grace, find simple Bible reading plans and journals to guide you through an exploration of the word of God as you do about various topical studies.