Beginner Friendly Printable Guided Bible Studies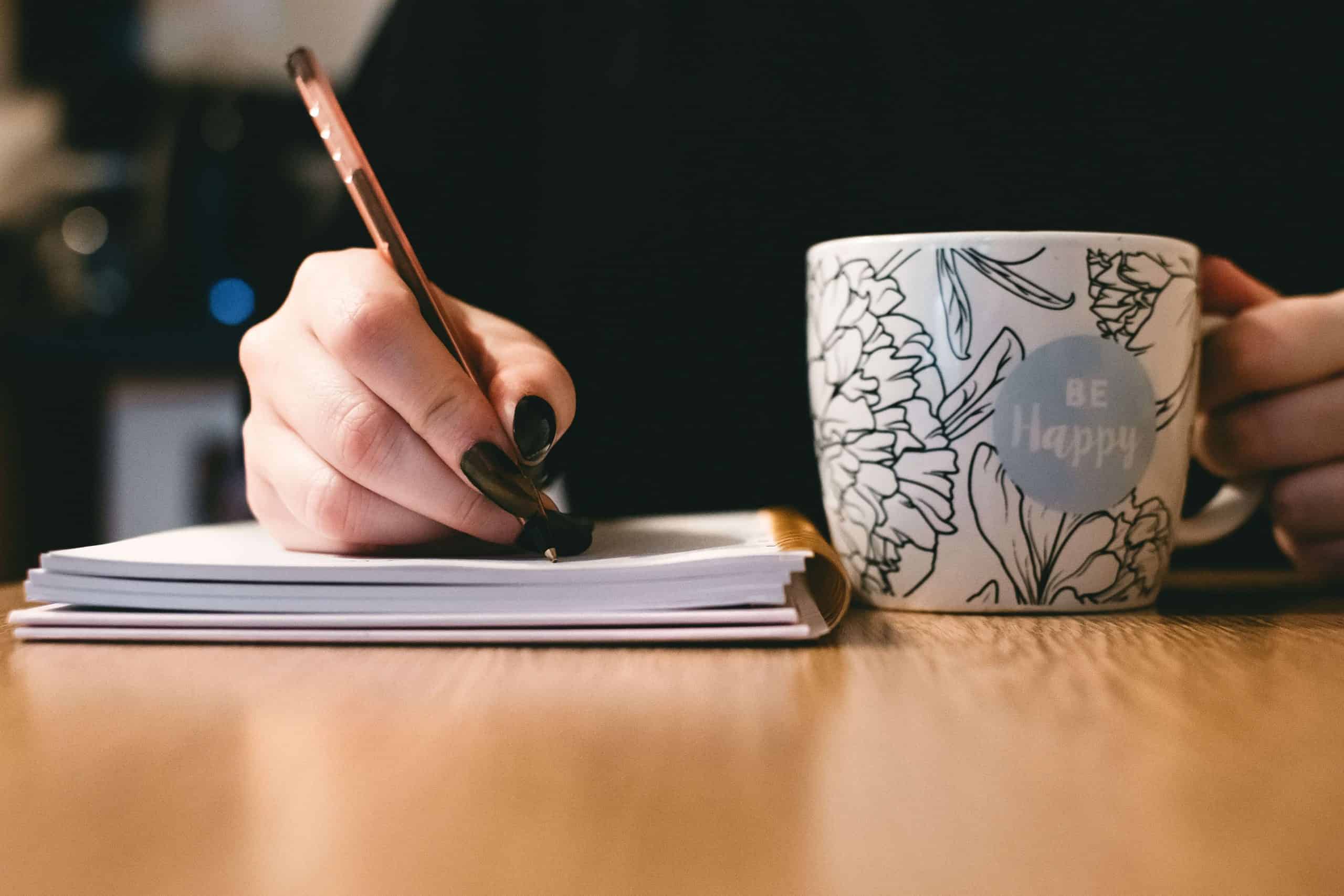 Looking for guided Bible studies? There are many printable bible studies available on the internet that you can simply print out at home or utilize on a tablet for those with notetaking apps like Good Notes or Note Shelf. They provide space to take notes, keep track of key scriptures, write your reflections on key questions, make note of prayer points and more!
Studying the Bible through guided studies is a great way to study the Bible with a group, friends and or family. It's also a fantastic way to learn about the bible, understand it better, and grow in your faith. I love guided Bible studies as they provide a roadmap of what to study each day, allowing me to be more consistent with my time in the word. Plus, you learn Bible study methods which you can apply to future studies. A great resource especially for new believers!
This post may contain affiliate links. You can read my full affiliate disclosure here.
What are Guided Bible Studies?
Guided Bible Studies are simply Bible study workbooks outlined with the appropriate passages to read each day along with reflection questions to think about and respond to. Some bible study guides also include commentary with background information to provide additional context on the content you are reading.
While having the additional context can be great, you will want to ensure that the author of the study beliefs aligns with what you believe.
These printables are perfect for women's ministries, youth groups, family worship times at home or church meetings. They can also make great gift ideas! You can print one out for yourself or print them out to give away as gifts.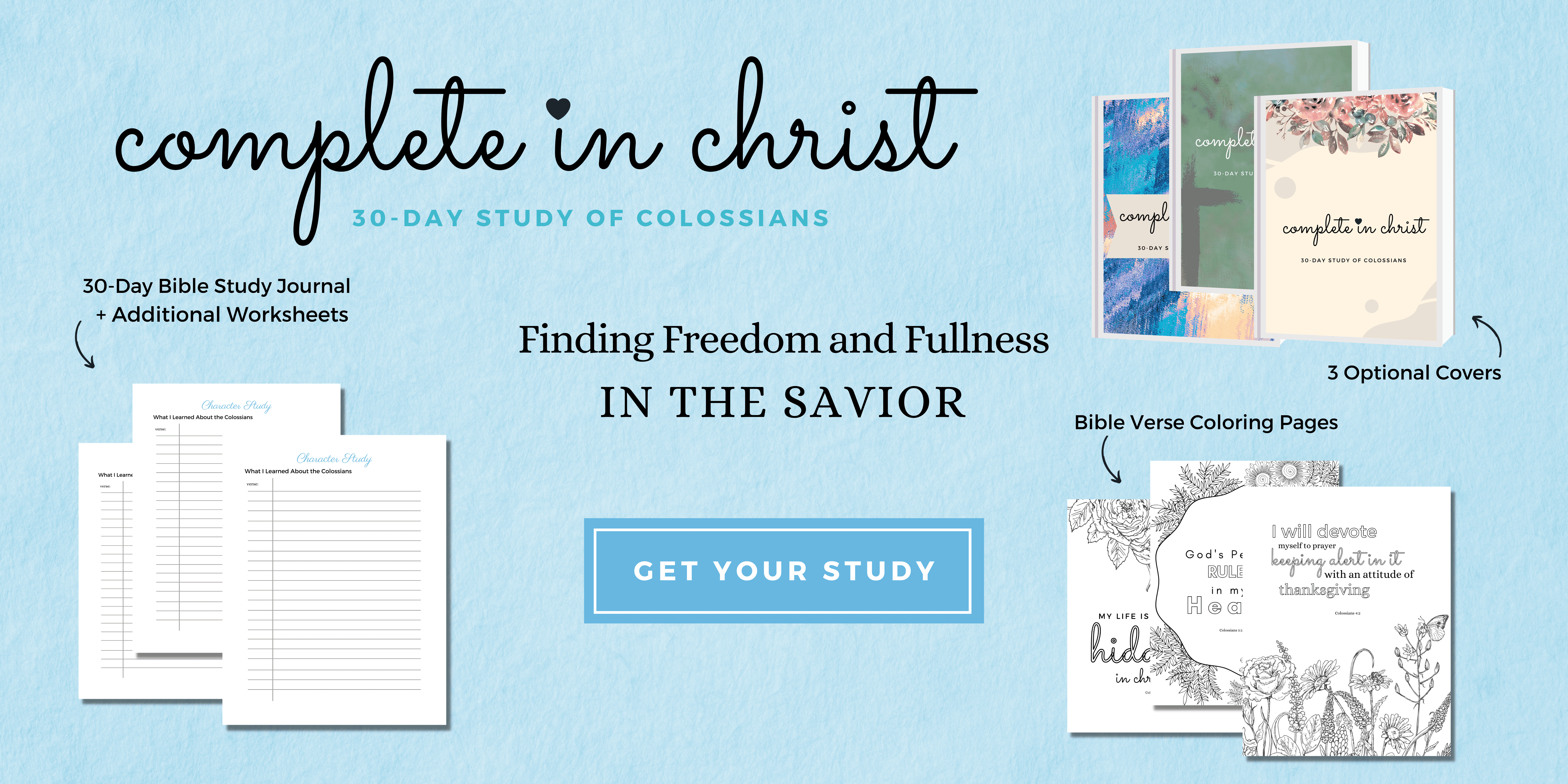 Guided Bible Studies – Inductive Study Guides
Guided Bible studies offer a powerful way to engage with Scripture, allowing participants to explore the richness and depth of biblical teachings, deepen their understanding of God's plan for creation, and draw closer to Him.
Inductive study guides are an excellent resource for guided bible studies allowing individuals or groups to move beyond just reading into a deeper understanding of the Scripture.
With thought-provoking questions, inductive study guides help participants to think critically about the scripture passages; identify key themes; discern meaning from historical context; apply the scriptures to personal experiences; and draw insight from how others may have understood or interacted with the text.
By taking advantage of guided bible studies, participants can open themselves up to a deeper level of spiritual insight and connection with God Himself.
The Inductive Bible Study Method sounds and looks complicated at first but it's a great method to use to study the Bible and understand it for yourself prior to consulting commentaries.
These printable Bible study guides will help you learn more about the Bible and also equip you with skills to help you read the Bible for yourself. They include a clear, easy to follow step-by-step process of how to go about studying the scriptures inductively. I adore these studies and they aren't fluffy!
I love that especially if you are new to Bible studies, it provides a bit of guidance. For example, the days reading might suggest doing a word study and there is a handy tutorial that shows you how. The thought-provoking discussions questions also have you thinking about what you just read. The author encourages you to first let the holy spirit be your guide before reaching for commentaries. Here are some of my favorites!
Complete in Christ – A 30 Bible study journal of Colossians. Learn about the supremacy and lordship of Christ, how to identify false teachings and philosophies and what it means to put off and put on.
Faith Approved Bible Study Journal of Hebrews 11 -This Bible study will take you on a journey through the lives of the men and women of old who gained approval through their faith. Discover how you can apply their experiences to your own personal walk with God.
The Word Became Flesh Bible Study Journal of John 1 – This Bible study journal will walk you through a 10-day, in-depth study of John chapter 1. This chapter gives us some great, foundational teaching of the life, ministry, and deity of Jesus!
New to inductive Bible study? This study is also a great intro to the inductive method of observation, interpretation, and application.
Rejoice Always Bible Study Journal of Philippians – Philippians is a book about joy. This may seem peculiar since the man who wrote it did so from prison.
Use this 40-day inductive Bible study guide to walk you through an in-depth study of what it means to rejoice always.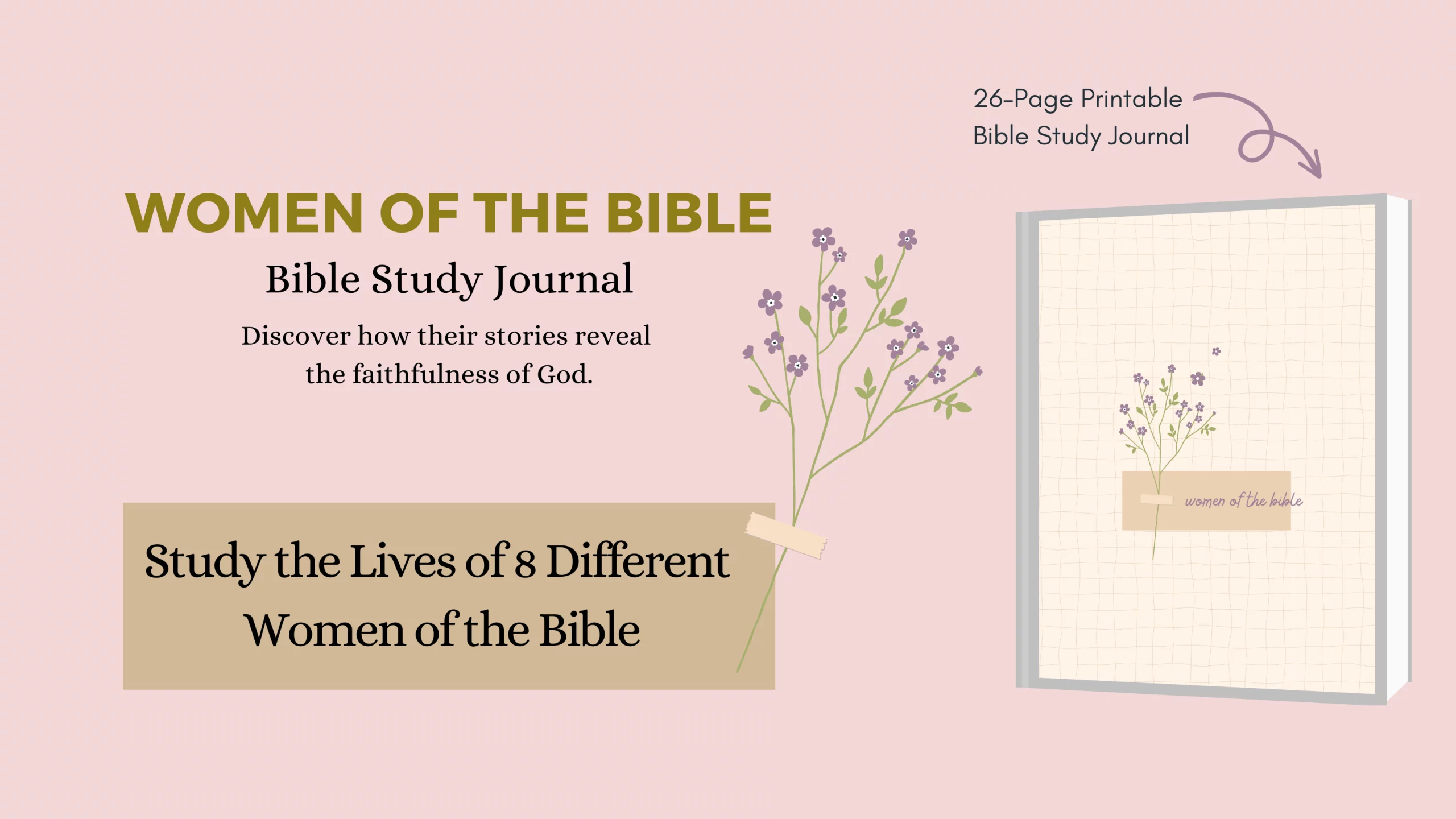 Guided Bible Studies – Women of the Bible
Women of the Bible Guided bible studies provide an opportunity to look more deeply into key personalities in the Bible. By studying their stories, we can gain wisdom and insight into how we should apply God's principles to our own lives. Women of the Bible guided studies are particularly enriching, as each female character offers a unique perspective on faith and obedience.
From Eve, who fell from grace in the Garden of Eden, to Mary, who humbly accepted God's plan for her son's mission, these stories reflect powerful messages about hope and guidance in all circumstances.
By exploring these women's lives over a guided study period, readers acquire an up-close and personal knowledge of their journeys—and understanding of the faithfulness required for living faithfully under God's plan. With a guided bible study program focused on women of the Bible, not only will you gain a deeper appreciation for their plight, but also learn practical knowledge that can help guide your own walk with God.
By partaking in guided bible studies such as this one, you will be sure to find context in modern situations, clarity that unites faithful believers around all times and ages. Join us as we carefully investigate female characters found within scripture – "Women of the Bible". Let's go discover together what true Biblical womanhood is all about!
Women of the Bible – Peruse the list to determine the specific Bible character you would like to study. Each character study includes a 5-page digital bible study on the life of various women of the bible and beautiful scripture cards. Use the coloring pages as you meditate on Scripture to remind you of where your hope comes from in the midst of the storm.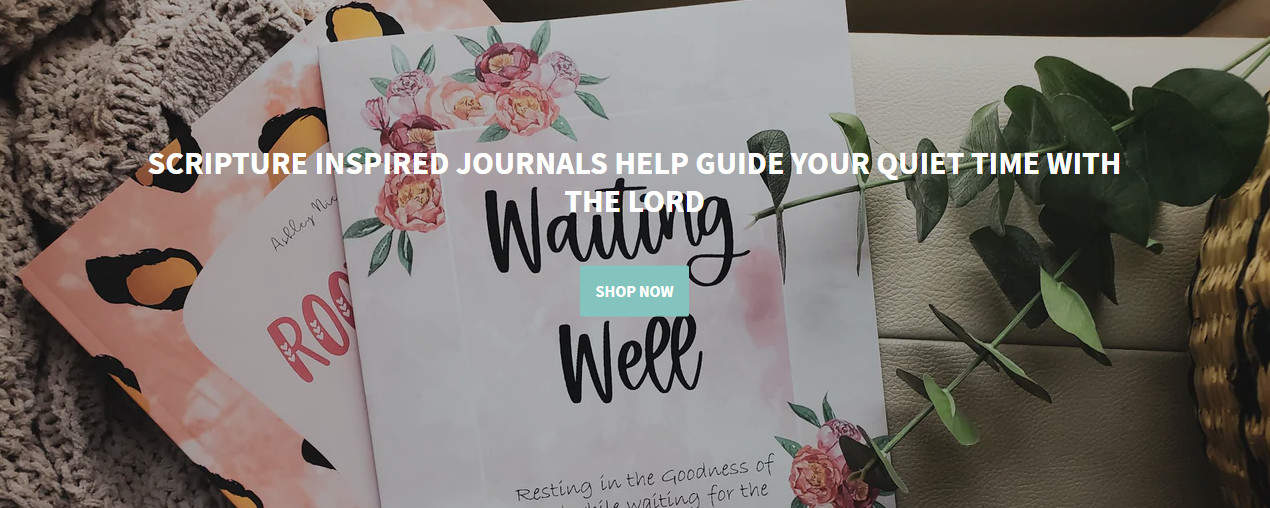 Guided Bible Studies – Topical Bible Studies
Topical bible studies offer a comprehensive approach with topics ranging from Christian relationships and serving God to teachings on money management and other important life subjects. By providing context and examining different angles, guided bible studies help engage participants to grasp bible verses on a much higher level while also deepening their faith.
At the same time, guided bible studies allow individuals to participate in group activities such as group discussions, which enable them to connect and interact with other like-minded people who are just as passionate about learning more about God's word.
From studying specific characters in stories to exploring ancient cultures, guided bible studies can help bring important themes and ideas to life in your study of the Bible. Some guided bible studies are even centered around a particular question or problem. No matter what type of guided bible study you choose, it provides invaluable insight into God's word and helps make the scriptures come alive!
Whether you're studying alone or as part of a large church congregation, topical bible studies can be beneficial for those seeking greater understanding and guidance. Here are some of my favorites!
Topical Bible Reading Plans – These are so gorgeous! These Bible Study Journals will guide you through an exploration of the word of God as you learn more about what the Bible says about a particular topic.
Monthly Topical Bible Reading Plan
Are you looking for a monthly topical Bible reading plan to help you dive deeper into God's Word each month? This digital Bible study journal is exactly what you need! While it doesn't come with application question, it does into SOAP Bible Study worksheets to log your takeaways from the daily readings.
This Bundle includes all 12 monthly Bible reading plans to fill your Bible study time all year long!
Each monthly digital Bible reading plan includes:
– list of daily scriptures to read
– Bible study notes and SOAP worksheets (for each day of the month)
– 5 scripture coloring pages
– monthly prayer
– prayer trackers
– end of month reflections worksheet
The best part is that this digital Bible reading plan works perfectly with Goodnotes, Noteshelf, and other tablet software. The daily scriptures are clickable and open to the exact study worksheet for that day. There are also tabs on the side that take you to the sections for Prayer, Notes, Coloring Pages, and the End of Month Reflection worksheets.
All of the links in the pdf are clickable and take you to the desired pages. Even the scripture coloring pages can be colored on your tablet!
You can also download the monthly Bible reading plan to print at home if you don't have an iPad or tablet.
Guided Bible Studies – Bible Book Study Guides
One of my favorite ways to read the Bible is chronologically by book authorship. It gives me a big picture overview of the Bible and events as they are believed to have occurred. By book authorship also ensures that I complete whole books and not feel like I am jumping around from verse to verse as most chronological plans do.
If you're looking for help leading your next bible study group in an exploration of God's word or just personal studies, these Bible book guided Bible studies are a great starting point.
Studying the Bible by book is a great way to gain a deeper understanding of its teachings. By deeply reading a single book, you can digest its content more fully than if you were jumping from one text to the next. Guided bible studies can provide step-by-step approaches to studying a specific book in the Bible and uncover themes and revelations contained within it.
Through guided study, questions will arise that can deepen one's understanding of different books. As a result, guided bible studies help individuals gain an appreciation and knowledge of different books such as Genesis, 1 John or Proverbs. By engaging in guided bible studies of specific books in the Bible, individuals can access passage insights with ease and develop further knowledge about God's Word.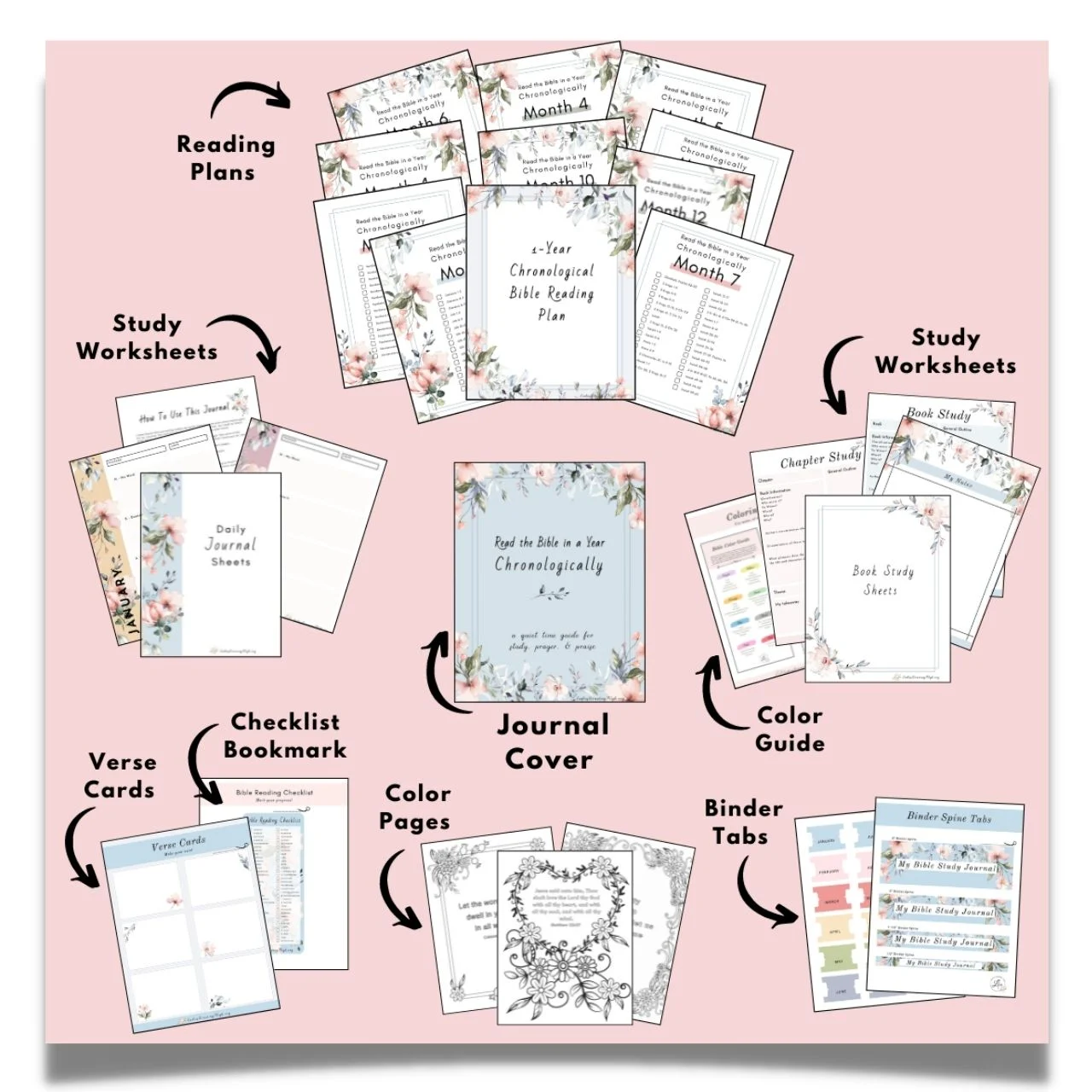 Chronological Bible Study Workbook
These 12 monthly Bible Reading Plans will lead you through the Bible in the order that the events happened. Reading this way will help you gain a deeper understanding of the timeline of events covered in scripture.
There are also 12 Daily Journal Sheets (1 design for each month) for studying and recording what you hear from God as you read and study each day using the HEAR Bible Study method.
The author teaches you how to study the Bible and apply it to your life using the HEAR Bible Study Method. And thereby have a better understanding and a closer walk with God! Use the Chapter Study Worksheet and Book Study Worksheet to learn even more! Learn the HEAR Bible Study Method.
This printable bundle also includes a Bible color code, Notes pages, 6 Verse Cards to write out your favorite verses from each month's reading, and binder tabs for creating a beautiful binder to keep your journal organized!
The Bible Study – This is a two-book volume workbook of the books of the Bible. One volume covers the Old Testament and the other the New Testament. While it doesn't specifically outline which verses to read each day, it specifies which books you should read each week that way you cover all the books of the Bible in a 52-week time span.
This is great for people who struggle with staying on track with daily assigned readings, instead you can read more or less on a given day as your schedule allows, knowing the timeframe you have to complete the specific book of the Bible. It then includes reflection questions to help you think about and dig deeper into what you have read. It's also a lovely bonus that its attractively designed.
Currently, am reading though the book of Job, here are some of the reflection questions:
Has God ever given you an even greater blessing after a time of suffering? If so, what happened?
Unlike what Job's friends did, what is the best way to comfort a friend that is going through a hard time? Why?
Do you know anyone that has fallen away from their faith after going through a hard time and blamed God for it? What would you say to them?
Scripture Confident Through the Bible – Do you shy away from independent Bible study because you are not sure how to go about it, or do you get excited about digging deep into Scripture and hearing directly from the Word of God? You may be new to the faith or have known God practically your whole life but never have learned how to read the Bible for all it's worth.
Let's give meaning to these pages upon pages of stories, prophecies, and letters. Scripture Confident through the Bible will teach you the Bible's one storyline on hand-picked passages that you will study with growing independence. It works like this: The daily study guide starts out with many guided questions, a quick summary, and an application suggestion.
Every week, you will learn a new Bible study method that builds on the previous one. I First, you'll get a chance to ask some of the questions yourself, which will get you into the habit of making observations about what you're reading.
Eventually, you will have a framework of questions you can take to every passage you study. You'll know how to dig deep, draw conclusions, and figure out how each passage affects your life. That's how you'll make your way through the Bible. As studying the Bible becomes a habit, so will seeing the world through the lenses of Scripture.
Free Guided Bible Study
The perfect guide for diving deep into God's word in just 60 minutes and best of all, its a free bible study guide.
Forget Not His Benefits – Ready to sneak away for a soul-refreshing hour alone with God? We know what it's like to want to spend rich, quality time with God but needing a fool-proof way to get there? dig into God's word through meaty, single-session Bible studies. Our easy-to-use studies will walk you through inductive Bible study techniques. Each is different and perfect for exploring the Bible when you need a mini stand-alone Bible study lesson!
Free Bible Study Guides
A printable Bible Study Guide is a great tool to use as an individual or when teaching others about Jesus Christ and His teachings. These printables are perfect for Sunday School classes, youth groups, family worship times at home or church meetings. They can also make great gift ideas! You can print one out for someone else or print them all out to give away as gifts.
These printable bible study guides are a great way to get your next bible study group started on the right foot. With these printables, you can easily organize and guide discussions so that everyone is prepared for each lesson. As we work on compiling some free bible studies, we would love to know what kind of printable you would find most helpful for you. Let us know in the comments below!
Additional Articles You May Like
Printable Chronological Bible Reading Plans