Chances are that you are reading this post as you try to multi-task or make use of a few spare minutes that you have in your day. While multi-tasking can be a good thing, we can miss out on truly being in the moment and bonding with our family members in lieu of the latest gadget or social media platform of the day.
Sure, Instagram is awesome but even greater are the memories and experiences you create with those around you. I find that I have to consciously make an effort to disconnect from technology and connect with my family, so you are most definitely not alone.
On Saturday afternoons my husband and I will usually whip out a puzzle or a game, do an object lesson or watch some educational programming. This has not only nourished our faith but help us grow closer to each other. If you are looking to add a fun creative element to your Bible study time or just looking for ideas to bond with your family, here are 7 Printable Bible Games for adults to checkout!
WANT TO REMEMBER THIS? SAVE THESE PRINTABLE BIBLE GAMES TO YOUR FAVORITE BIBLE GAMES BOARD!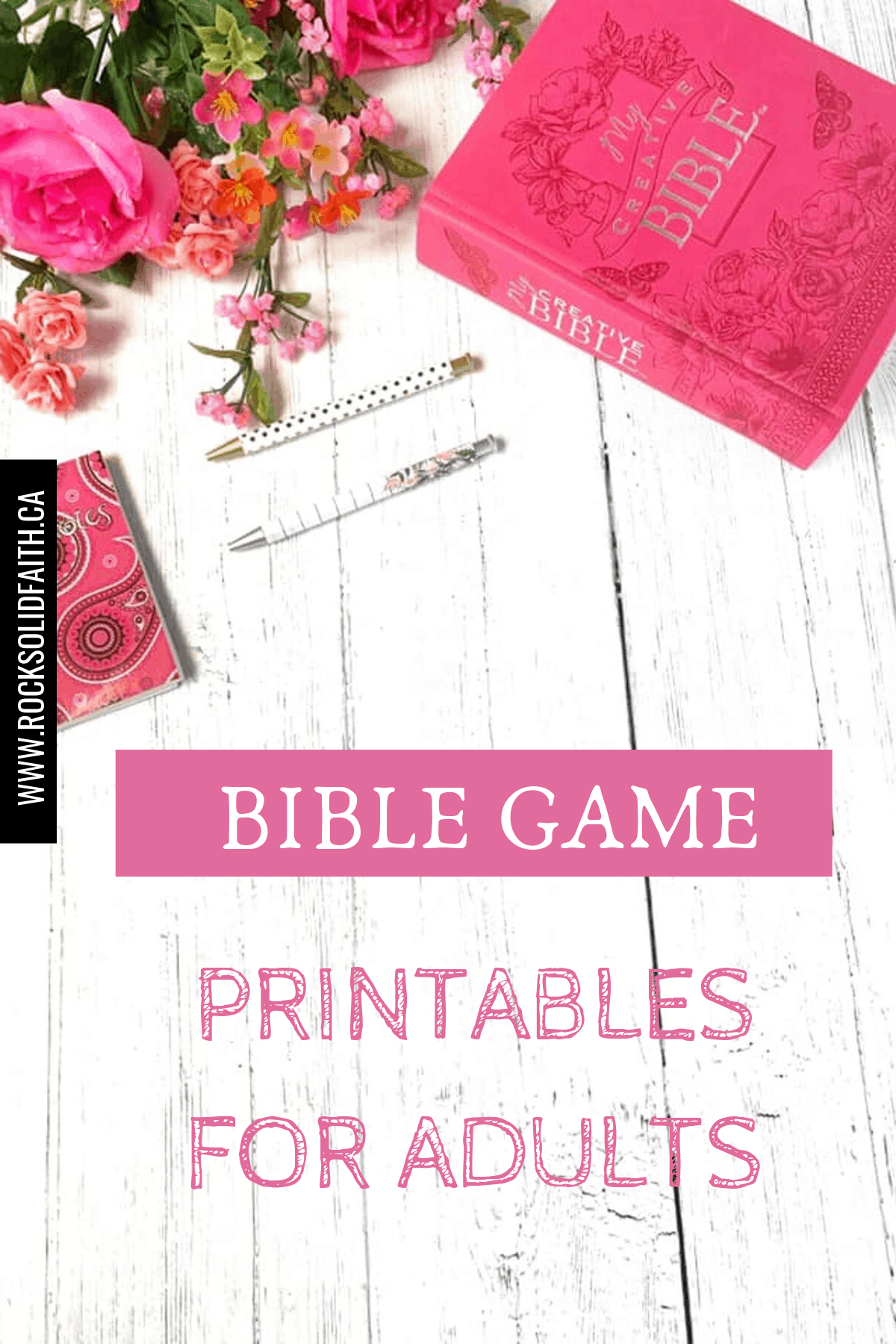 This post may contain affiliate links. You can read my full affiliate disclosure here.
Bible Games For Adults

While you can find several Bible trivia apps in your Apple or Playstore, there are times when printable Bible games are just way more more convenient. Perfect for family worship activities, teaching youths Bible truths, or just simply as an activity to do as a group when you have your friends over.
If you are looking for printable Bible games, Bible Games Central is where its at, certainly a site I wish I discovered sooner.
Let me introduce you to Bible Games Central
Bible Games Central is all about conveying Bible truths through fun and captivating activities. They have a variety of games suited for all age groups even adults. Each games comes with learning points, recommended scripture passages to reflect on, discussion questions  and a downloadable file to help execute the game.These are all made available absolutely free!
How cool is that? All you have to do is simply print and execute.
If you are looking for fun activities to add to your Bible study routine visit Bible Games Central for activity ideas and checkout my favorite printable Bible games for adults from the site, below!
Bible Games for Adults Printable – Who I am In Christ
My husband and I played this on a whim one Saturday afternoon. Not only was it fun, but it refreshed our memory on Bible characters and also got us into Bible as we re- read a couple of the stories.
To begin, each individual thinks of a Bible character. Taking turns they then only ask each other yes or no questions to try to figure out the identity of the Bible character. To win at this, its all about asking the right questions. The more challenging the Bible character you choose, the more engaging you will likely find the game.
While this was fun, I only wished I discovered Bible Games Central sooner. They have easy and advanced printable cards that you can print off and use for the game .
Bible Activities For Adults -Picture Perfect Bible Scavenger Hunt
This one is perfect for summer months but can also be played during other seasons of the year, but may need to be slightly modified.
In this scavenger hunt, teams must use the Bible to solve 66 simple puzzles. (One from each book of the Bible.) The answers to these puzzles are the items they must hunt for. A great activity for family or ministry events. You can also use this game to teach about the Bible, the Parables of the Hidden Treasure and the Pearl or the Parable of the Lost Sheep. Download the Bible Scavenger Hunt clues and worksheets.
Biblical Games For Adults- Bible Drop A Hint
If you are pressed for time and want a quick game that you can execute, Bible drop a hint is really easy to do.
Providing only one-word hints, clue givers try to get their teammate to guess a given word or phrase. An exciting, fast paced game that's extremely fun for adults and youths. All you need is a timer, and paper and pen to record the scores. Download Bible drop a hint cards.
Christian Games For Adults – Bible Charades
Guessing is not really a strong suit of mine, but if you love charades, then Bible charades just might be right up your alley.
Divide participants into two teams with equal amount of players. Teams take turns sending a player to pick a charades card. Without speaking , they must act out the word or phrase as their team members try to guess the correct answer. The time limit is around 3 minutes per team but can be modified to suit the age group. If the team gets the correct answer, they score 10 points. Ahead of time you can determine how many rounds you would like to play as well as select a prize for the winning team. Download Bible Charade cards.
Fun Bible Activities For Adults – Bible Taboo
To play Bible taboo, first divide up into teams, 2-6 players per team. Each round of the game will last 1 minute as teams take turns playing. Each team will need to assign a clue giver while the remaining members are the guessers. Once given the go ahead, each clue giver will pick up one of the forbidden word cards. The card will have a guess word as well as 5 forbidden words. Its the job of the clue giver to get his teammates to figure out the guess words without using any of the forbidden words indicated on the card. If they get the guess word, the clue giver repeats the process by picking up another card until their 1 minute time span has expired. Each correct answer gets the team 10 points. You can play as many rounds as you wish. Download Instructions and Bible Taboo cards.
Bible Study Games For Adults- Where in The Bible
This game reminds me of the game Sword in hand which I loved to play in my younger days.  A team lead would mention a verse from the Bible example John 3:16, once he issues the command charge individuals should start looking for the verse and read it aloud once found. The person who finds the most verses wins the game overall.
Where in the Bible is slightly different. In this Bible search game, teams race each another to find Bible verses that contain a given word. The team that finds the most verses wins. Learn more about the game Where in The Bible
Printable Bible Games – Two Truths and A Lie
I played this game at a work event and found it to be a lovely activity to get to know your teammates. The truths don't have to be too personal either. This activity is a lovely precursor to a discussion about honesty or false teachings.
Players take turns to share three statements about themselves and everyone else tries to guess which two statements are true and which is a lie.
Now, its your turn, share in the comments what are some of your favorite printable Bible games for adults.
More Articles You May Like
Bible Trivia Fill-in-the Blanks