How to Grow In Faith: 11 Innovative Ways!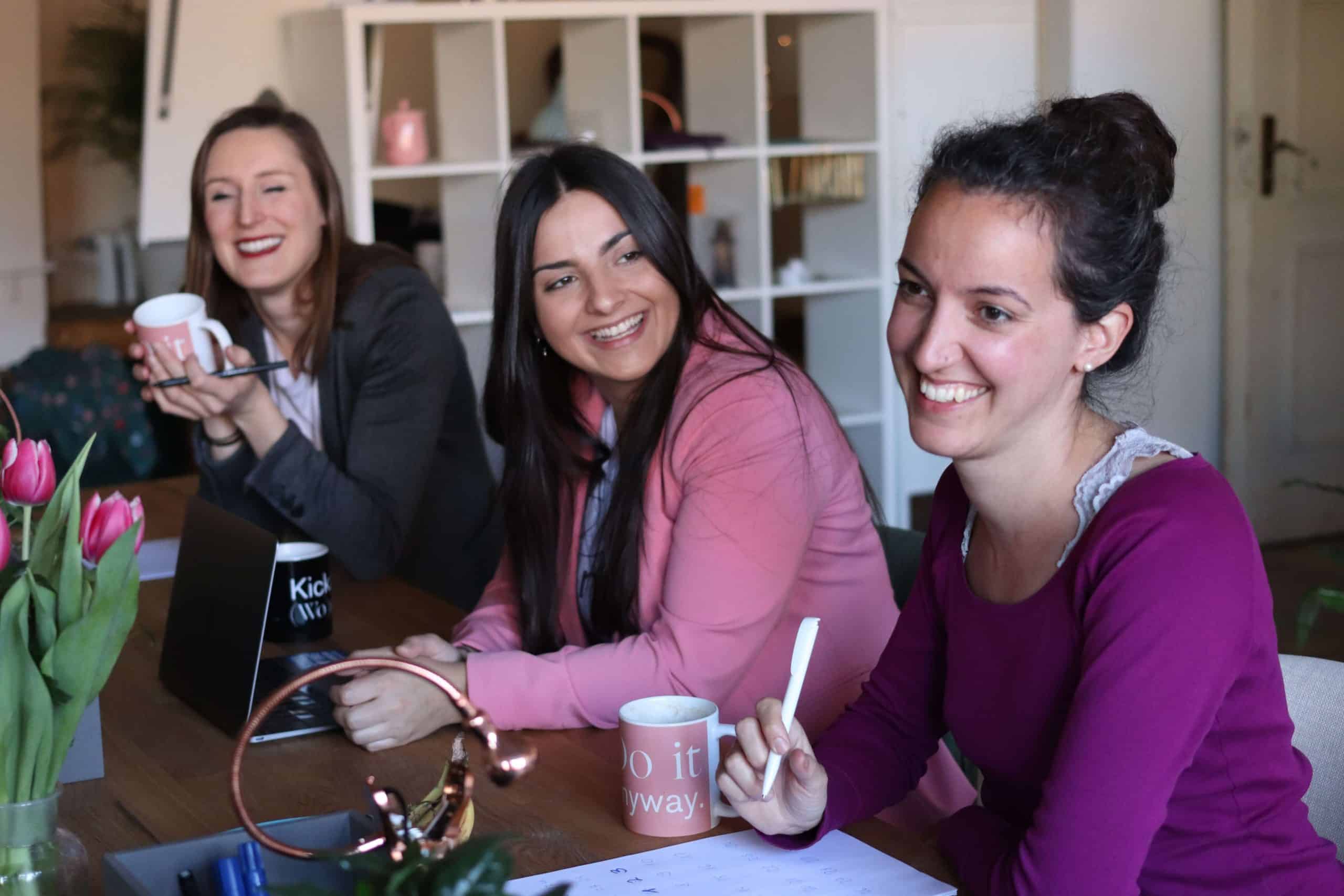 If you want to learn how to grow in faith and get more from your relationship with God than just going to church week after week, you may wish to consider mapping out a spiritual growth plan.
Rock Solid Faith doesn't just happen over night. If you want to grow your faith, you have to work hard at it. Just as we carve out time to spend with that individual we are crushing on to get to know them better or to grow your marriage, to grow your faith you need to carve out time to spend with God. You grow your faith by spending time with God and through life experiences that really test your relationship with him.
The small intentional steps you take daily can help you develop a more resilient faith overtime.
If you are ready to be proactive to grow your faith this year, here are 11 innovative ways you can do just that along with some growing in faith bible verses.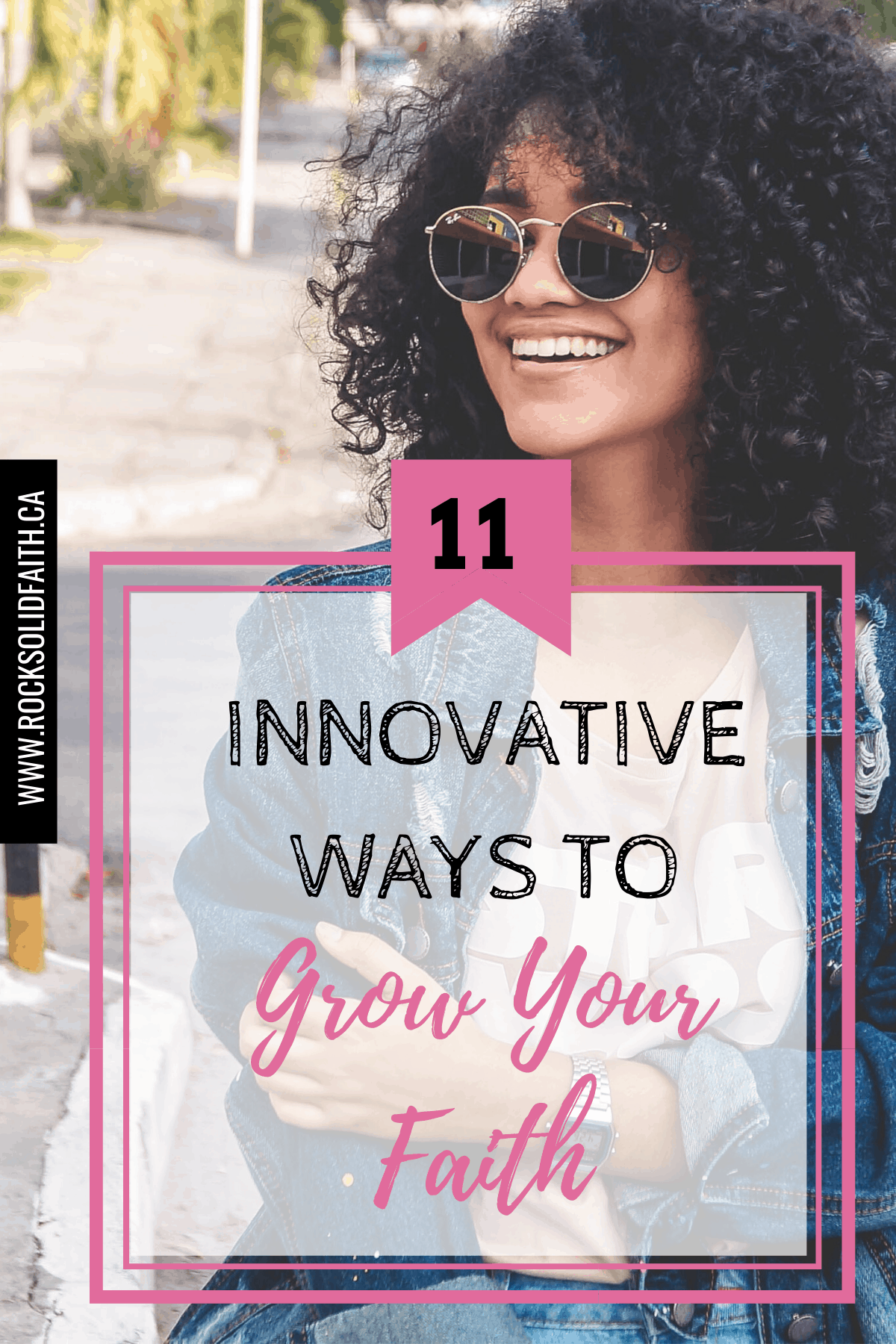 This post may contain affiliate links. You can read my full affiliate disclosure here.
What Is Faith?
Faith is believing in an outcome even though you have no idea how it will come to fruition. For many young adults, it might be enrolling in college with no idea how you will pay your tuition fee, but you are choosing to trust in God that he will work a way out for you.
For moms, it might simply be that God will cure your child from that ailment that he or she has been struggling with for months. Whatever your struggle, faith is believing in the impossible. While I could opt for a dictionary definition of what faith entails, I particularly like the definition of faith found in the Bible.
" Now faith is the substance of things hoped for, the evidence of things not seen." Hebrews 11:1
How To Grow In Faith
Not too sure where to even begin when it comes to the Bible and growing your faith? Spending time with God and growing in faith doesn't need to be complicated. Here is one method you could try: start off your quiet time with prayer and then read a passage (there are lots of scripture writing plans on Pinterest which you can choose from), chapter of the Bible or even a devotional.
Write out what you have learned from it or even how it applies to you.You can later then close off your time with God with a closing prayer. In my closing prayer I usually incorporate what I have learnt and ask God to help me apply this to my life. For example, if I read about patience, I would ask God to help me be a bit more patient daily. Start off with a simple practice like the above that works for you and you can later tweak this to fit your needs, adding other creative Bible study methods such as Bible Journaling.
11 Innovative Ways To Grow In Faith
In the same way we spend time each day to nourish our bodies, we also need to spend quality time with God, if we wish to see our spiritual lives flourish. If your goal is to grow your faith, nothing beats spending time in prayer and Bible Study. However, if you are looking for some fresh ways to grow in faith, here are 11 innovative ideas you can start implementing today!
Grow Your Faith Tip #1:  Start A Bible Journaling Life Group
A life group is simply a small group where you can connect with people who share similar interest as yourself, have fun, build friendships and explore Gods words together. Life groups can vary by age for example young adults to interest such as Bible Journaling to even life experiences like Divorce Care.
A great example of this is a local Creative Bible Journaling group run by  LeeAnn Fox of Kingdom Bloggers who also teaches Christian Bloggers how to rank on page one of Google.
Her life group meets regularly at a local restaurant, nothing fancy, where they have fun doing Bible Journaling and learning about God. Varied age groups are present as they connect over a similar interest of Bible Journaling.
A life group can serve as a creative way to witness to others. Just by the way you interact and the testimonies you share among each other, onlookers are able to see Jesus through you without you even witnessing to them directly. In the process you develop stronger friendships and grow together in Christ. Discuss this with your youth pastor or find a group of like minded individuals to start a life group with and watch as your faith grows. If you are struggling consider this becoming apart of this online group of women studying the bible together.
Grow Your Faith Tip #2: 

Ladies Night
Ladies Night Out doesn't have to be just about hitting up the town, spa trips or even shopping trips. It could be a time where you encourage your friends and pray over each other. You can use this time as an opportunity to share about what God has been doing in your life, as well as talk about books (be sure to check out our christian book reading challenge) or practices that you have started to do that have really helped you to flourish in faith. We are all better together!
It can be an opportunity to get godly advice on struggles that you may have or an opportunity to do a Bible study together as a group. A Bible Study meetup is a great lead into this if you are not sure how to get started. Be sure to schedule some Bible games and include lots of food for everyone. How are you helping your friends to grow in faith?
Grow Your Faith Tip #3: 

Bible Object Lessons
Not sure what to do after church? Why not organize a Bible object lesson? During the summer months, I look forward to afternoon strolls with my husband in the park after church where we use objects in nature to discuss what it teaches us about God. A fun way to not only share what we are learning but also be reminded of God's truths and his promises.
If you have kids, you can consider the book, 77 Fairly Safe Science Activities for Illustrating Bible Lessons. There are lots of science experiments which you can use to bring the Bible to life and bond together as a family in expanding and growing faith. Gary Chapman, author of the book The Five Love Languages, also recently came out with a book called 52 Uncommon Family Adventures: Simple and Creative Ideas For Making Life Long Memories that can help you really connect with your family without breaking the bank. All while helping you to keep your faith strong.

Grow Your Faith Tip #4: 

YouVersion App
I totally get it, mornings are hard. Sometimes, life gets crazy and that well intended quiet time with God becomes non-existent.
For seasons when life gets crazy, you can do creative things like:
Listening to a Christian Podcast while you do your chores.
Keep a christian book handy in your purse for moments when you have a few spare minutes waiting before your appointment
By downloading Bible Apps such as the YouVersion Bible App or Bible.IS, you can listen to an audio version of the Bible as you commute to and from work, during your lunch break or during another time slot through your day that works for you.
The YouVersion Bible App also has short simple devotionals which you can read in the mornings and then meditate on the main scripture verse throughout the course of the day. No one says you need to have a one-hour devotional time; it could be 10 mins or even 5 minutes. Just bare in mind that the effort that you put into the relationship, is the fruit that you will bare. Here are 20 Highly recommended YouVersion Bible Plans For Busy Mornings that you can start with!
Another way you could approach daily spending time with God is to daily do that short devotional time if that's all that you can fit in and then weekly devote a day where you spend time really digging into the word of God.
Grow Your Faith Tip #5: 

 Phone Wall Papers
How many times a day do you reach for your phone?  Not a trick question, but am sure way more than you care to admit. Whether it be to make a call, check emails or even scroll through social media. We are constantly connected to our devices. Why not use this as an opportunity to help you memorize scripture?
"Thy word have I hid in mine heart, that I might not sin against thee" Psalms 119:11
Choose a theme verse for the month, find a cute graphic that matches your style and then download and save it as your locked phone wallpaper. By the end of the month, you would have been well acquainted with the verse and able to recite it from memory. You can design your own phone wallpapers using these cute phone templates from Canva or you can also download these beautiful Phone Wallpaper packs from the Ten Commandment Co.
Related Read: 5 Incredible Tips on Learning How to Pray Powerfully
Grow Your Faith Tip #6:   Use Your Planner
How about putting that shiny new planner to work? If you you use the Hope Fuel Planner, it can help you to remember to spend time in the word of God, in the same way that you spend time organizing tasks or appointments.
The Hope Fuel Planner includes a daily section for scripture writing or journaling to help you stay on top of not only your to do list but your time with God as well.
Grow Your Faith Tip #7:

Christian Subscription Boxes
Not only does christian subscription boxes make awesome gift ideas. Its a great way to get spiritually enriching content such as daily devotionals and christian books delivered right to your door. It is also a way for you to give back to your community. Proceeds from each subscription boxes such as Faithbox goes to help a variety of charitable organizations around the world. Each month you can eagerly anticipate what your FaithBox has in store to help you grow in faith.
Grow Your Faith Tip #8: Serve In Your Community / Local Church
Giving back to your community is a great way to exercise your faith. Here is what the Bible has to say about faith and deeds. "What good is it, my brothers and sisters, if someone claims to have faith but has no deeds? Can such faith save them? Suppose a brother or a sister is without clothes and daily food. If one of you says to them, "Go in peace; keep warm and well fed," but does nothing about their physical needs, what good is it? In the same way, faith by itself, if it is not accompanied by action, is dead. But someone will say, "You have faith; I have deeds."
"Show me your faith without deeds, and I will show you my faith by my deeds. You believe that there is one God. Good! Even the demons believe that—and shudder. You foolish person, do you want evidence that faith without deeds is useless? Was not our father Abraham considered righteous for what he did when he offered his son Isaac on the altar? You see that his faith and his actions were working together, and his faith was made complete by what he did."
"And the scripture was fulfilled that says, "Abraham believed God, and it was credited to him as righteousness,"and he was called God's friend. You see that a person is considered righteous by what they do and not by faith alone. In the same way, was not even Rahab the prostitute considered righteous for what she did when she gave lodging to the spies and sent them off in a different direction? As the body without the spirit is dead, so faith without deeds is dead." James 2:14-26

Grow Your Faith Tip #9:

Bible Games
Playing games is as much fun for adults as for kids. Instead of reaching for the TV remote after church, why not get your family and or friends together and play some Bible games. It takes the pressure off finding entertainment ideas and instead gives you the opportunity to build stronger relationships, as you laugh and have fun learning about Bible concepts. Here are some free printable Bible Games to start with or you can check out these Bible games on Amazon.
Grow Your Faith Tip #10:

Bake Through The Bible

 
I don't have kids, but I got really excited when I saw this book, Bake Through The Bible.  It contains, 20 Bible stories told in a simple and engaging style that takes your child through the whole story line of the Bible. Each story is supported by a a cooking activity to reinforce the concepts and cater to discussions. Bake Through the Bible is an exciting way to not only have fun bonding with your child but help them to grow their faith through exploration of the Bible.
Grow Your Faith Tip #11: 

Bible Bowl Competition
Raise you hand if you like competitions? I know I do! A Bible bowl is basically where teams compete against each based on a selected book or books of the Bible. Not only do you get bragging right if your team wins, but you get to have fun, make friends , memorize scripture and learn more about God in the process.

You can consider starting a friendly Bible bowl within your church or with a district of churches in your community. You can learn more about starting your own Bible bowl here.
Growing In Faith Bible Verses
The Bible has a lot to say about faith. The following Bible verses about growth in faith have all been taken from the King James Version.
Short Bible Verses About  Growing In Faith
"And all things, whatsoever ye shall ask in prayer, believing, ye shall receive. Matthew 21:22"

"For with God nothing shall be impossible." Luke 1:37

" For we walk by faith, not by sight. 2 Corinthians 5:7

"God is our refuge and strength, a very present help in trouble." Psalms 46:1
Bible Verses About Faith In Hard Times
"But without faith it is impossible to please him: for he that cometh to God must believe that he is, and that he is a rewarder of them that diligently seek him. Hebrews 11:6"

"And Jesus answering saith unto them, Have faith in God. For verily I say unto you, That whosoever shall say unto this mountain, Be thou removed, and be thou cast into the sea; and shall not doubt in his heart, but shall believe that those things which he saith shall come to pass; he shall have whatsoever he saith. Therefore I say unto you, What things soever ye desire, when ye pray, believe that ye receive them, and ye shall have them. Mark 11:22-24"


" Trust in the Lord with all thine heart; and lean not unto thine own understanding. In all thy ways acknowledge him, and he shall direct thy paths." Proverbs 3:5-6
Bible Verses About Faith And Trust
"And Jesus said unto them, Because of your unbelief: for verily I say unto you, If ye have faith as a grain of mustard seed, ye shall say unto this mountain, Remove hence to yonder place; and it shall remove; and nothing shall be impossible unto you." Matthew 17:20

"But without faith it is impossible to please him: for he that cometh to God must believe that he is, and that he is a rewarder of them that diligently seek him." Hebrews11:6

"Above all, taking the shield of faith, wherewith ye shall be able to quench all the fiery darts of the wicked. Ephesians 6:16

"For by grace are ye saved through faith; and that not of yourselves: it is the gift of God:" Ephesians 2:8

" Be careful for nothing; but in every thing by prayer and supplication with thanksgiving let your requests be made known unto God.  And the peace of God, which passeth all understanding, shall keep your hearts and minds through Christ Jesus. Finally, brethren, whatsoever things are true, whatsoever things are honest, whatsoever things are just, whatsoever things are pure, whatsoever things are lovely, whatsoever things are of good report; if there be any virtue, and if there be any praise, think on these things." Philippians 4:6-8

Bible Verses About Growing In Faith
"The Lord is my rock, and my fortress, and my deliverer; my God, my strength, in whom I will trust; my buckler, and the horn of my salvation, and my high tower."  Psalms 18:2

"I can do all things through Christ which strengtheneth me."Philippians 4:13

"My flesh and my heart faileth: but God is the strength of my heart, and my portion for ever." Psalms 73:26

"And we know that all things work together for good to them that love God, to them who are the called according to his purpose." Romans 8:28

"There is no fear in love; but perfect love casteth out fear: because fear hath torment. He that feareth is not made perfect in love. We love him, because he first loved us." 1 John 4:18-19

Bible Verses About Faith And Healing
"Heal me, O Lord, and I shall be healed; save me, and I shall be saved: for thou art my praise." Jeremiah 17:14

"Confess your faults one to another, and pray one for another, that ye may be healed. The effectual fervent prayer of a righteous man availeth much." James 5:16

"Fear thou not; for I am with thee: be not dismayed; for I am thy God: I will strengthen thee; yea, I will help thee; yea, I will uphold thee with the right hand of my righteousness." Isaiah 41:10

"And the prayer of faith shall save the sick, and the Lord shall raise him up; and if he have committed sins, they shall be forgiven him." James 5:15
How Are You Planning On Growing In Faith This Year ?
Growing in faith requires being intentional, what are some ways you are choosing to grow in faith this year. I would love to know your favorites from the list above.
Additional Articles You May Like
Bible Journaling For Beginners
How To Study The Bible For Yourself
The Top 10 Most Powerful Books On Prayer & Fasting
How to Boost Your Prayer Life With A Prayer Notebook