The Best Christian Subscription Boxes For The Whole Family
Stumped on what to buy for that special one in your life?
Why not consider Christian subscription boxes? Beauty subscription boxes have been the rage for years but now, there are subscription boxes available for pretty much every interest imaginable.
Each month your recipient will receive religious boxes with faith inspired books, devotionals and products geared towards helping them grow their relationship with God.
Consider treating yourself to one of these christian subscription boxes for women or gift it to that special one in your life. Its the gift that keeps on giving month after month!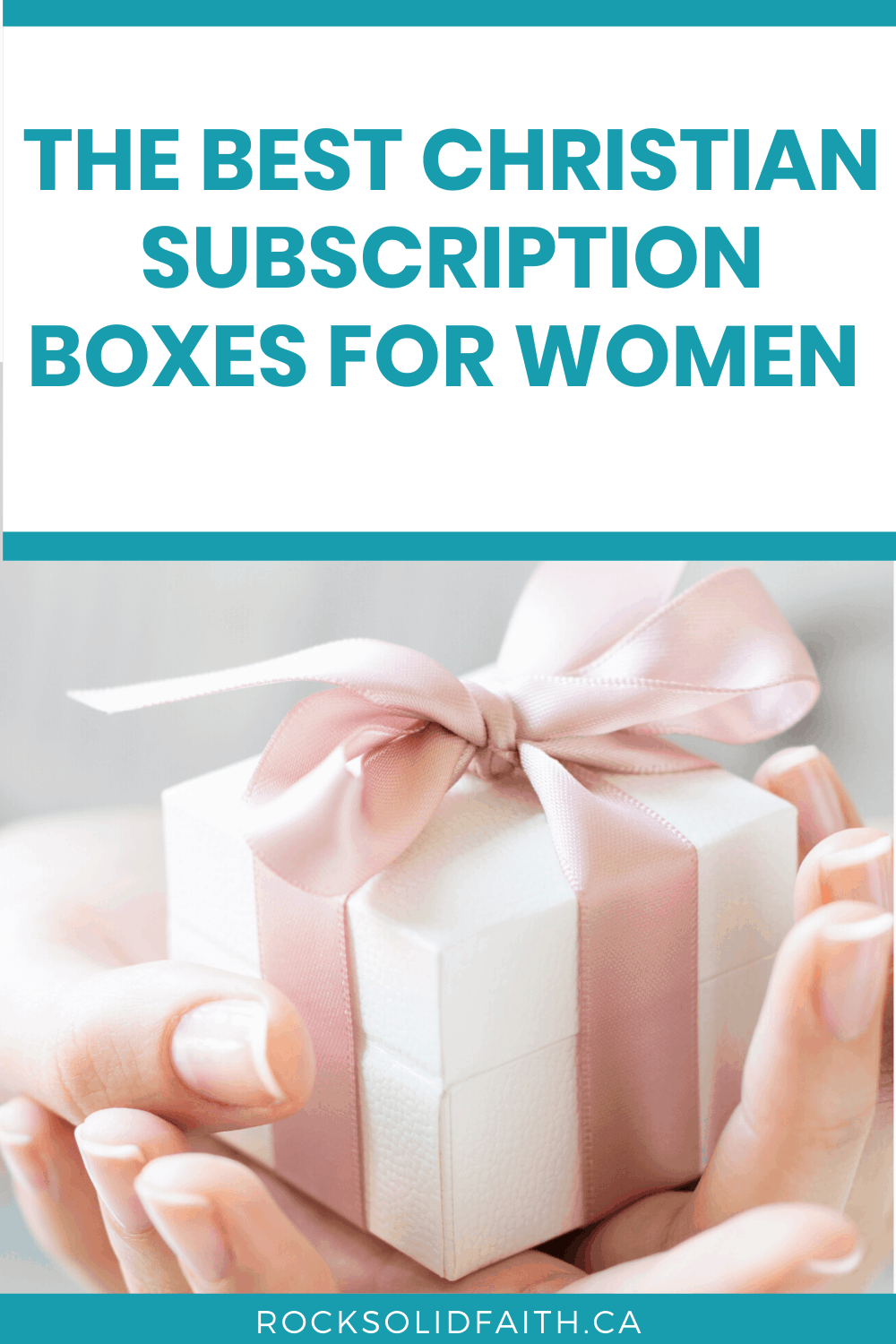 This post may contain affiliate links. You can read my full affiliate disclosure here.
What Are Christian Subscription Boxes?
A subscription box is simply a box that you subscribe to that fits a particular theme, for example: beauty, fashion, food etc. For as long as your subscription remains active, you get a box delivered to your doorstep each month. Christian subscription boxes typically include, devotionals, books, alongside other inspirational products.
With a faith subscription box, you can eagerly await each months new arrival filled with a curated list of products to help you grow closer to God. Religious subscription boxes delivered right to your doorstep!
Best Christian Subscription Boxes
Whether you are looking for the perfect gift or simply to treat yourself, we have rounded up the best monthly christian subscription boxes to encourage and inspire you and your family. Try one of these christian themed subscription boxes!
#1 FaithBox Christian Subscription Box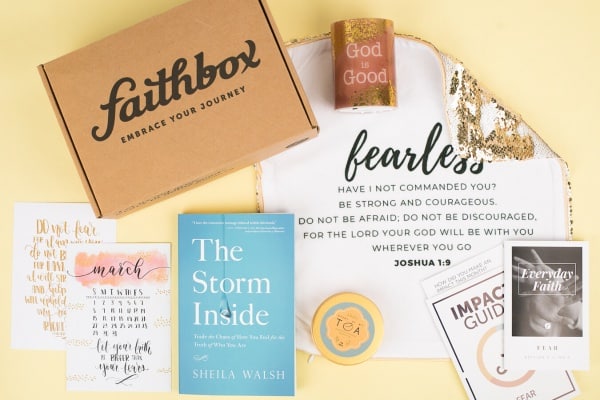 FaithBox is a prominent christian living subscription box which has been around for a few years now and one of the best christian monthly subscription boxes around. Each faith box subscription is focused on helping people to strengthen their relationship with God. Included is their Everyday Faith devotional which they publish new every month. Also included in these faith boxes are hand picked items from christian companies such as: jewelry, accessories, christian books, art and decorations. This is one of the best spiritual subscription boxes on the market.
Christian Subscription Boxes For Children
Do you have little ones? Consider these christian subscription gift boxes for kids that offer faith filled encouragement.
#2 Godly Girlz Christian Subscription Box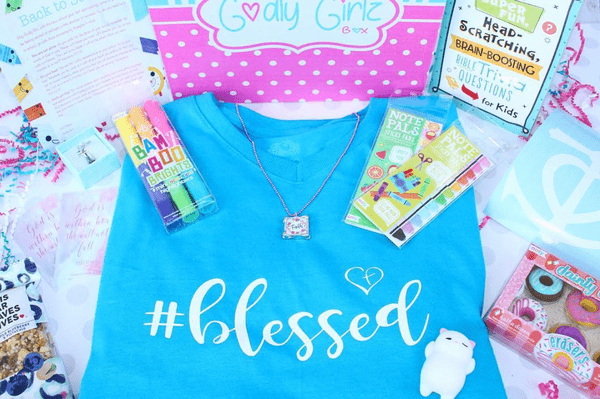 The Godly Girlz Subscription Box is a fun faith filled box with christian encouragement geared towards girls ages 8-12. It ships every two months and includes christian and inspirational products, fashion accessories, devotionals, crafts, etc. This makes a great gift for your child or grandchild. Plus proceeds from each box helps to feed hungry children through the charity Food For The Poor.
#3 HelloBible Christian Subscription Box
As parents, we want to instill christian values in our kids, which is where christian monthly subscription boxes can help. As parents, with so much on our plates, having done for you activities is a total life saver, which is why I love HelloBible. Each box provides a Bible story book, keepsake craft projects and fun activities. Explore a monthly Bible story together with your child. Parent guides are also included to help you execute the activities. They have boxes for kids ages 5-10 as well as junior boxes for those ages 3-5. For each box they ship, they donate to The Kilgoris Project which provides education for kids in Kenya.
FaithBox Christian Subscription Boxes
Faith based subscription boxes especially for new believers to grow in faith.
#4 Faith on Fire Christian Subscription Box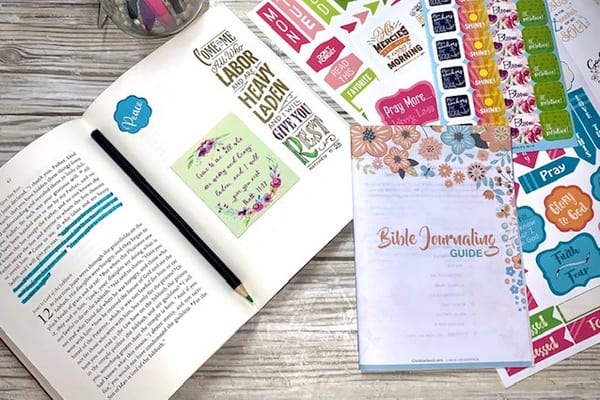 Looking for ways to grow and share your faith? Consider the Faith on Fire Christian Subscription box. Included in the monthly boxes are books, Bible Studies, and devotions. Also included are hand crafted t-shirts, artwork, scripture cards or a mug. All of the products are geared towards helping you learn about God's love and grow as a new believer. You even have shareables each month to give to your friends, neighbors or even your co-workers. A spiritual subscription box that keeps on giving.
Self-Care And Healing Christian Subscription Boxes
Want the gift of joy, faith and fun? Consider these faith themed self-care christian girl subscription boxes or this 30 day spiritual self-care challenge to help you decrease overwhelm.
#5 Soul Kandy Christian Subscription Box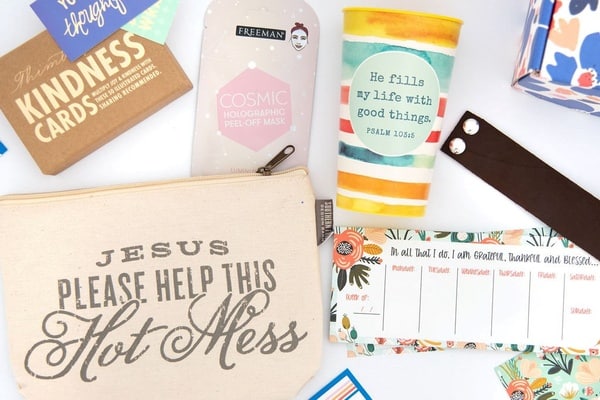 Soul Kandy is a faith themed self-care box. The items are careful selected to bring you joy faith and fun each month.  The box was createed as a monthly reminder to women to prioritize their self-care. What I really love about this box is that you can forego a month and gift it to someone else. Perfect for birthdays or a spur of the moment gift to offer some encouragement to a woman in your life.
#6 Divine Val-YOU Christian Subscription Box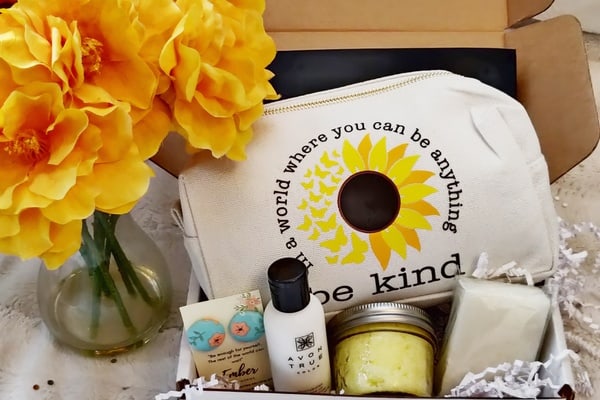 Divine Val-YOU is a self-care box to help you value yourself the way god sees you. Each box is filed with 3-5 self-care along with faith-based encouragement products.Designed to help you recharge from overwhelm.
#7 UpBox Christian Subscription Box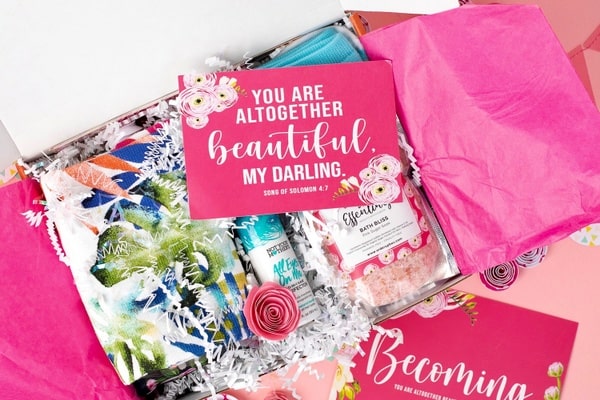 UpBox is a box aimed at inspiring your spiritual and self-care journey. Each spiritual subscription box has a faith-based theme and includes products such as:cards, yummy treats, bath+body, beauty, home goods and accessories. All products are vegan and cruelty free with proceeds from the sale of each box going to support women rehabilitating their lives.
The Best Monthly Christian Subscription Boxes For Women
Christian based monthly subscription boxes to help nourish your faith.
#8 Faith on Fire Christian Subscription Box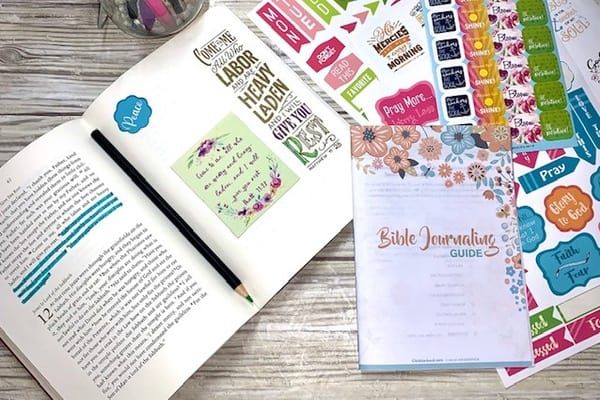 If you are looking for ways to grow your faith and share it with those around you through books, bible studies and devotions, then Faith On Fire is for you. Each monthly box includes: shareables, art work, hand crafted t-shirts and scripture cards. A lovely monthly bible study subscription box to help you grow in faith.
#9 Fulfilled After 50 Christian Subscription Box
Do you know a christian woman that's 50+? Then Fulfilled After 50 – A Box of Purpose is for that special christian woman in your life. This christian box includes: T-Shirts, Journals,self-care products, devotionals and recipes. Also included are monthly training sessions from experts such as nutritionist, life coaches, fashion consultants etc. A lovely gift for grandparents whatever the season!
#10 The Believers Box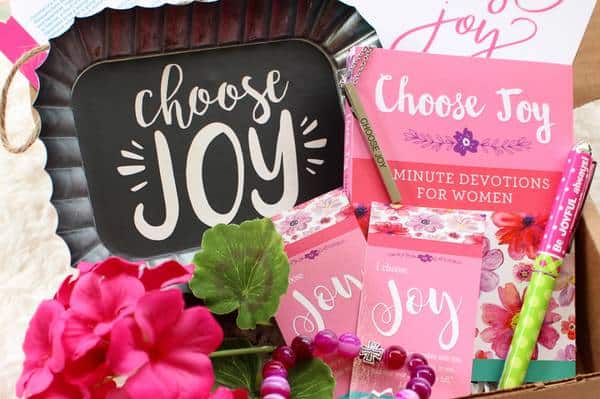 The Believers Box is for christian women who believe in giving back. For every box that ships, they donate a meal to Food For the Poor. Items curated for the boxes monthly are sourced from women owned small businesses. By purchasing a box, you help to feed the less fortunate as well as support small businesses. In each box, you will get a frameable print, jewelry, scripture cards as well as beauty, wellness and lifestyle items. You will also get 3-5 inspiring T-Shirts per year.
#11 Bette's Box of Blessings Christian Subscription Box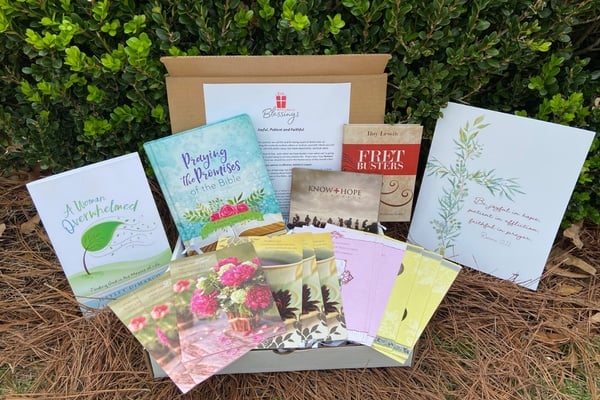 Bette's Box of Blessings is a subscription box filled with premium gifts to help you share your love, faith and God's word. Each box is built around an encouraging theme. The Bette box past boxes have included themes such as: Powerful Prayers, Be Still, and wisdom.
#12 Butterfly Box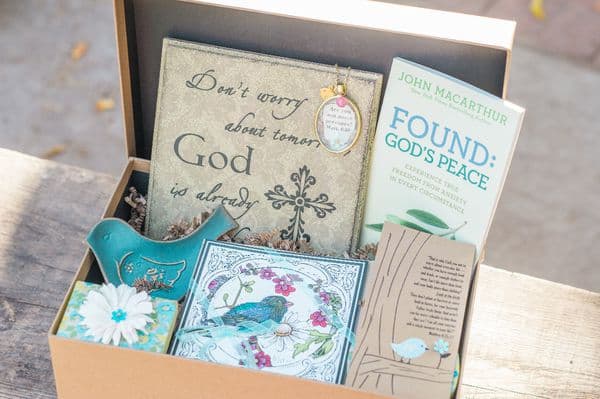 As Christians we should be connecting with God daily. The Butterfly box was designed with this in mind. Each box is curated to help you reclaim your quiet time and build your intimacy with God. Included are a mixture of items such as: jewelry, artwork, books, decor, personal pampering items, and scripture cards to share.
#13 Loved + Blessed Christian Subscription Box
Looking for a monthly box of encouragement to help you grow in faith and uplift your spirits? Then the Loved + Blessed subscription box is for you. Included are life application workbooks to help you grow in faith and put the word in action, along with stickers, the ultimate bible journaling subscription box accessory. They also have a membership library where you can access previous video lessons as well as workbook. This is a lovely bible study subscription box to help you grow in faith.
#14 The Delilah Christian Subscription Box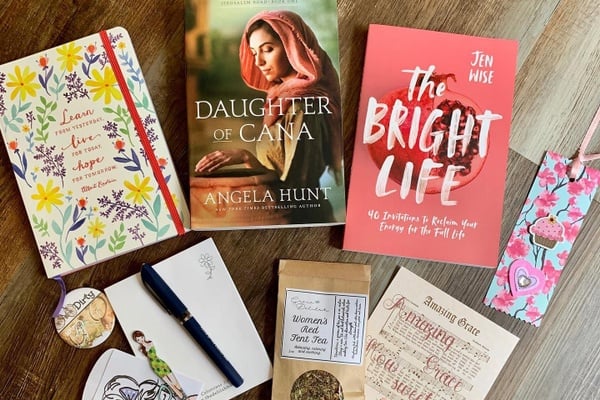 Are you intrigued about learning about lesser known Women of the Bible? If yes, then The Delilah Box is for you. The Delilah Box, is a christian book club geared at helping women grow in faith through monthly curated books and Bible study resources. Each women they choose a questionable woman of the Bible to explore. When you subscribe you will get books, a study brochure along with an assortment of 2-3 items that could include tea, candles, Bible journaling, jewelry and accessories.
Christian Book Subscription Boxes For The Book Lover
Christian book subscription boxes for the avid reader. Get new books delivered to you every month. Get some friends together and start a christian book of the month club.
#15 Truly Yours Book Club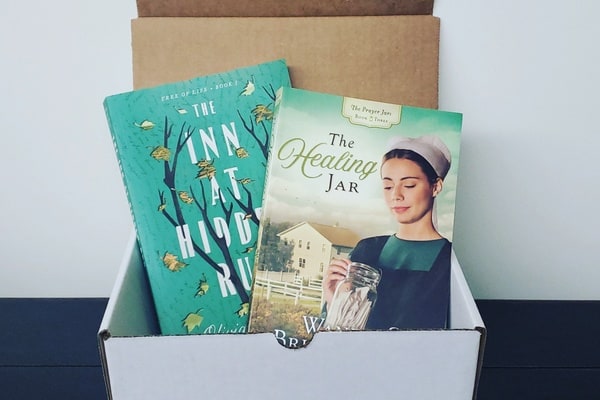 Are you a fan of christian fiction? A faith and fiction book box may be the ideal solution. Get them delivered right to your doorstep with the Truly Yours Book Club. If you are looking for cheap christian subscription boxes, this is it. Get brand new christian fiction books every month for under $10. Includes: romance, amish, mystery and suspense genres. A lovely christian monthly box.
#16 Barbour Book Boxes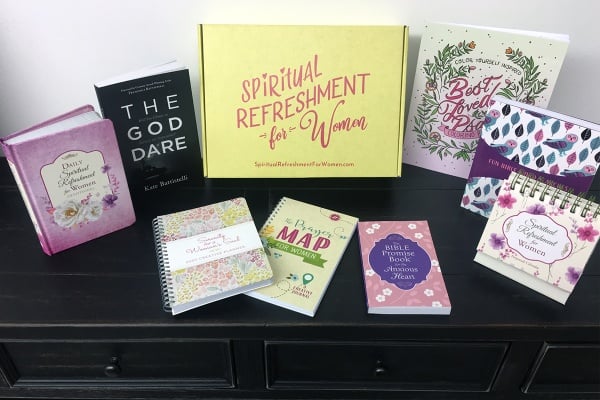 Barbour Book Boxes are touted as the box of choice for women looking for spiritual refreshment. The box typically include 6-8 books ranging from: devotionals, planners, coloring books, activity books, christian living books, cookbooks and more.
Family Bonding Christian Subscription Boxes
Faith themed activity subscription boxes to help you grow in faith together as a family.
#17 Faith and Family Christian Subscription Box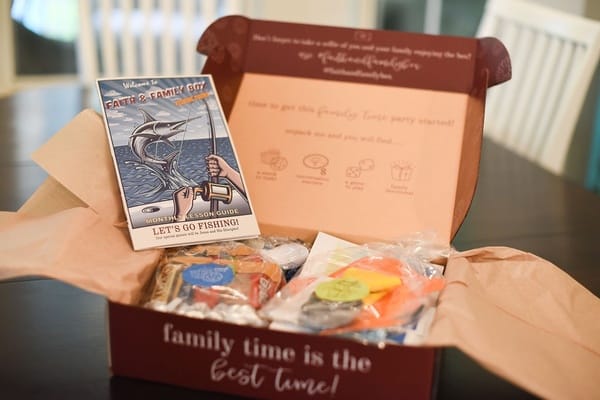 Create memorable experiences each month with the Faith & Family subscription box. Each box is curated with snacks, conversation questions, games, stickers, as wells as a themed family Bible Study. With the Faith and Family Box, you can effortlessly plan for monthly Family game nights where you bond together as a family.
Inspirational Christian Subscription Boxes
Perfect for a friend or family member who may need a reminder that they're loved or who needs a pick me up to brighten their day.
#18 InJoyBox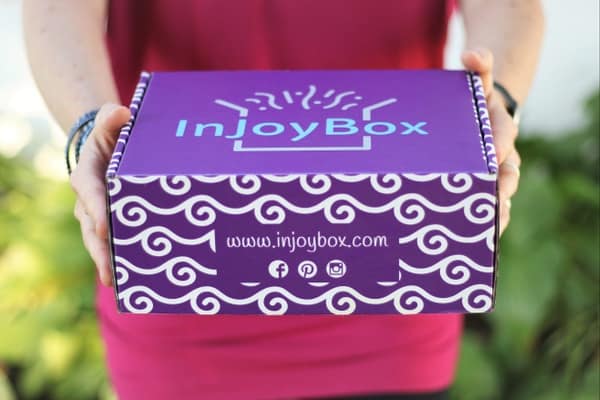 InJoy is a monthly encouraging care package that can help brighten your recipients day. Know someone that is hurting or going through a difficult time and you are just not sure what to say? The InJoy Box could be your solution. It includes handwritten notes of encouragement along with carefully selected fun and uplifting items. What's really cool about the InJoy Box is that it comes with one item personalized with the recipients name and each box gets prayed over prior to shipment.
Christian Subscription Boxes For Any Occasion
There you have it, the ultimate list of christian subscription boxes for the whole family! For even more subscription boxes visit Cratejoy, they are the ultimate destination for  quality subscription boxes. Also, if you join Cratejoy's newsletter, you can get 3o% off your first box. Share your favorite christian girl subscription boxes in the comments below. What are your favorite family subscription boxes and faith box subscriptions?
The Best Christian Subscription Boxes For The Whole Family
ADDITIONAL ARTICLES YOU MAY LIKE
10 Real and Relatable Devotionals For College Students
15 Exciting Devotionals For Couples to Do Together
10 Christian Coloring Books For Adults