STUCK ON WHAT TO GET HIM? FIND GIFTS IDEAS FOR GUYS IN THEIR 20's
So, you want to buy gifts for the young man in your life, but you aren't sure where to even start.
You want a gift that's memorable, thoughtful and something that he will totally appreciate.
But, when it comes to buying gifts for men, it can be difficult especially when he tells you he doesn't really care what you buy for him.
That doesn't help much does it? I know, I have been there. This year, I want to make your shopping experience as stress free as possible and provide you with gift ideas your man will definitely fall in love with.
Although this is written as a Christmas gift guide, you will find helpful gift suggestions that you can utilize all year round. Be sure to pin this post for later, so you can come back throughout the year to get ideas for birthdays, anniversaries, or ideas for a special gift picked up for him just because.
Get your credit card handy and let's go shopping! Let's dive into some ideas for gifts for guys in their 20's.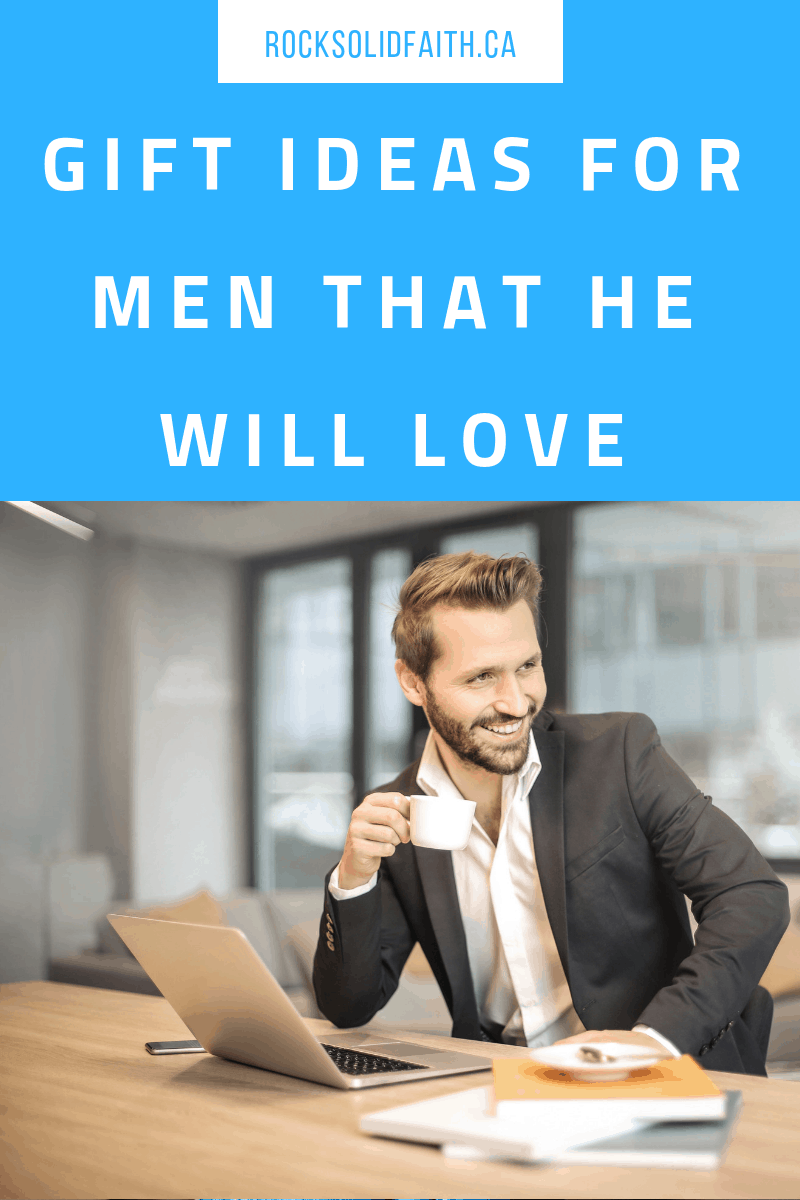 Disclosure: This post may contain affiliate links, which means we may receive a commission if you click a link and purchase something that we have recommended. While clicking these links won't cost you any extra money, they will help us keep this site up and running. Please check out our disclosure policy for more details. Thank you for your support!
What Is A Good Present For A Guy Friend?
When it comes to shopping for guys, you may be unsure what is a good present for a guy friend. Whether you are buying for a friend, spouse or a male figure in your life, here are some ideas to get you started. The following gift guide is a list of gifts for guys in their 20s.
Gifts For Guys In Their 20s
Gifts For Guys In their 20's: Drones
At some point you have likely seen a drone and have drooled over the lovely images that they have been able to capture. Those lovely overhead shots caught by drone flyovers. This year why not be the coolest gift giver in the room by giving your guy some high tech aerial toys? This FPV RC Drone  comes equipped with an adjustable wide angle HD WIFI camera and and a follow me mode that automatically follows you whenever you move. Check out all the other fabulous key features here.
Gifts For Guys In their 20's:Virtual Reality System
Virtual reality is on the rise and will likely become more mainstream as the years go by. Brands have already jumped on board by incorporating virtual reality in their marketing practices as a way for customers to experience their products. If your guy is a gamer consider getting him the Oculus Rift Virtual Reality System. The  Oculus Rift will take their game or movie  watching experience to a totally different level as they will feel as though they were actually there in the game or movie.
Gifts For Guys In their 20's:LEGO Set
Does your guy love to solve puzzles? Why not get him a LEGO set? You can go with a Star Wars themed LEGO set or consider gifting him a Porche with the LEGO Technic Porche model.
Gifts For Guys In their 20's:Tablet or E-Reader
Here is the thing, while there is nothing quite like touching the pages of an actual book, e-readers are way more convenient.  No need to juggle books from class to class instead he can load his books to an e-reader and have access to them 24/7. Plus, those extra savings he will have from purchasing e-books instead of hard copies can be spent on date night outs with you! Might I add, you will also save some trees in the process?
There are a variety of e-readers or tablets that you can purchase through Amazon but I particularly like the Kindle Paperwhite. Unlike tablets,Kindle Paperwhite is glare free and now waterproof! He can relax with friends at the pool and not have to worry about accidentally dropping it into the pool. This would make a great gifts for guys in their 20s.
Gifts For Guys In their 20's:
Amazon Echo

Finding Balance as a 20 something can often be a hit and miss as we try to navigate through adulthood. Why not give your guy a head start with his own virtual assistant?
I know they say millennial's are entitled and lazy but who doesn't like the idea of having a virtual assistant? Amazon Echo connects to Alexa and allows you to play music, make calls, set alarms and timers, ask questions, check your calendar, weather, traffic, and sports scores, manage to-do and shopping lists, control smart home devices, and more—instantly.
Gifts For Guys In their 20's:Amazon Fire Stick
Millennial's are moving away from cable and switching to streaming services. "A recent survey from videology found that just one-third of millennial males plan to pay for cable this year. That number is shrinking as millennial's opt to cancel cable subscriptions." If your guy just moved into his new apartment you could consider purchasing a big screen TV  for him to watch his games on with his friends or get him an Amazon Fire Stick. The Amazon Fire Stick allows you to start streaming in minutes. It's an easy way to access content from Prime Video, Netflix and over 4,000 apps and games. Plus, access millions of websites such as YouTube and Facebook.
Gifts For Guys In their 20's:Apple Airpods
For the Die-hard Apple fans we love our iphones, our Macbooks , ipads and the Applewatch. For the guy that is totally into Apple products you can complete his collection by purchasing Apple Airpods, a Bluetooth headset for iphones.
We all love having the latest new gadgets released from Apple! You can purchase them directly from Apple's website but they are also available on Amazon.
[bctt tweet="Looking for gift ideas for him? Check out these awesome gift ideas for men. " username="faith_solid"]
Gifts For Guys In their 20's:Selfie Stick & Tripod
I think its time for a short shopping break don't you think? But first, let me take a selfie. The perfect gadget to up your selfie game is a Wireless Selfie Stick Tripod With Remote – I recently purchased this for myself and I am loving it. It functions as a selfie stick which you can utilize to take selfies. It allows comes with a tripod which can be used for group photos. No more asking a total stranger if they can take a group shot for you.
Gifts For Guys In their 20's:Activity Tracker
For an active guy, you want a product that will help him to keep track of his daily activity levels. What better way to do that than with an activity tracker? For the active guy, you could get an activity tracker which measures calorie burn. A Fitbit would make a great gift for a guy that is into fitness.
Gifts For Guys In their 20's:Cologne Gift Set
This is usually my default when I am unsure what to get for my man. You can't go wrong with purchasing a cologne gift set. Here are some of my husband's favorites: Yves Saint Laurent La Nuit De L'homme and Dolce & Gabbana Light Blue. There is also a female Dolce & Gabbana Light Blue version as well and I absolutely love it!
You can always pair the cologne gift set with a dress shirt,or suit a nice pair of shoes or even a statement watch. This makes a nice accompaniment for the working guy.
Gifts For Guys In their 20's:GoPro Camera

For the adventure seeker, consider purchasing him a GoPro Camera to capture awesome shots of all his adventures.  The GoPro Camera  helps him to capture everyday experiences from a totally creative perspective. This would make great gifts for millennial guys.
Gifts For Guys In their 20's:Archaeology Study Bible
If you guy is religious, consider buying him an Archaeology Study Bible. This is actually what I am planning on buying for my husband this year. Hopefully he doesn't read this post! He is intrigued by facts and I think this will make a great accompaniment to his bible study. The Archaeology Study Bible adds another dimension to your Bible Study. It includes maps and photographs as well as documents archaeological discoveries which align with the section of the Bible that you are reading. I am excited about this gift and can't wait for him to dive in!
You can choose to pair this with some christian Apparel or christian accessories. Readers of this blog can get a special 20% discounts on purchases made through Aligned Blessings, just use coupon code: shanique20. Plus, each purchase made through their website helps a child receive a permanent home with the support of the Christian Adoption Agency.
[bctt tweet="Make a difference this holiday season. Get your youth group together and organize your own Shoe Box project, learn how." username="faith_solid"]
 Make A Difference This Season – Shoe Box Project
Hopefully thus far, you have come across a list of great ideas for gifts for guys in their 20s. Often when we think of gift giving, we think about giving gifts to our family and friends. The homeless and those in need aren't usually at the top of our list. Each year, the company that I work with, each employee pools together and individually pack a shoe-box which we then donate to a local woman's shelter.
This year, why not make a difference with your gifting? This makes a fun activity for your youth group, or to do together as a family or couple. Go shopping together, pack a festive box, add an inspirational card and drop them off at a local shelter or venue of your choosing. Not too sure what to pack in a shoe-box? Here are some ideas: something warm (socks, scarf), something sweet (avoiding items with nuts or alcohol), cough drops, multivitamins, hand lotion, soaps, toothbrush, toothpaste, floss, brush, comb, shampoo, conditioner, lip balm, purse-sized Kleenex, gift cards, bus tickets, journals, pens, pencils, to name a few.
Give the Gift of Time
If you are still unsure what to buy this season, give the gift of time. Purchase event tickets or games that will have you spending time together with your family. Looking back on my childhood years, it wasn't necessarily the gifts I remembered the most but rather the experiences I shared with my family. This year, one of the best gifts you can give your family, is the gift of time.
Whether you are looking for birthday gifts for guys in their 20's or out of the box gifts for him, I hope you walked away with possible ideas of gifts for guys in their 20's.
Looking for more gift ideas, check out these other gift guides: Self-Care Gift Ideas For The Overworked Woman and 15+ Practical Gift Ideas For Christian Women.
I would love to hear from you, what's the best gift you have ever received and what made it so special?
Hi there! I'm Shanique, the founder of Rock Solid Faith. I am a multi-passionate millennial who loves helping others embrace their identity in Christ. On the blog, you'll find helpful Bible study tips to help you develop a deeper intimacy with God, biblical encouragement, christian living articles and so much more!