Christian Friendship Gifts Your Bestie Will Love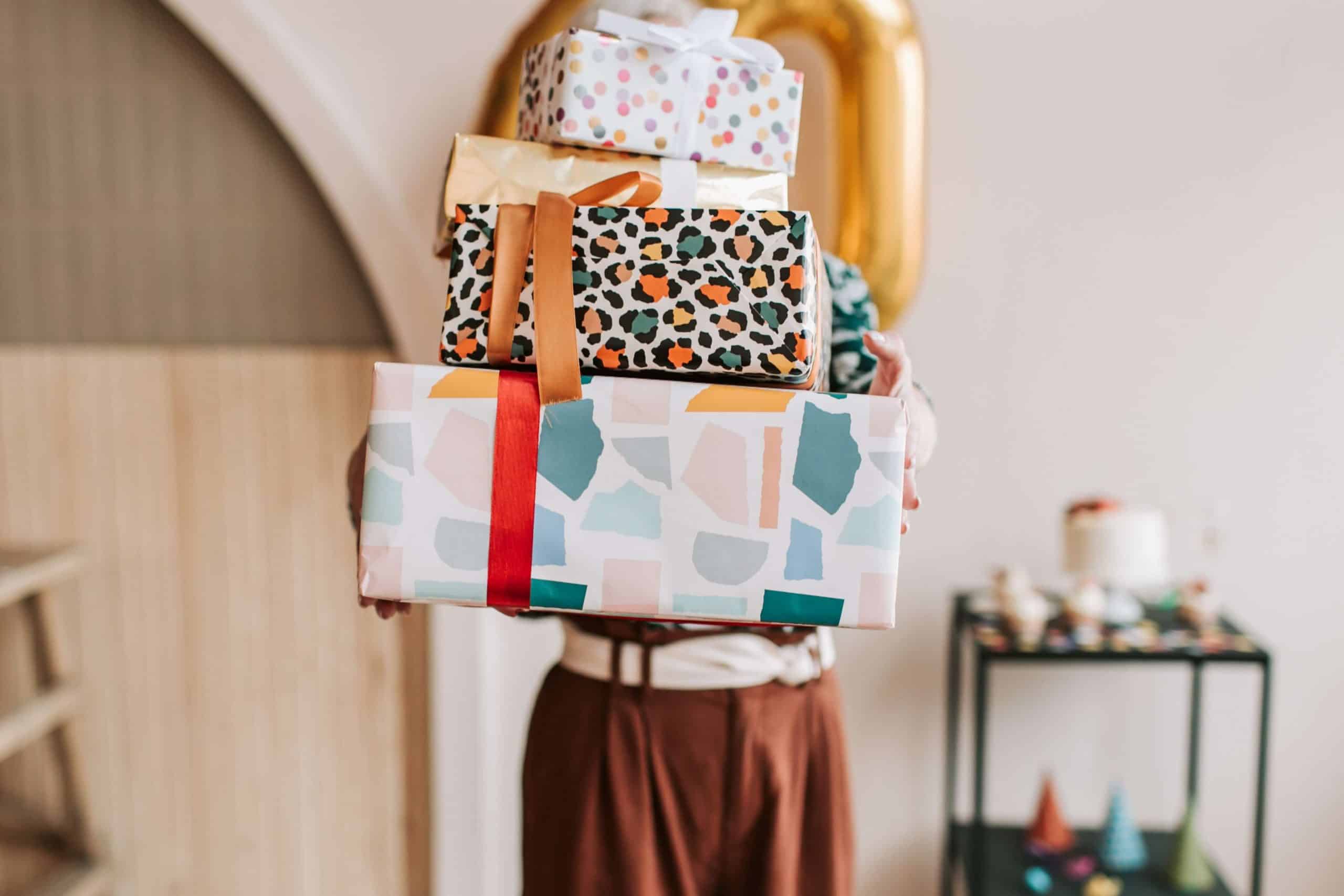 If you are looking for practical as well as thoughtful Christian friendship gifts then I have got a great line up of products for you.
When it comes to your Christian walk, having a plan as well as accountability can make a world of a difference in regularly spending time in God's word over haphazardly studying the Bible.
With this in mind, I have partnered with Erin Condren to give you some awesome ideas to help your friend prioritize their relationship with God. If you aren't familiar with Erin Condren, they are best known for their beautiful but also functional planning products.
Whether you are a budget savvy shopper or shopping for a friend who likes new releases, continue reading for some thoughtful Christian friendship gifts to gift this season.
This post may contain affiliate links. You can read my full affiliate disclosure here.
Christian Gifts For Friends
Christian friendship gifts are a great way to show your Christian friends how much you care. Whether it's for Christmas, Easter, or just because you want to make them feel special; there is something out there that will fit the bill perfectly.
As I come across unique Christian gifts throughout the year, I often save them to my favorites list on Amazon or to my Trello board. It comes in really handy when Christmas or a birthday event rolls around. By the way, have you heard of God's Fingerprint? This company is really unique – they make artwork for those who love God's Word. If you check them out, you will certainly see why this is a unique Christian gift.
What Is A Good Gift For A Friend?
Do you have a friend who is hard to buy for? Some people suggest gifting your friend something from their favorite store, while others might say the best gift ever is quality time.
These are all great options, but if you are looking for additional ideas, below we are sharing some thoughtful and practical gift ideas that you can gift your friends to help them in their spiritual walk.
Christian Friendship Gifts
This year, Erin Condren made it really easy to get multiple gifts checked off your list while snagging a gift or two for yourself. Right now they are having a huge 60% off sale. Its a great time to shop as you will definitely get more for your buck.
You even get free shipping on orders over $78, even more reason to snag a bunch of gifts for your friends and yourself too. Sorry my Canadian peeps, you will have to pay for shipping.
Here are the items that I purchased for myself and close friends from this years Erin Condren Holiday Collection:
Thoughtful Christian Friendship Gifts
The following are some thoughtful Christian friendship gift ideas from my recent Erin Condren Haul. By the way, here is a $10 gift card for you to spend on your first order when you sign up through my link.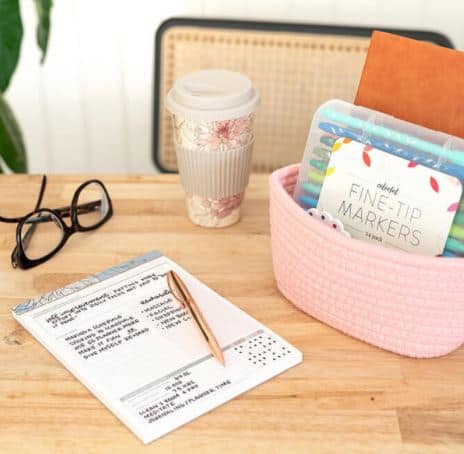 Wellness Gift Set – I adore this wellness gift set! It comes in a pre-packaged giftbox ready for gifting. The wording on the gift box reads, "each day is a gift, open it, celebrate it, enjoy it."
The pink basket found in this gift set makes for a great spiritual basket. It comes in handy for holding your devotional, a small Bible study notebook and pens and markers for Bible color coding.
Place the travel mug beside your spiritual basket as a reminder to spend time in God's word whenever you reach for your favorite beverage first thing in the morning. The gift basket also comes with a wellness notepad, great for keeping track of your wellness goals.
You could consider gifting this gift set with the New Morning Mercies Devotional or The Lipstick Gospel Devotional for younger age groups. And of course pair it with a cute Bible Study notebook!
Erin Condren also offers several gift sets in this years holiday collection to fit varied interests such as a: plant lovers gift set, travel gift set, kitchen gift set and a teacher gift set.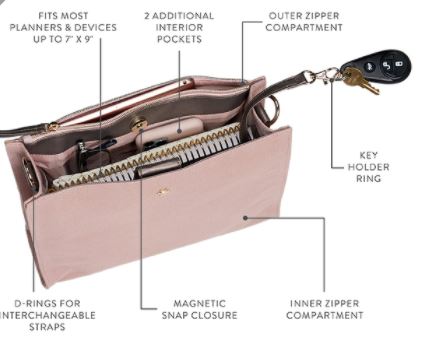 Mauve Canvas Crossbody Bag – This bag is really beautiful! You also have the option of customizing it with an interchangeable strap of your choosing. Great for adding a bit of personality.
When I ordered this, for some reason, I envisioned this bag being bigger. There website clearly states the dimensions however. Its an 11.5″ H x 10″ W x 3.25″ bag which still fits my She Reads Truth Bible although on the smaller side.
This would be great for stashing your phone, a small Bible study notebook, and a couple loose pens and markers for taking to your bible study group meetups. A Bible within the above dimensions will also fit.
Erin Condren does carry a bigger size tote that can fit a 13′ laptop so that may be an alternative if you are looking for a bigger size. The larger size tote also comes with a water bottle holder and comes in a few different colors.
I would pair this tote bag with a Bible. Here are several ideas to consider: best study Bibles for women, best Bibles for teens, best Bibles for kids, best large print Bibles.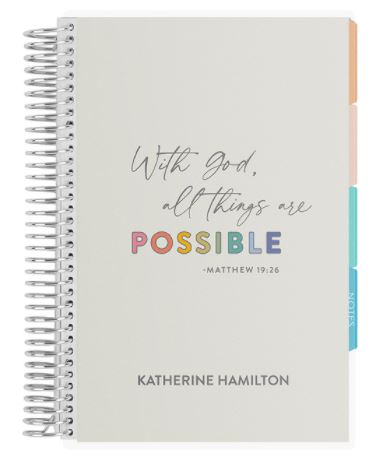 Daily Christian Faith Journal – This is another gift from my haul that I absolutely love! The only downside to it is that it's a 3 month journal. But on the plus side that means it's relatively easy to travel with as it's lightweight.
It includes space for daily reflection, prayer and gratitude alongside space for sermon notes.
There are monthly reflection pages as well as check in prompts to gauge how you are progressing in your spiritual walk. The check in prompts is my favorite aspect of this journal. Monthly I am able to reflect on what's working and what isn't and update my plans for the upcoming month.
They do have general faith journals as well if you have friends who are spiritual but not Christian. This journal would pair well with three of your favorite bible study books. If your friend is a new believer, you could consider the following bible study books. I would also include bible accessories such as pens, highlighters, tabs, and stickers. This accordion pouch would be a great option for gifting and storing them.
Personally I plan on using this journal with my Bible study group as we read the Bible through in a year.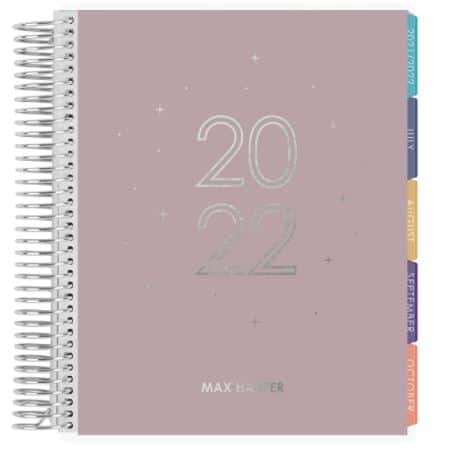 Bling On 2022 Monthly Planner – If you have been an avid reader of this blog, time and time again you will hear me say that having a plan is the key to success with daily Bible Study. This monthly planner would be great for keeping track of what topics or studies your friend plans to do each month.
If you are intimidated by how beautiful this planner is and don't want to spoil it, consider using sticky notes to list your appointments. If plans change just move them to a new location.
Another reason why I love the monthly spread is that if you are into scripture writing challenges you can list the verses you need to read each day for easy reference. So, if you have a friend that's into scripture writing, this would be a great choice.
Erin Condren also has a faith quote monthly planner. If you know your friends verse of the year or favorite verse and color you can truly customize the planner to meet their preferences. You could totally also opt for one of their life or weekly planners.
I would pair this with a Christian subscription box or an online Bible Study membership so they don't have to think about what they will study each month.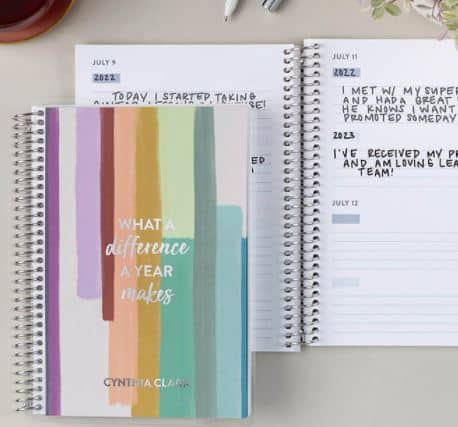 Year Over Year Journal – This has the space to record two things you want to remember from each day over two years. Great for faith journaling or practicing gratitude.
This would work well with any of the previous gifts mentioned above however I would pair it with a Soul Kandy Christian subscription box which makes a great faith themed self-care subscription box for your friend.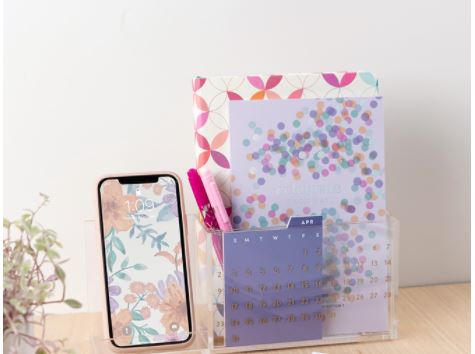 Acrylic Perpetual Calendar – This perpetual calendar is beautiful! If you have a friend who works in an office or works from home, this would make a great gift.
You can pair this with a devotional book that they can add to the organizer as a constant reminder to spend some time with God through out the course of the day.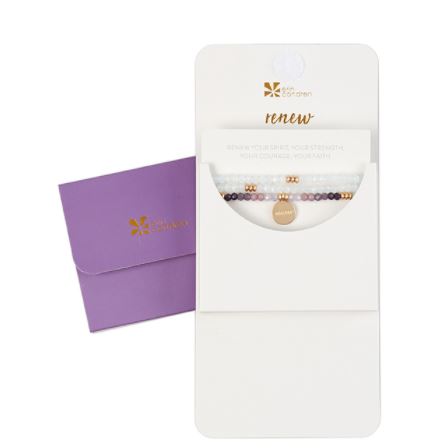 Renew Stackable Bracelet – This glass beaded bracelet with the words "renew" in metallic gold is a beautiful gift to encourage and uplift your female friends. Plus it doubles as a necklace too. Its a reminder to Renew your spirit, your strength, your courage, your faith!
Gifts For Christian Friends
I'm really happy with everything I got from Erin Condren. The new holiday collection from Erin Condren has a variety of items to help you find just the right friendship gifts. Don't forget to use my link for $10 off your first order.
Christian Friendship Gifts
If you are looking for thoughtful Christian friendship gifts, then I hope you found this gift guide helpful. These items can serve as wonderful Christmas present to encourage your loved ones throughout the holiday season! Which gift from my line up do you love the most?