Looking for the best devotionals for couples?  Setting a side time for daily or weekly Bible Study is one of the best ways to keep Christ at the center of your relationship.
However, finding the best devotionals for couples can be a challenge. There are so many daily devotionals for couples on the market, so where do you even begin?
With this guide, I have rounded up some of the most highly recommended devotionals for couples to help strengthen your relationship. So, check-out these couples devotional books and be sure to bookmark this resource for later.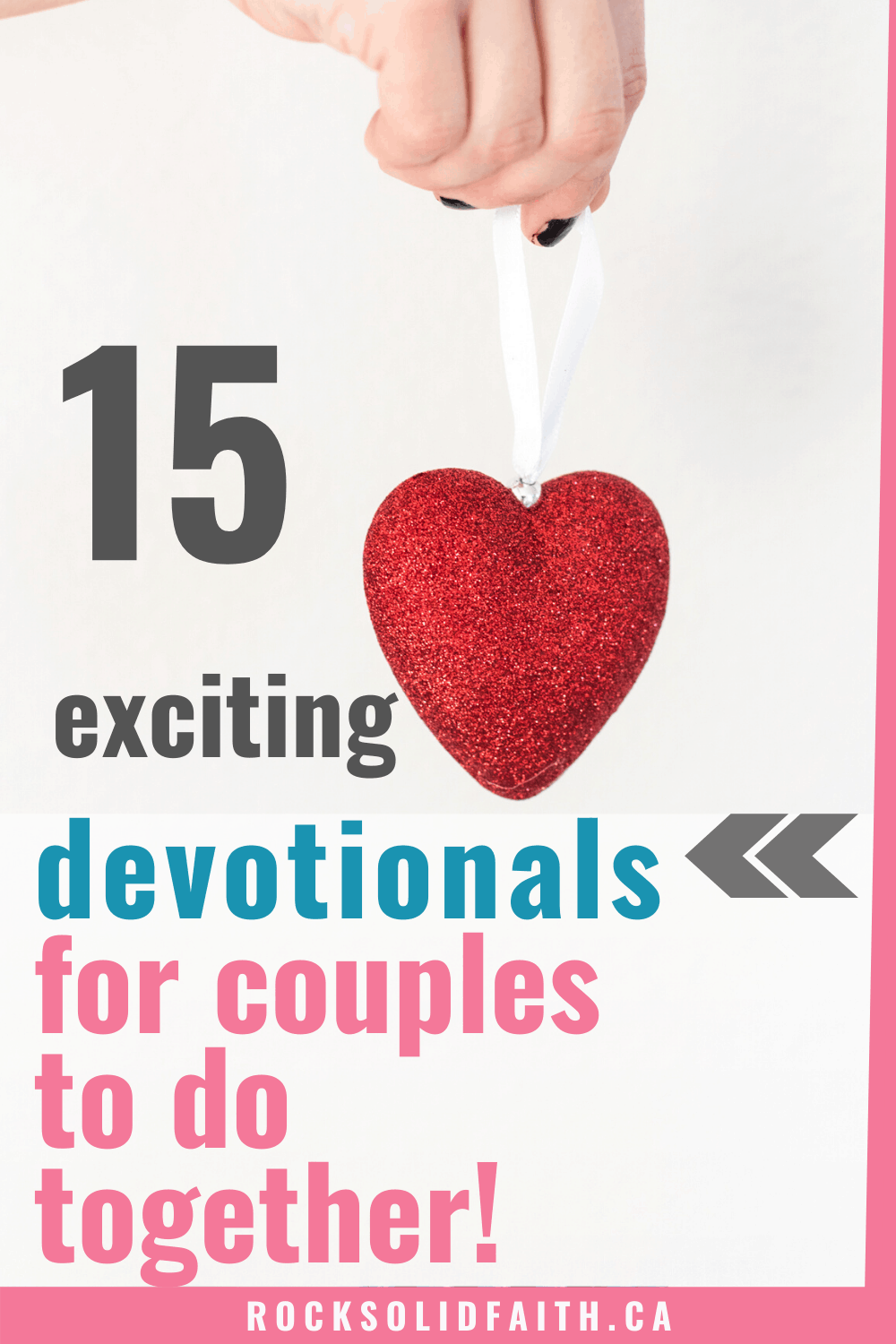 This post may contain affiliate links. You can read my full affiliate disclosure here.
15 Best Devotionals For Couples
Yes, I know this post is about the best devotionals for couples, but I am going to be the first one to tell you that you don't actually need a devotional.  The Bible is the best book to read together as a couple. My husband and I do this nightly, read a chapter of the Bible together. This has sparked lots of intense discussions, and has helped to keep us accountable and grow together spiritually.
However, if you want some encouragement and wisdom from couples who have been through some of the same issues you might be facing right now, give one of these couples devotional books a try.
Top Devotionals For Couples
New Morning Mercies: A Daily Gospel Devotional, 365 Gospel-Centered Devotions for the Whole Year. Mornings can be tough. Sometimes, a hearty breakfast and for others a strong cup of coffee just isn't enough. Offering more than a rush of caffeine, best-selling author Paul David Tripp wants to energize you with the most potent encouragement imaginable: the gospel.
Forget "behavior modification" or feel-good aphorisms. Tripp knows that what we really need is an encounter with the living God. Then we'll be prepared to trust in God's goodness, rely on his grace, and live for his glory each and every day.
Daily Devotionals for Couples
 The One Year Love Language Minute Devotional. Are you and your spouse speaking the same language? He sends you flowers when what you really want is time to talk. She gives you a hug when what you really need is a home-cooked meal. The problem isn't love―it's your love language. Each one of us responds well to a different type of expression of love. The One Year Love Language Minute Devotional is your daily guide for expressing heartfelt love to your mate in a way that he or she can appreciate it. Devotions for couples!
The Love Dare Day by Day: A Year of Devotions for Couples.
Love is a choice. A daily choice. The Love Dare Day by Day is a daily reminder of how it's done — and done well — taking the source material's original experience to the next level. With 52 weekly dares, this one-year devotional invites you to go deeper into the scriptural principles of The Love Dare and is meant to enrich your relationship with God and your spouse through a daily time of reading, prayer, and action.
Make this more than a year of your life. Make it your bold, next step to a lifetime of love. Features of this book include:
• 365 devotional readings on unique aspects of genuine love
• 52 weekly dares to help you express love in your marriage
• Dozens of specific prayers to pray for yourself and your spouse
• Questions to get you thinking strategically about your relationship
• More than 100 Go Deeper sections that enhance personal Bible study
Night Light: A Devotional For Couples
Now for the first time in softcover! Whether you're just married or are celebrating your golden anniversary, you need regular, quiet moments with your mate―times to renew love and intimacy with each other and with the Lord. Night Light, by Dr. James Dobson and his wife, Shirley, will help you do just that. This daily devotional offers the personal, practical, and biblical insights that have sustained the Dobsons' marriage for forty years and encouraged couples and families around the world. Let Night Light enrich your marriage too―tonight and every night.
Husband / Wife In Pursuit: 31 Daily Challenges
Will you take the 31-Day Pursuit Challenge?
Every marriage begins with purpose, passion, and intentional pursuit, but few marriages stay that way. Wife in Pursuit aims to help change that.
Over the course of 31 days, your marriage will be transformed as you dig into God's Word, rediscover how Christ has pursued you, and take real action to intentionally pursue your husband. In this book, you will:
Gain a deeper understanding of your identity in Christ
Apply the gospel to how and why you pursue your husband
Complete 31 "Pursuit Challenges" that turn gospel truths into real action
Have honest conversations, initiate intimacy, plan memorable dates, devise elaborate escapes, and explore small ways to show genuine affection
This book offers a gospel-centered, practical path toward loving your spouse well. Will you take the challenge? And if you do, dare you complete it?
Note: Couples are encouraged to take the 31-Day Pursuit Challenge together. There is a version for both wives and husbands.
BONUS: "50 CREATIVE DATE IDEAS" INCLUDED
The author has crafted a custom list of fun, creative, and unconventional date ideas (each with a twist) to help women in their pursuit of their husbands… just in case they need a boost of inspiration.
What is the true secret to spiritual growth for couples? Dennis and Barbara Rainey know from experience that the secret is more moments together. When you are lifting up your relationship and the rest of your life together to God, you won't be able to keep spiritual growth from happening. In the pages of Moments with You, the Raineys offer just what couples need to get started or to continue growing in their quiet times together. These short but poignant biblical devotions are enjoyable and easy to use, providing a daily discussion point, prayer, and Scripture reference. Married couples desiring a deeper spiritual connection with God and their spouses will come to treasure their time spent over Moments with You. For married couples of all ages and at all stages of life.
Bible Study For Couples
A Couples Guide to a Growing Marriage. Every marriage is a growing marriage. The real question is: are you growing closer together or further apart? If you're content with the latter, don't change a thing. However, if you desire the kind of marriage that keeps getting better, then you'll need to be intentional. This book will start you in the right direction.
A Couple's Guide to a Growing Marriage teaches you how to…
Invite God into the details of your life and marriage
Listen in ways that deepen intimacy and friendship
Understand your spouse and be understood
Keep your love fresh and mutually engaging
Manage conflict constructively, not destructively
In both private and shared-time exercises, you'll explore Bible study, prayer, and Scripture memory. You will learn how to have a brief daily sharing time with your spouse, and you will cultivate deeper friendships with others through group activities.
So much more than a personal and group study, A Couple's Guide to a Growing Marriage Bible Study will teach you to share your life more fully with God, and as your relationship with God deepens, so will your relationship as a couple.
For The Newlyweds
Marriage is great, but it's not forever. It's until death do us part. Then come eternal rewards or regrets depending on how we spent our lives.
Francis Chan joins together with his wife Lisa to address the question many couples wonder at the altar: "How do I have a healthy marriage?" Setting aside typical topics on marriage, Francis and Lisa dive into Scripture to understand what it means to have a relationship that satisfies the deepest parts of our souls.
Jesus was right. We have it all backwards. The way to have a great marriage is by not focusing on marriage. Whether you are single, dating or married, You and Me Forever will help you discover the adventure that you were made for and learn how to thrive in it.
The best part is that 100% of the net profits from You and Me Forever: Marriage in Light of Eternity will go towards providing food, shelter and rehabilitation for thousands of orphaned children and exploited women in partnership with global charities
For The Couple Looking for A Breakthrough
What issues do you struggle with in your marriage?
Do you find it difficult to show love when you feel your needs aren't being met?
Have you held on to resentment for so long that it seems impossible to forgive?
Do you desire God's blessing and extra encouragement for the hard days?
Covering topics such as communication, conflict, and healing, this collection of spiritual warfare prayers from Prayers For Victory in Your Marriage will help you revive your prayer life and help you put on the armor of God for every issue you and your spouse face. Let Christ reign victorious in your home!
The Power of A Praying Wife / Husband
Today's challenges can make a fulfilling marriage seem like an impossible dream. Yet God delights in doing the impossible if only we would ask! Stormie Omartian shares how God can strengthen your marriage as you pray for your spouse concerning key areas in their life, including…
 spiritual walk
 emotions
security in work
physical protection
faith and their future
You will be encouraged by Stormie's own experiences, along with the Bible verses and sample prayers included in each chapter.
For The Couple Whose Marriage Is On the Rocks
While many people desperately want a marriage that works, fewer of them really believe they can experience success. In Marriage On The Rocks, leading marriage expert Jimmy Evans discusses practical real-life challenges and offers solutions on how to have a healthy and thriving marriage. Whether you've been married for years or are just preparing for the journey, Marriage on the Rock is the essential resource that will transform your relationship.
For the Couple Struggling With Emotional, Spiritual & Physical Intimacy
The Naked Marriage. Now the man and his wife were both naked, but they felt no shame." (Genesis 2:25) Imagine a marriage with complete intimacy, vulnerability, transparency and trust. Imagine a marriage rooted in faith, friendship and mutual fulfillment. Imagine a marriage with amazing sex, but where great sex is only the icing on the cake. This might all sound too good to be true, but it's actually what God designed marriage to be, and He doesn't want you settling for anything less. Having a "Naked Marriage' is about much more than just nakedness in the bedroom (although that's part of the fun). It means being naked emotionally and spiritually as well as physically. It also means undressing all the misconceptions our culture has used to cover God's original, beautiful design for marriage and rediscovering all marriage can be. You and your spouse can have a thriving, Naked Marriage with a lifetime of love and laughter together. This book will show you how.
Marriage Devotionals For Couples
Sacred Marriage: What If God Designed Marriage to Make Us Holy More Than to Make Us Happy?
In this popular bestselling book, Gary Thomas uncovers how your marriage can become a doorway to a closer walk with God and each other.
What if God's primary intent for your marriage isn't to make you happy . . . but holy? What if your relationship isn't as much about you and your spouse as it is about you and God?
Starting with the discovery that the goal of marriage goes beyond personal happiness, bestselling author Gary Thomas invites you to see how God can use marriage as a discipline and a motivation to love God more and reflect more of the character of his Son.
In addition to life-changing insights from Scripture, church history, and time-tested wisdom from Christian classics, you'll find practical tools and techniques to make your marriage happier by becoming holier husbands and wives.
Sacred Marriage reveals how good marriages . . .
Train us to love God and others well
Expose sin and makes us more aware of God's presence
Foster good prayer
Cultivate a sexual relationship that feeds the spiritual life
and more
With provocative discussion questions for couples and small groups, this book will most certainly change you. Because whether it is delightful or difficult, your marriage can become a doorway to a closer union with God. Alternatively, you can consider the devotional guide, Devotions For A Sacred Marriage.
Take Time Out of Each Day to Relax and Grow Together. In the midst of the stress and pressure of everyday life, Moments Together for Couples will give you and your mate a chance to pause, relax, and draw upon the strength of the Lord. This easy-to-use devotional helps you set aside anywhere from 5 to 30 minutes every day with your spouse to grow closer to God and closer to each other.
 Marriage After God: Chasing Bodly After God's Purpose For Your Life Together
You and your spouse were made by God, and your marriage relationship was designed by Him to do good works for His name's sake, works that He had in mind long before you were created. You can believe this truth and so be empowered to walk in the extraordinary purpose you have been uniquely created by God to do. This book will help you discover God's purpose for your marriage, identify your giftedness as well as provide questions for reflection.
There you have it, some of the best devotionals for couples. Have you come across a great marriage devotional or couples devotional not on this list? I would love to hear about them, leave them in the comments below.
YOU MAY ALSO LIKE:
The top 10 Most Powerful Books On Prayer & Fasting
11 Innovative Ways To Grow Your Faith
10 Relatable Devotionals For College Students
10 Christian Books For Young Adults
14 Characteristics of a Godly Wife That Will Save Your Marriage