25 Top Christian Books For Young Adults To Add To Your Reading List
FIND CHRISTIAN BOOKS FOR YOUNG ADULTS TO ADD TO YOUR READING LIST
Give me a book, a comfy spot and some snacks and I am will likely pass on a day out shopping with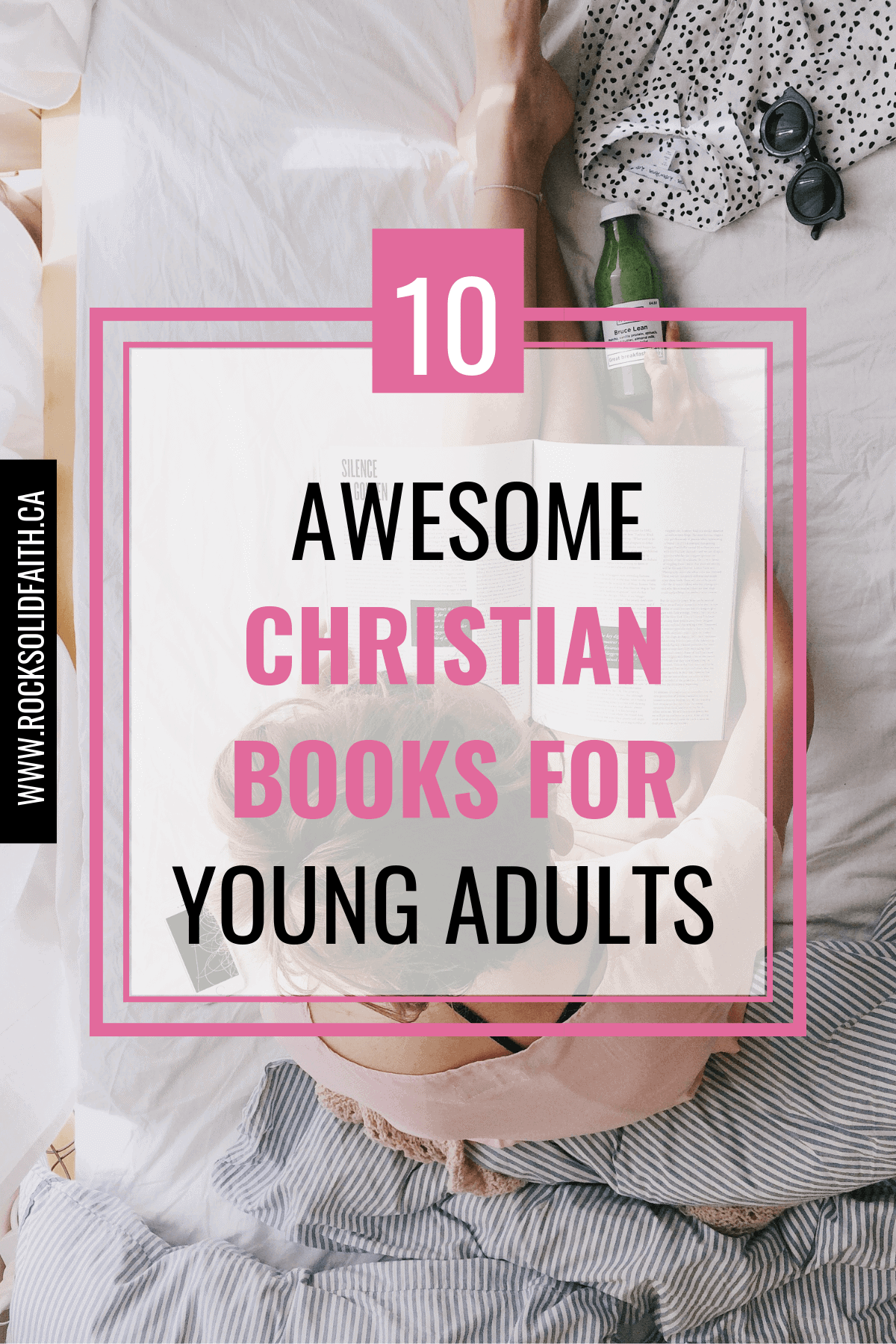 friends to just curling up and reading a good book.
There is just something magical about being able to go on the adventure of a lifetime through the eyes of lead characters in fiction books or develop myself personally through a personal development book.
Whether you are looking for: Christian books for young girls, Christian books for young men, Christian books for young couples, or Christian books for young women, you will lots of ideas below.
I have searched through amazon for the best christian books for young adults. Here are some top christian books for young adults to checkout.
This post may contain affiliate links. You can read my full affiliate disclosure here.
Good Christian Books For Young Adults

There are thousands of christian books on the market, but before I share with you some great christian books for young adults, I thought I would first share my favorite from the list below.
My Top Pick
Inspired by a broken heart and a wicked hangover, sorority girl Stephanie May Wilson throws in the towel on the life she's been living and packs her bags for a pilgrimage across three continents. Like so many great travelers before her, she finds herself and something completely unexpected along the way. Exploding preconceived notions that Christianity is for grandmas and girls with ugly shoes, The Lipstick Gospel is the story of how one girl found God in heartbreak, the Sistine Chapel, and the perfect cappuccino.
Thoughts:  I loved every bit of this book. The reader is taken on a journey to finding God amidst ones brokenness. The Lipstick Gospel walks you through a true testimony of a sorority girl who found Jesus in the least expected place, a heart break. This is a quick read, you will laugh, maybe shed a tear or two. You will quickly realize that you are not alone in your struggles and that no one is perfect.  Explore The Lipstick Gospel on Amazon
Fiction Christian Books For Young Adults

Christian fiction books for young adults are books where the general theme is based on a christian world view and targeted at young adults. I find christian fiction novels to be a great option for long summer days or days when you just want a relaxing activity to participate in.
When it comes to christian books however, just because it bares the name christian doesn't mean its christian. With both christian fiction and non-fiction books you may find that the content doesn't necessarily line up with your beliefs. Just something to be mindful of when choosing books. The following are some popular christian fiction books to consider adding to your reading list.
Six Years And A Quarter Way Through
Six Years and a Quarter Way Through is a story about a young woman who's lost her way. Leah has lost her faith, her job, her confidence, and maybe her mind. Utterly defeated and without hope that her dreams to become a star would come true, she meets Trenton Shaw, a rich, powerful, handsome, hot-shot producer who gives her the opportunity of a lifetime to star in a reality TV show.
Trent and Leah quickly fall for each other, through it all Leah struggles to navigate through toxic friendships and why Trent may not be the one, while attempting to come to terms with her faith, learning many hard lessons along the way.
Thoughts: I can't say enough about this book, it was an awesome read and I can't wait for book 2. Definitely will be first in line to pick up a copy once the release date is known. Six Years and a Quarter Way Through was a page turner that kept me on the edge of my seat eagerly anticipating what would come next. The characters were well developed and relatable for a generation that's into Instagram and Reality TV. The author takes you on a journey sharing lessons on life and love. I found it hard to put down Six Years and a Quarter Way Through once I initially started reading it. So often we blindly pursue our dreams, pushing God to the side, instead of waiting for him to show us what he has in store for our lives.
While this book was well worth the read, I struggled a bit with the ending. I would have loved to get more than a glimpse of the change that occurred with Leah at the end of "living the dream" as well what happened to the other lead characters. Hopefully there will be a sequel where we get to see Leah's journey "life after reality TV."
Through a well developed story line, we get a glimpse of what can happen when we fail to let God take the lead. God's timing isn't the same as ours and it can be challenging for us at times to really let go and let God. We want things instantly but often God doesn't provide the answer we are looking for the very minute we offer up our prayers.
You will walk away with insights into trusting God to lead your life and if single, as a bonus, qualities that as a christian, you should be looking out for when considering entering a relationship.Explore Six Years And A Quarter Way Through On Amazon
Written by Francine Rivers, The Masterpiece is about a successful LA artist, Roman Velasco who appears to have pretty much everything on the surface. Only his newly hired personal assistant knows how truly little he has.
They are both wrestling with secrets of their own unknown to each other. As they get to know the other, their jagged past somehow seem to fit together until something magical happens that changes the course of their relationship all together. Explore The Masterpiece on Amazon.
On the Crystal Coast of North Carolina, in the small town of Emerald Isle…
Juli Cooke, hard-working and getting nowhere fast, marries a dying man, Ben Bradshaw, for a financial settlement, not expecting he will set her on a journey of hope and love. The journey brings her to Luke Winters, a local art dealer, but Luke resents the woman who married his sick friend and warns her not to hurt Ben—and he's watching to make sure she doesn't.
Until Ben dies and the stakes change. Explore Beach Rental on Amazon
Mercy's Fight
He feared no one…but himself.
Recovering from a past shaped by violence, Matt Holloway has sworn to live a different life than his parents did. Matt has found a purpose that keeps his lingering pain and fear at bay: helping others to heal. Yet the nightmares continue to haunt him.
Grace has lived a life of luxury, sheltered by her family's money and connections. When a betrayal forces her to question everything, she leaves her family and accepts an ambitious position in a career for which she may not be ready.
When the two first meet, they cannot deny their instant, intense attraction. While Grace is willing to take another risk with her heart, Matt remains chained by his past and struggles to trust their future together. Fighting to save the children they've pledged to help, Matt and Grace must learn to overcome the pain in their past and find their true courage.
Explore Mercy's Fight on Amazon.
Cowboy Boss
How far will a cowboy go to protect the woman he's forbidden to love?
Handsome cowboy Simon Miller has traveled the world, gone to college, and put off going home to Texas for as long as he can. Now he's back on his family's billion-dollar ranch. And he remembers why he stayed away.
Time for him to find a bigger purpose, so he doesn't end up like his father.
Leilani has escaped from Hawaii to the mainland. Only one person in Texas knows her secret… the dark past that haunts her.
She works two jobs, keeps to herself, and is always looking over her shoulder, expecting trouble. Ready to run. Is this how it will be for the rest of her life?
When Simon offers Leilani a job at the ranch, he has no idea what trouble is brewing. Not only for himself, but for Leilani, his family, and his heart.
Simon's pulse quickens when Leilani is near, unlike it has with any other woman before. But technically, she's off limits, especially since he's the one who hired her to work on the ranch.
Can he save her from her past—before he loses her forever? Explore Cowboy Boss on Amazon
Christian Books For Tweens
While the book Healer is an enjoyable christian book for tweens, regardless of your age you can take delight in reading this novel. An inspirational christian book for youths!
Hovering just below the surface of Shilo Giannelli's average existence lays an amazing spiritual power. Late one night, her world erupts with the revelation that, like her great-grandmother, she has The Gift. But the power to heal isn't something she can share with the soccer team, her genius little sister, or her boyfriend, Kenji. Definitely not Kenji.
This new gift invites danger into her life as she tries to keep the Gift a secret, trust God in extraordinary circumstances, and hold on to the people she loves.
Thoughts: Healer is totally worth grabbing some snacks, a warm blanket, finding a comfy spot and making a reading date with this book. While I would recommend this book for teens, adults you can't go wrong with this book either. A perfect summer read. Healer by Susan Muira is a lovely christian fiction book that combines a bit of romance, danger and a biblical lesson pointing  us to the important lesson of using the gifts that God has given us to serve him and not for our own pleasure. The author has also recently released book 2 Shards of Light. Explore Healer on Amazon
Best Christian Books For College Students

Our college years are a season of experimentation and figuring out how to do this thing called "adulting." Books are a great resource for personal development and can also support you as you try to grow closer to God.I have listed a number of christian books for youths on this years christian women book reading challenge.  The following are some additional christian books for young women to check out.
My Top Pick
The wedding day is just one day in the life of a couple. God's design is for marriage to last a lifetime.In Ready or Knot, Scott dives into 12 conversations every couple needs to have before marriage. Included are also real stories from real couples and the decisions that they made or wished they had made.
Are you spending more time planning for your wedding or preparing for the marriage? As women we can get pretty caught up in finding the perfect dress or the perfect venue but not giving much thought to the actual marriage which is most important. If you are engaged or thinking about getting married, I would encourage you to read the book Ready or Knot together as a couple. Of the $20,000+ you will likely spend on your wedding, this is the best $20 you could spend on your relationship.
Through his book Scott walks the reader through an evaluation of their relationship. Topics such as what are your views on marriage, is it till death do us part or until problem we find?, choosing a church, dealing with in laws , conflict resolution, having kids, being unequally yoked and financial matters are some of the key conversations discussed in his book. Each of the 12 topics discussed are crucial and the advice given will prove helpful for days after your wedding day.
What I enjoyed about Ready or Knot was that each chapter showcased real couples with real problems. Honest inspiring stories of couples whose relationships were transformed after applying Biblical Truths. Each chapter concludes with thought provoking questions to really get you thinking and kick start the hard conversations you need to have before walking down the aisle.
Am I Ready – Questions intended for individual reflection
Strengthening The Knot – Questions to discuss with your significant other
Closing Prayer – Short prayers you can pray together as a couple as you conclude the discussion
Another key highlight of Ready of Knot is the traffic light symbolism that it uses. As you read through the book, you are able to decipher whether your relationship is a: Green (you are ready to tie the knot), Yellow (you need to slow down and address a few areas before tying the knot), or Red (its time to go your separate ways). This is awesome for persons who are questioning whether or not they are ready to get married.
Scott made a bold statement pretty early on in the book, which I thought was pretty profound. What if God designed marriage to make us holy more than to make us happy? We step into marriage with the view that its our spouses job to make us happy.
But, our spouse is human and will likely disappoint us at some point. Only God can truly make us happy. Marriage paints the picture of God's love for the church. The more we recognize this and draw closer to God, the more we draw closer to our spouse and find true happiness in Christ and in our marriages.

Scott also provides practical activities you can do together to grow spiritually as a couple as you count down to your wedding day. Activities such as read a Psalm or even a Proverb a day.
To give you an idea of how honest these 12 Conversations will be, one of the topics he discussed was Financial Matters. Financial matters are the most common source of discord among American couples. Before getting married, he urges couples to be open with their financial picture and talk about items such as, ALL the debt they currently have and where their money goes. For example are you spending $30 at Starbucks every day. Should we have separate accounts or one family account? If one person is a spender and the other is a saver, you can see where problems can likely develop in the future. As a couple, you will be merging your lives together so its important to know what debt you are carrying into the marriage as well as how you will both spend the resources that you have.
Some of my key takeaways from the book:
God never promised that marriage will make you happy, only Jesus Christ will satisfy you. Marriage provides a clear picture of Gods love for the church -Ephesians 5:21-33.
In conflict resolution we should seek to understand not to win. We should be mindful of the tone and words we use and not to be afraid of having the hard conversations just to avoid an argument.
When dealing with in-laws don't choose sides. Outside of your relationship with Christ your spouse is your number one priority.
Adultery Repellent – Speak highly of your spouse in front of them and also behind their backs.
There are several other key nuggets and advice in the book Ready or Knot. Help a friend start their marriage off on the right foot by gifting them a copy from Amazon or purchasing a copy for yourself.
Thoughts: This is the best $20 you could spend on your relationship. If you are serious about taking your relationship to the next level, Ready or Knot is a helpful resource to read as a couple. It includes real life stories and thought provoking questions to kick start healthy discussions you both need to have before saying "I Do. Check current pricing on Amazon.
Are your thoughts holding you captive? The author Jennie discovered that God has created a way out of this downward spiral of negative thinking. In the book, Get Out of Your Head, Jennie walks us through how to let go of toxic thoughts and instead submit our minds to Christ. Explore on Amazon.
In his book Relationship goals, Michael open up a real conversation on how to win at dating, marriage and sex. He candidly examines our most common pitfalls and shares ways we can navigate past them.  No matter what stage you are in life, relationship goals will be a game changer!
Explore Relationship Goals On Amazon
Does your life feel like it out of control? Perhaps you feel like you have to say yest to every request. In the book boundaries, you will learn when to say yes and know how to say no in order to take control of your life and set healthy, biblical boundaries with your spouse, children, friends, parents, co-workers, and even yourself.
Girl Wash Your Face
Do you ever suspect that everyone else has life figured out and you don't have a clue? If so, Rachel Hollis has something to tell you: that's a lie.
If you have ever said any of these things to yourself . . .
Something else will make me happy.
I'm not a good mom.
I will never get past this.
I am defined by my weight.
I should be further along by now.
. . . then you could benefit from the unflinching faith and rock-hard tenacity Rachel Hollis has in store for you. In this challenging but conversational book, Rachel exposes the twenty lies and misconceptions that too often hold us back from living joyfully and productively, lies we've told ourselves so often we don't even hear them anymore. Explore Girl Wash Your Face on Amazon
The author shares her story of having head knowledge of God and not heart knowledge. She was a christian who saw nothing wrong with activities such as clubbing and sexual sin, after all it wasn't as if she was killing or stealing from anyone. She clothed this under, " God knows my heart, he will forgive me." Her spiritual food came from 30 minute television sermons instead of the word of God. After years of finding the bible boring and too long to read, the stars finally aligned and she discovered the Bible to be a blueprint for how to live her life. In her book The Master Reset, she explores how to free up space on your spiritual hard drive by getting rid of all the unnecessary to realign ourselves back to Christ.
Thoughts: For only $2.99 on Amazon, you can't go wrong. A good read for young adults especially singles looking to get rid of all the junk holding them back from having a strong personal relationship with God. So, if you are looking for guidance on getting rid of all the viruses and illegal downloads in your life to put Christ at the center and ultimately start spending time with God consistently,The Master Reset is a good read.  Check current pricing on Amazon.
Insecurity is easily the most pervasive struggle of women in America today. We have more ways than ever to compare ourselves to others–who are all prettier, thinner, smarter, more successful, and more put together than we are–and our sense of self-worth takes a serious beating on an almost daily basis. We're tired of simply commiserating with writers and bloggers who share their own struggles–we want real, workable solutions about how to find peace with ourselves.
Thoughts:Donna provides practical, encouraging, biblical guidance on receiving freedom from insecurity. If you are looking for resources on how to overcome insecurity, christian self-esteem books or how to get rid of insecurities, then this is the book to read. Learn more on Amazon
Every day, another Millennial becomes an adult. For many young people, the transition is a bumpy one, fraught with opportunities to make mistakes and bad choices. The clear expectations they had at home or in school are gone, and they may feel unprepared to face what comes next. In his book Welcome to Adulting, Jonathan shares a roadmap on how to navigate life as an adult.
Thoughts:Welcome to Adulting by Jonathan Pokluda comes highly recommended. This is a must read for every young adult. It is certainly one of the better adulting books that I have read thus far and yes I have read quite a few. I would encourage every parent to snag a copy of this book for their child or as a gift for a friend. This would also make a perfect graduation gift for high school seniors. Check current pricing on Amazon.
Sex, Jesus and the Conversations The Church Forgot
Sex. In a world overwhelmingly obsessed with it, why is the church so silent about it? Mo Isom share her own sexual testimony alongside as well as why sex outside of marriage is not God's ideal. This dives dives more into the reasons why you should abstain from sex and not just merely telling you that you shouldn't do it.
Thoughts: Looking for an open and honest book on sex? This is it! This wasn't a book that claimed to be Christian with a few passages placed throughout each chapter. This was a book that delivered you faith-based principles that drove home the message of sexual purity intertwined among the authors personal encounters, struggles and ultimate victory with sexual purity. A must read for young adults or a mom and her child as they read and discuss not just why sex outside of marriage is wrong but the God-honoring concept of purity and how to stay pure. Check current pricing on Amazon.
It's Not Supposed to Be This Way
What do you do when God's timing seems questionable, His lack of intervention hurtful, and His promises doubtful?
Lysa shares with readers her journey of faith and disappointments. She teaches readers how to live assured when life doesn't turn out like they expected. Check pricing on Amazon.
Best Christian Books For Wives
Transitioning from the single life to the newlywed life is not without its hiccups. The following resources for christian wives you may find especially helpful.
The Good Girls Guide To Great Sex
Billions of people have had sex. Far fewer have made love. In The Good Girl's Guide to Great Sex, author Sheila Wray Gregoire helps women see how sexual intimacy was designed to be physically stupendous but also incredibly intimate.
Whether you're about to walk down the aisle or you've been married for decades, The Good Girl's Guide to Great Sex will lead you on a wonderful journey of discovery towards the amazing sex life God designed you for.
Thoughts: Regardless of what stage you are in your marriage, you can walk away with some solid christian sex advice that can bless your marriage. I would recommend this book for newlyweds or individuals planning on getting married. The topics discussed can help answer your questions about what to expect for your first encounter as well as gain tips to help you establish a solid foundation for your marriage from the start. Check current pricing on Amazon.
This book dives into How Christian couples can understand their personality types—and build a thriving christ centered marriage. This is an insightful resource that helps you to see your spouse, your marriage through the lens of faith tool an the Enneagram tool. Explore  Becoming Us on Amazon.
What if God designed marriage to make us holy more than to make us happy?
In this popular bestselling book, Gary Thomas uncovers how your marriage can become a doorway to a closer walk with God and each other. Check current pricing on Amazon.
Devotional Books For Young Adults
Downloading the YouVersion Bible app, is a great way to gain access to hundreds of short devotions for young adults. Personally this is my favorite way to read devotionals. If you are more into paperback devotional books for young adults, you can consider some of the following devotionals from Amazon.
The Lipstick Gospel Devotional
A 90 day devotional to help you consistently connect with God — hearing from Him, trusting His plans, and feeling His presence in your everyday life.This devotional will help you: – Consistently spend time with God (and feel connected to Him well beyond your morning quiet times!) – Trust the plans God has for your life (and help you figure out what those plans are!) – Step into your God-given identity (feeling truly beautiful & good enough in your skin). – Keep your faith strong in the midst of transition, uncertainty, and really hard days -Add more joy, more delight, and even more whimsy to your everyday life- And so much more… Thousands of women are diving deeper in their faith with The Lipstick Gospel Devotional. Explore The Lipstick Gospel On Amazon
Adored: 365 Devotions For Young Women
From bullying and social media to friendships and dating, Adored: 365 Devotions for Young Women tackles the toughest topics girls ages 13 and up face, giving you the truth and guidance you need to face each day with confidence and grace. Explore Adored: 365 Devotions For Young Women On Amazon
Sadie Robertson, bestselling author and star of Dancing with the Stars, has an important message for her generation: you don't have to be held back by fear, anxiety, or loneliness anymore. In Live Fearless, Sadie takes you on a thrilling personal journey toward power, passion, and purpose as you live at the center of who God created you to be! Check current pricing on Amazon.
Prayer Journal for Women: 52 Weeks Scripture, Devotional, & Guided Prayer Journal includes Scripture verses, reflections on the Word, and journaling prompts to guide your walk with God and strengthen your faith. Verses are organized thematically:
Love & Inner Beauty • Provision & Faithfulness • God's Love • Adversity & Trials • Awe & Sovereignty • Strength Through Faith • Fear • Grace & Forgiveness.
An inspirational 3 minute devotional for women. It includes: simple, practical tips for attaining the peace you crave—the peace that passes all understanding—you'll discover healing, refreshment, and revitalization for your spirit, body, and mind.
Must Read Christian Books For Young Adults

While reading is a great way to grow your faith, it can be hard at times to find the time to read when you have a busy schedule. Here are some tips on how to find time to read when you are busy as well as our christian women book reading challenge for this year!
Have you read any of the above christian books for young adult? Let me know in the comments below?
Best Christian Books For Young Women
Additional Articles You May Like: