FIND CHRISTIAN BOOKS FOR YOUNG ADULTS TO ADD TO YOUR READING LIST
Give me a book, a comfy spot and some snacks and I am will likely pass on a day out shopping with friends to just curling up and reading a good book.
There is just something magical about being able to go on the adventure of a lifetime through the eyes of lead characters in fiction books or develop myself personally through a personal development book.
I get asked a lot for book recommendations so today I am sharing with you some of my favorite Christian books for young adults. There are likely more classical books which would make good reads but this list is focused more on new releases.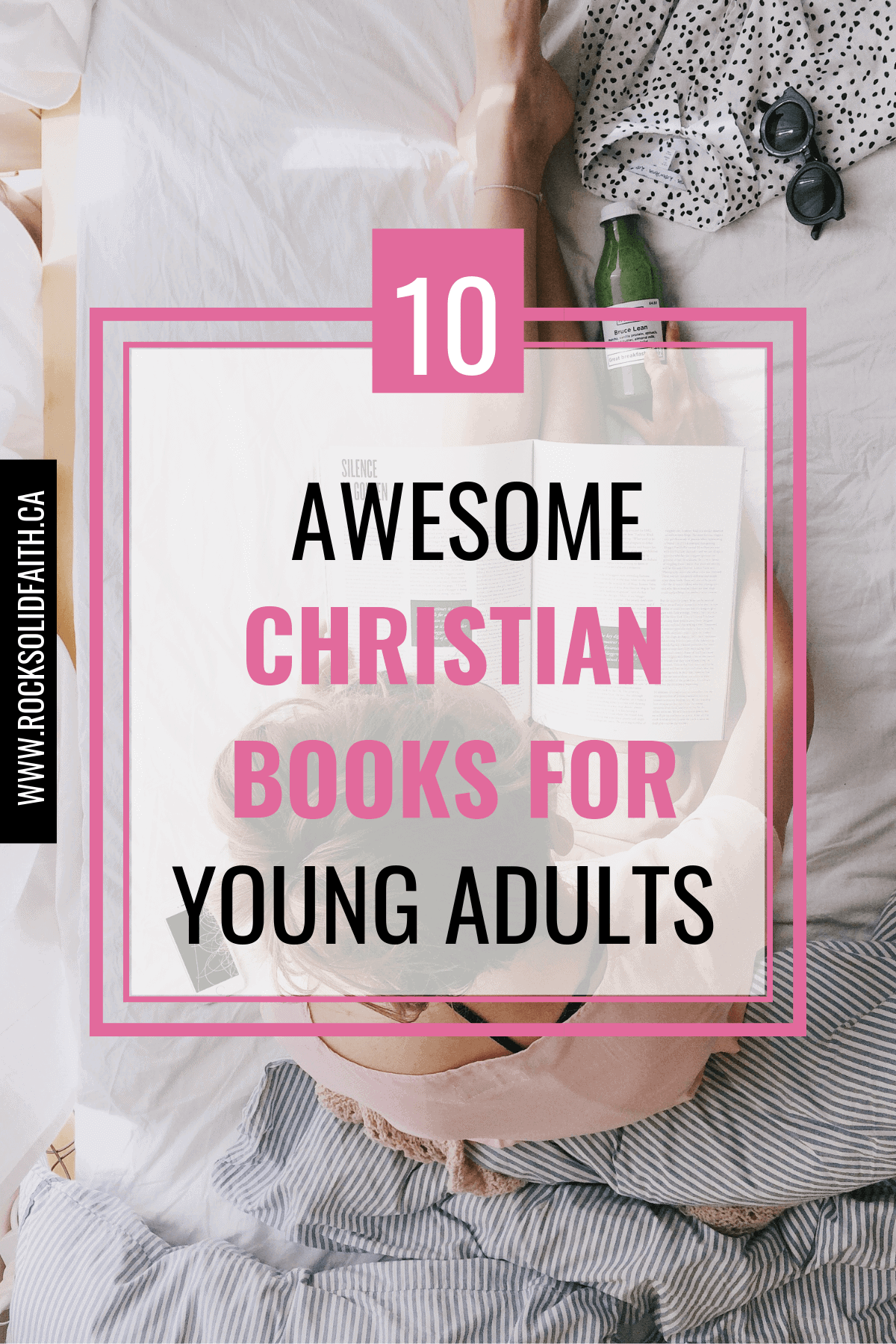 Disclosure: This post may contain affiliate links, which means we may receive a commission if you click a link and purchase something that we have recommended. While clicking these links won't cost you any extra money, they will help us keep this site up and running. Please check out our disclosure policy for more details. Thank you for your support!
Christian Books For 20 Somethings
The following are some of my new release favorite christian books for young adults.
Christian Fiction Novels
Christian fiction books are books where the general theme is based on a christian world view. I find christian fiction novels to be a great option for long summer days or days when you just want a relaxing activity to participate in.
When it comes to christian books however, just because it bares the name christian doesn't mean its christian. At times with both christian fiction and non-fiction books you may find that the content doesn't necessarily line up with your beliefs. Just something to be mindful of when choosing books. The following  Christian fiction book is a new favorite that you can add to your summer reading list.
Six Years And A Quarter Way Through
Synopsis:
Six Years and a Quarter Way Through is a story about a young woman who's lost her way. Like many of us, Leah believed that the vision supersedes the process until, at age twenty-six, she stops believing in the vision and the one who gave it to her. Leah has lost her faith, her job, her confidence, and maybe her mind. Utterly defeated and without hope that her dreams to become a star would come true, she meets Trenton Shaw, a rich, powerful, handsome, hot-shot producer who has spent the last six years of his life trying to find her.
Leah is weary of Trenton initially, particularly since he is adamant about enlisting her for a new reality show that he is putting together called "Star Quality." However, after reasoning that she has nothing left to lose, she consents. If she wins the show, she will receive a cash prize, an agent, and most importantly a part in a brand-new feature film; even if she loses, people would still know her name.
Trent and Leah quickly fall for each other, forming an intense and sometimes volatile relationship, which only gets more complicated after she moves into the house she'll be sharing with her costars and meets Brice.
Frightened awake from a nightmare, Leah stumbles into the living room, where she finds Brice looking as haunted as she feels; he confides in her about his dead fiancee, and she in him about her nightmares and anxiety attacks. Her nightmares recur, worsening with each night as the competition intensifies and her relationship with Trent deepens. Gradually it becomes apparent that Leah's way of getting everything she's ever wanted may have taken her on a road she should not have traveled.
At its core, this is a story about the journey we all must take: What do we believe? How strongly do we believe it? Will that belief be steadfast in the face of temptation? Although everyone's story is different, you only either chose to do it God's way or your own.
Thoughts: Six Years and a Quarter Way Through was an intriguing young adult read that kept me on the edge of my seat eagerly anticipating what would come next. The characters were well developed and relatable for a generation that's into Instagram and Reality TV. I found it hard to put down Six Years and a Quarter Way Through once I initially started reading it. One of my takeaways from the book was what qualities, as a christian, that I should be looking out for when considering entering a relationship. Read Six Years And A Quarter Way Through Full Review
Christian Books For Tweens
While the book Healer is an enjoyable christian book for tweens, regardless of your age you can take delight in reading this novel.
Healer
Synopsis:
Hovering just below the surface of Shilo Giannelli's average existence lays an amazing spiritual power. Late one night, her world erupts with the revelation that, like her great-grandmother, she has The Gift. But the power to heal isn't something she can share with the soccer team, her genius little sister, or her boyfriend, Kenji. Definitely not Kenji.
​Deep beneath Misty Morning's tough facade is a lifetime of abandonment, foster homes and broken dreams. When her two-year-old son is abused by her boyfriend, her fragile world shatters…until Shilo prays for Tyler, and he is healed, leaving Misty grateful but incredibly curious.
Shilo can't give Misty the answers she needs; she only knows she has a God-given destiny, and despite facing strained relationships, impossible decisions, and the threat of being hounded day and night for her abilities, she will fulfill it.
The journey Misty and Shilo take together unites them as friends but invites danger into their lives. And it will take a miracle for these unlikely friends to elude a gang bent on revenge, keep The Gift a secret, trust God in extraordinary circumstances, and hold on to the people they love.
Thoughts: Totally worth grabbing some snacks, a warm blanket, finding a comfy spot and making a reading date with this book. While I would recommend this book for teens, adults you can't go wrong with this book either. A perfect summer read. Healer by Susan Muira is a lovely christian fiction book that combines a bit of romance, danger and a biblical lesson pointing  us to the important lesson of using the gifts that God has given us to serve him and not for our own pleasure. Eagerly anticipating volume 2 and can't wait for its release. Read The Full Book Review for Healer
Best Christian Books For Youth
I have listed a number of christian books for youths on this years christian women book reading challenge.  One additional book I would add to that list is 12 Conversations Every Couple Needs to have before Marriage.  If you are in a serious relationship and contemplating marriage, I would suggest adding this one to your couples reading list.
12 Conversations Every Couple Needs To Have Before Marriage
Synopsis:
The wedding day is just one day in the life of a couple. But God's design is for marriage to last a lifetime. So how can someone know that the person they're with is the one they can truly build a life with–especially when so few marriages around them work?
Pastor Scott Kedersha has worked with more than 5,000 premarital couples to prepare them for the biggest decision of their lives. In Ready or Knot? he offers practical and Christ-centered guidance for couples for all of the days after the wedding day. Through authentic stories from real couples about the decisions they made (or wish they'd made), Scott asks the hard questions so his readers can break free from the watered-down Hollywood version of marriage and build their lives together on the right foundation–the unchanging Word of God.
Thoughts: This is the best $20 you could spend on your relationship. If you are serious about taking your relationship to the next level, Ready or Knot is a helpful resource to read as a couple. It includes real life stories and thought provoking questions to kick start healthy discussions you both need to have before saying "I Do. Read My Full Review of Ready or Knot.
The Master Reset
Synopsis:
The author shares her story of having head knowledge of God and not heart knowledge. She was a christian who saw nothing wrong with activities such as clubbing and sexual sin, after all it wasn't as if she was killing or stealing from anyone. She clothed this under, " God knows my heart, he will forgive me." Her spiritual food came from 30 minute television sermons instead of the word of God. After years of finding the bible boring and too long to read, the stars finally aligned and she discovered the Bible to be a blueprint for how to live her life. In her book The Master Reset, she explores how to free up space on your spiritual hard drive by getting rid of all the unnecessary to realign ourselves back to Christ.
Thoughts: For only $2.99 on Amazon, you can't go wrong. A good read for young adults especially singles looking to get rid of all the junk holding them back from having a strong personal relationship with God. So, if you are looking for guidance on getting rid of all the viruses and illegal downloads in your life to put Christ at the center and ultimately start spending time with God consistently,The Master Reset is a good read.  Read my Full Review of the Master Reset.
Silencing Insecurity
Synopsis:
Insecurity is easily the most pervasive struggle of women in America today. We have more ways than ever to compare ourselves to others–who are all prettier, thinner, smarter, more successful, and more put together than we are–and our sense of self-worth takes a serious beating on an almost daily basis. We're tired of simply commiserating with writers and bloggers who share their own struggles–we want real, workable solutions about how to find peace with ourselves.
This is what professional Christian counselor Donna Gibbs gives women with Silencing Insecurity. Drawing from her twenty years of experience counseling women, she exposes the many lies that produce insecurities in us starting from a young age, the result of letting those insecurities get the best of us, and, most importantly, the way out of insecurity–for good. Anyone who is tired of letting insecurity snatch away the joy from her life will welcome this practical and freeing book.
Thoughts:Donna provides practical, encouraging, biblical guidance on receiving freedom from insecurity. If you are looking for resources on how to overcome insecurity, christian self-esteem books or how to get rid of insecurities, then this is the book to read. Read my Full Review of Silencing Insecurity.
Best Christian Books For College Students
Our college years are a season of experimentation and figuring out how to do this thing called "adulting." Books are a great resource for personal development and can also support you as you try to grow closer to God.
The Lipstick Gospel
Synopsis:
Inspired by a broken heart and a wicked hangover, sorority girl Stephanie May Wilson throws in the towel on the life she's been living and packs her bags for a pilgrimage across three continents. Like so many great travelers before her, she finds herself and something completely unexpected along the way. Exploding preconceived notions that Christianity is for grandmas and girls with ugly shoes, The Lipstick Gospel is the story of how one girl found God in heartbreak, the Sistine Chapel, and the perfect cappuccino.
Thoughts:  I loved every bit of this book. The reader is taken on a journey to finding God amidst ones brokenness. The Lipstick Gospel walks you through a true testimony of a sorority girl who found Jesus in the least expected place, a heart break. Explore The Lipstick Gospel on Amazon
Welcome to Adulting
Synopsis:
Every day, another Millennial becomes an adult. For many young people, the transition is a bumpy one, fraught with opportunities to make mistakes and bad choices. The clear expectations they had at home or in school are gone, and they may feel unprepared to face what comes next.
But sometimes we make it harder than it has to be. Combining entertaining stories from his own experience, insights from the Bible, and compelling evidence from research, "JP" Pokluda lays out a roadmap for how to navigate life as an adult.
Thoughts:Welcome to Adulting by Jonathan Pokluda comes highly recommended. This is a must read for every young adult. It is certainly one of the better adulting books that I have read thus far and yes I have read quite a few. I would encourage every parent to snag a copy of this book for their child or as a gift for a friend. This would also make a perfect graduation gift for high school seniors. Read my Full Review of Welcome to Adulting.
Sex, Jesus and the Conversations The Church Forgot
Synopsis:
Sex. In a world overwhelmingly obsessed with it, why is the church so silent about it? While our secular culture twists, perverts, cheapens, and idolizes sex, there are gaping holes in the church's guidance of young people. The result is generations of sexually illiterate people drowning in the repercussions of overwhelming sin struggles.
Enough is enough, says Mo Isom. With raw vulnerability and a bold spirit, she shares her own sexual testimony, opening up the conversation about misguided rule-following, virginity, temptation, porn, promiscuity, false sex-pectations, sex in marriage, and more and calling readers back to God's original design for sex–a way to worship and glorify him.
This book is for the young person tangled up in an addiction to pornography, for the girlfriend feeling pressured to go further, for the "good girl" who followed the rules and saved herself for marriage and then was confused and disappointed, for the married couple who use sex as a bargaining tool, for every person who casually watches sex play out in TV and movies and wonders why they're dissatisfied with the real thing, and for every confused or hurting person in-between. Sex was God's idea. It's time we invited him back into the bedroom.
Thoughts: This wasn't a book that claimed to be Christian with a few passages placed throughout each chapter. This was a book that delivered you faith-based principles that drove home the message of sexual purity intertwined among the authors personal encounters, struggles and ultimate victory with sexual purity. A must read for young adults or a mom and her child as they read and discuss not just why sex outside of marriage is wrong but the God-honoring concept of purity and how to stay pure. Read my Full Review of Sex, Jesus and The Conversations The Church Forgot.
Related Reading: Free Bible Studies For Young Adults
Best Christian Books For Wives
Transitioning from the single life to the newlywed life is not without its hiccups. The following is one resource which newlywed christian wives may find especially helpful.
The Good Girls Guide to Great Sex
Synopsis:
Billions of people have had sex. Far fewer have made love. In The Good Girl's Guide to Great Sex, author Sheila Wray Gregoire helps women see how sexual intimacy was designed to be physically stupendous but also incredibly intimate.
Whether you're about to walk down the aisle or you've been married for decades, The Good Girl's Guide to Great Sex will lead you on a wonderful journey of discovery towards the amazing sex life God designed you for.
With humor, research, and lots of anecdotes, author Sheila Wray Gregoire helps women see how our culture's version of sex, which concentrates on the physical above all else, makes sex shallow. God, on the other hand, intended sex to unite us physically, emotionally, and spiritually. Sheila Wray Gregoire walks through these three aspects of sex, showing how to make each amazing, and how to overcome the roadblocks in each area we often encounter.
Drawing on survey results from over 2,000 people, she also includes lots of voices from other Good Girls, giving insight into how other women have learned to truly enjoy sex in marriage.
Thoughts: Regardless of what stage you are in your marriage, you can walk away with some solid christian sex advice that can bless your marriage. I would recommend this book for newlyweds or individuals planning on getting married. The topics discussed can help answer your questions about what to expect for your first encounter as well as gain tips to help you establish a solid foundation for your marriage from the start. Read The Good Girls Guide To Great Sex Full Review.
Devotional Books For Young Adults
Downloading the YouVersion Bible app, is a great way to gain access to hundreds of short devotions for young adults. Personally this is my favorite way to read devotionals. If you are more into paperback devotional books for young adults, you can consider some of the following devotionals from Amazon.
The Lipstick Gospel Devotional
A 90 day devotional to help you consistently connect with God — hearing from Him, trusting His plans, and feeling His presence in your everyday life.This devotional will help you: – Consistently spend time with God (and feel connected to Him well beyond your morning quiet times!) – Trust the plans God has for your life (and help you figure out what those plans are!) – Step into your God-given identity (feeling truly beautiful & good enough in your skin). – Keep your faith strong in the midst of transition, uncertainty, and really hard days -Add more joy, more delight, and even more whimsy to your everyday life- And so much more… Thousands of women are diving deeper in their faith with The Lipstick Gospel Devotional. Explore The Lipstick Gospel On Amazon
Adored: 365 Devotions For Young Women
From bullying and social media to friendships and dating, Adored: 365 Devotions for Young Women tackles the toughest topics girls ages 13 and up face, giving you the truth and guidance you need to face each day with confidence and grace. Explore Adored: 365 Devotions For Young Women On Amazon
Must Read Christian Books For Young Adults

While reading is a great way to grow your faith, it can be hard at times to find the time to read when you have a busy schedule. Here are some tips on how to find time to read when you are busy as well as our christian women book reading challenge for this year!
Have you read any of the above christian books for young adult? Let me know in the comments below?
You can also checkout our Book Reviews library for other great christian books for 20 somethings to add to your reading list or preview my personal list of favorite christian books for young women on Amazon.