In-depth Study of Ephesians | How To Live Out Your Identity In Christ
Meet Helen, here she was a christian all her life, but in a moment of intense passion she fell to sexual immorality. How was she to tell her parents? For sure her fellow church members would never look at her the same again.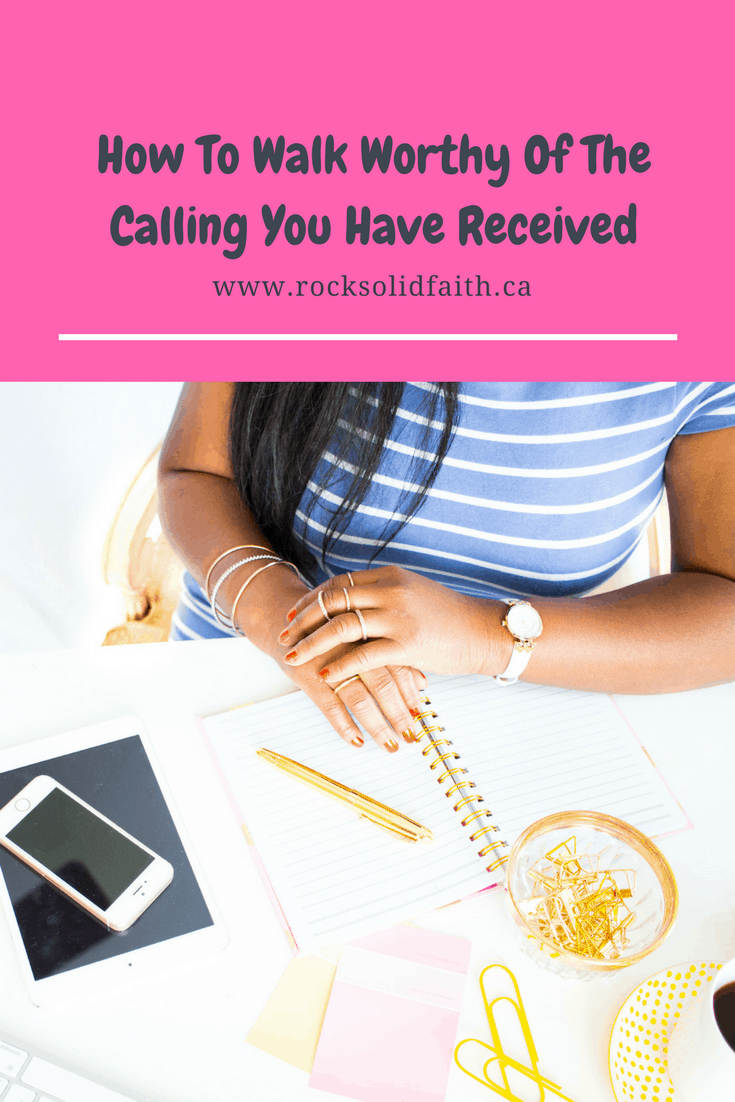 Encouraged to get baptized and marry "the guy", she proceeded with saying I do. She would later discover that this wasn't what God had in store for her as she watched her marriage end in shambles. Here she was once again feeling unworthy.
Just like Helen, you might be struggling with the sins of your past. You try to push them aside but you are constantly reminded of how unworthy you are. You feel judged, deficient, and unworthy in your spiritual journey. The enemy puts thoughts in our  mind like, "you can't pray like Sister Pat"  or he reminds you that your family isn't perfect like the Jones's reminding us of our inadequacies.
The devil wants us to feel inadequate, if we struggle with the idea of unworthiness among our christian community, how then can we walk worthy of our calling? We can learn more about how to walk worthy of the calling through an in-depth study of Ephesians.
This post may contain affiliate links. You can read my full affiliate disclosure here.
Worthy of The Calling : An In-depth Study of Ephesians
1 Peter 5:8 says, the devil is like a roaring lion, seeking whom he may devour. This feeling of unworthiness, comes from the devil. His main purpose is to do whatever he can to prevent us from making it into the Kingdom of God. He dangles attractive alternatives before us. He keeps us busy, leaving very little time to spend with God and dwelling in the realm of unworthiness.
Related: Stepping Outside Your Comfort Zone
How then do we fight back? How do we get past this feeling of been unworthy? We can do this by spending time studying the bible. The book of Ephesians dives into the concept of worthiness. We have all been haunted by our past whether it be greed or even sexual immorality. In a bible study on the book of Ephesians, we can come to understand that God has chosen us. Despite how awful your past may look, God still chose you. He goes a step further and he promises us an inheritance.
Can you imagine leaving your estate to an individual responsible for taking the life of someone very dear to you? That's whats so amazing about this concept, regardless of how messy our backgrounds, God chose you and he has an inheritance for you. Doesn't that excite you? To think, that regardless of your past, God views you as worthy? All you have to do is just to be willing to accept his gift of eternal life? This is one of the amazing truths you will find when you do a Bible study on the book of Ephesians.
Related: 30+ Free Online Bible Studies
Free Ephesians Bible Study
You too can experience the amazing truths found in the book of Ephesians. The Worthy of the Calling Bible Study is a free 31 day online in depth study of the book of Ephesians written by Sarah Koontz, It's convenient for the busy professional as it only takes 15 minutes per day and a mobile device. The studies are also packed with cool free digital downloads such as: hand lettered lock screens, colorable bookmarks, coloring pages, scriptures cards and more!
The beautiful truths of Ephesians will teach you…
How to Root your life in God's Word
How to Access your Spiritual Wealth
How God's Work Empowers your Walk
What it means to be Alive in Christ
How to Love because you are Loved
How to Pray with Perseverance
How to Foster your Spiritual Gifts
As I dug into Paul's letter to the Ephesians, I discovered so many powerful truths meant to equip all Christians to walk Worthy of the Calling.
I invite you to join me for this 31-day journey through the book of Ephesians. Come as you are, but expect to be transformed by the radical love of your gracious Heavenly Father.
If you are looking for an in-depth study of Ephesians, be sure to check out The Worthy of the Calling Study.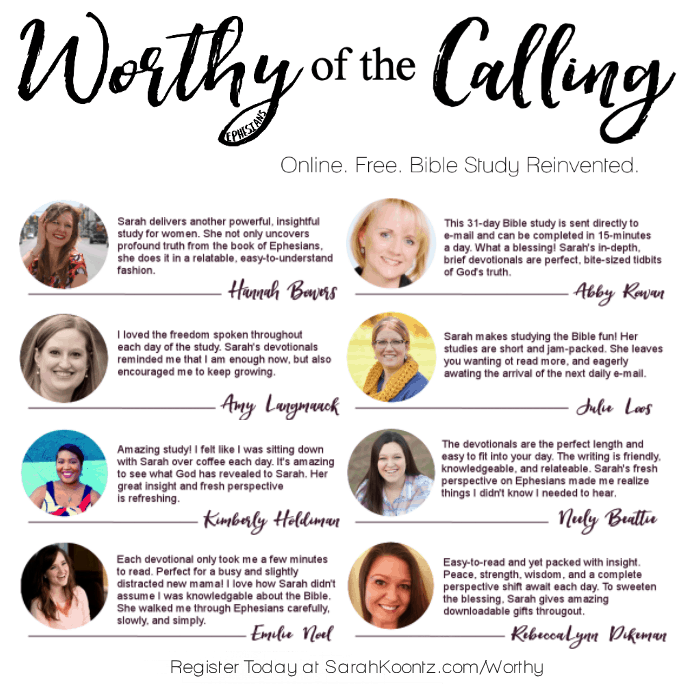 In Depth Study of Ephesians: Nuggets From the Author
I reached out to Sarah to find out more about her bible study routine and the nuggets she mined from the study. Here are her responses:
What is your Bible study routine and how do you study the Word?
I would say my personal Bible study routine varies greatly. I try to commit 10-15 minutes to the  Lord at the beginning of every day. Sometimes it's reading Oswald Chambers' My Utmost for His Highest devotional and other times it's reading through my Bible chronologically for a year. Although I often gain deep insight from my personal quiet times, I try to keep them separate from my writing schedule. When I'm in the midst of writing a Bible study, I often spend 3-5 hours a day reading commentaries or doing my own inductive study of the word. It's definitely a more academic endeavor than my personal quiet time, but such a joy!
What would you say are the top 3 "nuggets" you mined from your study?
1) We are worthy because of who God is and because of who God says we are.
2) God never asks us to do something He doesn't first equip us to do.
3) Submission and sacrificial love are part of God's design for mankind.
Personally, I found the study very easy to read and filled with nuggets of wisdom.I would love if you would join me on this 31 day journey.
Books On Ephesians
If you would rather a printed Ephesians study guide, here are some popular book of Epehsians Bible Study to consider.
Ephesians: A Biblical Study: Paul's letter to the Ephesians is a well-loved book of the Bible that teaches some of the most important lessons of faith: who you are in Christ, how you are to live as His follower, and how to gain victory in the spiritual battles you face. In this study tool, Joyce Meyer takes a deep dive into those beloved verses, identifying key truths and incorporating room for personal reflection.
Ephesians: Our Immeasurable Blessings In Christ– When Paul wrote his letter to the believers in the city of Ephesus, he wrote to encourage them, to remind them of their immeasurable blessings in Jesus Christ, and to admonish them live in a manner worthy of them. But despite, and partly even because of, Christians' great blessings, they are sure to be tempted by Satan to self-satisfaction and complacency. Thus, Paul reminds them of the spiritual armor supplied through God's Word and by His Spirit, and of their need for vigilant and persistent prayer.  An Ephesians study written by John Macarthur.
A Study of Ephesians: Live Out Your Identity In Christ – An in-depth four week study of the book of Ephesians where we'll break down the truths about our identity in Christ and learn how to live each and every day in light of it. Let's take a deeper look at the foundation of the gospel and how it establishes our identity and empowers us to live the Christian life God called us to.
Have you come across an in depth study of Ephesians that you absolutely loved? Share it in the comments below.
OTHER ARTICLES YOU MAY LIKE:
Choosing Confidence Bible Study Intensive
I Am- My Identity In Christ Coloring Book
Save
Save
Save
Save
Save
Save