It is normal for people to experience some form of anxiety when a stressful event occurs. But for around 40 million Americans in the United States, managing panic attacks and anxiety is an everyday occurrence. Almost 3% of the U.S. population suffers from panic disorders and millions more live with social anxiety, generalized anxiety and other anxiety conditions. It is not a topic that people openly discuss as due to the social stigma associated with talking about your mental health. This week on the blog I am stepping outside my comfort zone and sharing my journey with you all on my battle with managing panic attacks and anxiety.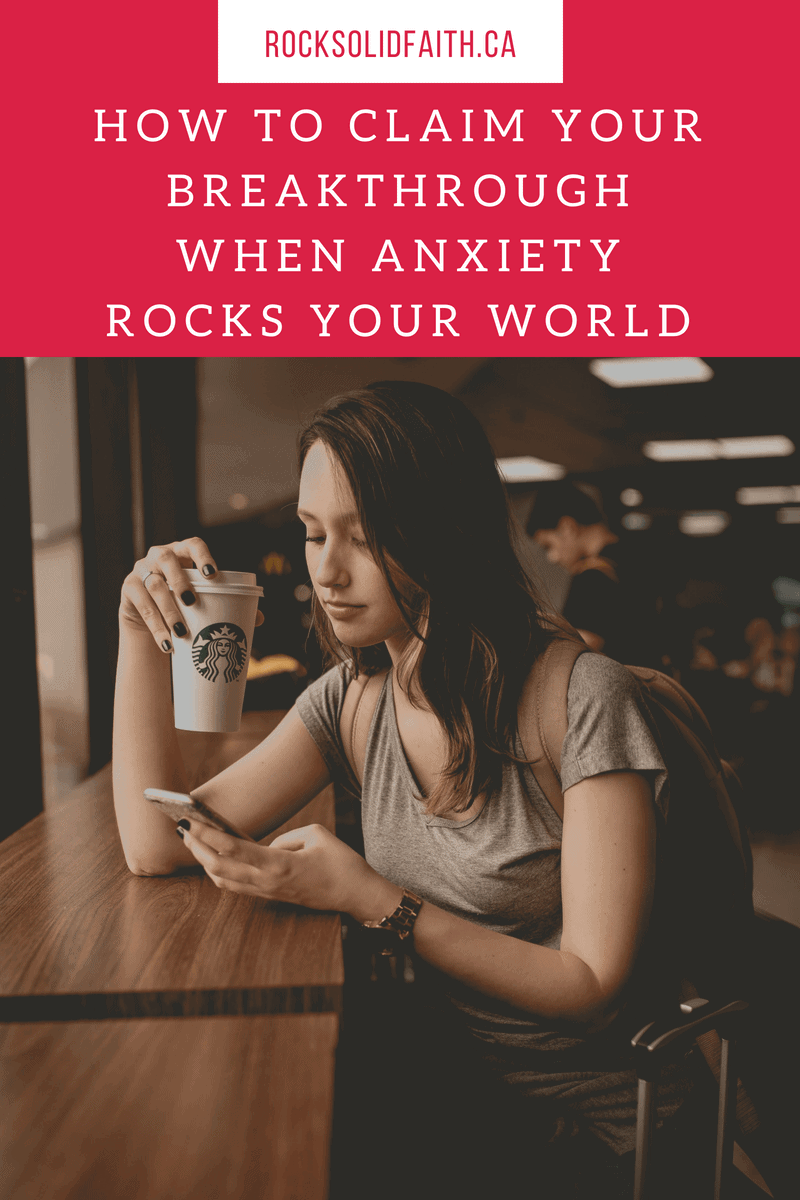 Disclosure: This post may contain affiliate links, which means we may receive a commission if you click a link and purchase something that we have recommended. While clicking these links won't cost you any extra money, they will help us keep this site up and running AND keep it ad free! Please check out our disclosure policy for more details. Thank you for your support!
How To Claim Your Breakthrough When Anxiety Rocks Your World
I grew up watching my parents work tirelessly to support my sister and I with the little they could afford.
So when I finally graduated from university, I was elated to finally step into the working world. I had big plans. I could finally travel as much as I wanted, purchase my dream car, the sky was the limit. Most importantly I wanted the opportunity to support my parents.
As a new grad my spirit quickly became dampened as I sent out resumes after resumes with no positive outcome. After sending over a 100 resumes I started feeling depressed.
Unknown to me I was about to experience a pivotal moment in my life. I started experiencing symptoms of not being able to breathe. In those moments I felt like I was going to die. I felt for sure my end was knocking at the door. My parents became concerned which lead them to seek professional opinions. Various doctor visits and examinations later, there was still no diagnosis on what was wrong with me.
I became angry at myself. Here I was doing what society viewed as the thing to do, "get educated", but here I was unable to get a job, unable to take care of my aging parents.
Numerous tests later I was finally diagnosed with panic attacks. Finally I could put a name to what I was experiencing. My Panic Attacks were severe and I would also get regular attacks over the course of any given day. Eventually I started crying uncontrollably for no reason, my life was a mess. Looking back now I realize I started to become depressed. Forced to make the ultimate decision, my parents agreed to putting me on medication. I just want back my life I pleaded with them.
On medication I stabilized and normalcy resumed. I was told this would be my new normal and I would be on medications forever.
Not something I wanted to hear. I didn't want to become dependent on medication forever.
On medicine prescribed I felt emotionless. It is hard to describe but I felt zoned out and nothing bothered me. I actually felt like I could conquer the world. While these weren't necessarily a bad thing, I was determined to not take medications forever in managing panic attacks.
On a whim, months later, I decided to cold turkey come off the medication. I so don't recommend this. The withdrawal for me was severe. I had severe headaches, tremors and also brain zaps. Think of these as jolts of electricity going off in your head. I don't remember how long it took until all these symptoms subsided but it is an experience I don't wish on anyone. After talking to professionals I resumed taking the pills days after going cold turkey. I just reduced my dosage until I was completely off medication.
My story doesn't end here I also suffer with anxiety. My anxiety has literally robbed me of my life. Feeling powerless by my anxiety, I went to university around twenty (20) minutes from my home. So, for me, I missed out on the dorm life experience of the average young adult. I didn't even join clubs or sororities as the anxiety it caused was just unbearable.
My husband has all these awesome college experiences and I totally can't relate. I went to classes then back home and that was pretty much it. When the time came for me to get married, I had a civil ceremony instead of the lavish wedding I always dreamed of. I can go on and on, but what I have learned over the past few years is that if you let it, anxiety will literally rob you of experiencing life.
The moment I decided to not let my anxiety dictate my life, is the moment things started to turn around for me. Mind you, I am not saying I suddenly stopped being anxious and life became grand. However, the intentional steps I have taken have allowed me to live a more purposeful life.
Psalms 91 was my guide through those dark moments in my life.What I love about this Psalms is that it provides reassurance, that their really isn't anything to fear as long as we abide in God. God is nearby to guide and protect his children, so I have nothing to fear. He knows what is best and only wants what is best for us. I reached out to God and claimed his promises in Psalms 91. Major headaches, tremors and brain zaps later I am currently off medication and haven't had any major panic attacks since. If your life is in turmoil and you are struggling with panic attacks and anxiety, know that you are not alone. Here are my top tips on how you can claim your breakthrough in managing panic attacks and anxiety.
Managing Panic Attacks And Anxiety
Seek Professional Help
Stereotypes exist the minute you tell your friends or family that you will be visiting a psychologist or other mental health professional. Don't let this deter you, your sanity is much more important. While at first I was hesitant to seek professional help, a visit to the psychologist proved to be eye-opening. It helped me to really think about what was causing my triggers. It helped to unearth underlying causes as well as provided solutions to help steer me along the path to now controlling my panic attacks. If your attacks have gotten to the point where they are interfering with your life, confide in your family doctor and let them make a referral recommendation for you. You can also try online therapy. Talkspace is one I have come across recently. They can match you with one of their over 2000 licensed therapists to give you the professional counseling you desire. If you have used Talkspace I would love to hear about your experience in the comments below, in using Talkspace in managing panic attacks.
Self Talk
Combined with counseling , I found self-talk to be a very effective method in riding out the unpredictable waves of panic attacks. Self-talk isn't an overnight cure, but with time, you will realize you have a better handle when an attack does arise. When an attack strikes, here is what I do: I talk myself through what I am feeling replacing my negative thinking and reassuring myself that there is no immediate danger. I tell myself to relax, I place my hand over my abdomen, allowing me to feel my downward and upward breathing movements.  It provides reassurance to me that I am actually breathing, and it also distracts me as I am switching my focus to my breathing movements. While doing this, instead of being negative and thinking I am going to die, I am going to die, I replace it with positive sentiments. Shanique you are going to be fine, you are breathing, just relax, it will be gone before you know it. I continue to do this until the storm has passed. Before you know it another panic attack has ended. Give it a try and let me know how it works for you in managing panic attacks. I also find positive self-talk to be helpful in situations that causes me great anxiety.
Related: Self-Care Gift Ideas For The Overworked Woman
Seek The Lord
During my panic attacks, I fell in love with Psalms 91 as it provided the reassurance that I needed, that God was there to protect me and he would deliver me. Reach out to the Lord to help you through your difficult time, there is nothing too big or small that he cannot handle.
I would love to turn your attention to Matthew chapter 14. This is a spooky chapter, there is a cold blooded murder,we see females scheming, people defying the laws of science and walking on water. There is even what we would term in modern day as a magic show. Head on over to Matthew chapter 14 and read the amazing adventure yourself.
What I like about this chapter is that we get a first hand glimpse of the disciples struggling with fear.  You would think the disciples were pretty macho having seen all the miracles that Jesus had performed alongside them. Even that very day that they experienced fear they saw Jesus bless five loaves and two fishes which fed around five thousand men with left overs.  Can you image that?
When you add women and children to that, can you just image the number of people that were fed? Totally surreal if you think about it. I would have loved to be there to see that miracle happen first hand.  "Dude! You got skills yow how can I do that", I would have exclaimed.
After feeding the multitude, Jesus ushers his disciples into a boat. He stays back to send the crowd away but also to have some alone time to pray. In the hours that passed, the disciples must have been talking among themselves the days events. As the story goes, in the fourth watch of the night, Jesus approached the disciples walking on water.
At first they thought it was a ghost. Like seriously, you believe its a ghost and you are going to say let me come to you?  But that is exactly what Peter did, he stepped out of the boat and started walking on water to meet Jesus. I would have been so lofty, thinking "look at me". In the instant Peter took his eyes off Jesus, he started to sink. Jesus stretched out his hand and caught him saying, oh ye of little faith.
Peter may not have had mountain moving faith but he had some faith. It is comforting to know that the disciples too struggled with fear and their faith. Just because you are a christian doesn't mean you won't experience fear or struggle with your faith. I  take comfort in knowing that we need not go about our struggles alone, just keep our eyes on Jesus and he is right there ready to take your hand.
Cognitive Behavioral Therapy
If you are looking to say good bye to pills or just looking for a way out, I would recommend doing Cognitive Behavioral Therapy. It's what I have had the most success with for my anxiety. As a first step, learn about your problem, so if you suffer with anxiety for example, research what anxiety is. Find support groups that can help you and confirm that you aren't the only one going through this problem.
Here is the thing, anxiety can be a crutch or a source of connection. I have literally had anxiety rob me of my life. It's about taking baby steps not trying to conquer the world. Some days I have the confidence to conquer the world and other days I relapse and just want to be left in my own cocoon. For people with anxiety, I think it's important to have a support system and practice regular self care to ground your mindset. This could be exercising to uplift your mood , for me my that's Zumba or journaling. Find something that you love that brings you joy and try to do it regularly.
[bctt tweet="Anxiety can be a crutch or a source of connection. Try these amazing tips to manage your anxiety and start making connections." username="faith_solid"]
I often find it hard to express to persons who don't suffer with anxiety , the depth of the issue. Yes we know it's all in our heads but it feels very much real life. So to combat that you need to incorporate relaxation strategies so when symptoms strike, you can help yourself to relax. If you recalled earlier, whenever I had attacks I would place my hand on my stomach where I felt the movement of my breaths and focused on my breathing to calm down. You can look into calming music, breathing, meditation or other strategies to help you relax.
Another big deal is to manage your negative thinking that is unrealistic. Try to be conscious of what you think in the moment and replace that with positive thinking. You can either simulate a situation or make notes of your thoughts in the moment.
Now here comes the really uncomfortable bit, stepping outside your comfort zone. The only way to conquer your fear is to face your fear. I have read all of the books on managing panic attacks and anxiety and watched all the videos. They don't help if you don't do the work. They won't miraculously transform you. I don't know why I thought they would back then.
The only thing that helps is stepping outside of that safe zone. Yes I know its scary, I have lived it. Here is my challenge to you, make note of 10 things that scare you, rate them on a scale of 1-10. Challenge yourself to do the least scary item on your list and then work your way up to the most scary. Continually try to challenge yourself. This won't mean you will 100 percent cure your anxiety but it allows you to live your life without it running it for you.
If you relapse don't be too hard on yourself, instead reach in your back pocket for the tips you learned along your journey to help you get back on track. In managing panic attacks and anxiety, relapses can occur especially if you stop challenging yourself.
Medication
I left this as the last resort as it's not an option I hold highly as medications are not without their side effects. If you are at a point where you are struggling with normalcy in your life after trying various options, then I would suggest reaching out to your family doctor to get started on medication. Research as well as find forums to learn and decide whether that's the route you care to take in managing panic attacks.
My hope is that you took comfort in my story and found at least one helpful tip that you can incorporate to start managing panic attacks and anxiety. I am by no means an expert. I am just sharing what I have learned over the years battling anxiety and panic attacks. Please do seek professional help if you need it.
Do you struggle with or know someone who struggles with panic attacks or anxiety? I would love to hear your story and learn about how you are managing panic attacks and anxiety.