15 Encouraging Bible Verses For Graduates For The Class of 2021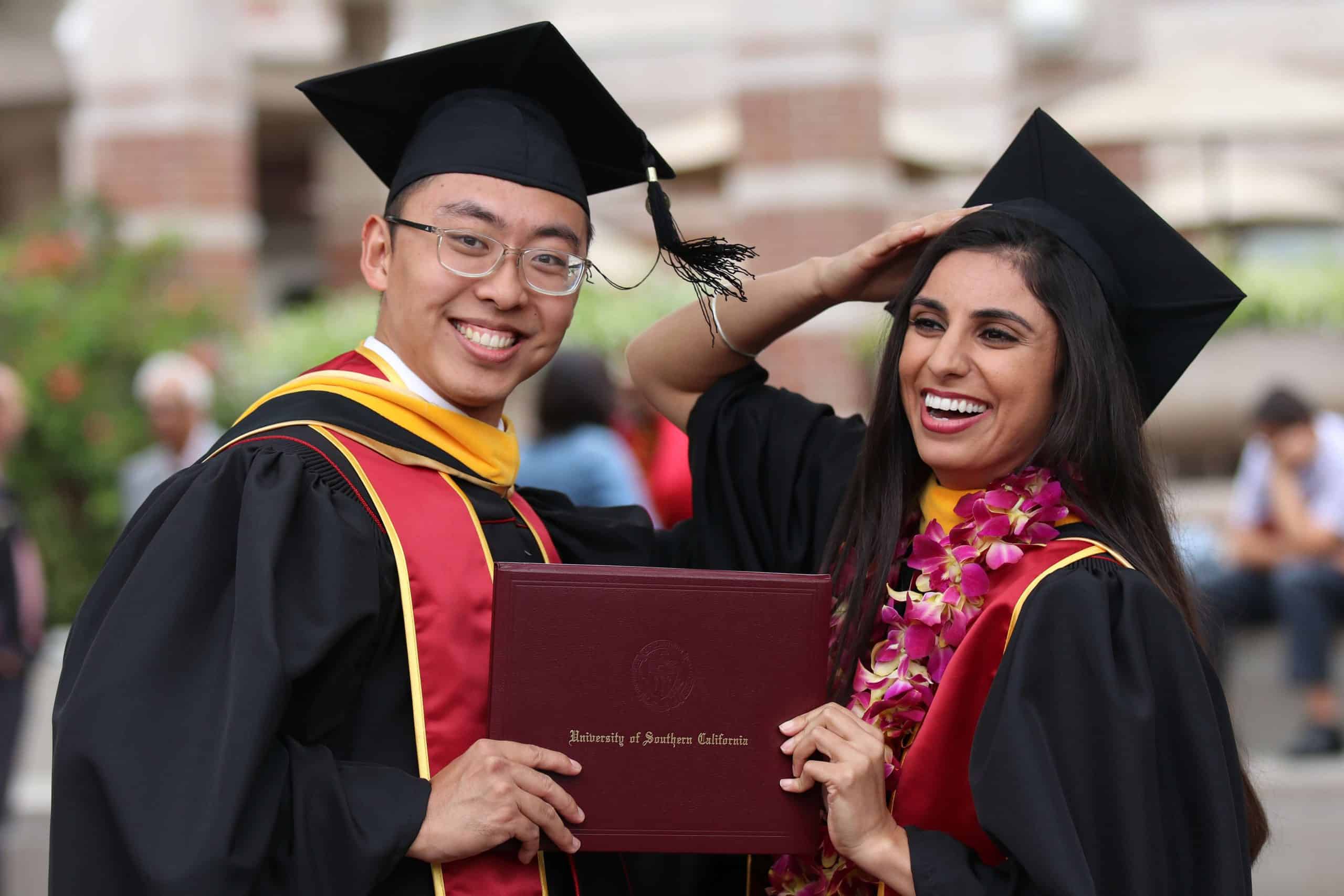 It is that time of year again.  The end of another school year.  For some this means a new grade, a new teacher, a new school, but for others this time is more profound. They are graduating, finally leaving a life in high school or college behind and taking on a different role in a new job, college, or that career they've been working towards for years.  As a teacher, I mourn the loss of my graduates every year, whether I had them for one class or many throughout their high school career, and rejoice with them as they reach this long-awaited milestone.
We live in a world of more possibilities than ever before. In a world of endless choices involving schools, jobs, and places to live, the excitement of this time is undeniable.  Along with all of these exciting possibilities come endless decisions to make and challenges we can't even begin to prepare for. What do I tell them?  I tell them this is just the beginning.  They don't have to know every step yet.  But my feeble advice is pale in comparison to God's word.
So, what does God have to say to all graduates, but especially the graduates of 2021? Here are 15 encouraging Bible verses for graduates to encourage the graduates in your life. These graduation scriptures are perfect for graduation cards, graduation caps or even as wording for cake decorations.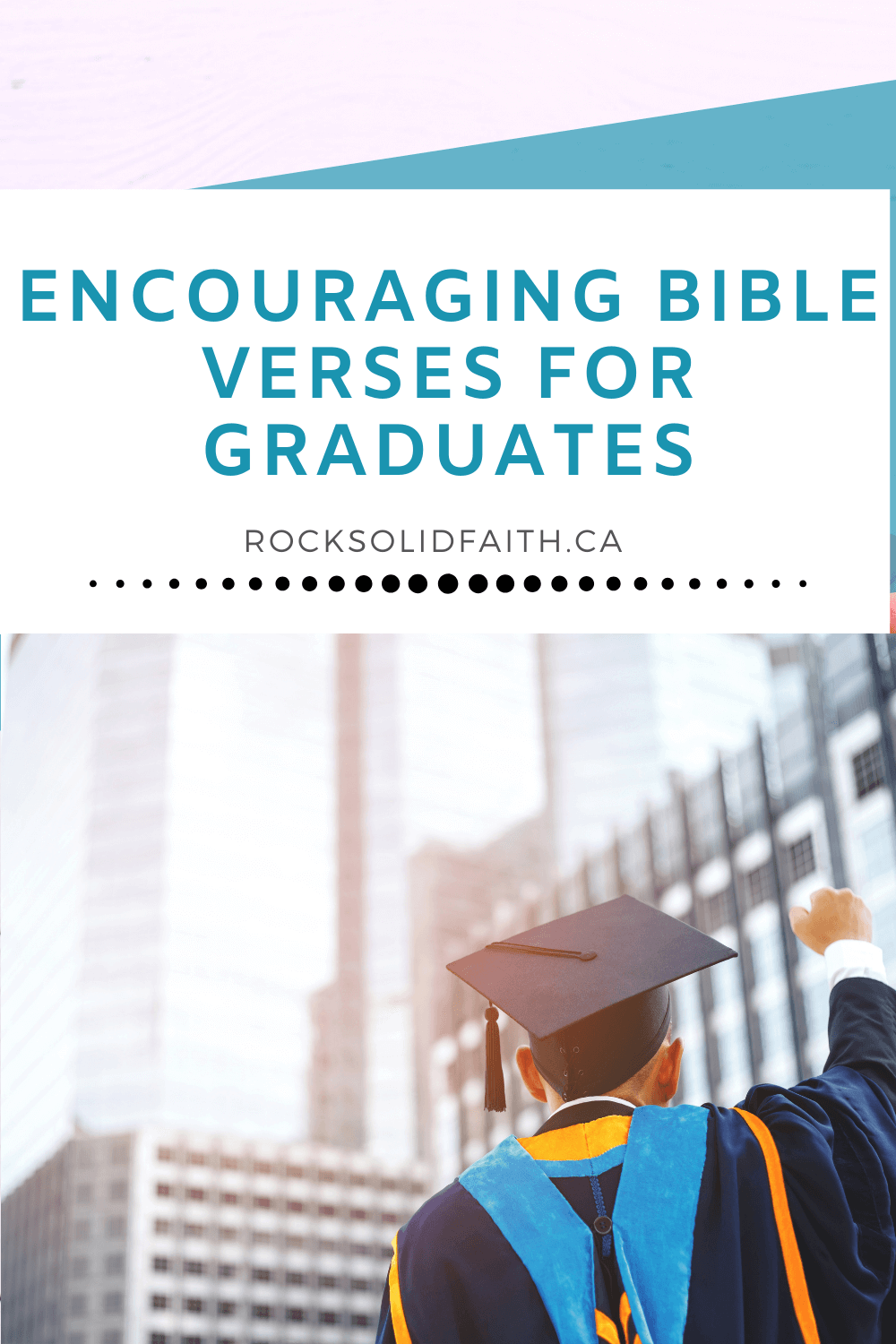 This post may contain affiliate links. You can read my full affiliate disclosure here
Bible Verses For Graduates
We are told from a young age that we should do nothing less than "reach for the stars".  Can I be a doctor, a fashion designer, a famous artist, a video game designer?  The answer is yes.  As we mature, however, we realize that while some graduates are entering a world of limitless opportunity, some are not. 
Yes, we are blessed to live in a time when many barriers have been lifted when it comes to education and employment, but the reality of life in a fallen world is not always what we hope.  Will I be able to make the grade, get into the right school, interview well? The truth? Our hopes and plans don't always come true.  And even if they do, we question if they are wrong and not what God intended at all? The silver lining?  God has an eternal plan we cannot mess up.  He did not make this promise to a content Israel living in the land of milk and honey. 
Instead, he made it to a people exiled in a foreign and hostile land, and for seventy years, not just a few weeks. Even in the midst of all of that turmoil, God had a plan, not just a mediocre plan, but a plan to "prosper . . . and not to harm" his people. 
Graduating presents much uncertainty, but God's plan is not tossed back and forth by the many influences of the world like ours.  He has a wonderful plan for each of his children.  As the passage continues, we learn that all we have to do is call on him, and he promises, "You will seek me and find me when you seek me with all your heart" 
"For I know the thoughts that I think toward you, saith the Lord, thoughts of peace, and not of evil, to give you an expected end. Then shall ye call upon me, and ye shall go and pray unto me, and I will hearken unto you. And ye shall seek me, and find me, when ye shall search for me with all your heart." Jeremiah 29:11-13  KJV
Graduation Blessings From The Bible
The Old and New Testament both are wrought with warnings against fear.  Why is this?  Well, as young children we feared the dark, monsters, being alone.  As teens we feared rejection, failure, loneliness and much more.  Life is full of scary circumstances we can't control.  Verses 8 and 9 of this chapter state God's definite choice in Israel as his people.  Colossians 3:12 addresses us as "God's chosen people, holy and dearly loved . . . ". Are there many valid sources of fear?  Yes, especially during a shift like graduation.  But God, who chooses to be our father, asks us not to fear.  Why?  He is not only with us, but strengthening and upholding us in these uncertain times.  Fear is a part of life, but we can rest assured that his plan, his loving and perfect plan, will always prevail.
"Fear thou not; for I am with thee: be not dismayed; for I am thy God: I will strengthen thee; yea, I will help thee; yea, I will uphold thee with the right hand of my righteousness." Isaiah 41:10 KJV
 As a high school teacher, I am privy to trends in not only education but parenting, the media, and society as a whole, even more than I want to be.  Now, with the inception of AP and college courses in high school, being the "best" is essential for a successful life.  At one time, a 4.0 and having a college degree were great accomplishments.  Now, a 4.0 is definitely mediocre, and a degree from only an elite college is acceptable.  It feels as if my students who are staying at home for their first year of college or even those attending a state school all feel like a disappointment.  It is definite that what was "good" 20 years ago is not "not good enough" now.
As I mentioned in my article Raising Children in a Success Obsessed World, while society values only the "best", God's values are often the opposite.  All we have to do is look at Christ.  Born in a manger, from a despised town, and an often homeless carpenter, Jesus was not blinded by prestige.  While success is not inherently sinful, Paul warns us in Philippians to "Do nothing from selfish ambition or conceit, but in humility count others more significant than yourselves," (2:3) just as Christ did for us.  So, as we are looking to a future of possibilities, while we should definitely do our best "as for the Lord and not for men". 
We do not have to be what the world deems the best. God's best for Christ was a life of servanthood, always forgoing prestige in the name of offering salvation to all men, regardless of status. So, whether we are living at home for a year or off to Yale, whether we are starting at a law firm in Atlanta or as a CNA in a rural hospital, God only wants us to strive to be his hands and feet in a broken world. 
"Let nothing be done through strife or vainglory; but in lowliness of mind let each esteem other better than themselves." Philippians 2:3 KJV

"And whatsoever ye do, do it heartily, as to the Lord, and not unto men;  Knowing that of the Lord ye shall receive the reward of the inheritance: for ye serve the Lord Christ." Colossians 3:23-24 KJV
Despite the challenges of the past year, we are truly living in the land of opportunity.  And the opportunity present in our world fuels our dreams.  In my senior classroom this year, there was much talk of college, careers, traveling, and dreams galore.   Not one time did someone express a desire to be poor.  Don't get me wrong.  These are great kids, but most of them were looking to be at least comfortable financially if not flat out rich.
What's wrong with that?  In short, nothing at all.  When we look at our futures after graduation, we all want a little prosperity.  Whether we are moving out of our childhood home, the dorms, ditching our roommates, or moving across the country, graduation presents a lot of "what ifs".  One of those "what ifs" is definitely money.  With the cost of tuition as well as the cost of living ever climbing, the worry of "making it" financially is staring us in the face.  While these worries are enough, social media sensations from Facebook to YouTube have lead us to believe that we should be able to live comfortably without working at all. 
The truth? People in Jesus' day worried about money, our grandparents worried about money, our parents worried about money, and so do we.  So, what does God want us to do?  He wants us to seek him, first and foremost.  Our job is to ". . . do justice, and to love kindness, and to walk humbly" with him (Micah 6:8) and ". . . love the Lord your God with all your heart and with all your heart and with all your soul and with all your mind" (Matthew 22:37).  The rest?  He will take care of it.
"But seek ye first the kingdom of God, and his righteousness; and all these things shall be added unto you." Matthew 6:33 KJV
Scripture For Graduating Senior
Just like graduation is a "passing the torch" of sorts, these words were spoken by Moses as he "passed the torch" to Joshua.  The Lord had promised his people their promised land, a land flowing with milk and honey (Exodus 3:17).  The problem?  It had taken them a lot longer to get there than they had expected.  Not only that, but as they gazed across the Jordan River, Moses told them that not only was he not going with them, but they would have to defeat the hostile residents of this land before they could realize the promise. 
As graduates, we hold onto the promises of not only "safe pasture" but the promise to "give (us) the desires of (our) hearts" if we delight in him (Psalm 37).  As with the Israelites, graduation means crossing a threshold of sorts.  Like them, we are looking at a promised land of possibilities, a foreign land we have to navigate without our fearless leaders (family, teachers, and lifelong friends).  The other similarity?  Just as Moses charged the Israelites to be fearless and resolute, God charges us as graduates to go boldly to our next step knowing he is not only with us but rolling out a future from ". . . him who is able to do far more abundantly that all we ask or think . . . " (Ephesians 3:20).
"Be strong and of a good courage, fear not, nor be afraid of them: for the Lord thy God, he it is that doth go with thee; he will not fail thee, nor forsake thee. And Moses called unto Joshua, and said unto him in the sight of all Israel, Be strong and of a good courage: for thou must go with this people unto the land which the Lord hath sworn unto their fathers to give them; and thou shalt cause them to inherit it."  Deuteronomy 31:6-7 KJV
Bible Verses For Graduation Cards
When it comes to cards, I never quite know just the right thing to say. Thankfully the Bible is filled with wonderful  promises which are perfect for graduation cards. The following are some good Bible verses for graduation and have all been taken from the King James Version.
"Trust in the Lord with all thine heart; and lean not unto thine own understanding. In all thy ways acknowledge him, and he shall direct thy paths." Proverbs 3:5-6

"Now the God of hope fill you with all joy and peace in believing, that ye may abound in hope, through the power of the Holy Ghost." Romans 15:13

"But they that wait upon the Lord shall renew their strength; they shall mount up with wings as eagles; they shall run, and not be weary; and they shall walk, and not faint." Isaiah 40:31

"It is of the Lord's mercies that we are not consumed, because his compassions fail not. They are new every morning: great is thy faithfulness." Lamentations 3:22-23

"Be careful for nothing; but in every thing by prayer and supplication with thanksgiving let your requests be made known unto God." Philippians 4:6
Bible Verses For Graduation Cap
The following graduation scriptures would be perfect to showcase your faith while adding a creative element to your graduation cap. Having graduates decorate their caps is a lovely craft activity they can do with friends or family. If they aren't the creative type they can still showcase their faith by using a website such as Zazzle for inspirational quote graduation cap toppers they can easily purchase.
"Trust in the Lord" Proverbs 3:5

"Be strong and courageous" Deuteronomy 31:6

" . . . plans to prosper and not to harm you" Jeremiah 29:11

" . . . they shall mount up with wings like eagles" Isaiah 40:31

"Be Still" Psalm 46:10
Graduation Bible Verses
My hope is that the graduates in your life will be blessed by these graduation verses. For even more encouragement for every day of the year, consider A Prayer A Day For Graduates filled with Bible promises for the entire year.
Similar Articles You May Like
Practical Ways to Let Go and Let God
20 Insightful Scriptures About Planning
14 Bible Verses About New Beginnings
36 Bible Verses About Trusting God