17 Impactful Bible Verses About Living Life With Purpose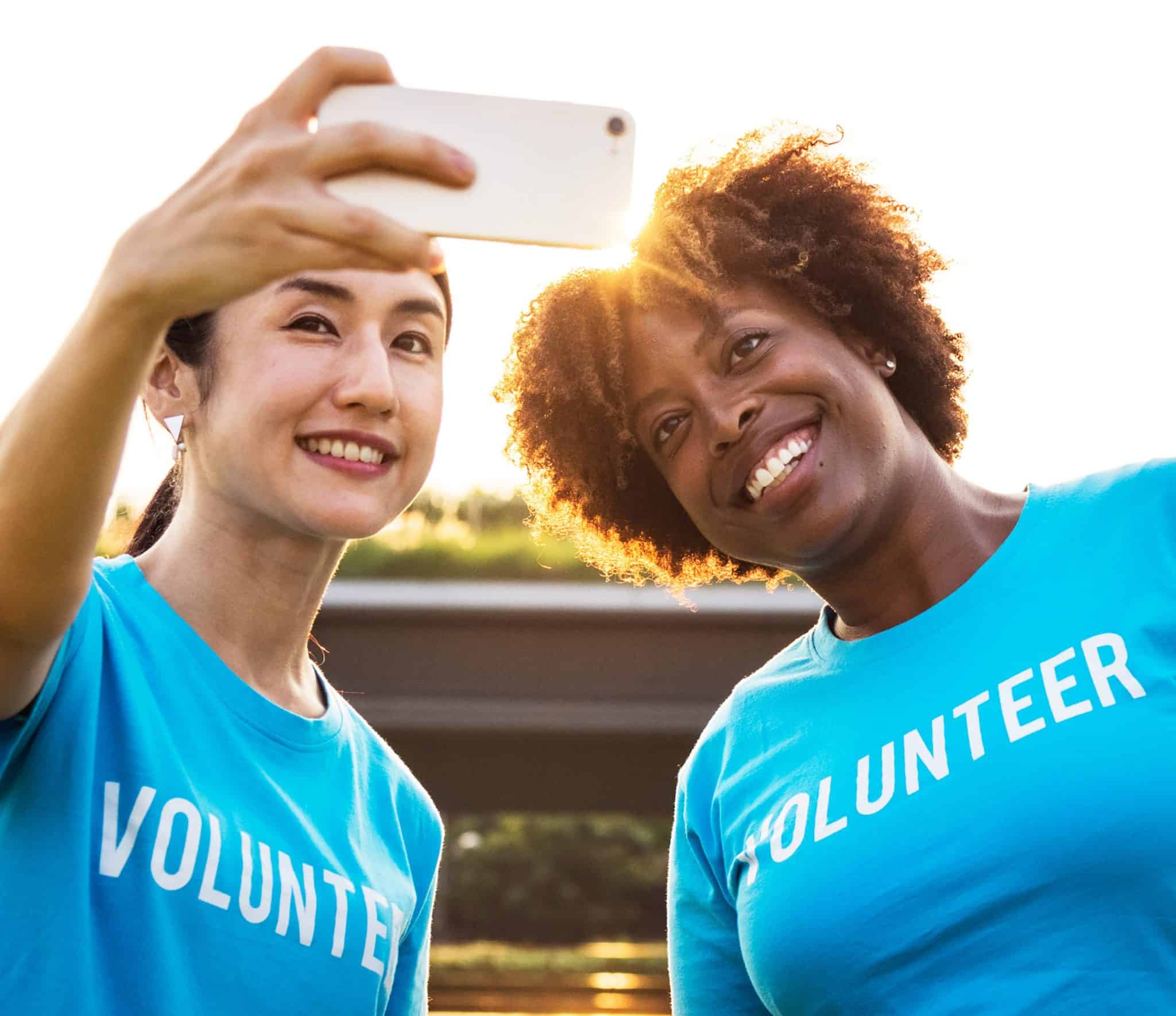 Do you feel called? Are struggling with your calling because you feel unqualified? When we find ourselves doubting our call and our abilities to carry out the call that God has placed on our hearts, a good place to turn to is scripture. Specifically, bible Verses about living life with purpose to remind ourselves of the truths found in God's word.
Back in 2017 I felt called to start a blog, as God would have it, I started a Christian blog. There are days I question this call, especially on days went I feel like my writing is not having the impact I would like it to or on days when I fall into the comparison trap of comparing my blog numbers to fellow bloggers. But then, you get that random blog comment that reassures you that you are indeed making a difference. Gods word can do the same for you too by offering encouragement alongside purpose and direction.
This post may contain affiliate links. You can read my full affiliate disclosure here.
What Does The Bible Say About Living Life With Purpose?
So, what does the Bible say about living life with purpose? A couple bible stories come to mind when I think about walking in purpose, here are a couple to ponder on:
The Story of Jonah – God called Jonah and told him to go preach to the people of Nineveh as they were doing things that weren't pleasing to God. But instead of accepting the call, he headed in a totally opposite direction and boarded a boat headed for Tarshish.  Are you guilty of running away from your calling? Here is the thing, just like Jonah discovered, we can never outrun God no matter how we try. You can read more about Jonah and how this story unfolds in the book of the Bible that bears his name.
Gideon – Gideon was a member of one of the weakest clans (Judges 6). But, here was an Angel standing in front of him telling him that he would save Israel from the hand of the Midianites who were oppressing God's people. For sure God wasn't referring to him right? So of course Gideon asked for a sign and then another sign. I have been guilty of this, how about you? While there is nothing wrong with asking for a sign, we need to be careful that the sign we have been given is actually from God.
Moses – When it comes to walking in your purpose, Moses story is one with which I identify with the most. God presents himself to Moses and tells him that he wants him to go to Pharaoh and lead the Israelites out of Egypt (Exodus 3). Wait a minute God did you forget about my history, why I fled from Egypt in the first place? Surely you have the wrong person for the job. Moses responds to God's call by telling him that he wasn't eloquent enough. What I really like about this story is that it shows that despite how unqualified we may feel, God just wants willing vessels and he will do the rest. Moses went on to become a great leader for Israel.
If you are struggling with your purpose, I encourage you to revisit bible characters such as Peter, Elijah , King Saul and Noah all of whom lived a purpose driven life. You likely won't walk away suddenly knowing that you should become a Nurse or a Teacher. Taking a personality test and talking with persons who know you best can help guide you into a career path.
However, you will walk away encouraged and hopefully inspired that you can confidently walk into the calling God has placed on your heart.
Bible Verses About Living Life With Purpose
The following bible verses about living life with purpose is a great place to start with embracing the truths found in scripture to help you accept the calling God has given you. These Bible verses about living life to the fullest have all been taken from the King James Version.
"But ye are a chosen generation, a royal priesthood, an holy nation, a peculiar people; that ye should shew forth the praises of him who hath called you out of darkness into his marvellous light;" 1 Peter 2:9


"For by him were all things created, that are in heaven, and that are in earth, visible and invisible, whether they be thrones, or dominions, or principalities, or powers: all things were created by him, and for him:" 1 Colossians 1:16
"To every thing there is a season, and a time to every purpose under the heaven:" Ecclesiastes 3:1
"For I know the thoughts that I think toward you, saith the Lord, thoughts of peace, and not of evil, to give you an expected end." Jeremiah 29:11

"I know that thou canst do every thing, and that no thought can be with holden from thee. Job 42:2
Bible Verses On Purpose
Sometimes, despite our best laid out plans, life doesn't always happen the way we want it to. I was reminded of this as I read the book Live On Purpose where the following quote stood out to me. "Remember, your purpose isn't just about you. It's about building up his Kingdom. When things don't go as planned, look for how God might be using you to do something for him -like building up your friends. Because sometimes, living your best life is really about helping someone else live theirs."
I pray that we constantly look to God for guidance no matter how silly it might seem at times, as we can always trust that Gods plans are way better than ours.
"There are many devices in a man's heart; nevertheless the counsel of the Lord, that shall stand." Proverbs 19:21

"And we know that all things work together for good to them that love God, to them who are the called according to his purpose." Romans 8:28

"For we are his workmanship, created in Christ Jesus unto good works, which God hath before ordained that we should walk in them" Ephesians 2:10
"Let us hear the conclusion of the whole matter: Fear God, and keep his commandments: for this is the whole duty of man. For God shall bring every work into judgment, with every secret thing, whether it be good, or whether it be evil." Ecclesiastes 12:13-14

"Whether therefore ye eat, or drink, or whatsoever ye do, do all to the glory of God." 1 Corinthians 10:31
Bible Verses About Living Life to The Fullest
"Too many of us are looking to social media sites like Instagram to define who we are, whether or not we are happy, whether or not we are popular or beautiful and if our lives have purpose" Sadie Robertson
I am guilty of this at times too, but here is the thing, as imperfect as we are, we won't find the answers on Instagram but instead by turning to a God who is perfect and who knew us before we were even born (Jeremiah 1:5).
" In whom also we have obtained an inheritance, being predestinated according to the purpose of him who worketh all things after the counsel of his own will:" Ephesians 1:11

"The Lord of hosts hath sworn, saying, Surely as I have thought, so shall it come to pass; and as I have purposed, so shall it stand:" Isaiah 14:24

"A man's heart deviseth his way: but the Lord directeth his steps.' Proverbs 16:9

"Commit thy works unto the Lord, and thy thoughts shall be established." Proverbs 16:3
Bible Verses About Your Calling in Life
I can't conclude this blog post without first sharing my absolute favorite quote from this sweet devotional book on purpose that I have been reading. It adequately sums up God's purpose for our lives. Ultimately though how we live out that purpose is as unique as each individual. We all have different strengths that can be used to help us live out this purpose.
"God made you on purpose and with a purpose. That purpose has nothing to do with money, clothes, skin color, family background or how many likes you get on Instagram or Tik Tok. God's purpose for each of us is to love others and point them back to him and his love. " Sadie Robertson
"Before I formed thee in the belly I knew thee; and before thou camest forth out of the womb I sanctified thee, and I ordained thee a prophet unto the nations." Jeremiah 1:5

"Ye have not chosen me, but I have chosen you, and ordained you, that ye should go and bring forth fruit, and that your fruit should remain: that whatsoever ye shall ask of the Father in my name, he may give it you." John 15:16

"Being confident of this very thing, that he which hath begun a good work in you will perform it until the day of Jesus Christ:" Philippians 1:6
Walking In Your Purpose Scriptures
Have you struggled to find your purpose in the midst of the busyness of life?
This Bible Journal on walking in your purpose will guide you through an exploration of the word of God as you learn more about what He says about the plans and purpose he created you for!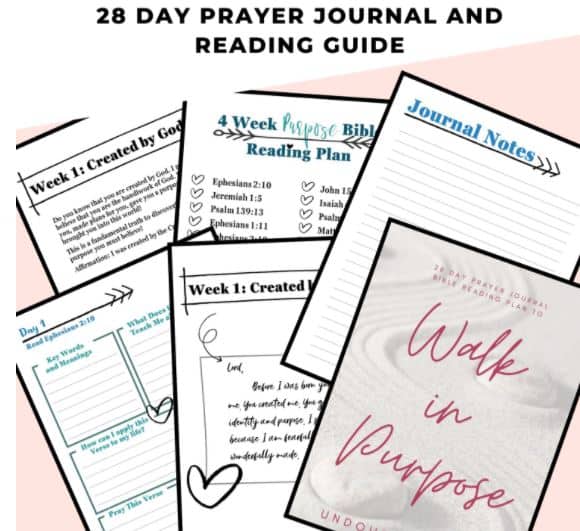 Study Resources on What The Bible Says About Life Purpose
In addition to reviewing scriptures on purpose, the following bible study books on purpose are a great place to start with figuring out how to begin living a life with purpose.
Through her book Live on Purpose, Sadie inspires us to confidently walk into our purpose, facing our fears head on. An easy to read daily devotional with a themed scripture for each day offering massive encouragement. While the devotionals are short, they are quite convicting and filled with truth bombs, that will have you re-visiting a prior statement because it was that impactful. I like that Sadie is raw and open with you about her own struggles and how she overcame them. It was inspiring to see that Sadie too has insecurities just like me and you and the victories she has had over those insecurities by just been willing to let God use her mightily. A book I wish I had in my younger years when I was struggling with walking into my purpose. This Christian devotional book on living life with purpose is perfect for teens! Sadie writes in a way that is fun and relatable that younger readers will certainly understand and identify with.
Life is filled with lots of twists and turns. When Life Doesn't Match Your Dreams by Jill Eileen Smith walks us through several women of the old testament. Bringing to life several lessons on trusting God when life doesn't quite turn out as planned that we can apply to our daily lives as women.
Through the lens of 12 women of the Bible, Jill Smith takes the reader on a journey of finding hope When Life Doesn't Match your dreams.
The twelve women she looked at were: Eve, Noah's wife, Sarai, Hagar, Lot's wife, Rebekah, Rachel, Leah, Dinah, Potiphar's Wife , Tamar and Zipporah. Through the eyes of these ancient women, Jill opens up each chapter with a fictional story of what life may have looked like in these women's shoes. As readers, we step away realizing that these were real women, with real lives who too experienced struggles and insecurities which many of us face today.
Have you ever wondered what Eve may have felt after eating the forbidden fruit or worse yet when her own flesh and blood killed his own brother? Or perhaps even Noah's wife and how she felt during Noah's Ark building venture? While not fully factual, the author helps us to imagine what these 12 women thoughts and reactions may have been like in their given circumstances. She also includes in each chapter stories from her own life to help bring across key points.
One strong takeaway for me from this book is that even though life doesn't always match our dreams, we can depend on God not to forsake us. He is right there with us through our mess and trials, molding us for the divine purpose he has for our lives. If only we would trust him and let him lead. Whatever we give up to God has the potential to grow to greater heights than we ever imagined.
For those looking to do a Bible Study on Women of the Bible, I think this would make a great personal or group study accompaniment. It does include discussion questions at the end of each chapter which would be great for personal reflection or group discussions. This would also make a great devotional guide to study women of the bible.
Do you know your purpose in life? For many of us we settle for the mundane instead of living a life of purpose. Using Elijah's story, Dr. Robert Jeffress provides a roadmap on how we can discover our unique purpose while waiting on God's timing. This book is for anyone who is tired of an unfulfilling life and desires to experience a truly extraordinary life.
Who doesn't want to live an extraordinary life? The author highlights that too often many of us settle for a lackluster life even though we long to discover the overarching purpose for our lives. The problem is we aren't too sure how to discover our purpose. The author uses a combination of biblical stories, current events and as well as experiences from his life and ministry to illustrate his ideas.
Using the biblical story of Elijah as a backdrop, Dr. Robert Jeffress walks us through how we can go about living a truly extraordinary life. While I have heard the story of Elijah quite a few times the author managed to bring another angle to the story which I hadn't thought about before. He uses the story of Elijah to help draw a parallel to help the reader discover the divine purpose that God has for your life while navigating through periods of waiting and really bad days to ultimately living out God's purpose for your life.
Throughout the book he dissects seven secrets. While I wouldn't necessarily call them secrets, the author shares with us seven steps towards transforming your life from ordinary to extraordinary. These seven steps are:

Secret 1: Discover Your Unique Purpose
Secret 2: Determine to Influence Your Culture
Secret 3: Wait on God's Timing
Secret 4: Burn the Ships
Secret 5: Unleash the Power of Prayer
Secret 6: Learn How to Handle Bad Days
Secret 7: Live Life With the End in View
In discovering your unique purpose, the author teaches us that the beginning point for identifying our purpose should be grounded in saturating our minds with the commands of God. By spending time with God, you will gain a clear picture of what he expects of us. 1 Corinthians 10:31 reminds us that in whatever we do we should do it to the honor and glory of God. The author also provides actionable steps on how we can get a clearer understanding of our gifts.
I particularly enjoyed chapter three as it was a friendly reminder that sometimes God takes us through a waiting period to teach us something. It might not be clear while we are going through it but often when we look back we can truly say, yes God knew what he was doing. We might question God's rational but rather than question we should trust that the same God who led you to the point where you are currently at, will lead you away from there when he is ready.
If you are searching for some clarity on finding your purpose in God, discovering your purpose, how to find your purpose and passion in life, Choosing the Extraordinary Life: God's 7 Secrets for Success and Significance is a good place to start.
The New York Times #1 bestselling book by Pastor Rick Warren that helps you understand the purpose of your life.
The Purpose Driven Life is designed to be read in 42 short chapters that will inspire you to stop and realize how God uniquely designed you for a purpose only you can fulfill. It also includes links to 3-minute video introductions to each chapter and a 30- to 40-minute audio Bible study message for each chapter. There are also appendixes including questions for further study and additional resources.
Before you were born, God already planned your life. God longs for you to discover the life he created you to live–here on earth, and forever in eternity. Let The Purpose Driven Life show you how.
God Has A Purpose For Everything
Married by 25 , kids and a house by 30, how often have you said this to your girlfriends? However life doesn't always turn out the way we envisioned. That dream job we hoped to land or that guy we hoped to marry doesn't become reality.
Martin Luther and Billy Graham are all well known leaders who have all lived a life of purpose. Just like these leaders, you may have wished that your time on earth had a greater purpose than just merely your daily grind?
Well guess what , "no matter who you are or what your circumstances might be, God desires to transform your ordinary existence into an extraordinary life."
There you have it, some of my favorite Bible verses about living life with purpose. I would love to hear from you, what are your favorite scriptures on living life with purpose along with goals that God has been calling you towards lately? Drop them in the comments below!
Hi there! I'm Shanique, the founder of Rock Solid Faith. I am a multi-passionate millennial and Women's Ministry leader who loves helping others learn to study the Bible. On the blog, you'll find helpful Bible study tips to help you develop a deeper intimacy with God, and fall in love with God's Words.