I am a Podcast junkie!
While it might be a tad bit much, my life has literally not been the same since I discovered Podcasts.
Podcasts have made doing chores and even my commute to and from work so much more enjoyable.
Through podcasts, I have discovered how to better  manage my most important relationships (my relationship with God, family and friends), I have even picked up a few business tips in the process.
I know how hectic life can get, so to save you the trouble, I have compiled my favorite christian podcasts  for women below.
WANT TO REMEMBER THIS? SAVE THESE CHRISTIAN PODCASTS FOR WOMEN TO YOUR FAVORITE CHRISTIAN FAITH BOARD!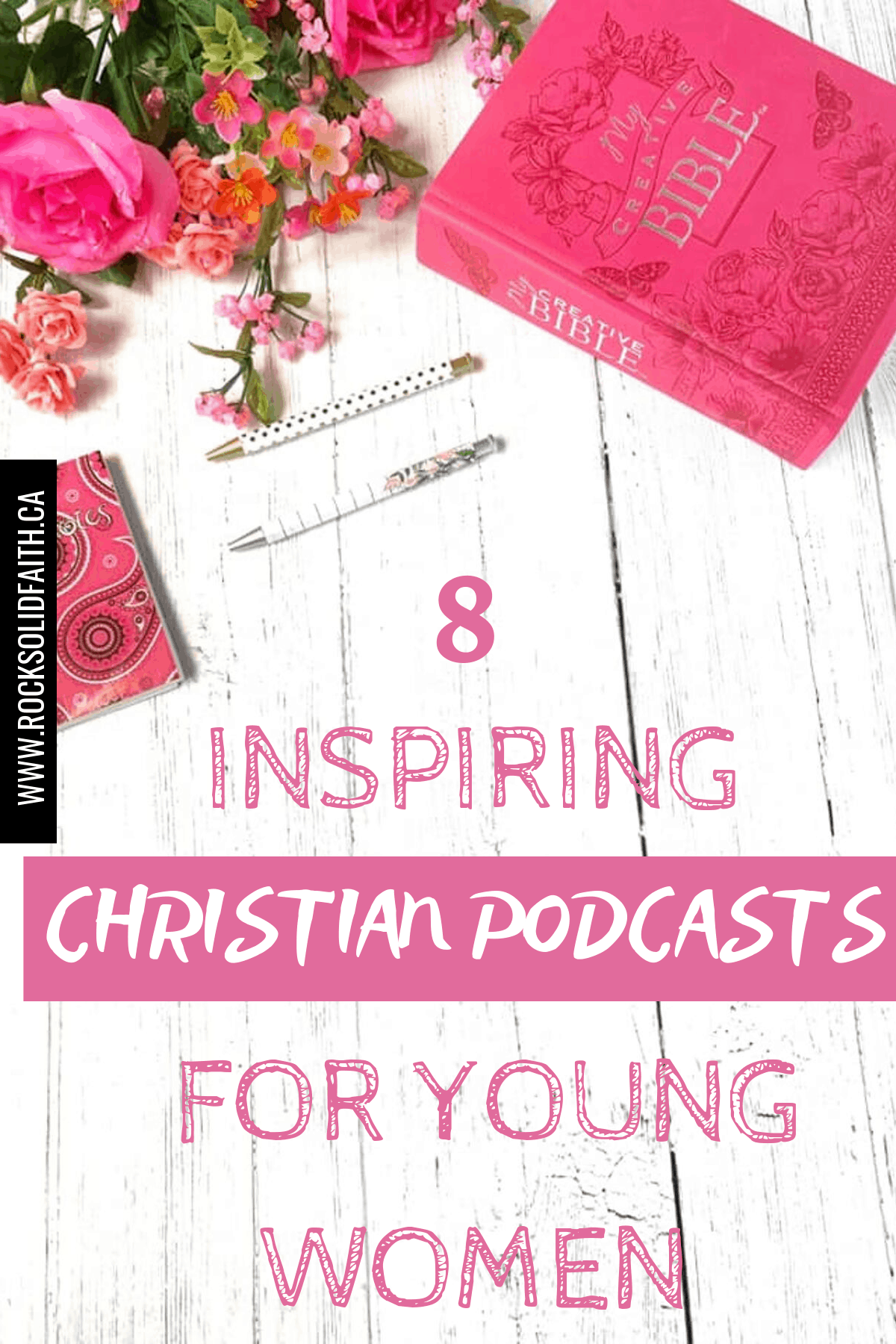 Why I Love Listening To Christian Podcast For Women
There are a variety of different podcasts: christian podcasts for moms, funny christian podcasts, black christian podcast, podcasts for christian wives. Whatever your interest, you will likely find a podcast geared towards this.
The number one thing I like about Podcast is that there is no extra time investment required. I could be folding laundry or cleaning the house, simultaneously I have have the opportunity to learn new things without having to set aside additional time which I already don't have to get it done.
Podcasts are encouraging while also entertaining, you learn from real women who are going through or have been through situations that you are currently struggling with.
Last but not least it also provides itself as another avenue to fill yourself with spiritual thoughts throughout the course of the day, helping you in your desire to grow in faith.  If you have identified with any of the above, why not giving podcasting a try? Here are some christian podcasts for women to consider. You can find them through your podcast app on your Apple or Android device.
Podcast For Christian College Students
Girls Nights by Stephanie May Wilson and SHE Podcast would be among my top recommendations for podcast for christian college students. Young adults themselves, they share their personal struggles and how they overcame those struggles along with sharing topical discussions  that affect this age group. Most importantly their number one aim is to provide resources to help you in your spiritual walk with God.
Girls Night With Stephanie May Wilson
Girls Night is my all time favorite podcast. Each week on the podcast, one of Stephanie's girlfriends comes over to chat about a topic that is central to our hearts as women. They talk about friendship, faith, relationships and self-confidence—as well as our calling in life and how to create a life we love! Each episode feels like that conversation that takes place around the kitchen island, late at night in your comfiest sweatpants, a La Croix in one hand and a slice of pizza in the other, where wisdom and laughter abound. Listen on Apple Podcasts
SHE Podcast With Jordan Lee Dooley
SHE Podcast is my runner up for podcast favorites. The SHE podcast is a personal development podcast for the everyday woman (like you!).
In this show, Jordan covers actionable advice on cultivating healthy relationships, creating a successful brand and business, embracing body positivity, improving money management, and empowering your faith – all wrapped up with tailorable, tangible takeaways. Nothing is off the table from most embarrassing moments and difficult breakups, to practical success strategies and entrepreneurial life.
Whether you are single or married, own your business or just starting in the work force – you have a place here.
Come invited. Leave ignited. Listen on Apple Podcasts
Christian Podcast For Women
We could all do with a little biblical wisdom to apply to our current season of life. These christian podcast for women offer valuable nuggets from persons who have been through a similar struggles that you just might be facing right now. By learning from their experiences, you can walk away with hope and tips to help you grow in faith.
Proverbs31 Ministries Podcast
Maybe you were single and they were married. Maybe you're a grandmother and they were childless. Or maybe they were older and you were younger.
Too often we only look to our peers for guidance because we feel like they're the only ones who could "get us." It's good to rely on friends, but seeing your life from a different perspective can be irreplaceable.
Every episode will feature a staff member or friend of the Proverbs31 ministry who can teach you something valuable from their vantage point.
The Proverbs 31 Podcast will help you…
Apply biblical wisdom to your current season of life — whether you're in your twenties or eighties.

Learn to value the people around you who are in different seasons by finding common ground in your struggles.

Start your day off right or make your commute more enjoyable by conveniently accessing through your podcast app.

Podcast Home
Chrystal's Chronicles

Podcast
Through her podcast, Chrystal shares Real. Authentic. Transparent. Thoughts on faith, family, food, fitness, and fun.
Journey Women
Life's a journey we were never meant to walk alone. We all need friends along the way! On the Journey Women podcast we'll chat with Christian leaders about gracefully navigating the seasons and challenges we face on our journeys to glorify God. Listen on Apple Podcast
Set Apart Girl Podcast
Inspiring women of all ages to pursue Christ-centered femininity, bestselling author Leslie Ludy speaks straightforwardly, giving biblical and practical advice on how to live as a godly woman amidst a self-seeking and shallow culture. With episodes on purity, purpose, devotional living, true beauty, Bible study, mentoring, leadership, friendships, romantic relationships, marriage, and family, this soul-stirring podcast will encourage you to surrender your life to the one true King and find true fulfillment and purpose in Him! Podcast Home
Modern Homemakers Podcasts
Jami Balmet the blogger behind Young Wives Guide operates two podcast, Titus 2 Minute and the Homemaking Foundations Podcast. While more geared towards young wives, she dives into strategies that can help you too with building a Christ centered home.
Titus 2 Minute
A bite sized podcast that gives you the tools, inspiration, and encouragement you need to craft a Gospel-Centered Home. Join host Jami Balmet as she interviews Christian women in all aspects of Biblical Womanhood and Homemaking! Podcast Home
Homemaking Foundations Podcast
The Homemaking Foundations podcast exists to give you the tools, inspiration, and encouragement that you need to craft a Gospel-Centered Home! Join Jami, author behind YoungWifesGuide.com, as we explore various aspects of homemaking including Biblical womanhood, marriage, healthy living, organizing, cooking, and so much more! If you feel like your home is out of control – or if you ever feel overwhelmed in your role as homemaker – then join Jami each week as she interviews other homemakers and provides Gospel-Centered encouragement for bringing Glory to God every day within our homes. Listen on Apple Podcasts
There you have it, some of my favorite christian podcasts. I hope you found some new gems along the way. What are some of your favorite christian podcasts for women?
More Articles You May Like
Christian Books For Young Adults
50+ Books Every Christian Should Read