Children love stories and parents just like you, want to give them stories with meaning that will impact their lives positively. The ideal story should be exciting with lots of pictures and needs to be written in language easy for children to understand and short enough to keep their attention.
I dare say that the best children's bible story book is really the bible. This is because the bible is God's word which ultimately instructs us, corrects us and leads us in the way of righteousness. The best time to begin this work is in childhood as when we train children in the Lord the teaching will be etched in them even if they do not choose to follow it. So, what's the best bible for kids?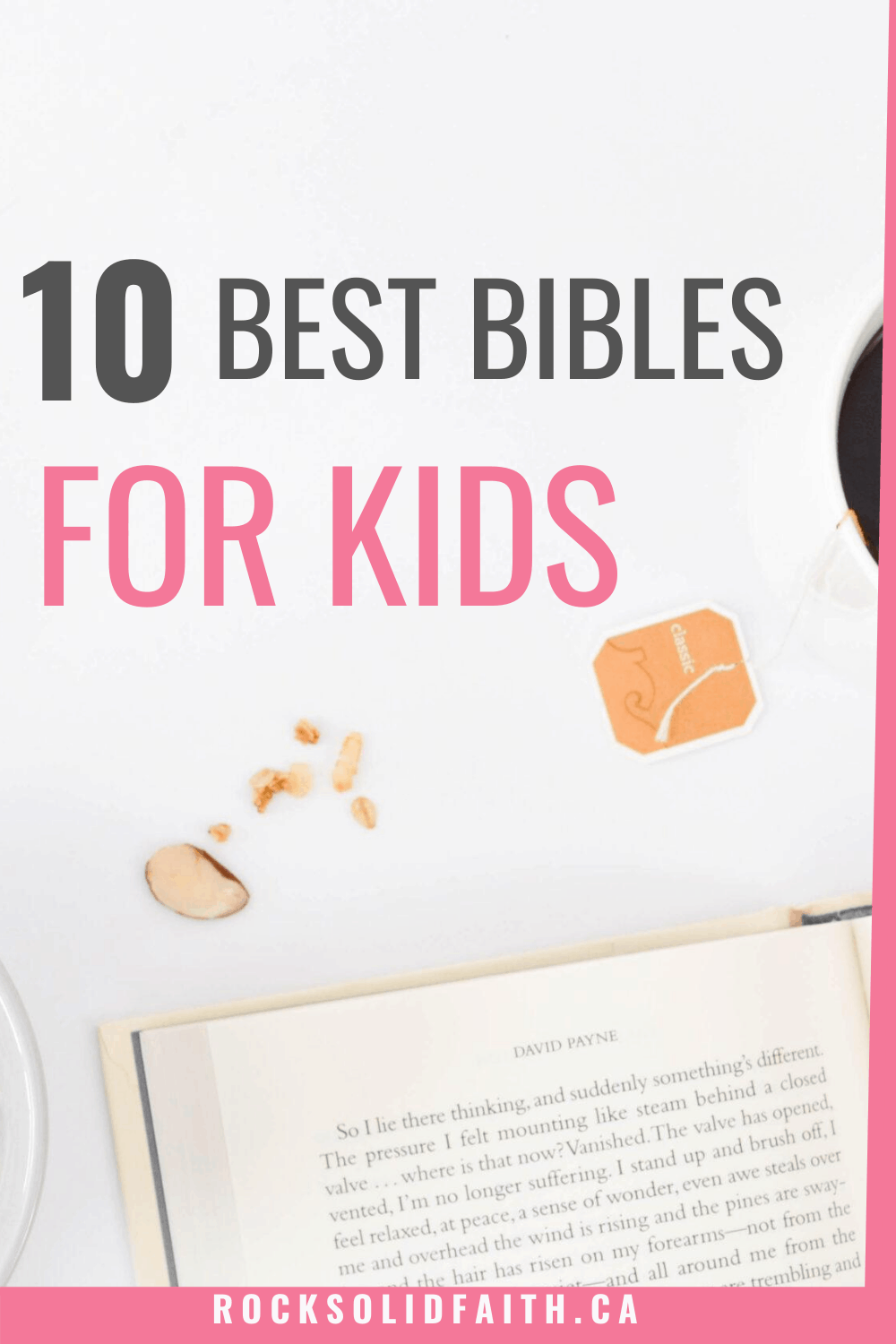 This post may contain affiliate links. You can read my full affiliate disclosure here.
The Best Bible for Toddlers and Beginning Readers
The best way to teach your toddler the bible is to read to them the bible. Bibles for toddlers and beginning readers are essentially just bible stories written to appeal to this age group.
For early readers, the book's  ease of reading is important so The Beginners Bible, A Childs First Bible, Tiny truths illustrated bible and the kids bible are some of your choices. These have simple text and are understandable.
For this age group, large pictures are appealing and so the lion first bible would be one to consider. If longer length stories are your cup of tea take a look at the complete illustrated children's  bible.  Even though this is more ideal for an older age group, if you are into a bit of humor the laugh and grow bible for kids is worth looking at.
For those who love to touch, see and hear, the lift the flap bible has several flaps which make the experience great and so is one of the best bibles for toddlers as they always like something exciting. The  soft furry cover of the Baby's Hug a Bible with its short bible stories in a rhyming format is appealing for those in the baby to toddler age group to hug and keep God's word close to the heart. It can also be used for early readers.
The my sing along bible  is also a great option for keeping those active toddlers engaged in God's word. If you are interested  in a DVD with your child's  bible, the read and share toddler bible is one to consider. All these are wonderful choices which can help you teach toddlers the bible. They can also help early readers learn the bible while learning new words.
Best Bible Storybook for Kids
Bible storybooks are also a great way to teach toddlers and kids about the bible. If you want a bible story book with activities for kids, the read and share bedtime bible and devotional is great. It has fabulous pictures, bible verses, activities and discussion starters. The little hands story bible is also another good choice as it offers a challenge to spot a particular thing in each picture so it will definitely keep your child's attention.
Wise for salvation has interactive devotions. It will keep your children busy learning God's word while doing activities such as acting, dancing and drawing. Are you excited when you get a letter or email from someone you love? Well, love letters from God has popular bible stories along with a special letter to the child from God in a lift the flap envelope. What a wonderful idea for kids to get to know and love God.
If you want books that teach bible lessons but aren't from the bible, some of the best children's bible story books are Nate and the cake and Halfway Herbert. Nate and the cake is a story about obedience.  It tells of a young boy faced with temptation and shows what he does. It is a unique twist when compared with other stories about temptation and it will keep you and your child on the edge of your seat wondering what Nate will do. Halfway Herbert tells the story also of a boy who usually does things halfway. It teaches about giving of your best. Readers journey with Herbert and learn what living for God really means. These are some of the best children's bible story books that can help your child learn about God and what it means to be a Christian.
What Bible version is good for kids?
So even though I said the bible is the best children's bible story book, It can be challenging to find a bible for kids that tells the story verbatim. This is so because in an effort to make the piece appealing, writers tend to use words that children can understand  and may use their imagination and add other elements to the story to make it more child friendly, For some parents this is a turnoff and so if you are one of these parents I recommend buying the storybooks that teach biblical lessons such as Nate and the cake You can also read the bible and retell your child the story in a way you believe would appeal to the child. Ultimately the goal is to lead the child to develop Christ like qualities while learning the story about a God who loves us all. Don't lose sight of this bigger picture as you enjoy some of these best bible storybooks for kids.
What are some of your favorite storybooks and Bibles for kids?
OTHER ARTICLES YOU MAY LIKE
How To Study The Bible For Yourself And Actually Understand It
6 Reasons The She Read Truth Bible May Not Be For You
The Best Study Bibles For Women
The Best Gifts For Christian Women