At the start of each new year, there is a growing interest to grow closer to God.
We vow to read the Bible in a year, or even purchase a shiny new devotional in an effort to have a stronger relationship with God. Despite our best efforts to be really intentional with our faith, the busyness of life often seems to get in our way.
What if instead of trying to fit Jesus into our daily life we planned our day with him instead? What if your daily planner could help you make time for your faith just as how you make time for your other appointments?
If your relationship with God has been more of a status quo lately with no traction, its time to take actionable steps to grow spiritually. Here is how you can use a Hope Planner (Faith Planner) to grow spiritually this year.
This post may contain affiliate links. You can read my full affiliate disclosure here.
Faith Planner| What Is The Hope Planner?
While you can easily choose The Commandment Co. planner or another Christian planner here is what really sets the Hope Planner apart from others on the market. The Hope Planner isn't just a planner with daily Bible verses.  It is an all in one Faith Planner, that combines a daily planner and prayer journal to help you put your faith first each day and stay organized. The Hope Planner helps you to prioritize your faith just as you do your to do list. Developed by Heather Vreeland out of a desire to make quiet time a priority.
Overview of The Hope Planner | Faith Planner

The Hope planner comes as a beautiful navy blue undated planner accentuated by gold rings and gold wording that pops, adding to the luxurious look of the planner. On opening, you are presented with a welcome note, which adds a really nice personal touch. The welcome note speaks to the purpose of the planner, as well as gives a back story about how the planner came into existence. It discusses why Bible study matters and how you too can use the Hope planner to make Bible study a habit. It promises to help you stay organized as well as help your faith grow stronger and I can certainly attest to this as with the devotional blocks penciled in it reminds me that I need to spend some time with God.
Before diving into your plans for the upcoming months, the Hope Planner provides a page for you to brainstorm and make note of what you want to achieve in 6 months. I use this area as a vision board, a visual reminder of what I would like to accomplish. This has certainly helped with keeping my goals top of mind, increasing the likelihood of me actually accomplishing them.
Also included is a page where you can talk about your Why, why do you want to make Bible study a habit. I love this idea as it not only serves as a constant reminder of your why but it keeps your goals top of mind as well.

The Hope Planner, is the perfect addition to any morning routine. Each day, there is a slot devoted to scripture journaling as well as space to add a prayer before addressing your to do list for the day. While you can certainly use this section for scripture journaling, I am planning on using it to help me memorize scripture through repetition.  In the likelihood you skip the devotional section, there will be a big blank space in your planner serving as a reminder that you haven't scheduled your quiet time for the day. If you do this daily, I can easily see how you can begin to make Bible study a habit.
The daily planner also includes, slots for time blocking, space to list dinner ideas, a tracker for daily habits and lots of space to add your personal touches as you deem fit.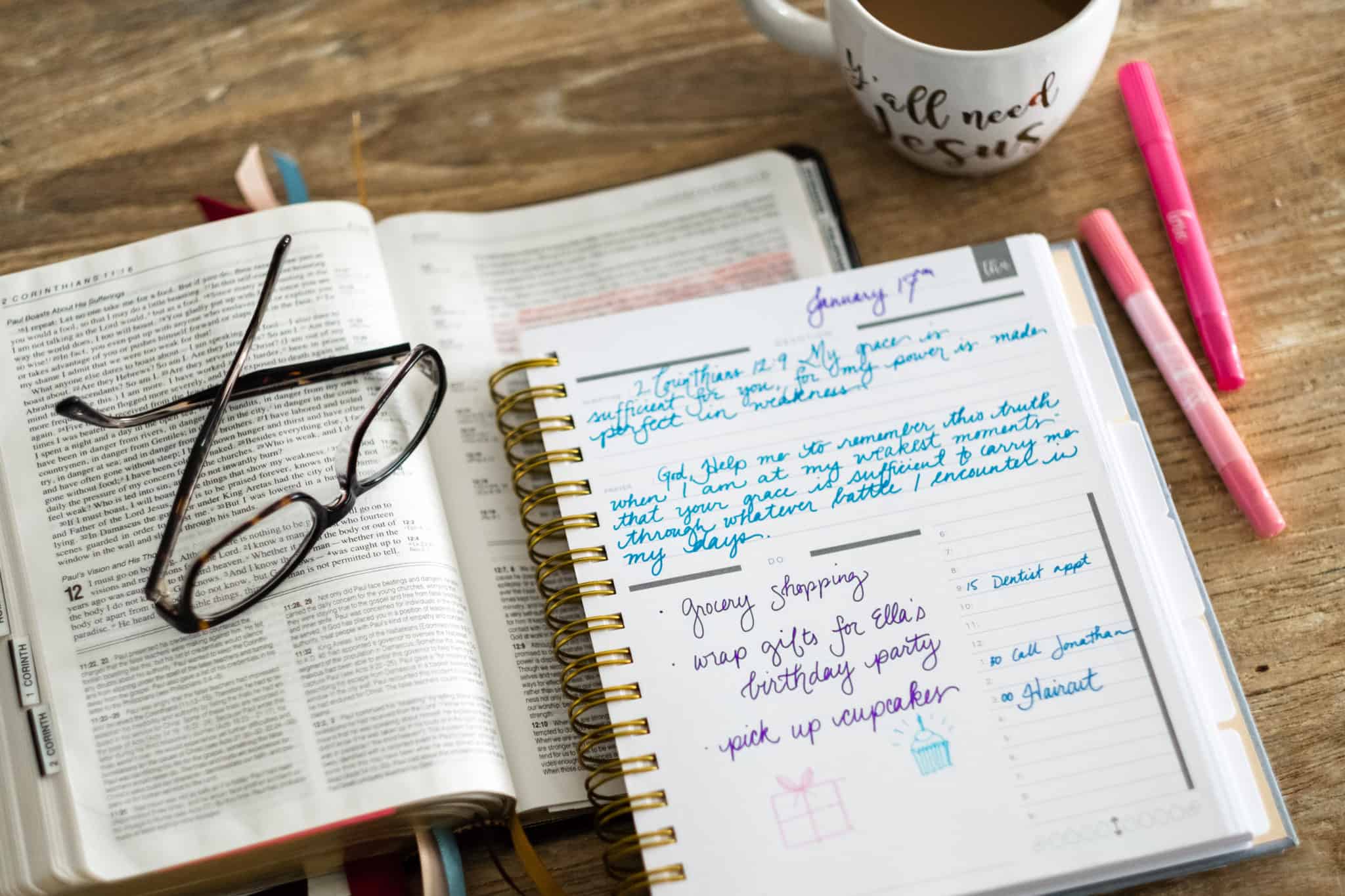 Features of the Hope Fuel Faith Planner
The Hope Fuel Faith Planner includes the following features:
6 month Undated Christian Day Planner
Weekly Sermon Notes Page
9″ x 8" inches (including coil), 1.25" thick
74lb White Paper, Pens Do Not Bleed Through
Gold Coil Wire-O Binding
Linen Wrapped Hard Cover
Inside Front Cover Pocket
Includes Gold Foil Month Stickers
Full Month View
Monthly Goal Setting
Monthly Prayer List
Daily Healthy habit tracker
Faith Planner| Review of The Hope Planner
This Christian Planner is thoughtfully designed to help you invigorate your faith and organize your life. It comes as a 6 month planner which might be an issue if you rather a 12 month layout. The fact that its a 6 month planner does have its benefits as its less bulky and not as heavy to carry around. Also, a 6 month planner gives you the opportunity to use it for a while to see if it works for you. If it doesn't, you can always switch to an alternative planner than having to commit to a full year.
The daily edition of the Hope Planner does not come with a weekly spread however, it does have a notes for the week section where you can brainstorm and then use it to plan your week in the daily slots provided, should you choose not to use it as a weekly sermon notes page. An alternative is also to consider their weekly Planners instead of the daily edition.
While I like the idea behind the Hope Planner, the space provided for scripture journaling is only adequate for a memory passage.  If you wanted to journal all your thoughts from your quiet time you would have to get a scripture writing journal for this as there isn't a lot of space provided. This isn't a deal breaker for me as the space can be used to pen that one verse that stood out from my devotional time that I want to keep top of mind throughout the day or use it to help you memorize scripture.
There is also a handy prayer list section for those random days when someone asks you to pray for them. Now you will totally remember and not forget thanks to your faith planner. I absolutely love the scribble page. This can be used for brainstorming or just getting organized for the week. I am planning on using that page for doodling / Bible Journaling messages to help remind me of God's promises throughout the week.
If using a daily planner is totally your style and you want to make your quiet time a habit, consider the Hope Fuel Planner. It is thoughtfully designed to help you take intentional steps towards really growing your faith. If you own a Hope Planner, I would love to hear what you love the most about it.

MORE ARTICLES LIKE THIS YOU MAY LIKE
Why Choosing A Guided Word Could Totally Change Your Year
How to use a Prayer Notebook to Boost Your Prayer Life
Devotionals For College Students
Christian Coloring Books For Adults
Struggling To Read The Bible? Here Is What You Should Know