Do you love bible journaling? If so, I have found the perfect product for you, Bible journaling kits! They are a great way to creatively explore your faith. Bible journaling is a fun way to dive into God's word and can be done in many different ways.  Some people like to use scripture verses, while others enjoy drawing or using watercolors. No matter what you choose, this blog post will give you some great tips on where to find bible journaling kits perfect for beginners.
This article provides a list of the best bible journaling kits for beginners. It's not just about creating pretty pictures all over your Bible; it's about reflecting on what you are reading in Scripture and how God has been working in your life through His Word. Bible journaling is a great way to express creativity and grow your faith.
This post may contain affiliate links. You can read my full affiliate disclosure here.
Best Bible Journaling Kits
Bible Journaling can be an intimidating for beginners, but it is absolutely worth the time and effort you put into it. This article will help to guide you through some of the best Bible journaling kits so that you can get started on your journey with a little bit more confidence. These are all great options because they come with lots of creative elements to get you started which will save you some time and money. Simply print off these bible jorunaling printables and use them to create a bible journal notebook. You can also download this guide to find some additional bible journaling ideas.
Are you just starting out with Illustrated Faith and jumping into Bible Journaling? If so, then you will love this toolkit as it includes videos to show you how to get started with bible journaling.
Bible Journaling is a great way to focus in on the main point of a passage and connect with God creatively. This Tool Kit focuses on the topic of Joy:
*What is Joy?
*Where does Joy come from
*How can you get more Joy in your Life as a Christian?
This Choosing Joy Bible Journaling Kit includes:
30 Days of Joy Reading Plan
Journal Prompts Sheet
3 Illustration Ideas Sheets
Margin Strips
Bible Verse Coloring Cards
Videos to guide you through the process
Bible journaling can be a creative way to meditate on God's word and worship, but if you aren't an artist, it's overwhelming! This kit breaks it down for the beginner at any artistic level with practice sheets, a reading plan, inspirational pieces and more.
If you've been thinking about Bible Journaling, but you are not sure where to start or you feel too intimidated, the Trust in the Lord Bible Journaling Kit is the perfect place to start. Not only does this kit teach you how to get started (even if you are brand new), but there are TONS of traceables you can use to make sure your Bible journaling is super cute and pretty from day one.
This Bible Journaling Kit includes:
30 Day Bible Reading Plan
Bible margin strips
Fun Traceable's
Bible verse coloring cards
Calligraphy practice
Daily journaling pages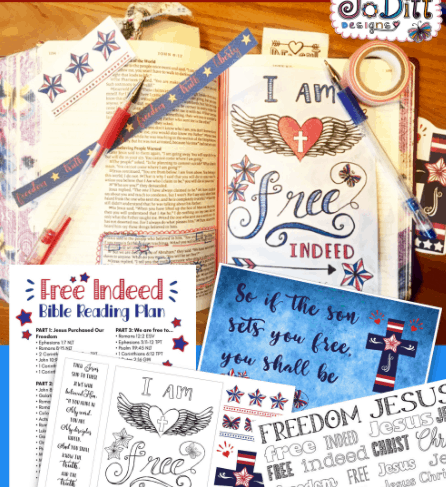 Celebrate your freedom in Christ with this fun Bible journaling kit. The kit includes the following digital, printable items available for INSTANT DOWNLOAD:
Free Indeed Bible Reading Plan (30 days)
I am free indeed Bible Journaling printable PDF with bookmark, hand lettered coloring card, + red, white and blue cross, stars, and butterflies
Free Indeed Prayers Worksheet
Word art for tracing or cut and gluing
John 8:36 wall art (8×10)
John 8:36 postcard (4 x 6)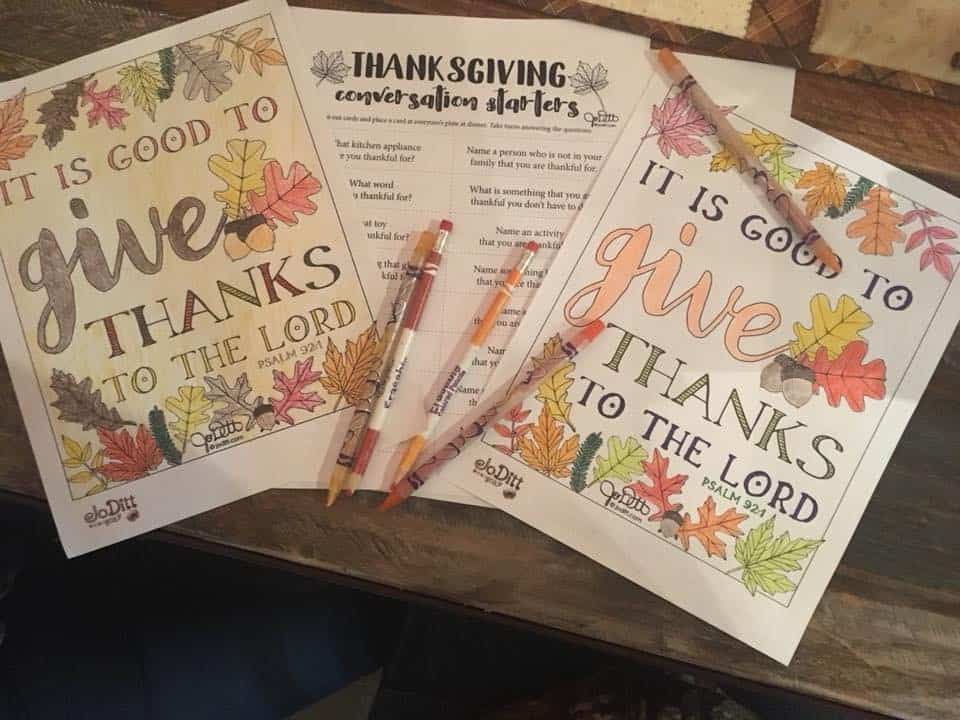 This toolkit would be a wonderful addition to a gratitude challenge or for a bible study on gratitude. This gratitude bible journaling kit includes the following Printable PDF & JPG Files:
30 Day Bible Reading Plan
6 Journal Page Templates & Prompts
Set of 5 Scripture Memory Cards
Set of Colorful Autumn Blank Journal Cards
2 Coloring Pages
Thank You Hand Lettered Word Art
Lots of graphics to print or use digitally
This
bible journaling kit
comes with 5 Printable PDF files to help you encounter Jesus, the Living Word, through creativity. A devotional video is also included.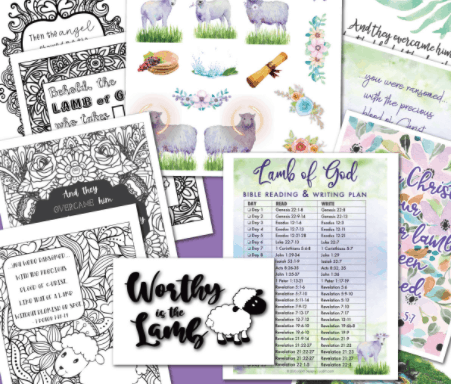 Celebrate Jesus – the Lamb of God – and the Good Shepherd – with these beautiful, printable & digital items! This bible journaling kit is perfect for Lent, Easter and Passover. Included are the following items:
8 Scripture Coloring Pages
6 Scripture Wall Art Pages
Sticker Sheet
Word Art & Clipart
Coloring & Creativity Tips & Tutorials
Includes 5 Week Lamb of God Bible Reading Plan
This bible journaling kit is great for Pumpkin Lovers of All Ages! Also Great for Halloween Outreach Events! The kit includes:
Fun Pumpkin Coloring Pages & Cards
Halloween Outreach Bookmarks & Cards
Colorful Scripture Memory Cards
Pumpkin Washi Tape
BONUS: 6 Cute, Colorful Pumpkin Graphics
For even more bible journaling kits, be sure to check out the faber castell bible journaling kit on Amazon.
Bible Journaling Printables
The bible journaling printables we mentioned in this blog post are a great way to explore your faith creatively. If you're new to the world of bible journaling, these bible journaling supplies will get you started on your journey! Have you come across any other bible journaling kits that you absolutely love? Share them below so others can check them out as well.