What happens when he find out the real me? You know, the REAL me!
Should I clue him in that the straight long hair he loves so much is nothing but a wig. I doubt he would even recognize me without my full face of makeup on. But, how else am I to land a man if I don't slay that outfit and accentuate all the right places?
Friend, Do you know your worth? No, not the dollars in your bank account, while having dollars to your name certainly doesn't hurt. But rather, knowing your worth in God.
The media bombards us with messages that we need to dress to impress, drive a BMW, hold a prestigious title all to be seen as of worth.
We all fall prey to these message at times but friend, am elated to tell you that you are Worth More Than Those Diamonds that you chase after. Today, I am happy to feature author Christina Leeman, she will be sharing with us 10 truths to help you know your worth in God.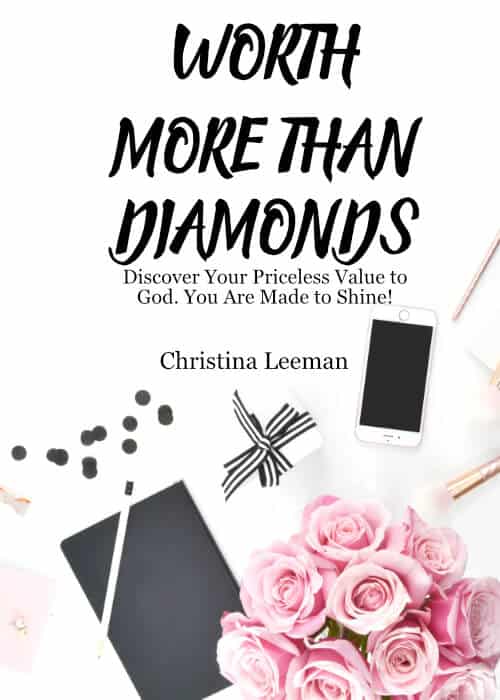 Knowing Your Worth In God 
Are you looking to your friends or the media to determine your worth? Learn what it means to really know your worth in God as a woman. Self-Worth can be defined as the sense of one's own value or worth as a person. If you don't feel valued or are  struggling with low self-esteem? You are not alone and I would encourage you to read the Bible Study Silencing Insecurity: Believing God's Truth About You.

Finding My Worth
I am a volunteer for a Christian organization in the city of Pittsburgh, PA.  As a ministry we work with children in grades three through twelve. We figure that by sharing Jesus with the children we can also reach the parents of these kids. With this in mind, we have various programs such as: performing arts, basketball, dance, baseball and which all have the gospel of Jesus taught and interwoven throughout.
Presently, I mentor in the girls' basketball outreach program. Many of the girls I mentor are from certain high poverty crime ridden stereotypical type of neighborhoods. Drug deals, fighting, gun – play and other toxic events are a norm for them. Oppression is heavy in the air.
Although they struggle to show love in healthy ways, the girls love the basketball program. One of the things I have come to realize though is their lack of self – worth, value and importance. Love and trust forms the foundation of developing a healthy self-worth and sadly these basic needs have all been violated at an early age.
Since these basic needs are not being met in healthy ways, these girls try to get them met with various toxic behaviors. They are easily angered, participate in inappropriate touching, disrespectful of other's boundaries, hold grudges, dress provocatively and are very needy.
I try to discipline them in love and teach them healthy coping skills. The main thing I do is tell them I love them – and also try to show it. Evident by showing up weekly, playing with the girls, encouraging them and also teaching them about the love of Jesus.
Last year I made every girl a framed graphic for Christmas. It said: I am valued and loved by God. I loved seeing their faces light up. At the end of the basketball session, an angry 11 – year old, threw the graphic down because she couldn't sit where she wanted to in the van on the ride home. One of the volunteers told her to pick up the frame. She said: "I don't care. I don't want it." While stomping into the van.
I picked up the frame, placed it in my bag. Walked to my car with the other girls and left. I cried all the way home. Weeping at her misplaced anger. Crying for her deep sadness. Tears of frustration.
The passion I felt over her anger, loss and sadness fueled me into writing a booklet proclaiming the truth of their worth in God. Writing is a vocation from God. He gifted me with the love of writing to spread His love to others.
Self-Worth Affirmations: 10 Truths Every Girl Must Know
This is just one example of having misguided self worth. While we may not be not be from poverty stricken neighborhoods, we often struggle with our self-worth in many different ways.
Girls need to know and believe they are worth more than diamonds. Here are 10 truths every girl must know about themselves and how God sees them:
I am loved.
I am priceless.
I am appreciated.
I am valued.
I am accepted.
I am known.
I am celebrated.
I am significant.
I am treasured.
I am worth more than diamonds.
Self-Worth Bible Verses
These truths are summed up in the powerful scripture of Psalm 139 NIV translation. Because of the length of this Psalm, included are few verses from this scripture:
"You have searched me, Lord, and you know me." (1)
"You discern my going out and my lying down; you are familiar with all my ways." (3)
"For you created my inmost being; you knit me together in my mother's womb. I praise you because I am fearfully and wonderfully made; your works are wonderful, I know that full well. My frame was not hidden from you when I was made in the secret place, when I was woven together in the depths of the earth. Your eyes saw my unformed body; all the days ordained for me were written in your book before one of them came to be." (13-16)
God created us with love. Knowing, believing and experiencing God's love amplifies these ten truths. Every girl, teen and woman are God's beautiful work of art!
"For we are God's masterpiece. He has created us anew in Christ Jesus, so we can do the good things he planned for us long ago." (Ephesians 2:10 NLT)
Remind the girls in your life these 10 truths. Have them speak it out loud, write them down. Etch these truths on their hearts and in their minds. Let's change their world!
In the end all we need is to know and believe we are loved by God and safe in His arms.
"This is real love—not that we loved God, but that he loved us and sent his Son as a sacrifice to take away our sins."1 John 4:10 (NLT)
"The Lord himself watches over you! The Lord stands beside you as your protective shade." Psalm 121:5 (NLT)
Self-Worth Books: Knowing Your Worth
I wrote the booklet WORTH MORE THAN DIAMONDS. Presented it to a focus group of some of the girls who I volunteered with. They liked it and gave me some tips for improvement, like a space to write in.
I tweaked the booklet and tested it with another focus group of girls. They liked writing their thoughts in the booklet. They enjoyed the book!
Let the 11-14 – year old girls in your life know their worth with the WORTH MORE THAN DIAMONDS Discover Your Priceless Value to God You are Made to Shine booklet. Filled with colorful pictures and powerful scriptural truth designed for the young teen girl. Includes relevant topics about beauty, identity, God's love and more. Worth More Than Diamonds is  available at SheWhoHonors.