10 Encouraging Bible Verses For A Broken Heart
You know the part at the end of a romantic comedy where the music crescendos and the two lovers skip off into the sunset together despite all their differences and the trials they may have faced? 
What if that doesn't happen? 
Because in real life, it doesn't always happen. Sometimes the lovers are in different places in their lives or they want different things. Sometimes one of the lovers isn't faithful or lacks integrity and the two cannot have their happily ever after.  
Why doesn't anyone write movies about that? 
The simple reason is that those movies don't sell. Living life after a broken heart can be absolutely crippling. It wreaks absolute devastation on not only your heart, but your mind and body as well. In today's post, we will explore 10 Bible verses for a broken heart.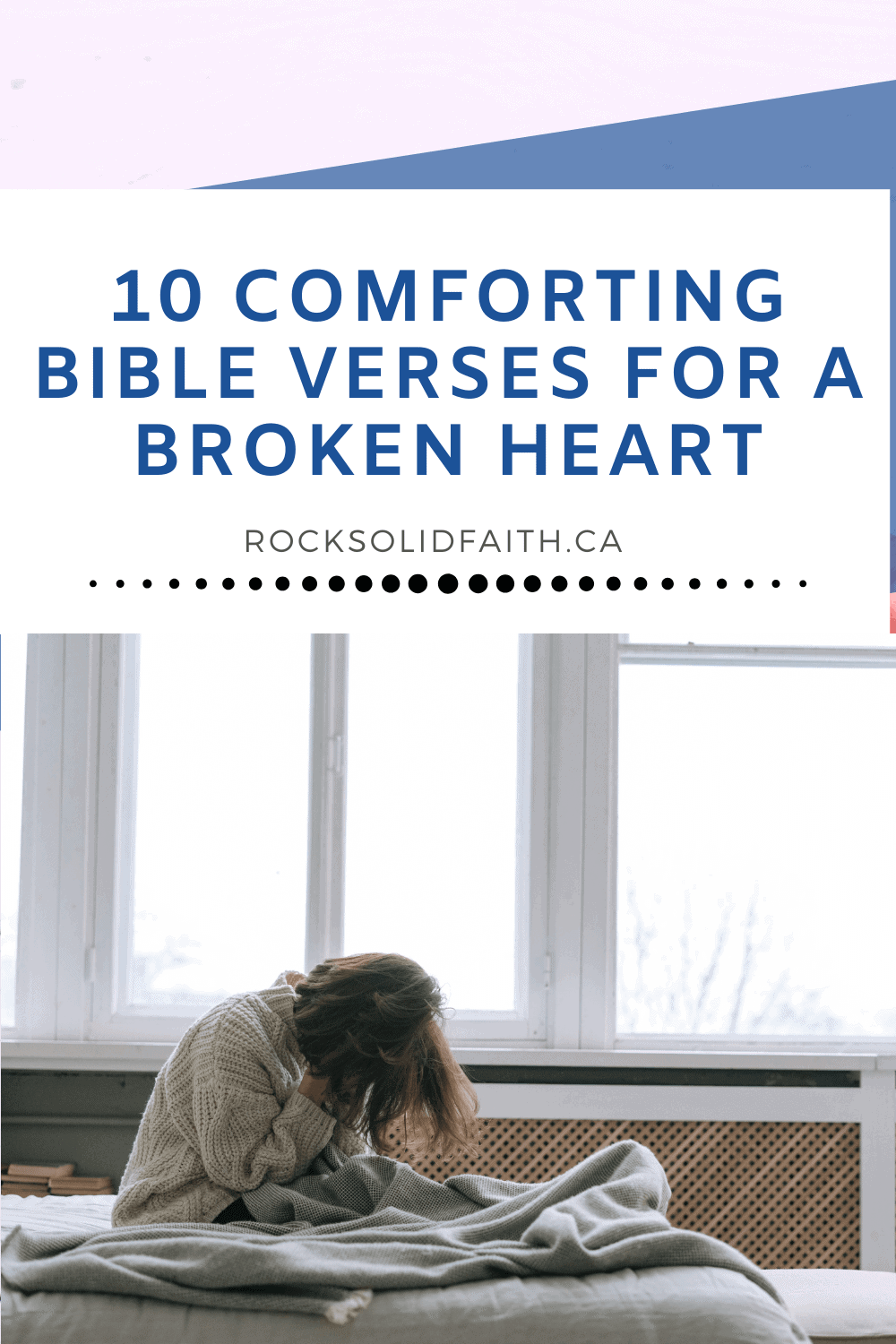 This post may contain affiliate links. You can read my full affiliate disclosure here.
What Does The Bible Say About Heartbreak?
For a Christian, a broken heart can be especially tricky. It is easy to want to act out of that pain in some pretty un-Christ-like ways. Some people even begin to question their faith and God himself after a particularly grueling heartbreak. But it doesn't have to be that way. Today I want to share with you how to handle a broken heart as a believer. If you are so fortunate as to have never had a broken heart? Bookmark this page for later, in case the need arises. 
If you are like me, and then you are a Bible believing Christian that has had your heart crushed at least once. As someone that has survived many heartbreaks both romantic and non-romantic, I want to offer you some encouragement. 
Bible Verses For A Broken Heart
God is and always has been. He knew you before you were born, and He knows you now. Your broken heart does not change you in God's eyes, contrary to what some of the purity movement's "teachings" may have said. 
God is there for you, even in extreme heartbreak. He cares about you and your broken heart, so very much. In fact, in Revelation 21:4 we are told that "He will wipe every tear from their eyes. There will be no more death or mourning or crying or pain, for the old order of things has passed away". Can you imagine that? The God of the universe cares about every tear that you have shed. 
You are not alone in your heartbreak and that is crucial to remember. Hebrews 13:5 tells us that God will NEVER leave or forsake you. Christ died for you knowing that your heart would be broken, and he died for the person that broke your heart too. 
Healing a Broken Heart
When you are heartbroken, everything slows down and speeds up at the same time. Some moments it will feel like your heart has stopped beating while other moments it will feel as if your heart will race away from your body. That is normal. Taking care of your heart and your body is crucial during this time.  
The author Margaret George is credited with writing that, "the cure for a broken heart is simple, my lady. A hot bath and a good night's sleep". I think that ensuring that you are getting a proper night's rest is a key component to healing. Matthew 11:28 says, "Come to me, all you who are weary and burdened, and I will give you rest". While it may be tempting to binge on Netflix or to read a new book during heartbreak I want to encourage you to rest in the Lord during your heartbreak. 
Psalms For A Broken Heart
"My flesh and my heart faileth: but God is the strength of my heart, and my portion for ever." Psalm 73:26
Take a look at the wounds. Psalm 147:3 says, "He heals the brokenhearted and binds up their wounds". Let God into those secret places where you are hurting the most. Let him heal those wounds. In order to do that you have to figure out where the pain is in the heartbreak. Is it in the broken promises? Is it the loss of the future you were looking forward to?
Is it loneliness? Is it fear of being alone? Was there betrayal trauma? Whatever the wound was, take that to God. Psalm 34:18 tells us, "The Lord is close to the brokenhearted and saves those who are crushed in spirit". Let Him be close to you while you heal. He loves you so much!
How Do You Let Go of Someone You Love?
You might be thinking, "but Morgan, we just covered letting go of a broken heart!" And you would be wrong. We covered healing a broken heart. But once it is healed, you have to let it go. And letting go of heartbreak takes much longer than healing from heartbreak. 
Leo Buscaglia is quoted as saying, "Let go. Why do you cling to pain? There is nothing you can do about the wrongs of yesterday. It is not yours to judge. Why hold on to the very thing which keeps you from hope and love?" And I think he is spot on. 
When it comes to heartbreak it is easy to get stuck in the muck of it. It is tempting to wallow and stay in that angry and hurt place. This is normally where people give you the pep talk about brushing yourself off and starting again. 
But instead, I want to encourage you to stay there, for a little while. Allow yourself to fully feel the heartbreak. Process through the nuances of it. Talk to a (safe!) counselor. Journal. Paint. Take up kickboxing. This heartbreak was not a surprise to God. He knew it was going to happen. Romans 8:28 tells us that, "We know that all things work together for good for those who love him, who have been called according to his purpose." Do not let this heartbreak permanently define you. Instead learn from it. Whatever it is that you need to do to get beyond this heartbreak, do it. 
Then, get up and get on with your purpose. 
Bible Verses About Healing a Broken Heart
Lord Byron wrote, "The heart will break, but broken live on". Once you have healed from and let go of your heartbreak it is time to look towards the future. 
The heartbreak is in the past. It is over. Isaiah 43:18 tells us to "forget the former things; do not dwell on the past". So, if this was a relationship that meant a great deal to you, keep a few pictures, then delete or throw away the rest. Don't get rid of everything. Someday you may want to share about this heartbreak with your child or another heartbroken person. 
When you look to the future a new relationship might really scare you, especially if you experienced betrayal trauma in the previous relationship. Keep in mind Jeremiah 29:11 which says, "'For I know the plans I have for you,' declares the Lord, 'plans to prosper you and not to harm you, plans to give you hope and a future."  God has a plan for your life. It may not look quite like what you had originally thought it would. It might be completely different. But it is God's plan, not yours. Be ready, be open.
Finally, in all things, all parts of life, give it to God. Heartbreak is nothing new, it has been around forever. If you are healing, letting go, or looking forward, give that to God. Philippians 4:6-7 says, "Do not be anxious about anything, but in every situation, by prayer and petition, with thanksgiving, present your requests to God. And the peace of God, which transcends all understanding, will guard your hearts and your minds in Christ Jesus."
There is no pain too big to take to God. There is no heartbreak that he cannot understand. There really isn't anything better than being wrapped in the embrace of your heavenly father when your heart hurts. Allow Him to give you His peace when you are brokenhearted. 
Written by:
Morgan is a Texas-loving, succulent-cultivating, book nerd and aspiring author. Stationed in Philadelphia, Pennsylvania, this Army wife is learning to train dogs, developing her four young children, and tackling homeschool life… while moving all over the country. You can find more of Morgan's thoughts, book reviews, and resources on her blog.
Similar Articles You May Like
13 Profound Bible Verses For Spiritual Growth
24 Uplifting Bible Verses on Confidence
16 Encouraging Bible Verses About God's Unconditional Love
14 Bible Verses About New Beginnings